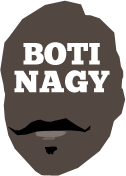 ---
Advertising opportunities available.
Please contact me.
---
Seasons at stake: NBL Tips, Rankings 15
Tweet
WHAT a round this one promises to be in the NBL with so much at stake for six of the clubs.
Truly, it is a hugely influential round for any team not named Sydney or Brisbane.
That said, those clubs have their own issues to work through but cannot be dismissed as "spoilers" by any stretch.
Sydney has looooong been out of playoff contention. But what's to say it cannot do the impossible this round and maybe pinch a shock win off Perth?
Crazy you say?
The Kings went to the wire with the two-time defending champs very recently and that was without Kevin Lisch, who made his premature return last weekend.
The Wildcats have missed Greg Hire more than most might have realised but to win in Brisbane from a 21-point deficit and on a Bryce Cotton (below) buzzer-beater ... well, they should be feeling pretty good about themselves back in the confines of The Jungle.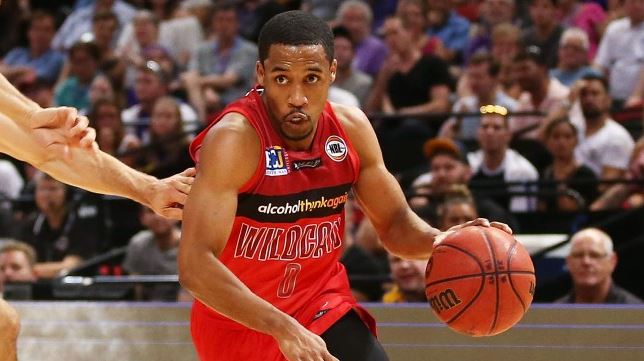 Brad Newley, awaiting the birth of his second child, also won't make the trip for the Kings.
Assuming the Wildcats win in Perth, who's to say they take the same attitude into the rematch in Sydney later in the round? That's when Jerome Randle and Co could catch them out.
Similarly, after losing so many close ones, Brisbane now has to draw a line in the sand and against who better than Melbourne? It pits Bullets coach Andrej Lemanis against his former assistant Dean Vickerman in the sideline strategies battle.
After so many campaigns together, you think they might be able to anticipate each others' moves?
David Andersen returns to United's lineup too, adding curry to this hot meal, especially if Daniel Kickert (calf) suits. This game is no lay down misere either.
* * *
MELBOURNE tonight will look to shake its own growing monkey off its back, having never as United beaten the Breakers in New Zealand.
Yep. United is 0-7 in Auckland but a win today would give it an important break on the ladder over New Zealand, while shoring itself up psychologically as well.
The Breakers were disappointing in Wollongong and now have opened themselves up to a challenge from Illawarra for their finals berth. That makes maintaining their streak over United even more important. Look out for more from Rakeem Christmas but then never under-estimate Tai Wesley back "home" or Carrick Felix either.
Adelaide also is under siege from Illawarra, which now has beaten it in their past three meetings, two of them at Titanium Security Arena (below, in last year's deciding semi Game 3), including in their only meeting so far this season.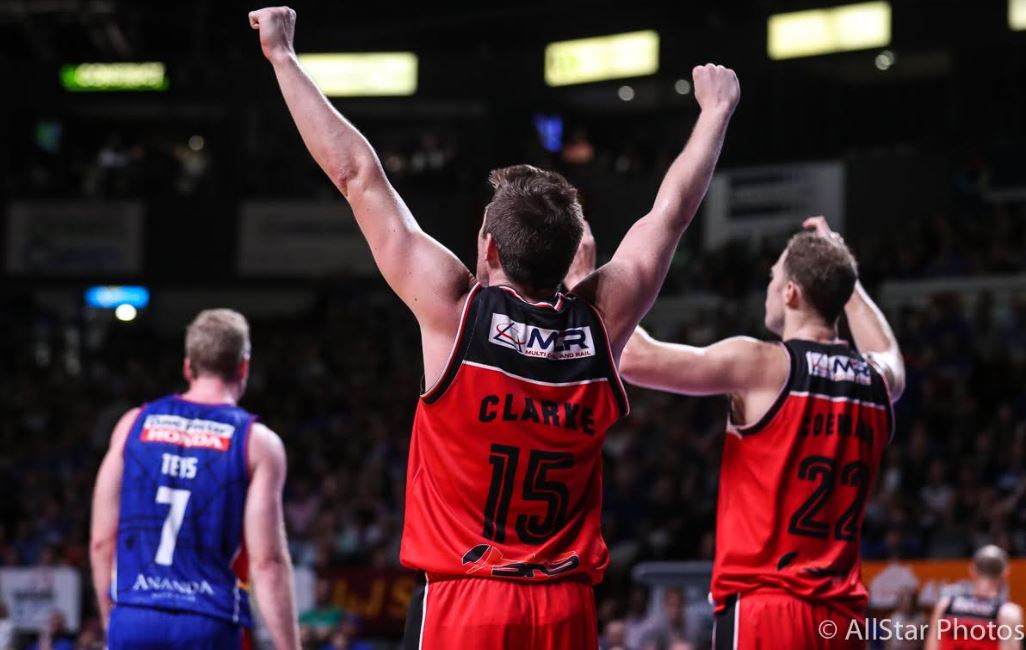 The Hawks ability to regularly change defensive strategies has consistently been Adelaide's undoing, the 36ers slowing to a near halt against Illawarra's 1-3-1 zone alignment in the last quarter of their last meeting.
Getting on top of Illawarra's other zone combinations had been a struggle but the 1-3-1 was the killer move, the Sixers with plenty of time to prepare now. They also know they can match it with anyone not named Melbourne, half of their eight losses to United.
The 36ers and Hawks meet twice this round, backing up in Wollongong. If either team wins twice, you'd have to pencil them in over the other for finals play.
* * *
IF Cairns is to participate in any post-season action, it simply cannot afford to lose to New Zealand.
The Taipans already have 13 losses up and a 14th would mean their very best case scenario would be 14-14. That would mean having to win every other game and even breaking even might not be sufficient to crash the playoff party.
It means it's time again for the Orange Army to fill Cairns Convention Centre and put the big squeeze on the Breakers.
* * *
NBL TIPS, ROUND 15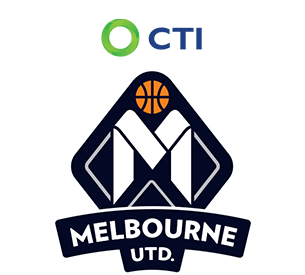 V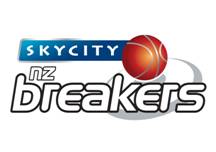 MELBOURNE's winning streak rapidly is approaching the 9-game run New Zealand enjoyed in this season's earlier days and this showdown in Auckland is a battle on many fronts for both. A win by the Breakers would tie both clubs on 13-7 while a win by United would give it 14-6 and a two-win break on NZ. That would put the Breakers very much in Illawarra's sights as a potential team to KO out of the Final Four, a step the Hawks took last round. So it's fighting for first or fighting for survival for NZ. Having beaten Perth in Perth, Melbourne will be full of pluck and my tip here.
ONE of the NBL's growing rivalries, Illawarra-Adelaide, took a quantum leap last season when the Hawks knocked out the 36ers in the semi finals. This rivalry actually began in 2001 when Damon Lowery hit those legendary three free throws to eliminate the Sixers in the semis, but had gone a lot quieter until last season. Adelaide was Illawarra's bunny, of that there is little doubt. And the way the Hawks dismantled the 36ers previously this season in Adelaide, suggests no great fears of Titanium Security Arena. But this is a "must-win" statement game for the 36ers, so they should sneak it.
THE schedule doesn't get any easier for Sydney, heading into Perth where it last won before the Vietnam war. Having Kevin Lisch back in the lineup with a week under his belt definitely makes the backcourt matchups - Randle-Martin, Lisch-Cotton - mouth-watering and how Todd Blanchfield fares with JP Tokoto also will be influential. The Kings' inability to put teams away - they had Perth and Adelaide at their mercy most recently - coupled with the Wildcats' home loss last round, throws the odds very much in the Red Army's favour. But it should be a beauty.
WHEN Daniel Kickert withdrew from last week's Brisbane home game against Perth with a calf injury, the Bullets should have been an easy kill for the Wildcats. But it came down to a Bryce Cotton match-winner suggesting there's more substance to Andrej Lemanis' team than a six-loss run implies. If Melbourne has taken out the Breakers in NZ, they may be vulnerable to a well-executed gameplan. Or they could continue to be on a high, as league leadership would be a fine reason to feel good about life. The odds favour a Melbourne win but Brisbane is not a bad bet.
NEW Zealand made a mockery of its burgeoning rivalry with Cairns when it smacked the Taipans away in Auckland recently. They jumped out and kept going. But, as we've said here many times before, when Aaron Fearne has a week to prepare for a club, his plan is usually foolproof. Another week under Nate Jawai's belt can't hurt either. That said, Rakeem Christmas will be better settled at the Breakers too. If New Zealand lost to Melbourne, this game's importance grows in stature to monster status but a loss also ends Cairns' finals hopes. Coin toss and it's ... heads!
HOW Sydney fared in Perth - oh by the way, that "heads" on the last game was for Cairns - will say much about what fans can expect when the two clubs again do battle but at Qudos Bank Arena. Whether there will be any kudos for Sydney remains to be seen but there's no doubting if Jerome Randle and Kevin Lisch get going, the Wildcats will need to dig deep. But that's just it. They can. And do. Consistently. Can the Kings find that missing element when the going gets tough, as it inevitably will? The answer, so far, has been no. But then, this league is known for its upsets.
TURNABOUT is fair play so Adelaide heads into The Sandpit - anything but a happy hunting ground - looking to keep its Illawarra demons at bay. That is easier said than done, AJ Ogilvy usually able to step it up at home, Demitrius Conger a big find this season and Rotnei Clarke capable of blowing any team off the floor. Rob Beveridge's zone strategies also have confounded the 36ers in the past, the tendency for Shannon Shorter to dribble on every floorboard cutting into their attack time. If Adelaide has mastered those flaws, it is a chance. But it is a long shot.
NBL RANKINGS This Wk-Prev (Record)
8 (8) KINGS 5-16: Playing well but not there in the end-game. A Perth split would be huge.
7 (7) BULLETS 7-14: Blew another opportunity and it's high time to shake the monkey.
6 (5) TAIPANS 9-13: Skating very close to the thin ice and will fall in if they lose to NZ.
5 (4) BREAKERS 12-7: Just stumbling a little and this is the round to make a statement.
4 (6) HAWKS 9-10: Here they come, and both Adelaide and New Zealand best beware.
3 (3) WILDCATS 13-7: Time to flex their muscles now and dismiss Kings threat, twice.
2 (3) 36ERS 13-8: Streak has reached five but Illawarra is Adelaide's "bogey" team.
1 (2) UNITED 13-6: Can make a genuine break from NZ, and Brissy should be breezy.
PS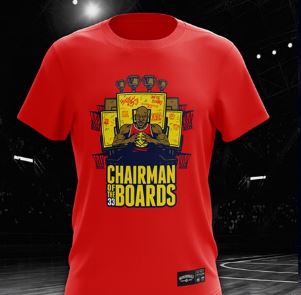 36ERS LIMITED EDITION T-SHIRT: Hopefully it's a limited edition because Mark Davis won three championships with Adelaide, not, um, four...