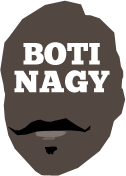 ---
Advertising opportunities available.
Please contact me.
---
NBL, WNBL Rd 2, Saturday review
Tweet
IT wasn't the start Brisbane's Bullets wanted against the bright young Phoenix Suns, but Saturday's third preseason outing against NBA opponents ended with a massive deficit strongly reduced.
A 15-2 start by the Suns in this final 2017-18 meeting between NBL and NBA teams forced a timeout by Bullets coach Andrej Lemanis during a 9-0 run.
But 15-2 became 28-6 as Brisbane could not make open shots or force any stops.
Adam Gibson's 3-pointer to close the first quarter made it 12-38 at the first break, Brisbane shooting at 18 per cent to 66 by the Suns.
Phoenix's quickness, athleticism and execution had the Bullets reeling but they adjusted accordingly. They played the second quarter even at 33-33, then won the third 23-20, bringing what had been at its worst a 33-point deficit back to 17 at 63-80.
An emphatic dunk by Perrin Buford even forced a Suns timeout, the 93-114 final score far better than it may have been before Brisbane made the appropriate adjustments.
Sydney's 83-108 loss to Utah Jazz and Melbourne's exceptional performance despite its 85-86 loss to OKC in Oklahoma City, showed the value of these games to our burgeoning league.
NBAvNBL #3: PHOENIX SUNS 114 (Booker 31, Len 20, Bender 16, Ulis 11; Chandler, Bender 9 rebs; Booker 6 assts) d BRISBANE BULLETS 93 (Trice 20, Jervis 13, Jerrett 12, Buford 11, Kickert 10; Kickert 10 rebs; Trice 5 assts) at Talking Stick Resort Arena.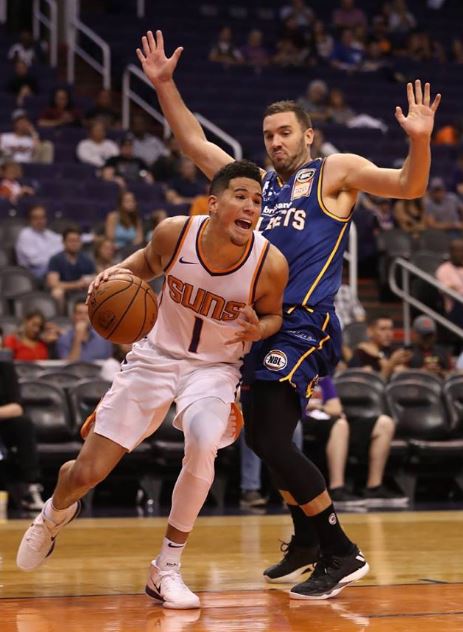 SUNS SET ON NBL: Devin Booker under pressure from Brisbane's Adam Gibson.
"These games have been a great opportunity for the NBL and demonstrated that our league is among the best in the world. The NBL is on the map," league owner and executive director Larry Kestelman said.

"As Melbourne showed against OKC, we can match it with the best and our players should be very proud of what they have achieved to fly to the other side of the world during their season and be as competitive as they have.

"I want to thank the NBA for the opportunity and we look forward to playing more games against NBA teams in the coming years as Australian basketball and the NBL goes from strength to strength.

"The NBL has never been better and we can't wait for what will be one of the biggest seasons ever in 2017-18."
NBL Round 2: MELBOURNE UNITED 99 (Adnam 23, Boone, Ware 18, Wesley 12, Andersen 10; Boone 10 rebs; Ware 8 assts) d ADELAIDE 36ERS 79 (Creek 20, Drmic 16, Moore 13; Creek 9 rebs; Sobey 6 assts) at The Fortress, Titanium Security Arena.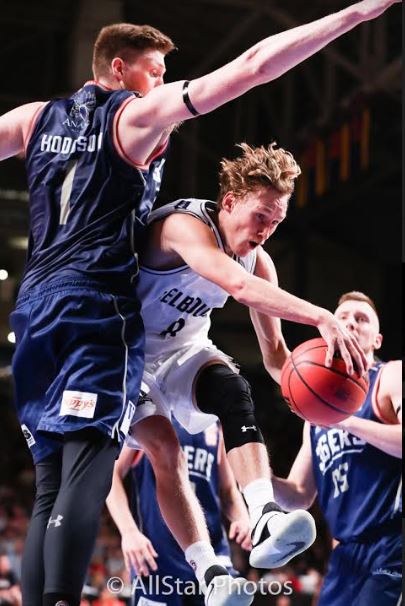 ADNAM ADAMANT! Kyle Adnam carved up the 36ers, inside and out.
IT always was going to be a challenge for Adelaide - beaten at home in the NBL season-opener 99-97 by Melbourne, to go one better a week later after United had a shot to beat the NBA's Oklahoma City Thunder earlier in the week. Add the absence of US playmaker Shannon Shorter, who flew home following his aunt's death, and the 36ers were going to be pushing poop uphill. Two quick fouls and a tech on Tai Wesley, then a game-ending injury to Casey Prather certainly prised the door ajar for Adelaide. Instead, Kyle Adnam produced a career-best game, while Casper Ware, David Andersen and Josh Boone just continued to be themselves, turning this into a rout. The lead was 40-20 in the second period before Mitch Creek and Anthony Drmic drove a fightback, which they had to do again in the third quarter. By the last, Adelaide had no steam left while Melbourne went up another gear, Adnam's 6-of-8 threes devastating.
WNBL Round 2: BENDIGO SPIRIT 106 (Laney 27, Payne 24, Banham 19, Griffin 17; Griffin 8 rebs; Laney 9 assts) d PERTH LYNX 71 (Williams 19, Whitcomb 14, Kunek 11; Williams, Dowe 5 rebs; Williams, Whitcomb 5 assts)) at The Spirit Level, Bendigo Stadium.
BAN PLAYS ON: Rachel Banham en route to 19 points. Pic courtesy Spirit FB
SERIOUSLY, are we kidding here but a 43-point third quarter from Bendigo? 43?? To 17 in response from Perth? And Nadeen Payne with 19 points of her own, including 3-of-3 threes? It looked dangerous for the Spirit early but after settling against the Lynx's extended pressure, they had Betnijah Laney (27 points at 73%, 9 assists, 4 steals) in awesome form to be ahead at halftime. Then came the avalanche as Perth continued to play like a team of individuals and paid a serious price for it. The 64-30 second half by Bendigo said it all, but 39 per cent shooting and 22 turnovers by the Lynx also spoke volumes.
SYDNEY UNI FLAMES 70 (Taylor 17, Snell, Wilson, Ebzery 14; Hamson 11; Taylor 11 rebs; Ebzery 5 assts) d DANDENONG RANGERS 65 (Pedersen 19, St Blicavs 15, Sa Blicavs 14; Pedersen 9 rebs; Pedersen, Lavey 4 assts) at Study Hall, Bryden's Stadium.
DANDENONG shot out of the blocks early and maintained its pressure to go into halftime ahead 41-31. A 7-0 start by the defending champs turned the match back into a contest as Asia Taylor (17 points, 11 rebounds) led the recovery. It was 63-63 on a Sara Blicavs basket with 98 seconds to play, before she tied it again at 65 from the stripe with 36 clicks left. Taylor with a big 3-pointer gave Sydney breathing room and Katie-Rae Ebzery completed the scoreline from the stripe after Carley Mijovic's three to tie was unsuccessful.