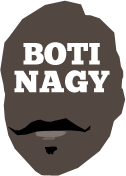 ---
Advertising opportunities available.
Please contact me.
---
NBL19, Wrap 4: Gliddon buries 36ers
Tweet
BRISBANE Bullets guard Cam Gliddon today continued to announce himself as a top-tier NBL player with a career-high 30-point game, including the 3-pointer that sank Adelaide 93-90.
Gliddon left only 0.6 of a second on the game-clock after seizing his moment to be the hero in the last 3.6 seconds at Titanium Security Arena.
Scores were locked 90-90 when Brisbane took timeout with less than 20 seconds to play.
Some hustling 36er defence forced the ball out with 3.6 seconds to go. On the inbounds, Cam Bairstow and Gliddon outfoxed Adelaide defenders Anthony Drmic and Jacob Wiley, leaving Gliddon just enough daylight to get off his fourth 3-point make of the final quarter.
Ball game.
Adelaide ran some preposterous play which only led to Daniel Johnson flinging an off-balance one-handed prayer at the rim. It never had any chance.
The win gave the Bullets a 2-0 Round 4 sweep after seeing off the 36ers in Brisbane on Thursday night 108-98.
If ever an early round exposed the vulnerability of a team's playoff dreams, it was NBL19 Round 4 for Adelaide.
Grand finalists in March, the 36ers are sixth in November having lost four of their past five games and in the last three, giving one key opponent a career-high game - Finn Delany with 27 in NZ Breakers' rout in Auckland, Reuben Te Rangi 29 on Thursday, Gliddon 30 today.
Brisbane took Adelaide out of its game in the second half today, much as it had on Thursday.
Drmic had a 14-point first half in Brisbane to finish with 18. He had 11 today in the first half, to finish with 13 as the Bullets again found a way to turn the Sixers' offence into dribble-drivel or one-pass heroics.
Nathan Sobey may have come up with a few big plays late in the match but had the dreaded "sticky fingers" in the halfcourt game.
Sixers coach Joey Wright also made some head-scratching decisions, throwing in nervous development player Bijan Johnson at one point, only to see him collect an unsportsmanlike foul within seconds of entering the court.
Brisbane, meanwhile, continued to execute as it had on Thursday, regularly exposing and exploiting Adelaide's switching on the pick-and-roll.
As soon as an Adelaide "small" switched onto a rolling Brisbane "big", that Bullet was the next recipient of the ball.
The biggest roar of the afternoon came after Bullets sub Will Magnay missed two free throws to guarantee free Hungry Jack's cheeseburgers for the fans, Harry Froling collecting the defensive rebound and whipping a superb pass for Sobey to dunk.
But Adelaide's fullcourt offensive game was restricted by the Bullets and it was perennially taking contested shots in the halfcourt.
Gliddon iced 10-of-16 from the floor, with six 3-pointers and was a perfect 4-of-4 from the stripe.
He had a willing accomplice in Matt Hodgson (below) who relished playing at his former home with 15 points, eight rebounds, and three successful three-point plays.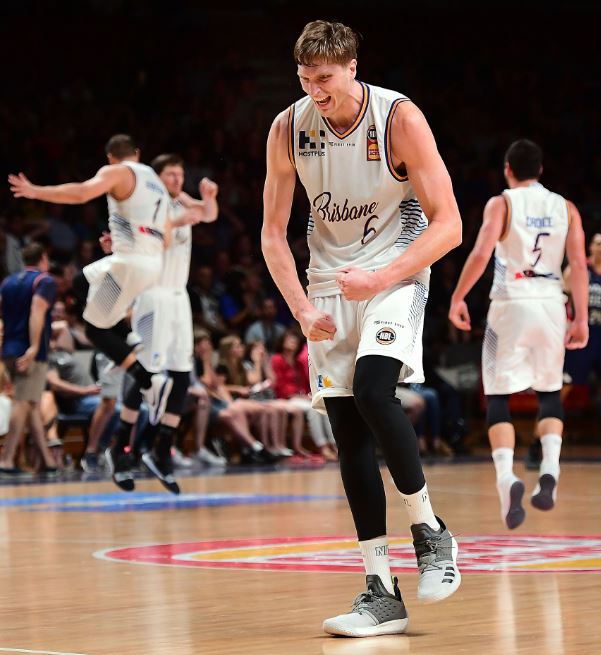 Two of those were the result of Adris DeLeon soft-fouling him which led to an extended stay on the bench for the quicksilver guard. When he came back, DeLeon secured a key offensive board and took a great charge from Jason Cadee.
But it always was coming down to Gliddon taking the shot. Honestly, who didn't know that ahead of the play?
"Defensive breakdown all the way," Wright said.
"We've got to get to the guy. We still had a foul to give. Everyone of us knew we did. It's only three seconds. They can't pass it. We should have been all over the ball.
"I'm not sure what happened."
Brisbane outsmarted them again, that's what.
* * *
ANDREW Bogut turned in his most outstanding all-around performance on Friday, two power moves from outside the key, including putting the ball behind his back, then throwing down a two-handed slam on one, and a one-handed tomahawk dunk on the other, stunning fans nationwide.
The big man finished with an NBL career-best 21 points, 15 rebounds, which later was reduced to 14, two assists, two steals and three blocks for the fifth time in a row.
AJ Ogilvy, Brian Conklin and David Andersen simply had no answer to the NBA champion as Sydney led its NSW derby rival by as many as 22 points before Illawarra's late fightback.
Once again it was too little and too late, Kevin Lisch flourishing early, Jerome Randle a constant threat and the Kings with far too many options.
* * *
BRYCE Cotton and Tai Wesley were stunning for their respective teams and Corey Webster also important as New Zealand took it right up to Perth in a quality contest.
But at 76-76 in the last quarter, it was the Wildcats who exploded with a 16-0 run as Cotton continued to dominate and Clint Steindl's 3-point shot arrived, special delivery, from Townsville.
It may have been held up in Customs or something but once it cleared, Steindl got going, nailing 5-of-5 threes in his 17-point tally.
His best return as a Wildcat left New Zealand scrambling and unable to find any answers.
* * *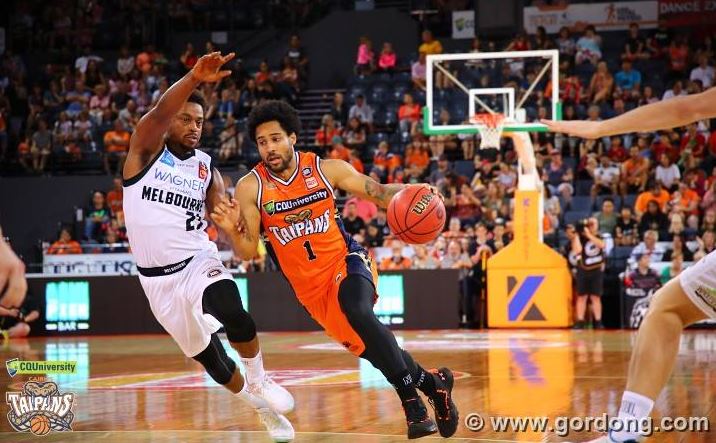 PUTTING ON A SHOW: Melo Trimble (34 pts) drives on Casper Ware (32) in a super showing.
CAIRNS lost its third straight home game to throw its season into a little jeopardy when it could not contain Melbourne United and star guard Casper Ware.
Melo Trimble put on a show for the Taipans with a career-best 34 points at 65 percent, including a 13-point third period which dragged the Orangemen back into the game.
United had threatened to blow this out but that only really happened when Ware went off for 16 final quarter points, receiving plenty of help from veteran David Barlow.
Trimble also finished with five rebounds, eight assists, a steal and a block in his one-man show but after DJ Newbill, had no-one else stepping up offensively.
Ware's 32 points came on 64 percent shooting and he buried Cairns in the last quarter.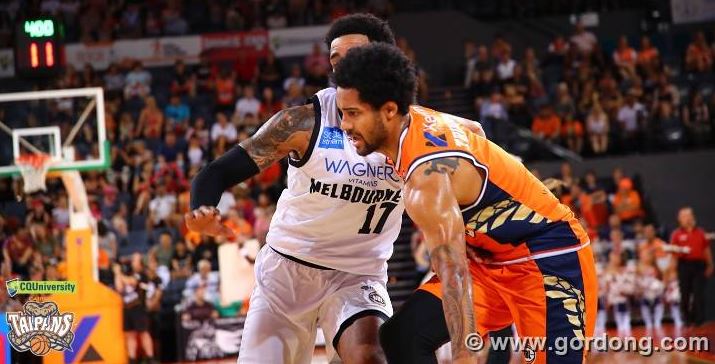 * * *
NBL Round 4 Results
BRISBANE BULLETS 108 (Te Rangi 29, Gibson, Vukona 16, Gliddon 14, Bairstow 12; Hodgson 4 rebs; Vukona 4 assts) d ADELAIDE 36ERS 98 (Johnson 23, Drmic 18, Wiley, Sobey 12, Froling 10; Deng, DeLeon, Johnson 6 rebs; Sobey 6 assts) at The Armoury, Brisbane Convention Centre.
SYDNEY KINGS 86 (Bogut 21, Randle 13, Lisch 12, Newley 10; Bogut 14 rebs; Lisch 5 assts) d ILLAWARRA HAWKS 79 (Blanchfield, Coenraad 16, Jett 14, Conklin 12; Ogilvy 7 rebs; Conklin 5 assts) at the Kingdome, Qudos Bank Arena.
PERTH WILDCATS 92 (Cotton 23, Steindl 17, Kay 12, Wagstaff 11; Cotton 9 rebs; Norton 6 assts) d NEW ZEALAND BREAKERS 78 (Wesley 22, Webster 19, Long 10; Long 14 rebs; Ili 5 assts) at The Jungle, RAC Arena.
MELBOURNE UNITED 98 (Ware 32, Barlow 18, Kennedy 17, Moller 10; Barlow 8 rebs; Kennedy, Hooley 4 assts) d CAIRNS TAIPANS 85 (Trimble 34, Newbill 18, Jawai 7; Newbill 9 rebs; Trimble 8 assts) at The Orange Grove, Cairns Convention Centre.
BRISBANE BULLETS 93 (Gliddon 30, Hodgson 15, Te Rangi 13; Hodgsonb 8 rebs; Cadee 4 assts) d ADELAIDE 36ERS 90 (Johnson 19, Sobey 18, Wiley 13, Drmic 13; Johnson 8 rebs; Sobey 6 assts) at The Fortress, Titanium Security Arena.
TOMORROW: Melbourne Cup Eve clash, Sydney Kings at Melbourne United