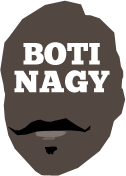 ---
Advertising opportunities available.
Please contact me.
---
NBL19, Wrap #6: Chaotic climax in Cairns
Tweet
ROUND 6 was another gem for the NBL, no two ways about it, but come on now. That finish in Cairns was something to behold.
Perth had it won, surely, in regulation, leading 72-68 inside the final 20 seconds. Cairns' Devon Hall was called for a foul chasing an offensive rebound and with 15 seconds left, Jesse Wagstaff sinks 1-of-2 free throws.
That makes it 73-68 and now certainly, Perth has the W. But no, Melo Trimble sticks a 3-pointer with 10 seconds left to trim it to 71-73.
Bryce Cotton leads the Taipans a merry dance before swinging the ball to Wagstaff, fouled with 3.6 seconds left. This time, Wagstaff swishes both for 75-71 and this is over.
No. Not quite. Trimble leaps into a wild 3-point attempt at the death ... AND BRYCE COTTON FOULS HIM! Whether he was trying to avoid contact at the last moment, the spot-on photograph below shows the MVP's brain explosion.
So not only does Trimble's prayer go through for 74-75, he has a bonus free throw to boot!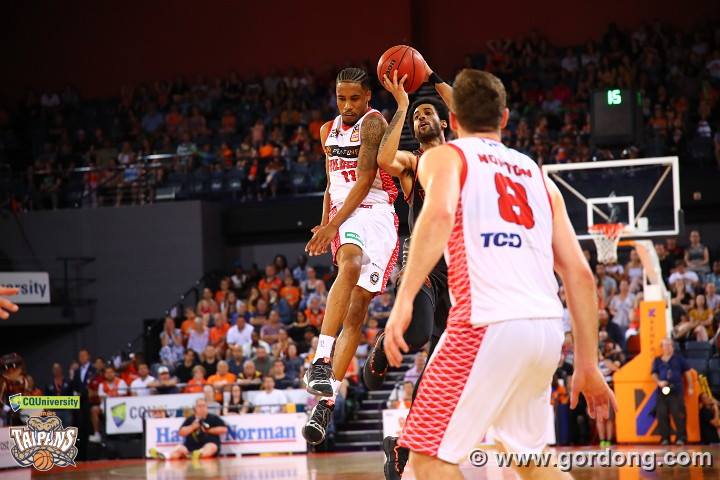 THE BRAIN FADE: Bryce Cotton tries to avoid? fouling Melo Trimble's late prayer.
Of course, the officials had to ascertain precisely how much time was left on the game-clock and eventually came back with 0.8 of a second. While that continued to unfold, Trimble had plenty of time to think about what was at stake, heightening the drama and the pressure on him.
No problem though, he swishes the free throw and the Wildcats take time-out to draw up a 0.8 of a second play.
Wagstaff inbounding from the wing, tries to pass it to a cutting Mitch Norton, the pass misses him completely and sails harmlessly out over the baseline.
STILL 0.8 of a second to play and now it's Cairns' ball from the same spot. Hall spots Rob Loe across court and throws a pass toward him, Loe scrambling to save it as it, too, flies out of court without a touch!
So now it's back to Perth running that inbounds play AGAIN, only this time, the ball gets to Cotton, he fires up a prayer and it hits the ring!
OK now. Can we just have overtime, so everyone can calm down?
* * *
ACROSS the Tasman and down in Invercargill, defending champion Melbourne got the round rolling with former Breakers' coaching masterminds Dean Vickerman and Paul Henare plotting United's win and New Zealand's downfall.
It was a cracker of a contest too, Melbourne with a 31-point first quarter, New Zealand with a 34-point second for a 58-51 home lead at halftime, Corey Webster on fire.
But another 30-point third by United set up its win, its imports combining for 64 points.
* * *
ILLAWARRA looked a million dollars in the first quarter against Adelaide but a paint-searing soliloquy by coach Joey Wright at the break turned this around, Harry Froling again showing why he is the leading Rookie of the Year candidate.
* * *
AND then along came the crazy finish in Cairns, the game going into overtime and Perth into overdrive for an 88-83 win, again achieved minus starters Damian Martin, Terrico White and Angus Brandt.
That is very impressive stuff.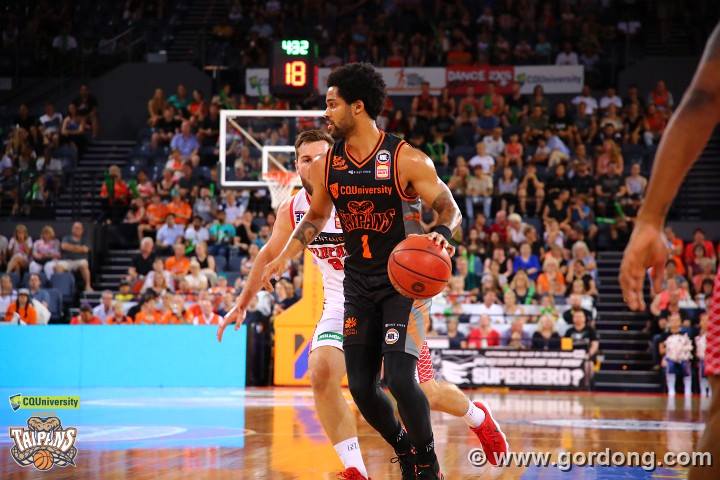 TRIPLE-DOUBLE WATCH: Melo Trimble had 18 points, 10 rebounds, seven assists.
* * *
SOME Chris Goulding magic off the bench was all Melbourne needed to ensure it kept Brisbane at bay, despite Adam Gibson going 5-of-8 from 3-point land en route to 19 points, his season high.
Both sides spread the wealth, with 12 players in double-digits, six from each team, United letting the new South East Melbourne Phoenix franchise know it is still the only game in town.
For now.
* * *
DOWN captain Kevin Lisch (concussed at training), Sydney inserted Kyle Adnam into its starting quintet and led the Breakers on a joy ride, Jerome Randle and Brad Newley potent early and Andrew Bogut at his best.
New Zealand centre Shawn Long led his team with 25 points but Bogut went for 17 points, 10 rebounds, seven assists, five blocks and two steals in just 29:28 of court-time.
While Deng Deng's alley-oop dunk was the game's most spectacular highlight, Bogut ruling the key also was pretty enjoyable to watch.
* * *
NBL Round 6 Results
MELBOURNE UNITED 108(Boone 26, Ware 24, Kennedy, Goulding 14, McCarron 12; Kennedy 9 rebs; Kennedy, Ware 4 assts) d NEW ZEALAND BREAKERS 101 (Webster 31, Long 15, Ili 13, Wesley 12, Richard 11; Abercrombie 8 rebs; Webster 8 assts) at The Water Bucket, iLT Stadium, Southland.
ADELAIDE 36ERS 104 (Wiley, Drmic, Johnson, Sobey 16, Deng 10; Wiley 12 rebs; Moore 6 assts) d ILLAWARRA HAWKS 79 (Blanchfield 24, Conklin 13, Jett 10; Blanchfield 11 rebs; Jackson 5 assts) at The Fortress, Titanium Security Arena.
PERTH WILDCATS 88 (Cotton 26, Kay, Norton 18, Jervis 12; Hire 13 rebs; Wagstaff, Kay, Cotton 3 assts) d CAIRNS TAIPANS 83 (Hall, Trimble 18, Loe 16, Jawai 12; Trimble 10 rebs; Trimble 7 assts) in overtime at The Orange Grove, Cairns Convention Centre.
MELBOURNE UNITED 102 (Ware 23, Barlow 18, Goulding 16, Kennedy 14, Pledger, Boone 10; Pledger, Boone 6 rebs; Ware 6 assts) d BRISBANE BULLETS 94 (Gibson 19, Gliddon 16, Te Rangi 14, Hodgson, Holt 12, Patterson 11; Te Rangi 6 rebs; Patterson, Te Rangi 4 assts) at The UN, Hisense Arena.
SYDNEY KINGS 100 (Randle 24, Bogut 17, Newley, Adnam 14, Kickert 10; Bogut 10 rebs; Bogut 7 assts) d NEW ZEALAND BREAKERS 87 (Long 25, Richard 18, Wesley 17; Long 8 rebs; Webster 6 assts) at The Kingdome, Qudos Bank Arena.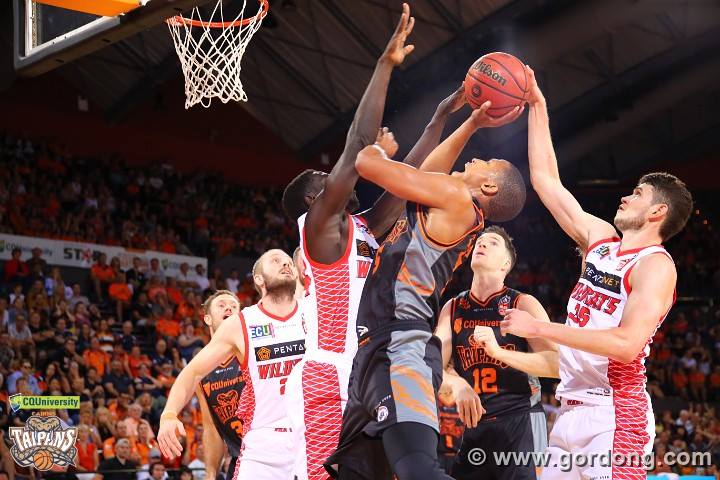 NOT THIS ONE: Cairns' Devon Hall is swamped by Wildcats in Saturday's thriller.