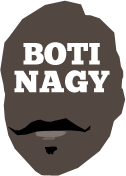 ---
Advertising opportunities available.
Please contact me.
---
NBL21 Rd.12: Forde goes Ferrari on refs
Tweet
KINGS coach Adam Forde knew absolutely he was going to cop a league fine for his post-game press conference commentary on NBL officiating in general and at RAC Arena in particular, but did it anyway because, well, frankly, someone had to.
Contrary to several of my friends, colleagues and associates who believed his thought-provoking and fact-based analysis of the late-game calls which cost Sydney the game - and be in no doubt, they did - were petty or self-serving or too full of emotion and too personal, I did not.
Sorry. Forde was very calm and measured and spoke with clear and precise intent. He quoted facts, not fiction or fantasy.
His discussions with NBL Refs boss Scott Butler - who has been in that role pretty much since Larry Kestelman took over the league, bar the first year when Alby Mangels was doing it before he went back on safari making ""reality movie docos" - reflected the level of aggravations that exist and have existed in coaching ranks since the man first was appointed.
(OK. It was Alby Joseph, NOT Alby Mangels. He was mangling the job though after Mal Cooper, Ray Hunt and Bill Mildenhall had officiating going in the right direction.)
There are several coaches, some past, some present, who have all but given up addressing the Refs boss because they believe it largely proves a waste of their time.
They get a good hearing, are sometimes even assured they are correct, then precious little happens.
Some felt Forde's remarks about the "State League ref" on the game were in poor form.
Really?
I've experienced state league refs who get an NBL game then come back to the next level and act like lords, their arrogance and superiority complex colouring any exchange. Got a few doing NBL now.
I acutely felt Forde's frustration, pain and anguish.
We're constantly told, do not criticise referees. Why not?
We all criticise players, scrutinise coaches, damn administrations but oo, no, no, no. Can't say a word about refereeing. What kind of double standard is that?
Yet seriously, what is everyone's most common complaint?
The league does not do nearly enough to alleviate the problem. Just like the decals issue, sweep it away, fine someone, fire someone, just make it go quiet again so we can all get excited Josh Giddey nearly had a triple-double.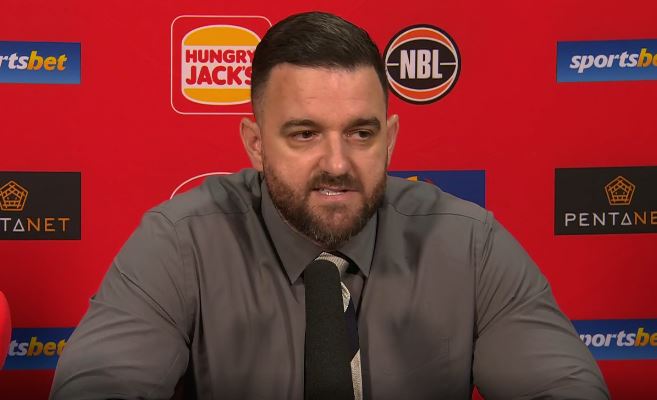 Does anyone really believe Adam Forde wanted to do what he did? Do you think he helped himself?
Unlikely.
But what he said, and backed with fact, was something we needed to hear. Someone had to do it.
This rose-coloured glasses BS that is routinely churned out by today's so-called "NBL media" certainly never would say what Forde dared to declare.
It's costing him. But you cannot cure a problem unless you admit it is there.
Andrew Bogut was hot on the anti-decal campaign trail when that was an issue.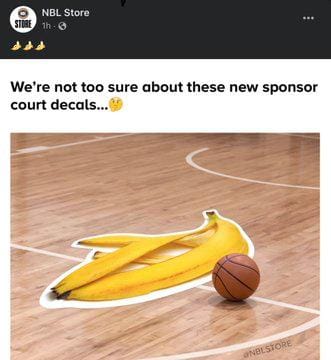 Meanwhile the NBL was busy calling out this social media gag as being in poor taste.
That was at a time players were tweeting about the issue, one declaring the best new defensive strategy was to channel the player with the ball toward a decal.
Eventually, the league responded and now everyone playing is safer and better off for it.
Will Adam Forde calling out the problems in Perth change much?
I doubt it.
As someone with the utmost respect for that team, club and organisation, I know the benefits it receives in its home arena are a fact of life.
Let's see how the Wildcats react when they play Sydney again on Thursday, this time in Sydney.
If the Kings had any fans willing to turn up, maybe they could give Forde and their team the tangible benefits the Wildcats enjoy way out west.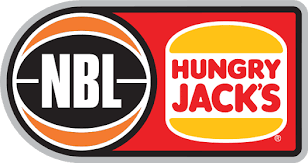 ROUND 12 - GAME BY GAME
RYAN Broekhoff found his stroke and quickly Phoenix broke off from Illawarra, leaving the Hawks gasping with one of the season's most amazing unanswered outbursts.
Illawarra had looked sharp early, Justinian Jessup picking up some of the scoring slack with Tyler Harvey still hampered by the back spasm he suffered in the Bullets' rout.
Into the third period and the Hawks were ahead 46-45 when South East Melbourne unleashed hell, Broekhoff sticking three 3-pointers en route to a 26-point NBL career high featuring 7-of-11 from long distance.
Yanni Wetzell also stood out with 18 points on 7-of-8 shooting, 11 rebounds, five assists, a steal and four blocks as the Phoenix built a stunning 24-0 run to streak 69-46 clear, a quarter to play.
Illawarra was held to eight points in the third and 25 for the second half, shooting at 36 per cent as South East Melbourne rode roughshod over it, leading by as many as 35.
Nailing 16-of-34 threes, the Phoenix also dished 26 assists on 36 made field goals.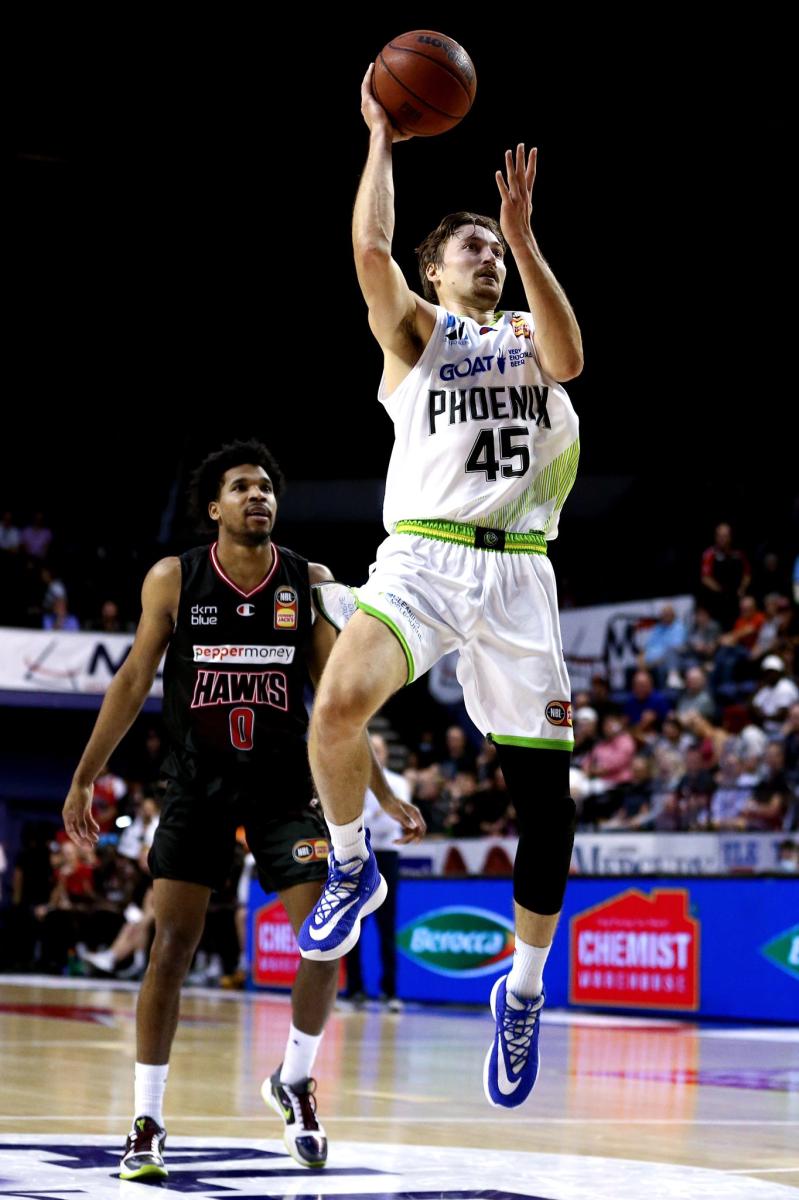 SOUTH EAST MELBOURNE PHOENIX 95 (Broekhoff 26, Wetzell 18, Gliddon 15, Adnam 14, Moore 12; Wetzell 11 rebs; Adnam, Wetzell 5 assts) d ILLAWARRA HAWKS 63 (Jessup 21, Froling 10, Deng 9; Froling 10 rebs; 4 with 2 assts) at The Sandpit, WIN Entertainment Centre. Crowd: 2,602
* * *
TWO quick fouls within about 90 seconds on Sydney guard Casper Ware in the last quarter which jumped him from two fouls to four were significant in Perth securing this tight win from Sydney at The Jungle.
Ware was doing an exceptional defensive job on superstar Bryce Cotton, effectively negating Perth's greatest scoring avenue, John Mooney and Todd Blanchfield working hard to keep the scoreboard ticking.
Ware's third foul was a contentious blocking call when Cotton drove toward him and warded him off with his left arm. That easily could have gone either way but in the cauldron of The Jungle, there was only one way it was going to go.
Not long after, Ware rejected a Cotton reverse and was assessed with another foul.
The score was 73-72 in Sydney's favour at the time, courtesy of Ware's previous basket but when he checked out, Cotton's free throws gave Perth the lead.
Cotton's layup after a Jesse Wagstaff steal made it 76-73 and there were another two 3-pointers to come from the league's leading player as the Wildcats held off the Kings.
Sydney refused to go quietly, Craig Moller bringing it within two at 77-79 before he was called for an absurd unsportsmanlike foul when he bit on a Blanchfield pump fake and was up in the air with only one place to land, on his opponent.
That turned into a five-point play and took Sydney's chase from difficult to impossible.
PERTH WILDCATS 95 (Cotton 22, Mooney 20, Blanchfield 18, Wagstaff 11; Mooney 11 rebs; Norton 7 assts) d SYDNEY KINGS 89 (Ware 27, Martin 25, Moller 12, Louzada 10; Martin 11 rebs; Ware, Louzada 4 assts) at The Jungle, RAC Arena. Crowd: 10,123
* * *
UNITED finally turned away a plucky Cairns outfit which had Cam Oliver delivering a double-double with 19-and-12, Nate Jawai value-for-time played and Jordan Ngatai again matching his career-high of 17 points, burying 4-of-6 threes in the process.
Scotty Hopson's return from injury provided Melbourne with a boost but it was Jock Landale (20 points, 8-of-9 shooting, 11 rebounds, four assists) who was most active, Jo Lual-Acuil's 10 points also coming at a perfect 100 per cent.
Jack White had 11 points on 4-of-6 shooting, five boards two assists and a block in 18:33 before what appeared an Achilles injury ended his night prematurely, and subsequently his season. (Fingers were crossed the damage was not as bad as his despair on the bench indicated, but a ruptured Achilles it is.)
Ngatai's three gave Cairns a late sniff when it rallied to be 83-87 but Hopson's triple erased it.
Ngatai and Mojave King forced a Hopson turnover to trim the deficit again to 85-90 but United's import made amends with a feed to Landale for a bucket before swishing two free throws of his own to consolidate the victory.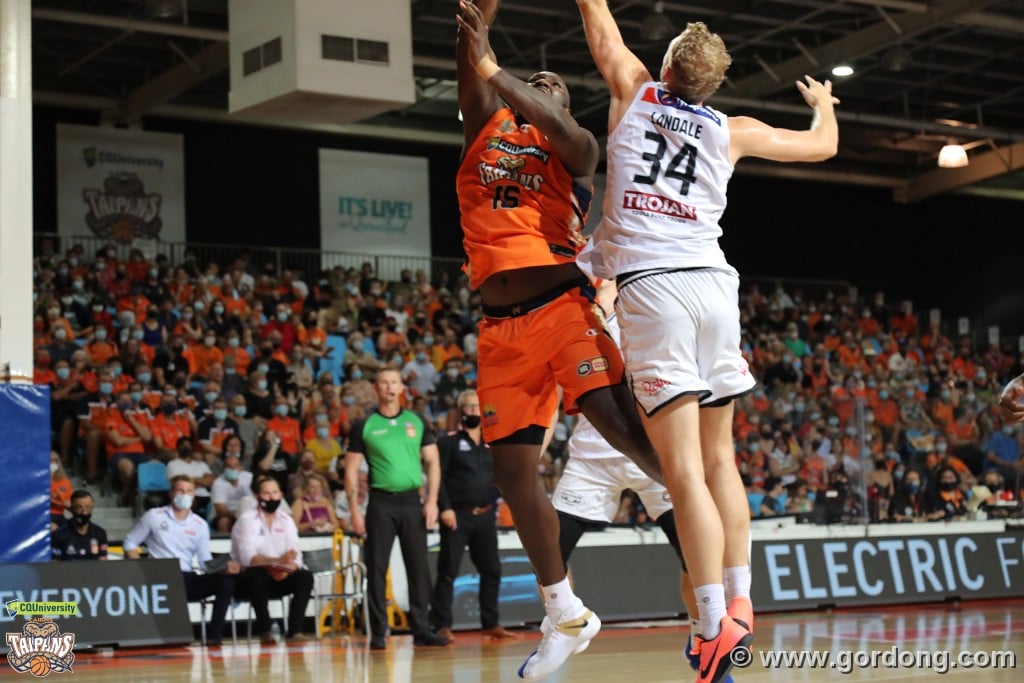 MELBOURNE UNITED 95 (Landale 20, Goulding 16, Hopson 14, White 11; Lual-Acuil 10; Landale 11 rebs; McCarron 5 assts) d CAIRNS TAIPANS 85 (Oliver 19, Ngatai 17, Jawai, Machado 13, Kenny 12; Oliver 12 rebs; Machado 6 assts) at The UN, John Cain Arena. Crowd: 3,673
* * *
MOST of us who weren't born cynics love a good tale of redemption, a story of overcoming the odds and becoming elite at something where the culprit once was effete.
Case in point, reformed former Fremantle Dockers AFL footballer Craig Moller.
Moller has always been a reliable blue collar worker, a guy who will take the bumps and bruises to help his team win. Fitness? Yes. Finesse? Not so much.
The scoring aspect of his game, beyond the mid-range, has for years been questionable. Regular readers here will know how often I've mentioned it will dawn on him one day why he always finds himself open outside the 3-point line.
That day has come ... and gone. Clearly recognising his long-range deficiency, Moller has worked steadfastly at improving an obvious flaw.
That's something a lot of us also love - working hard at something until you master it.
Moller hit a couple of big triples against Perth but after Nathan Sobey (31 points, 6-of-11 threes) put on a first-half show to push Brisbane 42-40 ahead at halftime in Sydney, Crackshot Craig was at the forefront of the Kings' second-half avalanche.
Moller's career-high 20 points included 4-of-5 threes. He also compiled five rebounds, three assists and two blocks in 17:51 quality minutes. Leave him open now at your peril.
Brisbane mustered a meagre 11 points in the third and 29 for the second half. Sydney had 29 in the last quarter alone, Jarell Martin (16 points, 10 boards), Casper Ware with nine assists and 11 points.
Vic Law again did not play, Lamar Patterson did not appear - and he is hard to miss - with Tanner Krebs now also out, the Bullets completely off the boil.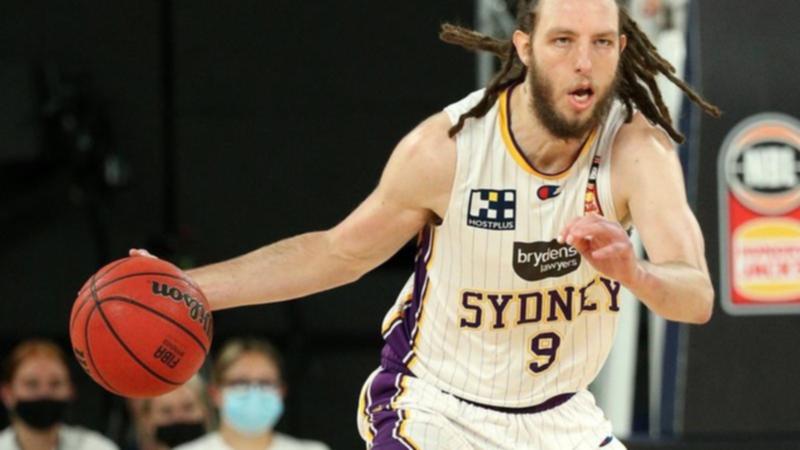 SYDNEY KINGS 90 (Moller 20, Martin 16, Vasiljevic 13, Ware 11; Martin 10 rebs; Ware 9 assts) d BRISBANE BULLETS 71 (Sobey 31, Cadee 11, Jones, Harrison 8; Harrison 19 rebs; Froling 5 assts) at The Kingdome, Qudos Bank Arena. Crowd: 5,439
* * *
AS soon as Adelaide announced Josh Giddey was back from injury for this and that Barry, er, sorry, Tony Crocker was ruled out, meaning Brandon Paul would start, the dynamic for this game immediately changed.
It further was offset by the fact Illawarra's offensive heart-and-soul Tyler Harvey (back) would not be suiting and neither would former NBA forward Cam Bairstow (brittle).
Right then, even knowing 36ers coach Conner Henry would still start Keanu Pinder and therefore give the Hawks early hope, you knew Adelaide's chances of winning this were through the roof.
Pinder actually wasn't the usual liability but Deng Adel's current form might make anyone look OK.
Illawarra just ran out of options, Adelaide with a double-digit lead by halftime. But the Sixers surely had to realise Brian Goorjian would come up with something?
The Hawks were full of pluck when the third quarter was underway and steadily whittled back the deficit. If not for ever-reliable Daniel Johnson (26 points, 15 rebounds) and Josh Giddey (13 points, 11 rebounds, eight assists), Adelaide would have been in more trouble than its sweating fans suspected.
Henry sat on his hands as the Hawks rallied behind a 13-0 run and Illawarra turned this back into a contest.
Adelaide accidentally gave Brandon Paul the ball a few times and he again showed he could be so much more than this club realises. How he isn't showing greater frustration is a credit to him.
ADELAIDE 36ERS 84 (Johnson 26, Giddey 13, Paul, Pinder, McVeigh 10; Johnson 15 rebs; Giddey 8 assts) d ILLAWARRA HAWKS 72 (Jessup 17, Naar 16, Simon 13, Froling 11; Froling 12 rebs; Simon, Naar, Froling 3 assts) at Adelaide Entertainment Centre. Crowd: 5,686
* * *
THE Phoenix threatened to run away with this early, racing to a 29-17 lead after the first break, then further stinging New Zealand with a 5-0 start to the second period.
Down 17-34, it would have been easy for the Breakers to put the cue in the rack and say goodnight.
But Colton Iverson was having none of it, rebounding like a Dennis Rodman clone and adding scoring to his burgeoing repertoire as the one import in the league who turned out way better than everyone initially believed.
Iverson finished with 26 and 22, the most single-game rebounds in the Breakers' storied history, even prompting comparisons to Mark Bradtke, no less.
Tai Webster also was solid so when he limped off with 3:24 left and NZ trailing 75-79, it looked grim.
The Phoenix received a typically active game from Mitch Creek and Yanni Wetzell cobbled together 18 points and 10 boards, the Breakers down 85-88 with 16.4 seconds left.
But two trips to the charity stripe saw South East Melbourne close it out for another significant win.
SOUTH EAST MELBOURNE PHOENIX 92 (Creek 24, Gliddon, Wetzell 18, Adnam 11; Wetzell 10 rebs; Adnam 7 assts) d NEW ZEALAND BREAKERS 85 (Iverson 26, T.Webster 16, Delany 15, C.Webster 11; Iverson 22 rebs; T.Webster 7 assts) at John Cain Arena. Crowd: 1,850
* * *
VERY few people, maybe just the most diehard of the Orange Army, would have expected Cairns to turn around its road loss to Melbourne only a few days later.
The Taipans gave it a decent shot though, the lead see-sawing and giving the locals hope before Mitch McCarron went to work in his former stomping ground.
McCarron had 10 of his 14 points in Melbourne's 21-13 final quarter to seal the deal, United now on a five-win mini-streak.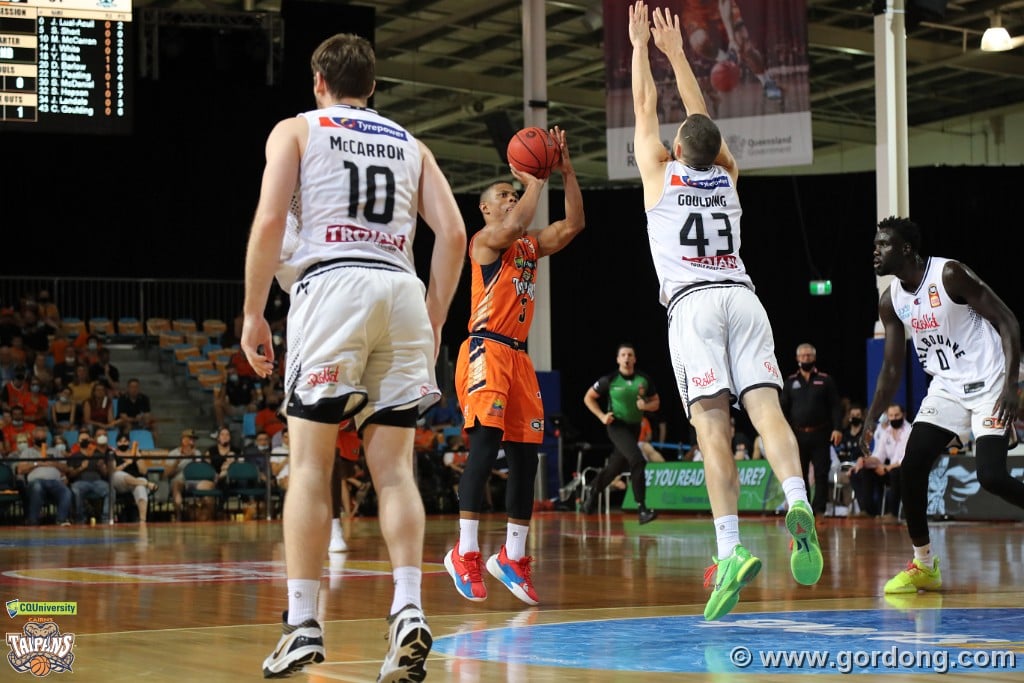 MELBOURNE UNITED 83 (Goulding 15, McCarron, Hopson 14, Landale 13; Landale 10 rebs; McCarron 7 assts) d CAIRNS TAIPANS 73 (Machado 20, Ngatai 15, Oliver 14, Djeric 13; Oliver 11 rebs; Machado 7 assts) at the SnagPit, Cairns Pop-Up Arena. Crowd: 1,847
* * *
ROUND 12 (What We Learnt)
*You need at least a double-digit advantage going into the last quarter to have a shot at beating Perth in The Jungle and those 10,000-plus crowds really do constitute a "sixth man";
*The extra time Craig Moller has put into his shooting has turned his 3-point blot into a shot;
*Nate Jawai still has one of the fastest first steps for a guy anywhere near his size;
*Cam Oliver and Yudai Baba can both make crazy fade-away shots under pressure;
*The Taipans were all class in visiting United's bench post-game to offer their support and condolences for the injured Jack White;
*Gaze-to-Copeland is just as good on TV commentary as it was on the court;
*It doesn't matter how well you play. If your team loses, you apparently cannot win Bunnings Player of the Game honours. Colt Iverson - season-best 26 points, league-high 22 rebounds - and the most influential player in the game against SEM, does NOT win the award. Crazy crap;
*Anyone noting the size of crowds currently attending NBL games must be concerned. Is it the pandemic or the AFL? The NRL? Whatever, playing on into the footy season has powerfully reinforced why summer is the right season for elite basketball in Australia;
*The best aspect of the AFL's return is unloading Dwayne "Welcome wherever you are watching on the Planet" Russell back to his primary function - annoying footy viewers.
* * *
QUOTE of the WEEK
"Was the court wet? Or was it the decal? Or just a weird landing?"
Referee Damian Lyons talking to Breakers centre Colt Iverson at a break in play after the talented centre slipped awkwardly with 6.9 seconds left against SEM. Is Damian aware "decals" are an NBL taboo topic??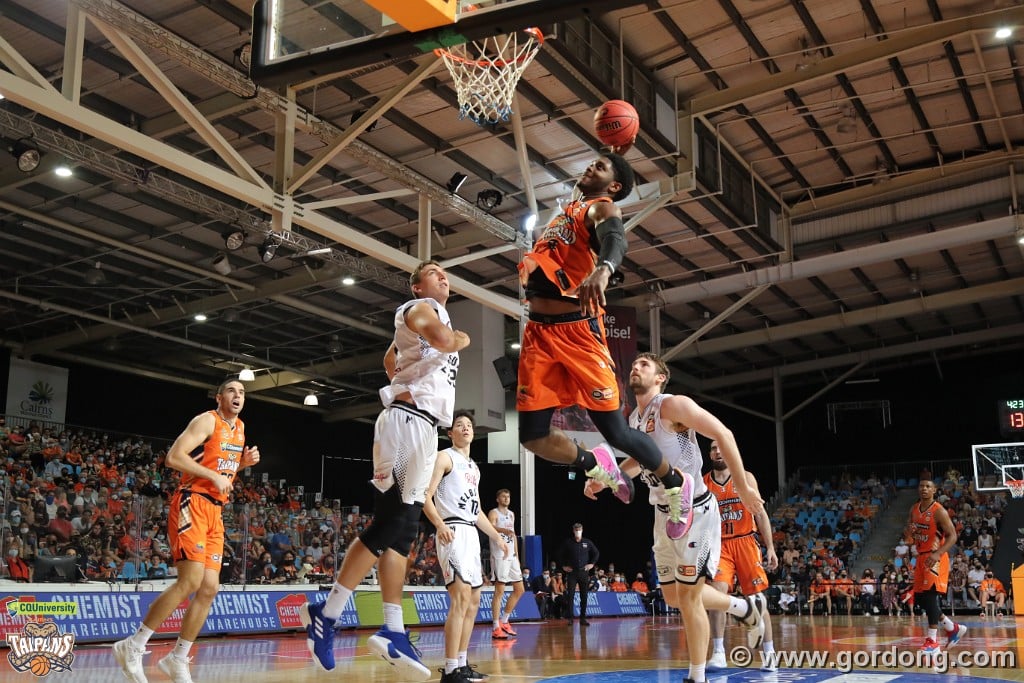 TOMORROW: Our Team of the Week