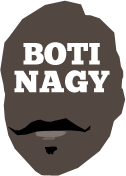 ---
Advertising opportunities available.
Please contact me.
---
NBL21 Rd21 Wrap: OK then, let's get on with it.
Tweet
DEFENDING NBL champion Perth tips off the 2021 best-of-three semi finals at home on Thursday against the incoming Illawarra Hawks while the rival semi final starts Friday in Sydney and features a Victorian derby between Melbourne and South East Melbourne.
Twice beaten by Brisbane in the regular season's final round, South East's road win in between over New Zealand secured it a finals berth.
But if it wanted to avoid United, it showed precious little to indicate it can take the series to a deciding third game on Tuesday, with Game 2 scheduled for Sunday.
Victoria's current COVID-19 situation means all three games are scheduled for Qudos Bank Arena, the home team Sydney Kings (19-17) left to lament some of the games that got away and kept the Phoenix (19-17) in the Final Four ahead of them on percentage.
Illawarra on Saturday hosts Game 2 of its series with Perth in Wollongong - scene of the Hawks' epic win over the Wildcats last round to secure a Finals berth - with a deciding third game, if necessary, back in Perth on Monday.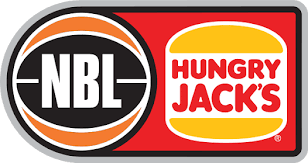 ROUND 21 - GAME BY GAME
IT was epic, it was pure theatre, it was wonderful and also, by the by, one of the best matches of the regular season as Illawarra staved off Perth to return to the playoffs.
It was glorious for Hawks coach Brian Goorjian who reached the Final Four for the 21st consecutive time in his NBL career, after having first achieved the two other milestones.
First, he brought in the right mix of players to turn the Hawks back into some kind of competitive contender. Then, with success came the other huge milestone, the restoration of the "Illawarra" name back to the Hawks.
As the only remaining club from the NBL's inaugural 1979 season which has competed in every season since, it was truly joyous to see it hold the Wildcats sufficiently at arm's length to secure a 20th victory and with it a return to the semi finals.
No-one was bigger for Illawarra than Tyler Harvey, firmly in any MVP conversation, but Deng Deng sure had some important moments, utilising his length for four steals, and even though Dan Grida and Tim Coenraad only connected on one threeball apiece, they were timely and significant.
As is the big fear for any Wildcats fan during the prolonged injury-forced absence of dual league MVP Bryce Cotton, Perth struggled to find consistent scorers to support John Mooney, with Todd Blanchfield and Mitch Norton both down offensively.
For the conspiracy theorists floating that Perth "wanted to lose" to draw Illawarra in the semi finals, it is clear the club neglected to tell Mooney, whose last-gasp 3-point shot for the win definitely had a few hearts in mouths.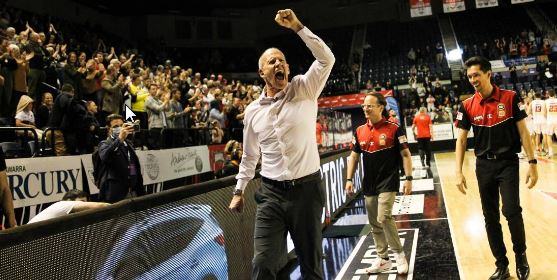 ILLAWARRA HAWKS 81 (Harvey 27, Froling 14, Jessup 12, Deng 11; Ogilvy 7 rebs; Ogilvy, Harvey 3 assts) d PERTH WILDCATS 79 (Steindl 15, Mooney 14, Wagstaff 12; Mooney 16 rebs; Norton 9 assts) at the Sandpit, WIN Entertainment Centre. Crowd: 2,038
* * *
WHAT a barn-burning finish this latest incarnation of the Breakers-Taipans rivalry provided fans in Rotorua before Tai Webster nailed a huge 3-pointer and Finn Delany threw a breath-taking fullcourt pass to put this one away.
Trailing 16-25 at the first break, Cairns bounced back with a 26-16 quarter of their own to lead 42-41 at halftime before this one ground down to an enthralling conclusion.
Colton Iverson's free throw gave New Zealand a 77-74 lead just outside the final minute, Scott Machado driving to the hoop and fouled by Levi Randolph.
On another night, it may have been deemed unsportsmanlike but Randolph escaped with a regulation foul, Machado's twin makes from the stripe cutting the deficit to 76-77.
Tai Webster then pulled up and swished a well-balanced 3-pointer from the top of the key to just about wrap this with the lead at 80-76.
But Webster's turnover after a defensive rebound under Cairns' basket gave Majok Deng an easy kill and at 78-80, this still was alive.
Delany then uncorked the pass of the night on the inbounds, throwing the ball nearly the length of the court so it dropped ahead of Cairns' sprawling defenders, right into Iverson's arms for the dunk and effectively, game over.
The end typified the type of season the Taipans have endured but at least now, the club is out of its misery.
NEW ZEALAND BREAKERS 84 (T.Webster 23, C.Webster 16, Iverson 15, Randolph 11, Delany 10; Iverson 12 rebs; C.Webster 4 assts) d CAIRNS TAIPANS 78 (Machado 21, Jawai 14, Deng 11; Jawai 8 rebs; Machado 10 assts) at Energy Events Centre, Rotorua.
* * *
SOUTH East Melbourne must have nightmares about playing in Cairns Pop-Up Arena, last round fading out against the Taipans, this time squandering a 42-37 halftime lead to be outscored 31-15 in the third by playoff wannabe Brisbane.
Mitch Creek's 16-point first half paced the Phoenix who looked on track to continue their season-sweep of the Bullets. But Brisbane came out of the interval fired up and ready to go, a 9-0 run from the break making a mockery of the first half.
SEM tied it again at 46-46 but Jason Cadee was hitting everything and the Bullets controlled the momentum, the experienced guard pushing Brisbane's margin into double figures.
If Creek (28 points at 50 per cent, nine rebounds, six assists) hadn't been at his best, this would have been a lot worse, Keifer Sykes, Reuben Te Rangi, Yanni Wetzell and Ben Moore all struggling from the floor and only Kyle Adnam finding the bottom of the net for his 20 points.
In contrast, Brisbane had Cadee inspirational, Nathan Sobey scoring, rebounding and dishing the ball, Lamar Patterson, BJ Johnson, Harry Froling and Tyler Harrison (10 points on a perfect 4-of-4 from the floor, eight rebounds in 21 minutes) all at differeing times causing the Phoenix angst.
South East Melbourne's 10-point lead during the first half was a distant memory as the Bullets kept alive their Final Four dream, leading by as many as 17 before the Phoenix's belated rally.
BRISBANE BULLETS 91 (Sobey 22, Cadee 19, Johnson 13, Froling, Patterson 10; Sobey 9 rebs; Cadee, Sobey 6 assts) d SOUTH EAST MELBOURNE PHOENIX 84 (Creek 28, Adnam 20, Broekhoff 12; Creek 9 rebs; Sykes 8 assts) at Cairns Pop-Up Arena.
* * *
AS soon as it became apparent Tyler Harvey would not be taking the floor for the derby match with Sydney, a Kings win became a foregone conclusion.
Someone forgot to tell Illawarra though as Brian Goorjian's young charges made a game of it from the outset.
Finding a consistent answer for Kings import Jarell Martin just wasn't something the Hawks could muster, Xavier Cooks also enjoying some nice personal touches in a contest where Sydney never could quite put Illawarra away with the decisiveness required to suggest it still could reach the Final Four.
SYDNEY KINGS 79 (Martin 23, Cooks 19, Hunter 15, Ware 10; Martin 12 rebs; Ware 8 assts) d ILLAWARRA HAWKS 73 (White, Froling, Naar 12, Jessup 10; Froling 7 rebs; Naar 6 assts) at the Sandpit, WIN Enterianment Centre. Crowd: 3,217
* * *
FROM the moment it was apparent Mitch Norton would join Bryce Cotton - ruled out for the entire season now following his recent surgery - on the sidelines for the top-of-the-table clash with Melbourne, you knew Perth was no chance to upset the soon-to-be regular season champs.
The match immediately dropped from "grand final preview" to grand funky revue but credit the Wildcats for making a competitive game of it for the most part.
United succeeded in erasing John Mooney as a factor - Jock Landale was the man in the middle in this one for sure, and credit him for joining into the spirit of the game with his pink socks - but was this all a ploy?
While many chose this result to formally "write off" the Wildcats as a championship chance, the hip injury which kept Norton out should have him back in time for the playoffs.
Could not playing him have been a ploy to avoid showing United anything of how the Wildcats will handle the playoffs without Bryce Cotton?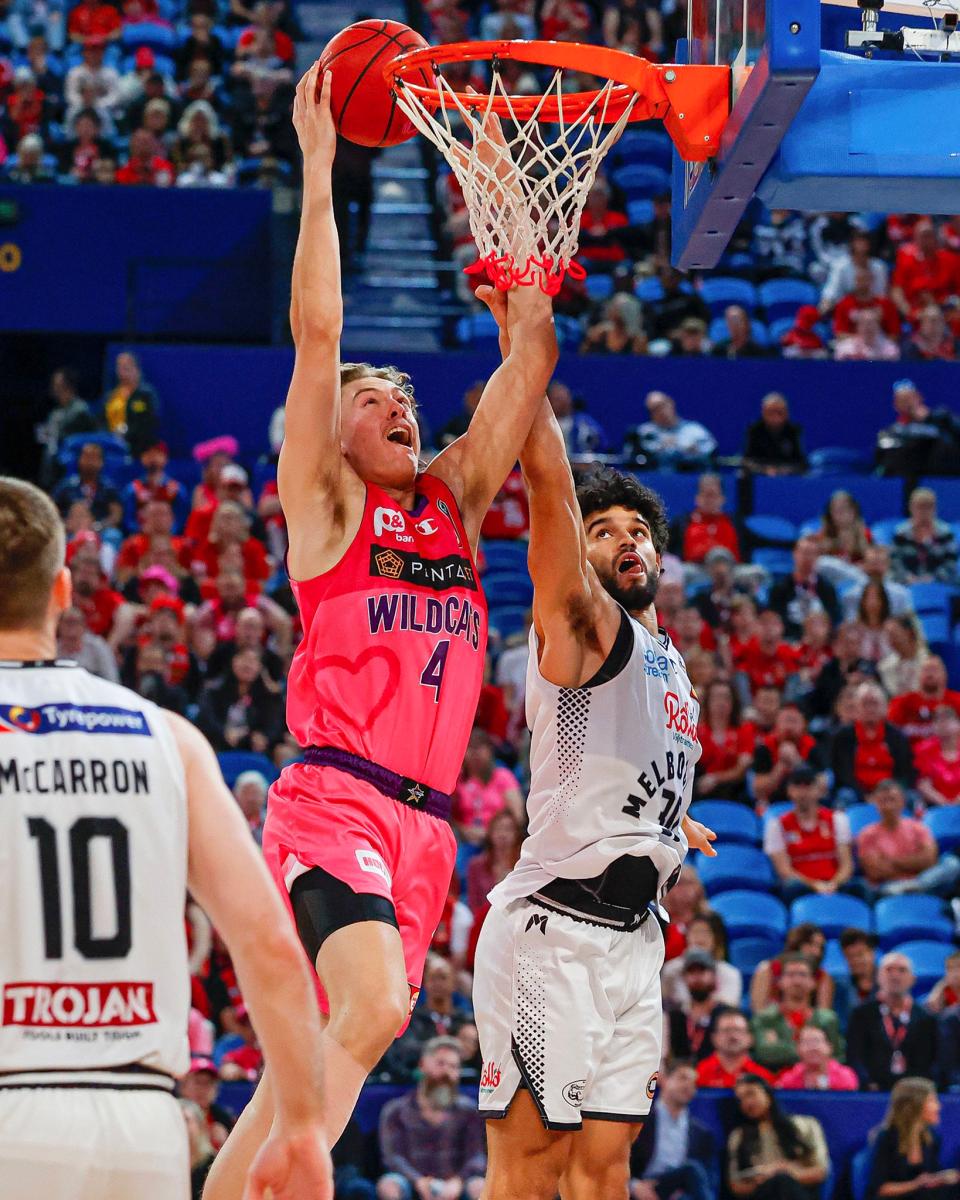 MELBOURNE UNITED 78 (Lual-Acuil 16, Landale 14, McCarron 11; Landale 6 rebs; McCarron 5 assts) d PERTH WILDCATS 64 (Blanchfield 15, Magnay, Travers 10; Travers 9 rebs; White 6 assts) at The Jungle, RAC Arena. Crowd: 12,185
* * *
KEIFER Sykes loaded the Phoenix onto his back and showed them the way to the playoffs' promised land with a 21-point first half that set South East Melbourne's finals future in stone.
Tai Webster scored to beat the halftime buzzer, to trim New Zealand's deficit back to 10 but it always was going to be an uphill battle for the Breakers.
There was no lack of fan support from the raucous NZ crowd, but Sykes was taking South East Melbourne to the Final Four and nothing was going to stop him.
SOUTH EAST MELBOURNE PHOENIX 83 (Sykes 29, Moore 11, Te Rangi 10; Broekhoff 10 rebs; Sykes 5 assts) d NEW ZEALAND BREAKERS 78 (T.Webster 26, Delany 18, Iverson 10; Iverson 12 rebs; Delany 4 assts) at Trusts Arena. Crowd: 3,872
* * *
SO much rode on the outcome of this game between the Kings and Bullets, yet in the end, so little as Sydney was brought home by almost 10,000 loud fans for a thrilling one-point win.
And what drama there was as this wound to its edge-of-your-seat conclusion, Brisbane leading 80-79 when Casper Ware missed a 3-point attempt for the lead and/or win.
Xavier Cooks snapped up the rebound and popped in a reverse for Sydney to go ahead 81-80 but with 51.5 heartbeats remaining, Lamar Patterson drove to the hoop for an easy layup, restoring Brisbane's lead at 82-81.
Ware turned the ball over but Patterson shot an airball and you had to start wondering if either team wanted to win this.
Shaun Bruce did, risking mayhem with a drive to the bucket on which he was fouled, He coolly converted both free throws for Sydney to lead 83-82, Brisbane taking timeout with 14.2 seconds left.
Patterson drove, was played tough defensively and under pressure, tried to pass out to Jason Cadee for a turnover. Ball back to Sydney ... and Ware is called for an offensive foul on the inbounds pass, brushing into defender Nathan Sobey who flew backwards from the corner of the keyway to outside the 3-point line. That Casper sure whacks a punch!
(Ball back to Brisbane. Did I mention neither team wanted to win this?)
BJ Johnson finally missed a difficult baseline drive and the Kings could celebrate the win, Brad Newley's 250th game and Dan Kickert's 200th.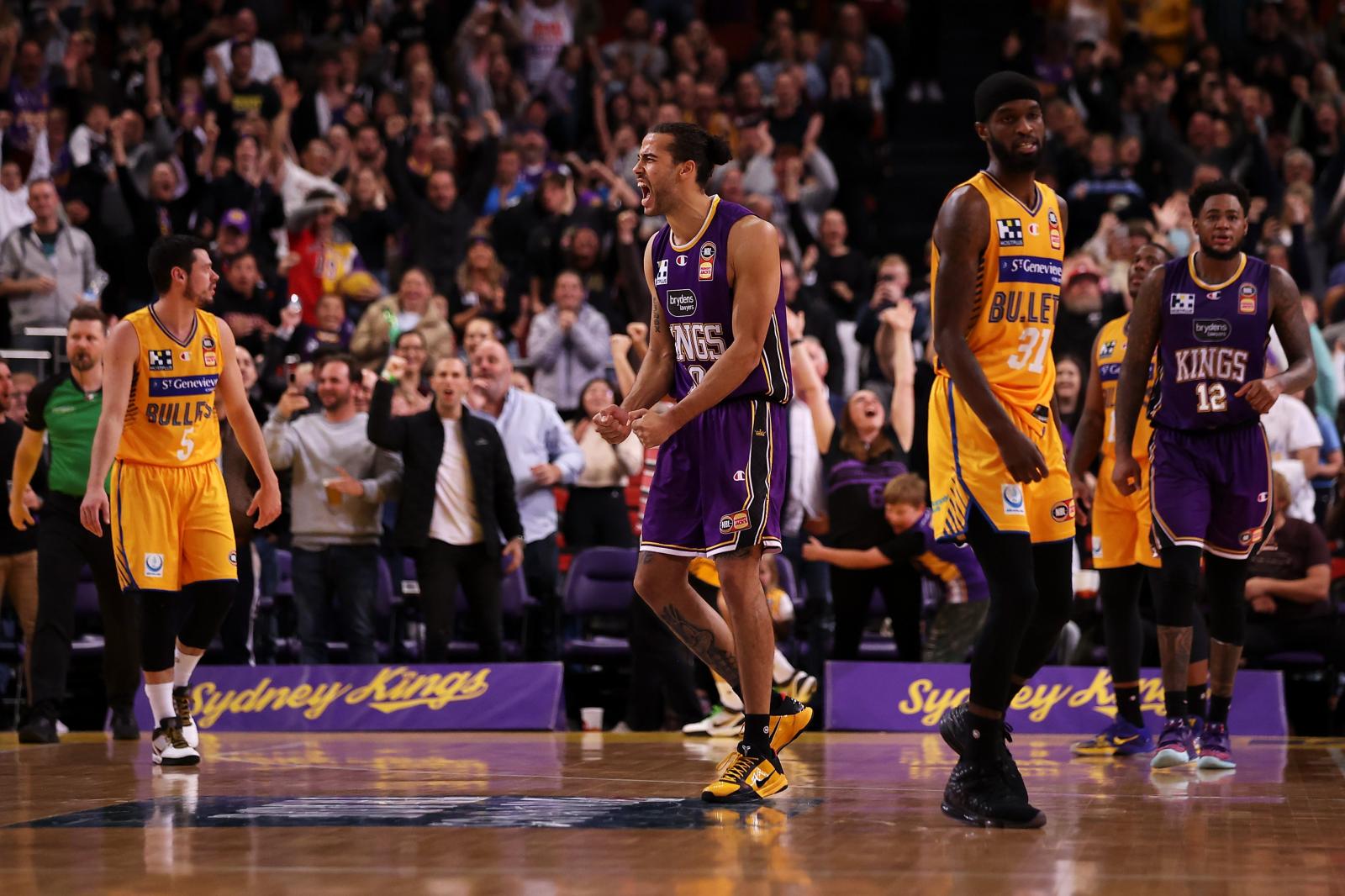 SYDNEY KINGS 83 (Martin 28, Ware 14, Kickert 10; Cooks 8 rebs; Cooks 6 assts) d BRISBANE BULLETS 82 (Sobey 22, Johnson 17, Patterson 15, Froling 11; Sobey 8 rebs; Sobey 8 assts) at The Kingdome, Qudos Bank Arena. Crowd: 9,267
* * *
WHEN your opponent is gifted a home game in your venue, then starts its second five against you, that should be enough of a slap-in-the-face show of disrespect to fire up the turnbines.
But sadly for 36ers fans this season past, the only fire in Adelaide's belly is from too many tacos, Melbourne's "skins" - Sam McDaniel, Shea Ili, David Barlow, Jo Lual-Acuil and Scotty Hopson - starting with an 8-0 outburst which already had Sixers coach Conner Henry calling timeout inside the game's first minute.
I guess when there's no real pride in the uniform - and why should there be? It's not as if it even represents the state anymore - then a meek home capitulation in front of 1800 diehards should be about what you would expect.
But Barlow pulling a nifty move from the vault to drive past Daniel Johnson for an easy layup was as much as Henry needed to see.
Me too. The footy was a lot more interesting and it's still easier to reach for the remote than dry reach at the 36ers masquerading at the defensive end.
Jock Landale, Hopson, Lual-Acuil early and Ili (eight assists) all thoroughly enjoyed themselves while Tony Crocker ended his NBL career with a 27-point game which included 6-of-8 threes.
Johnson picked up an unsportmanlike foul while someone needed to pick up a few Strepsils for Henry, Adelaide losing every quarter, despite a minor second quarter rally at the start which forced Dean Vickerman into an early timeout.
Sometimes you just have to count the small victories.
MELBOURNE UNITED 102 (Landale, Hopson 19, Lual-Acuil 16, Goulding 12, Ili 11; Landale 9 rebs; Ili 8 assts) d ADELAIDE 36ERS 80 (Crocker 27, Johnson 18, Paul 14; Johnson 13 rebs; Dillon 5 assts) at Adelaide Entertainment Centre. Crowd: 1,817
* * *
BRISBANE found the perfect way to farewell departing coach Andrej Lemanis, smacking playoffs-bound South East Melbourne by double-digits tonight to close its season on an 18-18 win-loss record.
The loss relegated the Phoenix into a best-of-three derby semi final against regular season champion Melbourne United and came despite Phoenix's import centre Ben Moore battling for a personal and club record 12 offensive rebounds.
But the Phoenix's inability in the last quarter in particular to defend any Bullet on the drive was especially costly, Nathan Sobey and Lamar Patterson routinely streaking past SEM's road cones.
Needing victory to avoid United in the semi, South East was surprisingly indifferent at key times in the game but the Bullets had no such dilemmas, playing hard to send Lemanis off to his new gig in Japan in the best way possible way ... as a winner.
BRISBANE BULLETS 94 (Patterson 19, Drmic, Johnson, Sobey 16, Cadee 12; Sobey 11 rebs; Sobey 4 assts) d SOUTH EAST MELBOURNE PHOENIX 84 (Creek 17, Broekhoff 14, Sykes 13, Adnam 11, Te Rangi 10; Moore 16 rebs; Adnam 6 assts) at The Armoury, Nissan Arena. Crowd: 2,508
* * *
QUOTE of the WEEK
"The 'guru' Brian Goorjian, what he's been able to do, across not just one organisation (but) different cultures, different teams. He's able to get on board with a team, bring in the talent, and guide it to the playoffs. It's just a remarkable history to be able to guide different teams ... 21 consecutive years of making the playoffs in this level of competition ... after you've had a spell for nine or 10 years - you've gone off into Asia and taken your talents to China - then he comes back and hasn't lost a beat!"
All-time NBL "gun" player and TV commentator Andrew Gaze waxes lyrical as Brian Goorjian guides unfashionable Illawarra Hawks into the Final Four playoffs.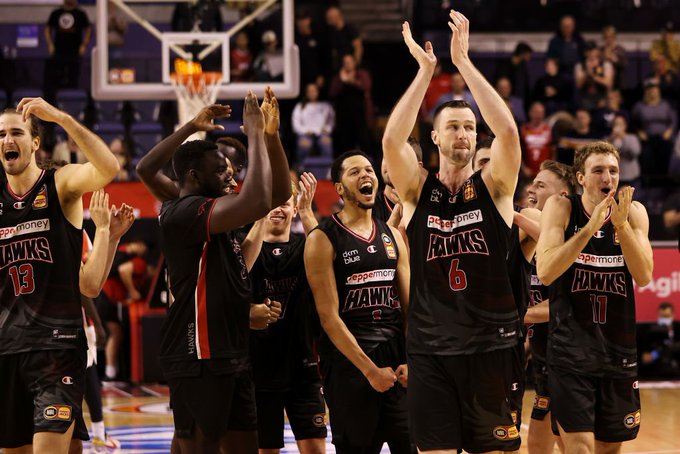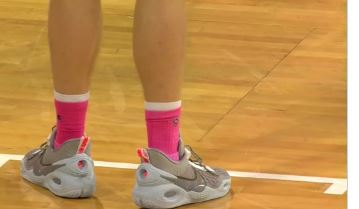 PS
Here it is
A new take on grandma's annual Christmas present...
Jock's and socks...
TOMORROW: Team of the Week