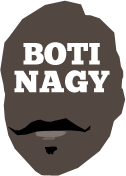 ---
Advertising opportunities available.
Please contact me.
---
No Damo, no drama
Tweet
THE absence of Perth NBL championship captain and Rio Olympian Damian Martin from today's 20-man Boomers squad stood out like Kevin Durant at an under-10 skills clinic.
But there really is no drama where the 2016 Larry Sengstock Medallist is concerned, Martin revealing he withdrew from Australia's Asia Cup calculations about 10 days ago due to family commitments.
It is by no means the end of his international career but does open the door for Mitch Norton (Illawarra) and Jason Cadee (Sydney) to take a step into the green-and-gold, behind the two more obvious playmaking candidates, Rio Olympian Kevin Lisch (Sydney) and 2015 Oceania Boomer Cam Gliddon (Cairns).
Another Rio Olympian, Brisbane's ex-NBAer Cam Bairstow (injured) is not in the squad and NBL All Star Five (First Team) selection, AJ Ogilvy is another notable omission.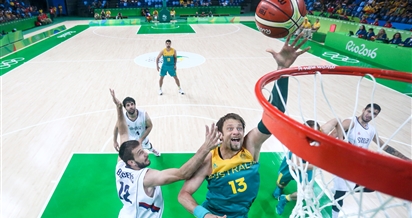 CAPTAINCY MATERIAL? David Andersen in action for the Boomers.
Lisch joins fellow Rio Olympians, Melbourne United duo David Andersen and Chris Goulding, in Andrej Lemanis' squad, with unlucky Rio omission and dual-Olympian Brad Newley also back.
Omitting Newley from the Olympic team was the toughest decision Lemanis and his coaching team had to make and there is no question it stung the Beijing and London Games swingman.
"He has an unbelievable passion for playing for Australia," Kings coach and five-time Olympian Andrew Gaze said, dispelling any thoughts Newley might step away after last year's disappointment.
"Until he finishes (his career), he'll still be trying (to play for Australia). I actually approached him and asked him, thinking: 'Well maybe, maybe the enthusiasm might be waning.'
"He was: 'Whatever it takes, I want to be there,' and as a coach you sort of think, you know, a lot of time in the preparation, he misses preseason and you've got these windows and those types of things. But then you rationally think about it and I want every single one of my players that has the opportunity to play at that level and represent their country, whatever it takes, I'm all in.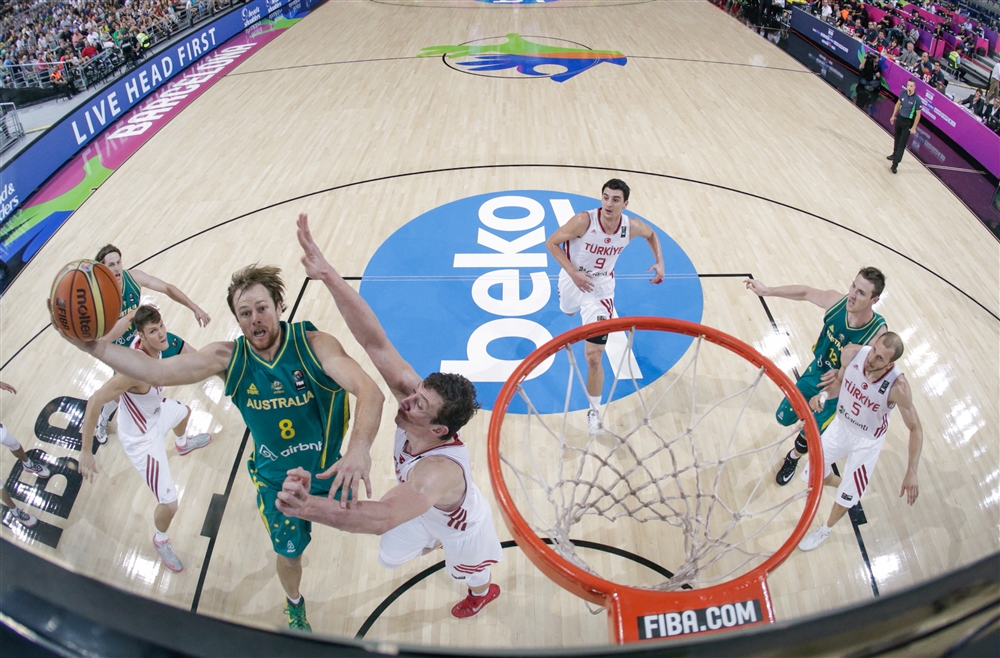 UNBELIEVABLE PASSION: Brad Newley relishes wearing the country's green-and-gold.
"I see the benefits for the Kings – yep, there might be some hardship that you have to endure for it but you've got to look at the bigger picture and say: 'Yes, I want all my guys aspiring to do that and I want to help them and I want to help Andrej and whatever it is, whatever it takes, for that to happen.
"Because of my own personal (international) experiences , I understand the joy and just the incredible honour and privilege and all those things it is for an individual to have that experience. But I also think that it's going to help me, as a coach.
"With those players getting that experience and broadening their games, learning ... they will become better.
"Of course, there are risks but the benefits to me greatly outweigh the risks."
The squad heads for a Gold Coast camp next month ahead of the FIBA Asia Cup in Lebanon from August 8-20.
Selected at camp, the final team of 12 will fly overseas, playing pre-Cup matches heading into Australia's first appearance in the tournament.
"I'm really pleased with the group," Lemanis said.
"The new FIBA format provides the opportunity for different guys to step in and show what they can do on the international stage and I'm looking forward to seeing it play out.
"The enthusiasm that new people bring to the group is always exciting to be around."
A larger squad will be drawn on for the FIBA World Cup Asian qualifiers in November, February and June-July.
Australia is away to Chinese Taipei on November 24, home to Japan on November 27 during the first NBL in-season window.
On February 22, the Boomers host the Philippines and on February 25, Australia hosts Chinese Taipei.
On June 29, Australia is away to Japan and on July 2, away to the Philippines.
"The new qualification system means that the team must be fluid and those that do not make the FIBA Asia Cup will still be part of the broader squad moving forward," Lemanis said.
"While we will take 12 guys to the FIBA Asia Cup, this is still a broader squad process in terms of the World Cup qualifiers and there are still other guys that are not a part of this squad that can play a part in the qualifiers as well."
The draw for the FIBA Asia Cup placed the Boomers in Group D alongside Japan, Chinese Taipei and Hong Kong.
The 16-team format for the FIBA Asia Cup is a round-robin group stage with the top three teams advancing from each of the four groups.
The quarter-finals are knock-out, the semis determining combatants for the Gold and Bronze Medal matches.
"The FIBA Asia Cup provides us with an opportunity to develop and find out about ourselves and where we might sit in the new Asia/Oceania zone," Lemanis (pictured below) said.
Successfully negotiating the FIBA World Cup qualifiers is the major goal.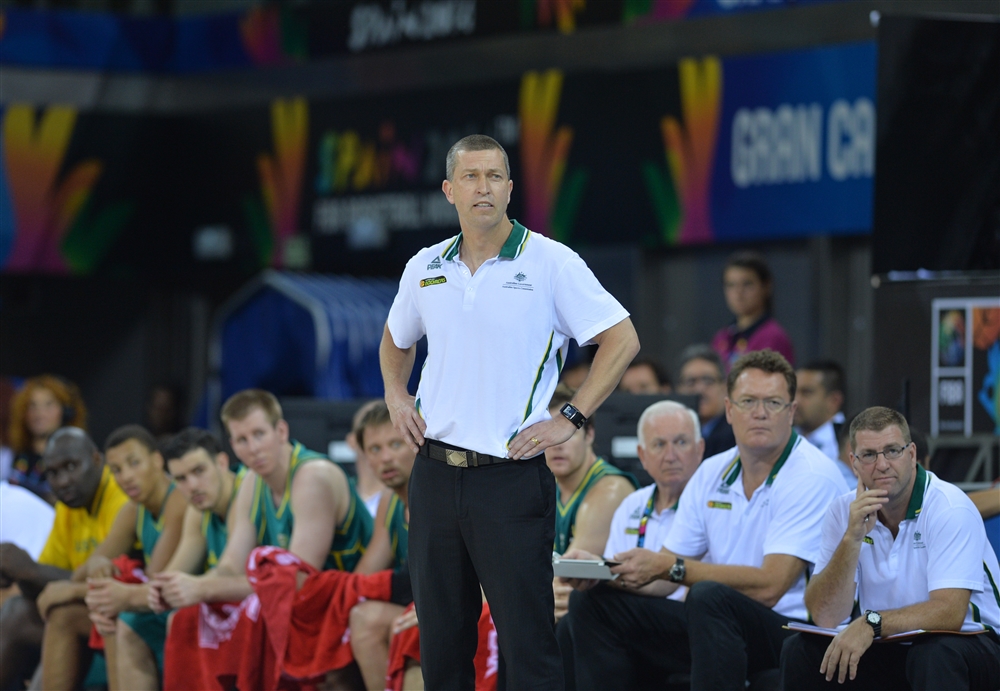 Alongside Andersen and Goulding, Melbourne also boasts Majok Majok while Adelaide 36ers have Mitch Creek, Nathan Sobey and Matt Hodgson in the squad.
Sydney boasts Lisch, Newley, Cadee and Todd Blanchfield, though as he hasn't yet played a game for the Kings, United and Townsville can take some kudos for Blanchfield's overdue elevation.
Townsville also can take a bit of a bow for the selection of Illawarra pair Norton and Nick Kay, Tom Jervis and Dan Kickert in the squad from Brisbane, Gliddon and Mitch McCarron from the Taipans, Jesse Wagstaff and Angus Brandt from the NBL champion Perth Wildcats.
European-based pair Ben Madgen and Clint Steindl round out the 20.
The Helloworld Travel Boomers Squad for the FIBA Asia Cup: David Andersen (Melbourne United), Todd Blanchfield (Sydney Kings), Angus Brandt (Perth Wildcats), Jason Cadee (Sydney Kings), Mitch Creek (Adelaide 36ers), Cameron Gliddon (Cairns Taipans), Chris Goulding (Melbourne United), Matt Hodgson (Adelaide 36ers), Tom Jervis (Brisbane Bullets), Nicholas Kay (Illawarra Hawks), Daniel Kickert (Brisbane Bullets), Kevin Lisch (Sydney Kings), Ben Madgen (Lietkabelis Panev??ys, Lithuania), Majok Majok (Melbourne United), Mitch McCarron (Cairns Taipans), Brad Newley (Sydney Kings), Mitch Norton (Illawarra Hawks), Nathan Sobey (Adelaide 36ers), Clint Steindl (Leuven Bears, Belgium), Jesse Wagstaff (Perth Wildcats).