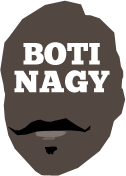 ---
Advertising opportunities available.
Please contact me.
---
Now Opals go for Gold
Tweet
AUSTRALIA is through to the Gold Medal game of the FIBA Asia Cup in India after repeating its intrapool cruise over South Korea with an 81-64 semi final win today.
Bendigo Spirit's naturalised forward and dual-WNBL champion Kelsey Griffin was simply magnificent, a woman on a mission from the tip-off, outstanding at both ends of the Bengaluru Stadium court.
She wasn't alone.
Promoted into the starting quintet in the quarter-final win over North Korea, Lauren Mansfield most likely played herself into Australia's FIBA World Cup team to Spain next year with a poised point guard exhibition.
The second-guessing on her own shot - the only criticism of her tournament so far - was never evident today as she mustered the Opals, throwing huge pressure back onto Rio Olympics playmaking starter Leilani Mitchell.
Unavailable for the Asia Cup due to her WNBA commitments with Phoenix Mercury, Mitchell also is naturalised, but international teams can suit only one foreign-born player.
With the way Griffin and Mansfield played tonight, the competition for spots on the team to Spain just substantially increased.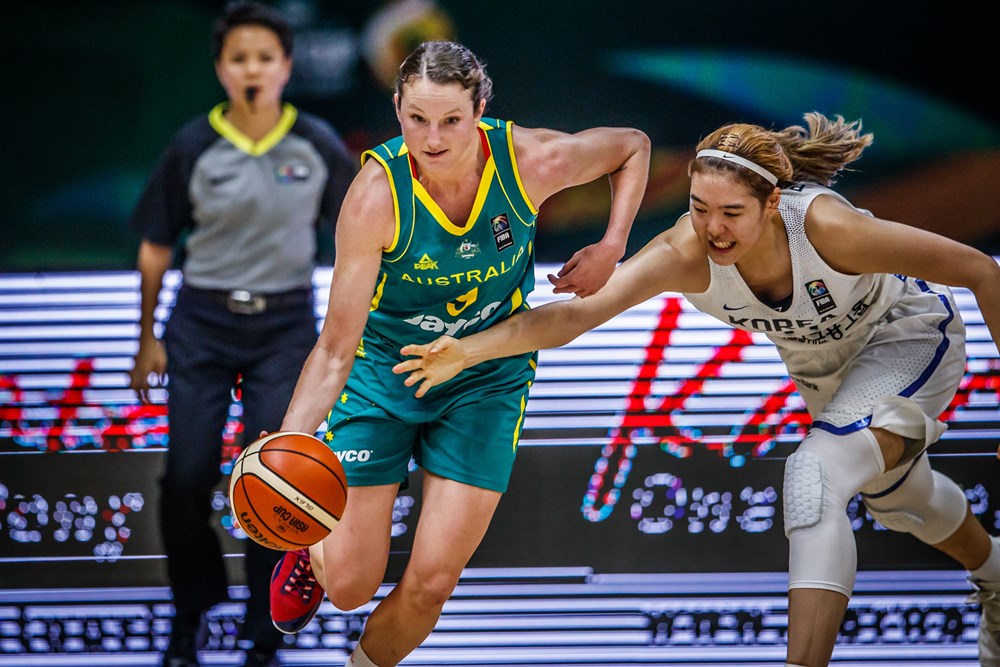 LOOK OUT! Kelsey Griffin is going coast-to-coast. Pic courtesy FIBA.com
Griffin only had to play 15:43 to finish as Australia's leading scorer and rebounder with a 16 and nine double, and she was 7-of-11 from the floor.
Mansfield had 10 points at 57 per cent, with 2-of-3 threes and four assists, and also only had to play less than half the game.
Interim Opals coach Olaf Lange actually had the luxury of resting his key players ahead of tomorrow's Gold Medal game against Japan, which beat China 74-71 in a cracker of a semi final.
It was clear from tip-off Australia was playing with purpose, Belinda Snell opening the scoring before Marianna Tolo blocked a shot in the defensive key. Griffin pounced on the ball and took it coast-to-coast.
She added another layup before Snell blocked a shot, again setting Griffin off down the floor with a second coast-to-coaster.
When Tolo added a hook shot for a 10-2 lead, Korea was taking timeout but Australia wasn't taking time off. Mansfield stuck a 3-pointer before a great defensive read and steal by Griffin set the Opals off, Sara Blicavs completing the sequence with a three-point play.
Blicavs to Griffin for a corner three was the Opals putting on a clinic.
Enter Alanna Smith, who opened her scoring with a shot on the baseline where she was floating behind the backboard but adjusted the shot sufficiently in her right hand for a super basket.
The 22-17 first break lead was not indicative of the Opals' control but the 23-13 second period was decidedly so.
Tolo's offensive rebound led to a terrific cut by Katie-Rae Ebzery and the Aussies were off and running.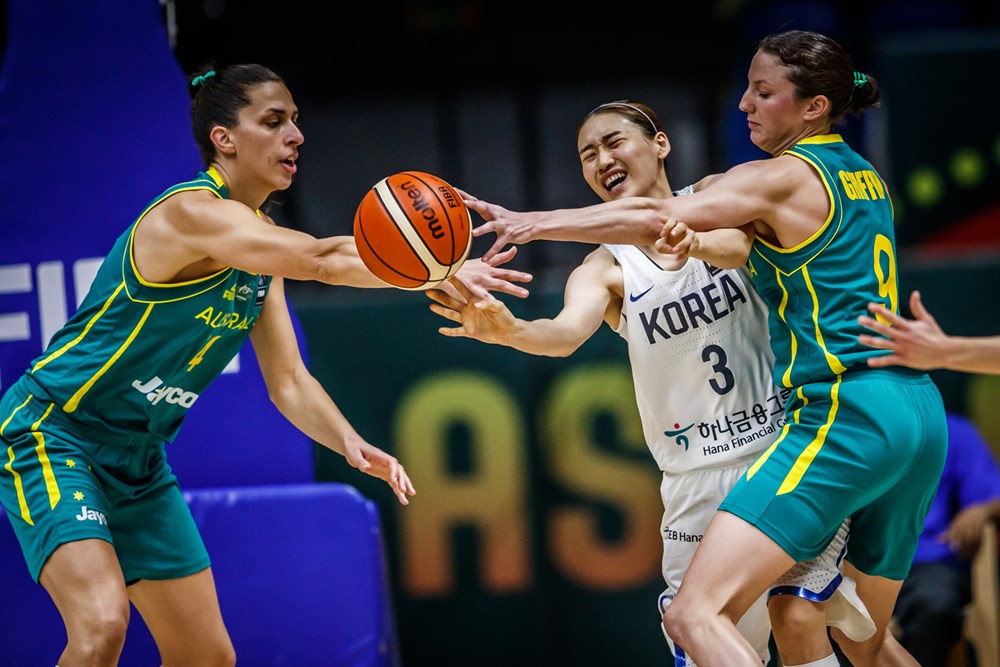 GOING NO-WHERE: Marianna Tolo and Kels Griffin with the double-team. Pic courtesy FIBA.com
Snell to Smith was a wicked pass for two, then Mansfield compiled 72 seconds of individual brilliance.
At 5:11 to halftime, she nailed her second 3-pointer. She followed that with a sizzling drive to the basket and at 3:59, had an encore drive to the hoop. It was delightful stuff.
Snell converted three free throws after an ill-conceived Korean foul before Mansfield uncorked a gem of a long pass to Tolo.
She had a better one up her sleeve, a drive and no-look behind the back flip pass to Griffin who never doubted it was coming and comfortably finished the play.
Ebzery and Steph Blicavs chimed in with great offensive plays and by the last break Australia was ahead 61-41 and heading into the Final.
Smith and Maddie Garrick were strong for the Opals as they closed out the win, the 20-point buffer pulled back on the siren by a successful 3-point heave by Sungyoung Sim.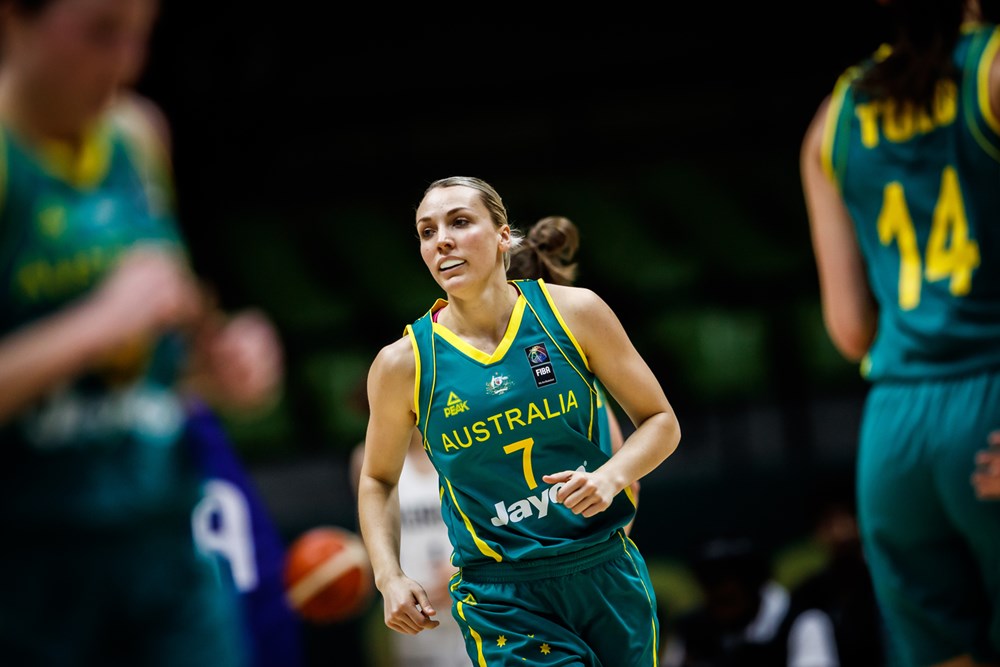 ON SONG: Maddie Garrick finished strongly. Pic courtesy FIBA.com
It was cold comfort, the Opals now one win away from completing a 6-0 tournament and claiming the Asia Cup at their first attempt.
But defending champion Japan, which came from a double-digit deficit midway through the last quarter to upset China, will be anything but a sure thing.
AUSTRALIA 81 (Griffin 16, Smith 12, Mansfield, Sa Blicavs 10; Griffin 9 rebs; Ebzery 5 assts, Griffin, Tolo 2 stls) d SOUTH KOREA 64 (Sim, Kang 14, Lim 12; 3 with 5 rebs; Sim 5 assts, Park 1 stl).