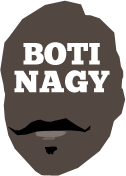 ---
Advertising opportunities available.
Please contact me.
---
Their turn to be Canuckleheads
Tweet
BACKING up from a disappointing 90-70 loss to Canada last night, the Boomers tonight attacked defensively, unearthed another diamond in Jonah Bolden and got the job done 81-73 at Perth's RAC Arena.
Taken as a game in its own right, there was much to like about the Aussies' performance, Jock Landale again a standout with team highs of 13 points and nine boards and a far more committed effort from everyone all over the floor, particularly without the ball.
But in the context of a two-game series en route to the FIBA World Cup in China with the opening intragroup match against Canada in 15 days, there still is much to do.
Certainly, the absence of Andrew Bogut and Patty Mills for the Boomers, and last night's star Kevin Pangos out for Canada must be taken into consideration, as does the nagging possibility that NBA guard Corey Joseph may still join the Canucks in China.
And again, some of the substitution decisions and timing of Boomers coach Andrej Lemanis were cause for head-scratching and shoulder-shrugging of the "don't understand the reason for that" kind.
But also again, there are fatter fish to fry in China and Australia's improvement within 24 hours is cause for cautious optimism. So if he was trying combinations with a view to the (immediate) future, then fair enough.
Aron Baynes' return to the lineup was significant early but it only truly was his foul troubles that opened the door for a bolster in Bolden's minutes and he was terrific as his confidence grew.
Amazing what some successive minutes can do for a bloke.
And while Baynes was good, Landale and Bolden impressive, Joe Ingles and Matthew Dellavedova making big plays, Nick Kay and Chris Goulding value, question marks still hang over Nathan Sobey and Cam Gliddon.
Adelaide 36ers fans already know Sobey is NOT a point guard, no matter how much he wants to be one or how much the Boomers or the Bullets want him to be. He is at his best loose on a wing, driving, dunking, pulling up for three.
Bringing the ball up under international pressure, getting the ball to the right guys, defending a drive? Not his strong suit.
Similarly Gliddon worked his butt off to grab four defensive boards and to insert himself more as the shooter he is supposed to be. He scored an F on last night's report card. He got a pass mark tonight.
Canada started with a block on Landale's first shot, then a basket to Andrew Nembhard - not the most inspired opening for the home team.
But Dellavedova then fed Landale's cut, Chris Goulding caught a ball from Delly and flicked it back to him for 4-2, then Landale converted two free throws.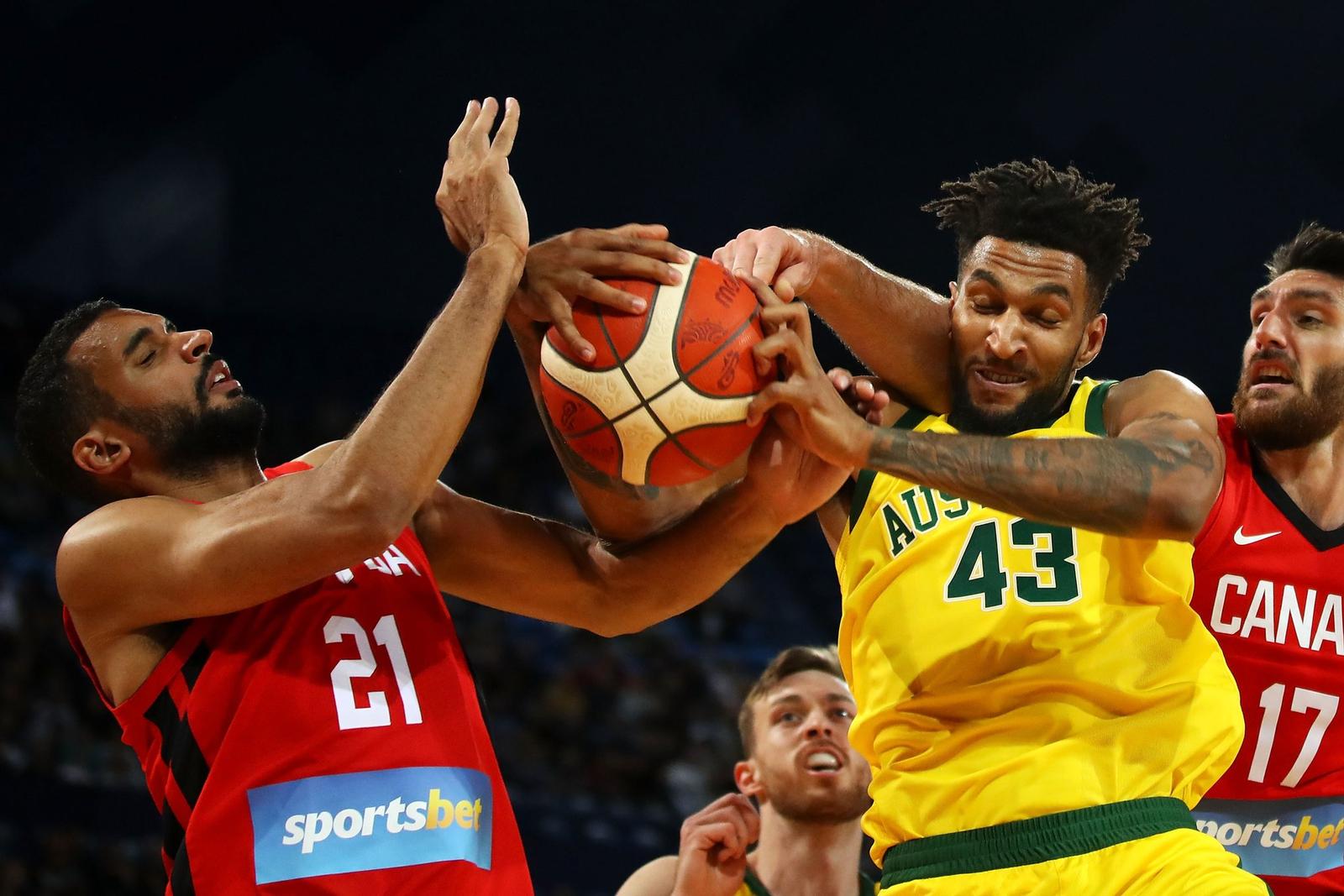 EMBOLDENED: Like Jock Landale, Jonah Bolden proved his worth when his opportunity came.
Super aggressive defensive hustle by Goulding - yes, you read that correctly - set a tone when he forced Phil Scrubb into a harassed turnover.
Soon after Baynes dished to Landale for a dunk and an 8-0 Boomers start, Landale with eight points when he scored again down low for a 10-4 rubber-ducky lead.
Nick Kay's 3-pointer took the buffer to 13-6 and his second and third efforts and hustle on the floor was precisely the type of desperation absent last night.
Baskets by Tom Scrubb and a late jumper meant Canada ended the first quarter ahead 18-17, largely against the run of play but reflective of a number of Boomers lineup changes.
Mitch Creek, playing some great defence, collected a second quarter steal which he converted on the break before a patch which also saw both Creek and Gliddon stick 3-pointers in a saving-grace 9-0 run.
Canada again had broken away but was reeled in, the Boomers down 30-33 at halftime but mostly playing with purpose and good sense.
From 38-38 in the third, Canada produced an 8-0 burst, forcing a timeout. Baynes was out with his fourth foul and the signs were ominous.
They looked worse when Canada completed a 10-0 streak for 48-38 before Bolden struck a threeball. Then Dellavedova struck a pair of long-range missiles and the game was tied 51-51 after Bolden threw a wicked left-hand behind-the-back pass to Goulding for three.
Bolden gave Australia the lead off a broken play, forcing Canada's Nick Nurse to call timeout. But Bolden with a triple (and his eighth point for the period) ensured Australia was ahead 60-59 with a period to play, having doubled its halftime score.
Sobey bumped the lead to three before threes by Ingles and Gliddon, then a drive by Ingles made it 70-61 to the Aussies.
Canada's Khem Birch produced six straight points, including a slam, to draw the deficit back to 67-70 before Kay hit a big jumper to ease the growing pressure.
In probably the play of the night, Bolden produced an athletic steal, Goulding missed a three, but Bolden then saved the long rebound from flying out of court and Goulding with his second long range look made no mistake.
The lead blew out to 12, Bolden scored from a great drive, Canada with the game's last four points showing it would not stop until the siren. Australia still has much work to do before Thursday's showdown with the USA and the imminent World Cup.
AUSTRALIA BOOMERS 81 (Landale 13, Bolden 12, Goulding 10; Landale 9 rebs; Ingles 6 assts) d CANADA 73 (Birch 18, Brissett 14, Kajami-Keane 11; Ejim 7 rebs; P.Scrubb 6 assits) at Perth's RAC Arena.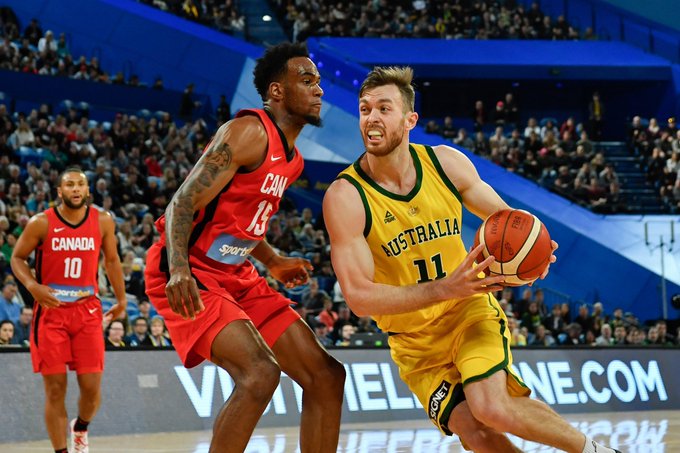 A-OK: Nick Kay was back to his hustling, bustling best.