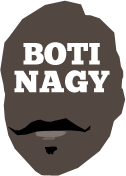 ---
Advertising opportunities available.
Please contact me.
---
MU A-OK in landmark game
Tweet
NO NBL team has beaten an NBA club yet but Melbourne United today went within a potential goal-tend of achieving the "impossible" in a sensational performance against Oklahoma City Thunder.
Josh Huestis rose above the pack to swat Josh Boone's shot, bringing OKC fans at Chesapeake Arena out of their seats, then did it again to reject Casey Prather and preserve an 86-85 win.
Forget the final scoreline though or the sight of Melbourne players exhorting the referees to call Huestis' block on Boone a goal-tend. It wasn't. Ultimately, it doesn't matter.
This was a huge win for the NBL and its international reputation as a burgeoning league, in the mix as among the finest in the world.
Australian fans - and Australian media - should be swarming all over this performance, especially when you consider Melbourne's major scorer, Rio Olympian Chris Goulding could not even make the trip due to an appendix operation in Adelaide last week!
"The message is to be proud," NBL executive director and owner Larry Kestelman said, addressing basketball's fanbase in this country.
"Support your stars, support your team. We're super competitive (and) we're respected."
We certainly are now, in marked contrast to the words of Thunder star and reigning NBA MVP Russell Westbrook who pre-game when asked what he expected of Melbourne's challenge, scoffed: "I ain't expecting shit."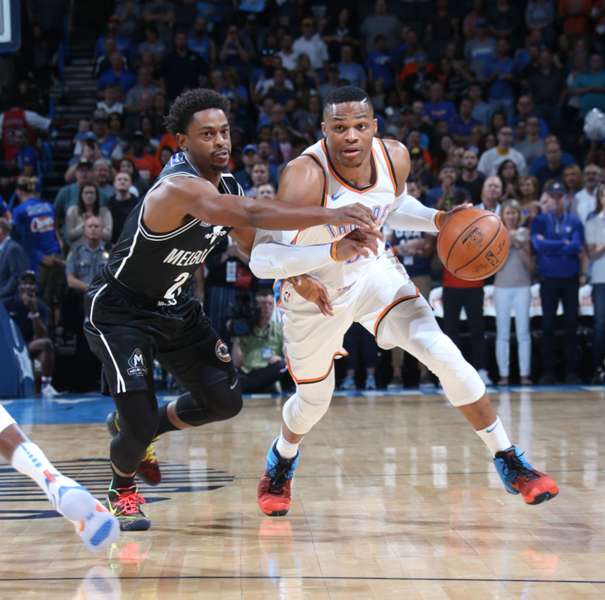 RUSSELL WESTBROOK: Was made to work by Casper Ware today. Pic courtesy NBA.com
He got a lot more than he bargained for with Casper Ware never taking a backward step en route to 20 points, including a 3-pointer with 6:23 left which gave United the lead 77-76.
Paul George bumped OKC back to the lead but down 77-80, it was Ware again whose triple tied it 80 apiece with 4:19 left.
Ware seriously showed off his NBA bona fides and the NBL is lucky to have a player of his calibre. Boone paired 15 points and 9 rebounds and Prather had 11 and 10.
As the Thunder pulled 86-80 clear and looked home, it was Ware again for three, then Dave Andersen converting an offensive rebound for 85-86.
This was rivetting stuff for any genuine Aussie ball fan. Remember too, and as NBL chief executive Jeremy Loeliger tweeted below: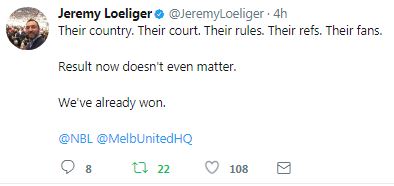 Their country, their court, their rules, their refs, their fans ... Jeremy politely didn't focus unduly on that second-to-last one but it was significant.
The Thunder's "Big 3" was precisely that as Westbrook off an offensive board, then Carmelo Anthony with a pair of 3-pointers and George with a triple threatened to blow Melbourne out of the water.
Instead United adjusted quickly and came firing back, Ware tying it at 16-16, Prather giving it the lead, Boone extending it to 20-16.
Kyle Adnam's three to close the period saw Melbourne ahead 30-27 and just like that, Australia was united behind them.

Andersen extended the lead to 32-27 in the second before OKC tightened its grip, containing Melbourne to 14 for the period.
Former Adelaide 36ers import Terrance Ferguson (below) also had a moment on the break which he turned into a nifty three-point play but Melbourne was never out of this.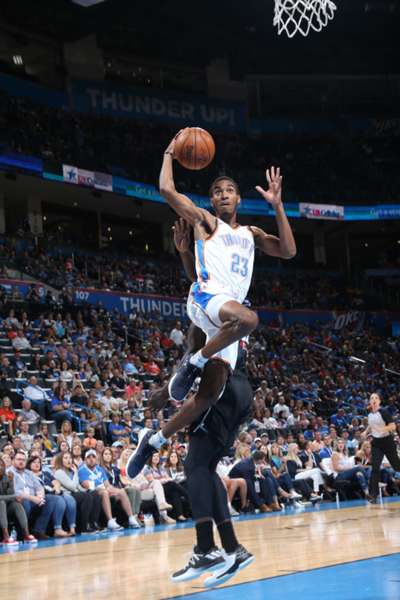 Factor in too, coach Dean Vickerman found court-time for 13 players but United never lost its competitiveness.
Tai Wesley was solid and dished some wicked passes to boot and even when the game threatened to get away when Kiwi centre Steven Adams dunked for a 62-52 lead, Melbourne just stuck to it and worked its way back.
Back in 1995, the Houston Rockets beat Perth Wildcats by 44. Last week Utah Jazz beat Sydney Kings by 25 and by today, the NBL's #1 ranked team took it to the NBA's #3 ranked outfit - OKC still rated behind Golden State Warriors and Cleveland Cavaliers - in a tremendous result for Australian basketball and the NBL.
Post-game Ferguson reiterated he had expected a scrappy fighting effort from Melbourne but also confirmed his NBL allegiance.
"I hate Melbourne," he said. "I'm an Adelaide boy for life."
While that warmed the hearts of 36ers everywhere - the Sixers host Melbourne again this week - truth is United today definitely represented the NBL and Australia at its finest.
In the words of dual-Olympian and NBA champion Matthew Dellavedova:

Exactly. Melbourne scrappy?
No more than any Australian or Australian team presented with this sort of opportunity, Dellavedova the prime example.
Melbourne classy?
You better believe it.
OKLAHOMA CITY THUNDER 86 (George 22, Anthony 19, Adams 12, Westbrook, Roberson 9; Adams 10 rebs; Westbrook 7 assts) d MELBOURNE UNITED 85 (Ware 20, Boone 15, Wesley 13, Prather 11, Andersen 9; Prather 10 rebs; Wesley 5 assts) at Chesapeake Arena, Oklahoma.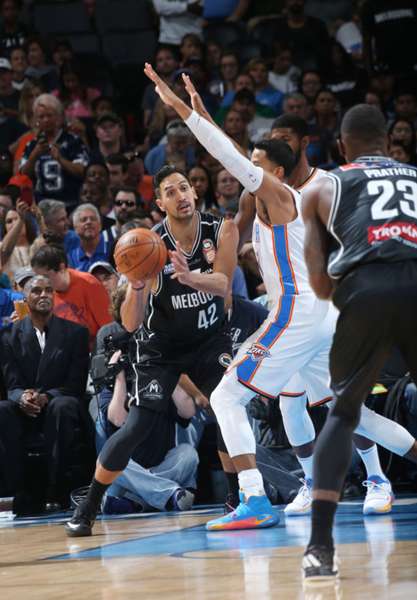 WICKED WESLEY: Tai Wesley fed some great assists on the night. Pic courtesy NBA.com