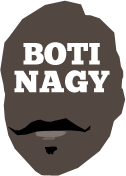 ---
Advertising opportunities available.
Please contact me.
---
Griffin 'gold' but Opals down in Cup
Tweet
NATURALISED Australian forward Kelsey Griffin today won the MVP at the FIBA Asia Cup in India but her Opals fell one point short of claiming Gold at their first attempt, beaten 74-73 by Japan.
A mind-blowing 3-point shooting display by Saki Mizushima sank the Opals, her quick-release on the threeball leading to 7-of-9 triples, all in the second half.
Mizushima also was fouled on a 3-point attempt, converting all three penalties, her drive to close the third quarter giving the defending champions a 59-53 lead.
She had 14 of her 26 points in the third period and hit four more triples in the fourth for her 26-point half, and total.
Her three with 90 seconds left broke a 71-71 deadlock and despite a Griffin basket off her seventh offensive rebound for 73-74 with 1:10 left, the Opals could not find a match-winning shot.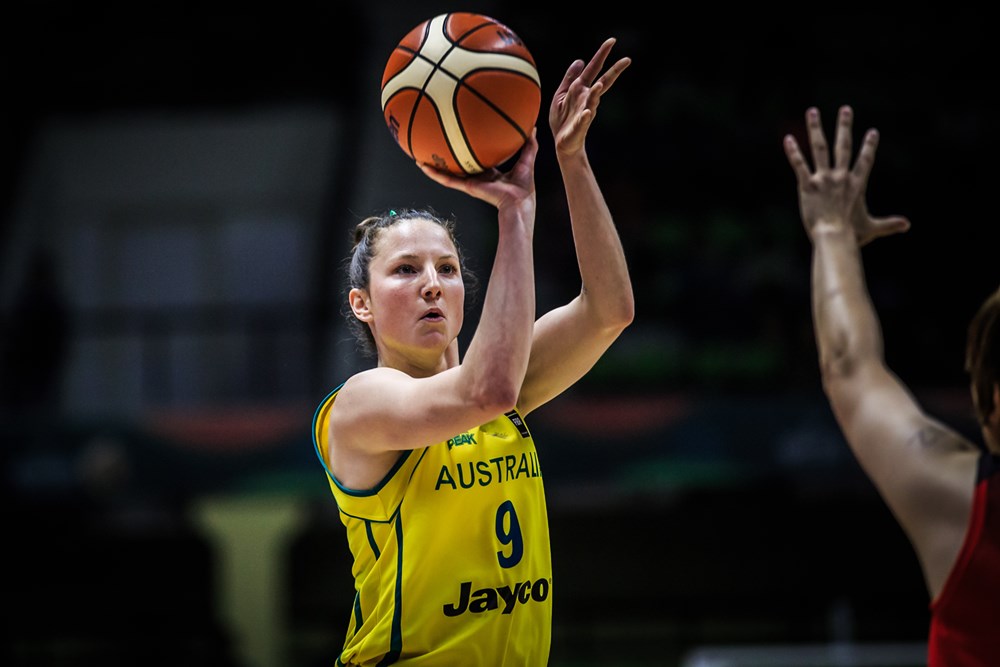 MVP: Kelsey Griffin had a spectacular international debut. Pic courtesy FIBA.com
Their defence was exemplary on consecutive Japanese attacks, the efforts split by a turnover from Marianna Tolo.
Griffin secured her eighth defensive rebound to give Australia a final shot, Belinda Snell probably unlucky not to get to the foul-line on her desperate shot to pinch it.
But it was celebration time for Japan, completing an Asia Cup "threepeat" in a dramatic and engrossing Final.
Griffin finished with 30 points at 58 per cent and 15 rebounds to be an absolute beast.
She made a compelling case for inclusion in the Opals' team for next year's FIBA World Cup in Spain but with national teams allowed just one foreign-born player, it will be a tough time for selectors.
Leilani Mitchell's challengers for the playmaking role - Lauren Mansfield and Tessa Lavey - took a step back in the Final. And Perth Lynx shooting guard Sami Whitcomb also has to be a contender for that one available berth.
Having beaten Japan during the intrapool games, it always was going to be tough to get them again in the Final at Bengaluru Stadium.
(Think of the Boomers beating Serbia at the Rio Olympics before facing it again in the semis.)
Japan made its adjustments and burnt Australia's repeatedly on the pick-and-roll, the Opals' cause not helped by foul troubles for Mansfield.
Interim Opals coach Olaf Lange steadily lost faith in Lavey and eventually shuffled Katie-Rae Ebzery into the point role when forced to bench Mansfield.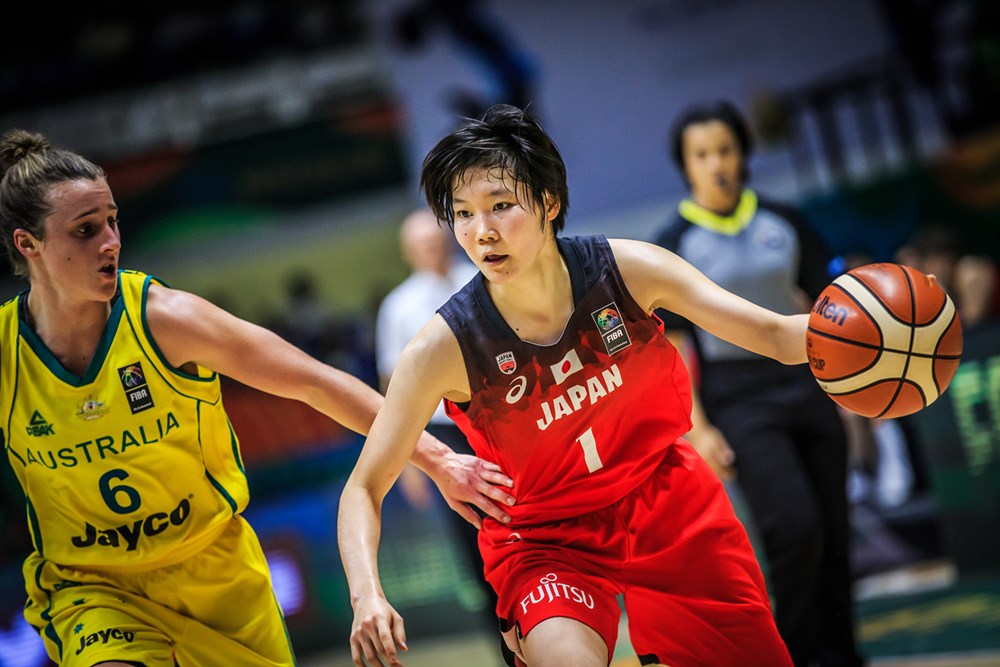 ALL STAR: Manami Fujioka was not as dominant in the Final. Pic courtesy FIBA.com
Lavey then hurt herself after a drive and pull-up jumpshot within the first minute of the last quarter.
Australia started strongly enough, Ebzery driving for its opening basket before threes by Snell and Griffin bumped the lead to 8-2.
Tolo made it 10-4 and Griffin 12-4, then when Alanna Smith put away an offensive rebound, the Opals were ahead 16-6.
Livewire Japanese point guard Manami Fujioka - who joined Griffin, Korea's Lim YungHui, teammate Moeko Nagaoka and 18-year-old China centre Li Yueru in the All Star Five - finally got her team rolling, Maki Takada substantial as it closed to 13-16.
Nagaoka tied the game with a reverse layup, 17-17 at the first break.
Opals frontcourters Griffin, Tolo and Snell, then Smith, seized back the initiative to give Australia a 39-33 lead at the main break.
Steph Blicavs started in the two spot in the second half, with Ebzery at the point, leaving Mansfield (on three fouls) out.
A Griffin 3-pointer and a Sara Blicavs layup took Australia 49-44 ahead before a withering 13-0 run by Japan, which included a completely phantom fourth foul on Mansfield on a three-point play and consecutive Steph Blicavs fouls on 3-point shots.
Japan was ahead 57-49 before Griffin trimmed it back to 53-59 with a period to play.
She started the last quarter with an interception and also drew a charging foul while the Opals compiled a 9-0 run.
But the Opals' 62-59 lead was short-lived as Mizushima nailed a triple and Australia would not again taste the lead.
Trailing 67-71, Snell and Tolo dragged it back to 71-71 before Mizushima's final dagger.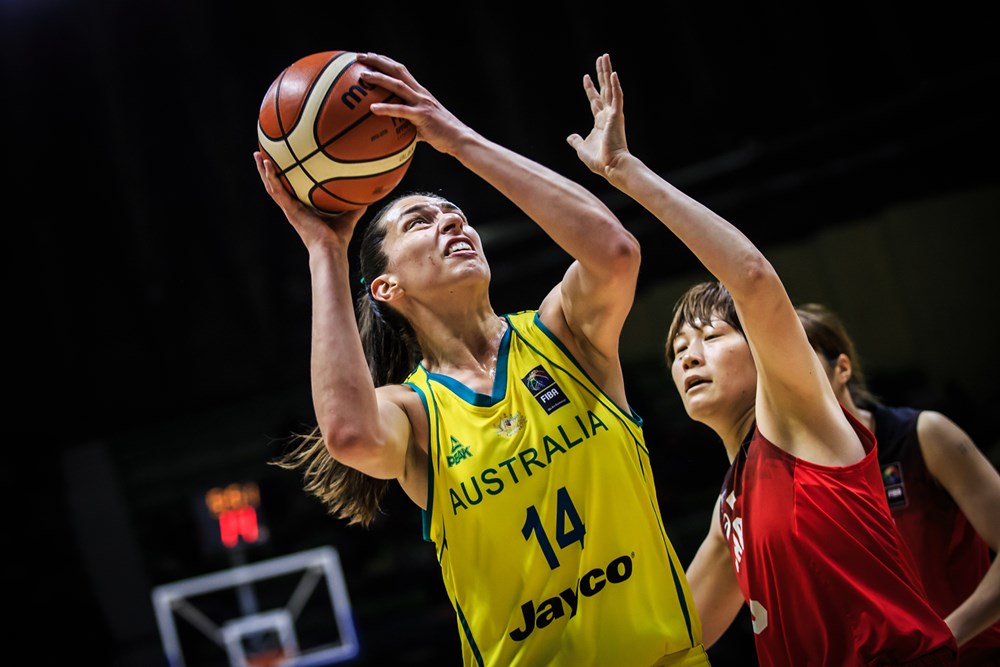 BIG FINAL: Marianna Tolo had 13 points, 8 rebounds and 4 assists. Pic courtesy FIBA.com
From midway through the first quarter, Japan became the aggressor and as Lange severely shortened his subbing rotation, it caught up with the Opals.
Key players during the week such as Smith, Sara Blicavs and Steph Blicavs played only 10, eight and 15 minutes respectively, too much of the burden left on Griffin, Tolo, Snell and Ebzery's shoulders.
In the end, it proved a little too much - as did Australia's inability to defend the 3-point line, Japan hitting 11 missiles - the Opals still enjoying a memorable tournament debut.
JAPAN 74 (Mizushima 26, Miyazawa 11, Nagaoka 10; Takada 8 rebs; Machida 9 assts; Machida 2 stls) d AUSTRALIA 73 (Griffin 30, Tolo 13; Griffin 15 rebs; Ebzery 6 assts; Griffin, Tolo 2 stls).
ALL STAR FIVE: Manami Fujioka (Japan), Lim YungHui (Korea), Moeko Nagaoka (Japan), Kelsey Griffin (Australia), Li Yueru (China).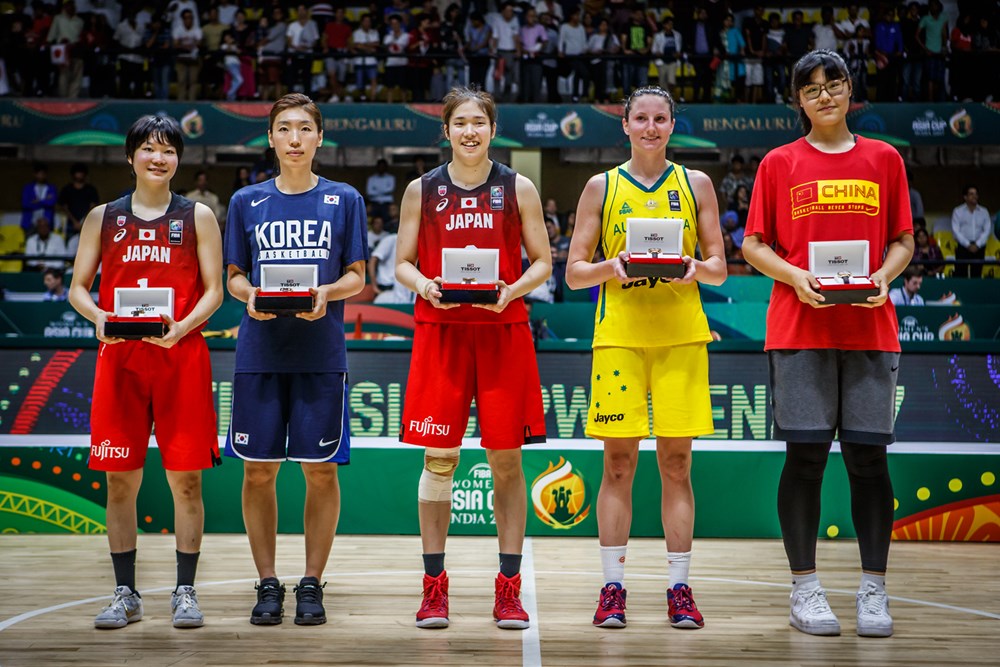 TOURNAMENT MVP: Kelsey Griffin (Australia).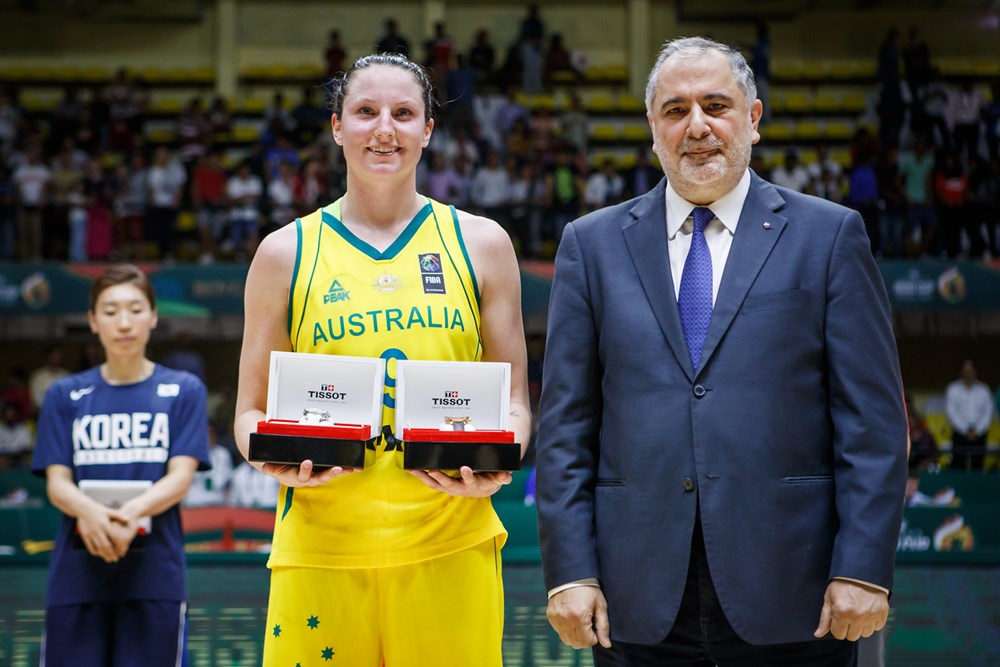 GOLD: Japan SILVER: Australia BRONZE: China