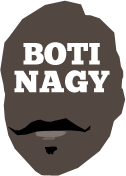 ---
Advertising opportunities available.
Please contact me.
---
Opals end 11-year drought with USA win
Tweet
AUSTRALIA's most regular Olympics basketball medallist Opals today inflicted a 70-67 wound on Gold Medal-defending USA in a stunning exhibition match in Las Vegas highlighted by Ezi Magbegor's emergence as a genuine star of now.
Touted as a star of the future, Magbegor's 17-point, five rebound, three steal performance was instrumental in Australia turning around a 16-point deficit and left little doubt she has arrived on the international scene as the next Opals standard-bearer.
Chasing its seventh consecutive Olympics Gold Medal in Tokyo, the USA was stunned as Australia secured its first win over the sport's most dominant force since it last lost an exhibition to the Opals in 2010.
"We haven't played together as a team for about 18 months, and we have to make sure we can adapt to any style we're playing," an understandably jubilant Opals coach Sandy Brondello said.
"It's not every day you get to beat USA."
Actually, it does seem to be becoming more common, given the Boomers dropped the hammer on the USA men's team this week, though in truth, the home-cooking of the officiating made it almost impossible for the Opals in the final few minutes.
Virtually any and every contentious call went to the USA, from out-of-bounds plays to phantom fouls to non-calls, yet still Australia held on grimly until it had the upset secured.
Steph Talbot (10 points, 4 rebounds, 2 assists, 2 steals) opened the game with a 3-pointer as Australia moved the ball well to find open shooters early.
Tied after the first period, the USA held the Aussies to nine second-quarter points, pushing its lead out to 16 before Bec Allen (11 points, 5 rebounds, 2 blocks), Magbegor, Jenna O'Hea, Katie-Rae Ebzery and Marianna Tolo led a spirited fightback.
Leilani Mitchell threaded a pinpoint pass to a cutting Cayla George which was a mesmerising and inspiring play, George also with a 3-pointer and an amazing reverse bucket in a seven-point personal final quarter.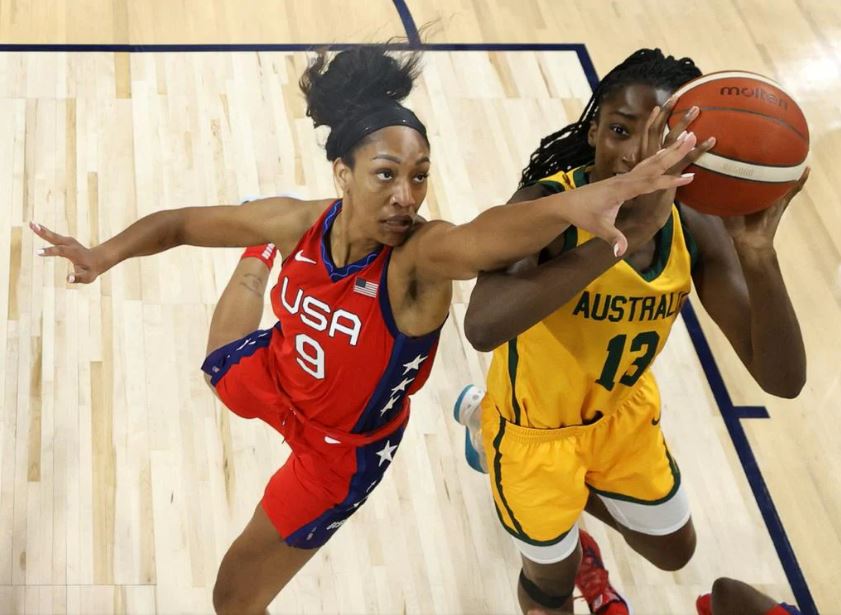 Once the Opals hit the front, USA's confident game suddenly hit the jitters and shots the Americans normally would make now were being missed as they clearly looked panicked.
The win was a massive confidence-booster for Australia, coming in the wake of an extraordinary 24 hours during which star centre Liz Cambage was embroiled in a multiple-incident controversy leading to her leaving the team on the grounds of mental health issues.
But just as they did in 2014 ahead of the FIBA World Cup when Cambage was injured days out from the tournament, the Opals rallied to reinforce the old adage of addition-by-subtraction, their team game exemplary for key passages of the contest.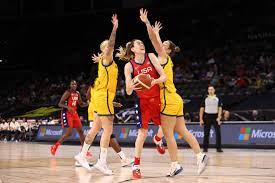 Those fretting about the potential devastation Cambage's absence could cause the Australian campaign in Tokyo can look both to history and today's game to see how players can lift. Obviously the absence of such a dominant keyway force as Cambage is not the desirable option but as she admits, she is not in the right headspace for a Games tilt so arguably everyone is better off.
"Obviously, it hasn't been easy, but it shows the character of this team," Brondello said. "It has been tough. I wasn't quite sure what the game would look like today to be quite honest.
"Not just taking in what happened there (with Cambage), but also we hadn't played together as a team for 18 months."
It didn't look that way. If anything, this was just the performance the Aussies needed ahead of Tokyo to build confidence for what may lay ahead.