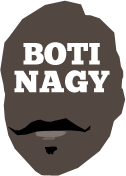 ---
Advertising opportunities available.
Please contact me.
---
Penny for our thoughts
Tweet
ICONIC Aussie women's basketballer Penny Taylor retired today after one of the most outstanding careers in our sport's history.
A champion in every sense of the word, she joins another of our great exports, Lauren Jackson - who has just announced her pregnancy - in stepping away from the spotlight which at its zenith included her being named MVP at the 2006 FIBA Women's World Championship where Australia's Opals won the gold medal.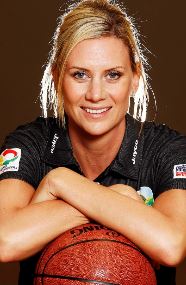 Last Sunday-week writing in Sydney's Sunday Telegraph, journo Matt Logue produced one of the great stories of 2016 in anticipation of Taylor's pending final walk away from the game as a player.
I think it's the best piece I've read this year and reprint it here for those who may have been unfortunate enough to miss it or who don't live in NSW.
Penny Taylor follows Lauren Jackson in to retirement as a true Australian basketball legend
MATT LOGUE, The Sunday Telegraph
IN a world full of imperfections, perfection is almost impossible to achieve.
It's a reality we've seen through general society, let alone the high pressure environment of professional sport.
Speak to Australia's greatest basketballer Andrew Gaze though and he believes he has discovered an anomaly to the trend.
"Penny Taylor," Gaze says simply.
"The combination of her athletic ability, personality, respect for the game and the way she contributes to her team just makes her this mythical person.
"It's crazy to think such an incredible person exists because it is such an extraordinary thing that she has been able to do.
"Penny has made an incredible contribution to basketball and she has provided inspiration off the floor for generations to come."
Gaze isn't the type of person to overhype or overstate people.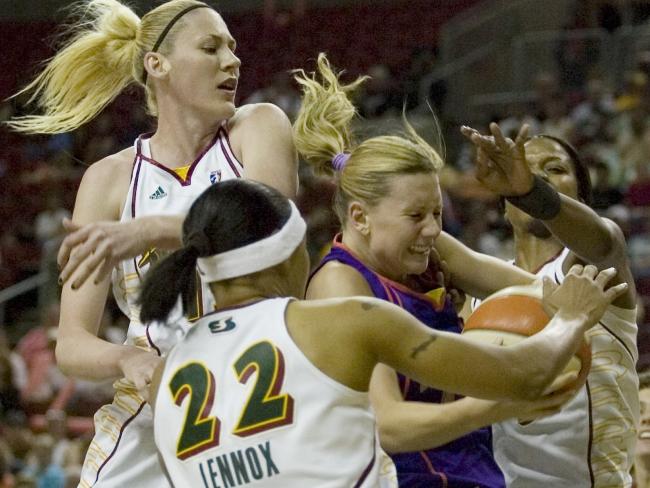 LJ V PT: Taylor won three WNBA championships with Phoenix Mercury.
His high praise for Taylor is genuine and reflects her significant influence on the game of basketball.
The Melbourne-born shooting guard's resume says it all.
This includes three Olympic Games, a World Championship win and seven League titles in six different countries.
Throw in three WNBA championships with the Phoenix Mercury — the most from an Australian — and it's easy to see why Gaze places Taylor on such a pedestal.
"Penny has been a very proud Australian in the WNBA competition and she has done a great job," he said.
"She has played a big role in helping with the exposure of the Opals and women's basketball.
"But more importantly it's the way in which Penny conducts herself, on and off the floor.
"She has just been an absolute class individual.
"I think young basketball players, regardless if they are girls or boys, can see what she has done and can follow in her footsteps.
"The nation should be very proud of Penny."
Opals coach Brendan Joyce is one person particularly honoured to get to know Taylor, both professionally and personally.
Joyce has sat alongside the star small forward on the international stage for the last four years — a combination that has helped put women's basketball in Australia on the map.
"With Penny as captain, we've only had two losses in international basketball in four years," Joyce said.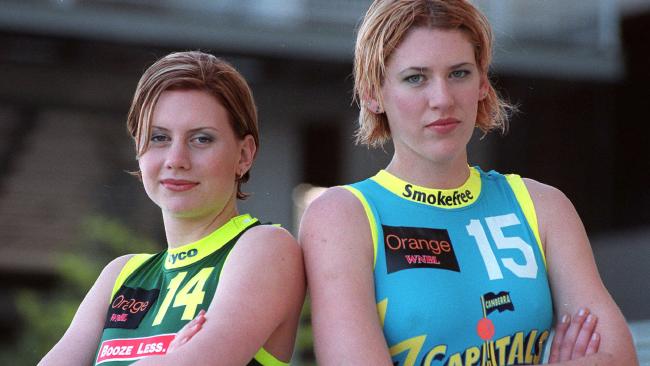 GIANTS: Taylor and Jackson ruled the sport after meeting in their teens.
"It was obviously disappointing to lose to Serbia in the quarter-finals by two points at Rio, but when you reflect on her Olympic cycle we are 14-2 in terms of results.
"That's a testament to what Penny has put into the game and it's why I was blown away that she only became Australian captain under my tenure.
"Penny has played such an important role in us winning."
Led by Taylor and Lauren Jackson, Australian basketball has been blessed to witness two of the finest women's players we've ever seen.
Jackson has already retired, while Taylor will hang up the sneakers after 19 years this season.
It's fitting the pair will retire in the same year given their strong bond, which was formed as 15 year-olds at the Institute of Sport in Canberra.
"We lived together at the AIS for two years and we went through the highs and lows of life as teenage girls," Jackson recalled with a grin.
"We had both left our families for the first time and it's a pretty emotional time, so it was good to have her friendship.
"We've had a lot of funny times together over the years in the national side and playing overseas.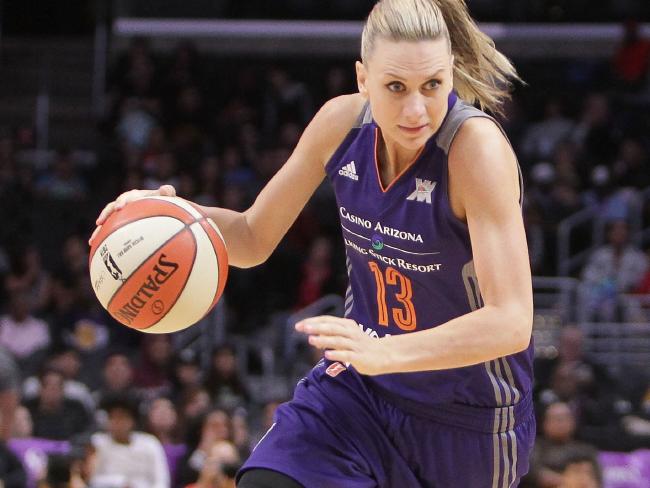 LEGACY: Taylor leaves an imposing legacy for Australian women to try and emulate.
"We also first played against each other as 14 year olds at the Nationals, so we've known each other for a long time.
"I don't see Penny as much these days because I'm retired and she is still in the States, but we'll always be friends."
Asked where Taylor stands compared to some of the best women's basketball players, Jackson replied: "Penny is going to go down in the history books as one of Australia's greatest basketball players and that in itself is a legacy.
"A lot of women will now want to follow in her footsteps and emulate her career."
According to Gaze, both Taylor and Jackson have set a powerful precedent for the next generation to follow.
"Now it's up to Liz Cambage and others to carry that torch and continue to meet the standards the others have set before them," he said.
"Michele Timms was the first player in the generation coming through that dominated on the floor.
"She paved the way and Lauren and Penny took it to another level."
As for how Gaze will personally remember Taylor: "As one of our very best, on and off the court.
"It's like you can't speak that way about a person because no such person exists — well they do and it's in the form of Penny Taylor."