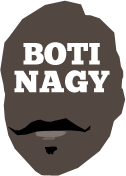 ---
Advertising opportunities available.
Please contact me.
---
Say it ain't so, Sam
Tweet
"THAT may be the best line you've ever written," a grateful Sam Krupsky's booming voice hollered down the telephone line to me in what now feels about four decades ago.
Krupsky was a 205cm, 110kg keyway giant in the vanguard of a host of multi-talented American players who changed the course of basketball in South Australia from the mid-Seventies.
It started with Don Atherton, was superceded by the brilliance of Ken Richardson and continued with players such as Krupsky, Ken Edick, Jim Underwood and Eric Vaaler positively altering the fortunes of SA's most prominent clubs.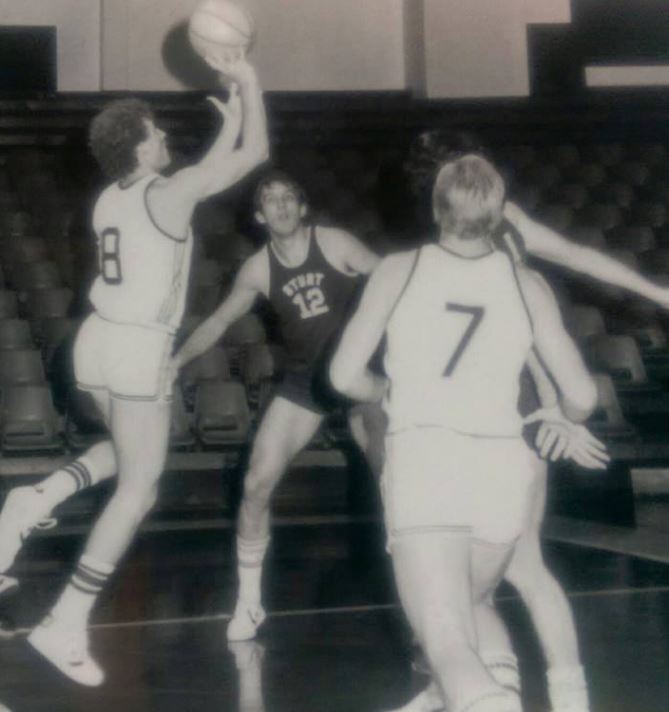 SAM AT STURT: Sam Krupsky (#12) can't get to this shot by Adelaide Giants' Peter Vitols.
Krupsky landed in Adelaide for South Adelaide in 1977 and spent two years with the Panthers, guiding them to the 1978 Grand Final where they fell victim to an NBL-bound West Adelaide Bearcats winning the first in their unprecedented run of five consecutive SA Championships.
He crossed to Sturt Pioneers (as the Sabres then were known), an exciting club filled with serious prospects such as Phil Smyth, though none familiar playing with such a huge keyway presence as Big Sam.
Consequently, Krupsky spent a lot of time posting up, then rolling to pursue offensive rebounds, the Sturt kids unable or unwilling to pass into the post with any regularity.
After one such frustrating evening for the big fella, I wrote in my match review that Krupsky would receive more offensive passes on any Saturday in an Adelaide nightclub than he would playing for Sturt.
Hence the grateful telephone call and compliment – at least I took it as such – from the gentle Philadelphia giant who fell in love with Australia and made it his home for the rest of his life.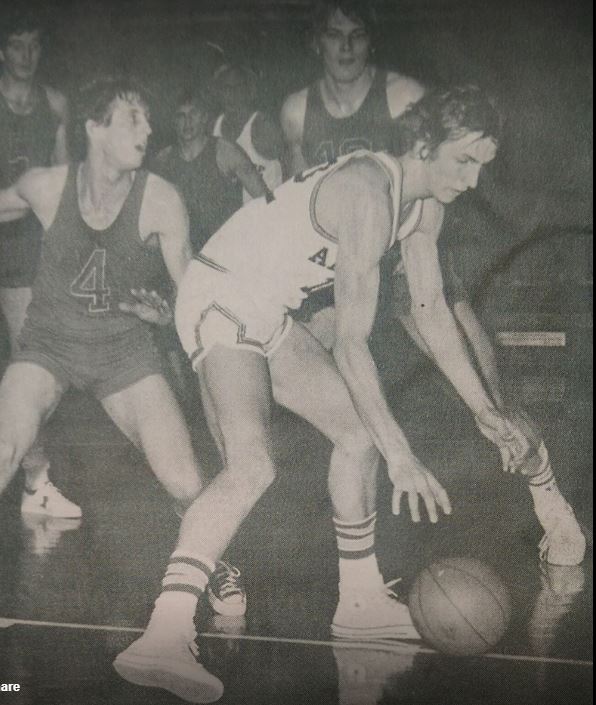 SAM IN THE BACKGROUND: Uldis Bruns picks up the ball, Sam's friend Ken Edick, far left.
That life sadly ended last Sunday as Sam, at 66 not far removed from his retirement from the Australian Rail Track Corporation, was claimed by cancer, gone far too soon.
Long after he finished playing basketball, we occasionally would bump into each other in shopping centres, stop to talk old times, inevitably leaving each other laughing and better for the exchange.
Our closer friendship actually developed from a chance meeting at the memorial held in Adelaide for Ken Richardson after the NBL's inaugural MVP passed away in Darwin late in 2013.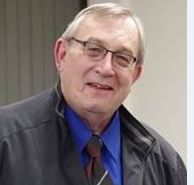 Sam spoke at length about Kenny and how he occasionally would join him and Ken Edick - the trio serving as bouncers at Adelaide nightclubs - and of Richardson's ability to defuse volatile situations, despite being arguably the best-equipped to handle them.
An avid fisherman and voracious reader, he could not read Ernest Hemingway's "The Old Man and The Sea" often enough, Sam's penchant for literature making his own storytelling something for the ages.
He spoke with great affection of his time working on the tough docks in Philadelphia between playing at University of California, Berkeley and being recruited to Australia by Hall of Famer Ken Cole.
He regaled all with tales of his tough-as-nails Russian grandmother – "Man you didn't mess with her. Her face was like granite, you could light a match on it" – his colourful turn of phrase something to be savoured and relished. Apart from his looming size and smile, his ability to describe a person, a moment, a thought or emotion in inimitable fashion was spell-binding and probably what I personally will miss most.
And funny.
He should have been a writer, not a reader. A typical wry Sam observation: "I am watching the results of the Miss Universe Pageant. I think it is grossly unfair that they did not invite any women from the other Solar Systems."
Cole, who was playing-coach of South at the time, recruited Krupsky to Australia in a less-travelled manner.
"About nine months ago, I started writing letters to various US college and university coaches to inquire whether they had any players interested in playing out here," Cole told me in 1977 just before Krupsky landed at Adelaide Airport (below).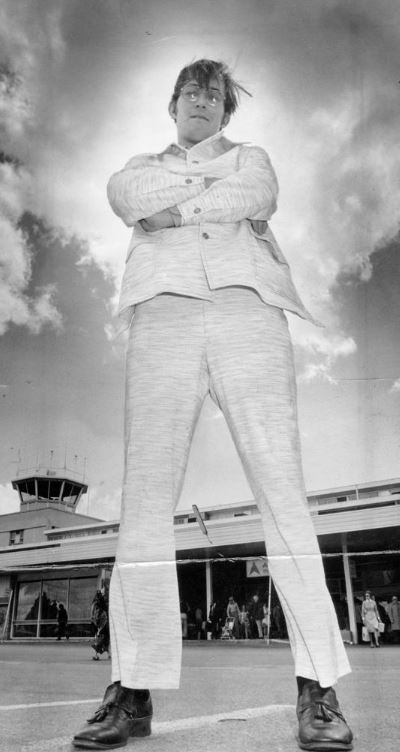 "The coaches passed on the message among their personnel and I got a few replies.
"Sam's seemed the most worthwhile following up."
There you have it. The course of a life irrevocably altered and basketball in Adelaide so much the better for it.
Don't get me wrong. Sammy was never a star. He was more a facilitator, a rebounder, screen-setter, defensive presence and just a great asset to have on your team.
Ken Richardson and Sam Krupsky were among those American imports who found a new home in Australia, while others such as Ken Edick and Eric Vaaler eventually returned to the US.
Despite that distance, they remained firm friends for life, spending a recent vacation together fishing off Mexico somewhere, Edick with plans to visit Sam here next month.
No doubt Sam would have taken him to his favourite café, The Front Page – which he told me about just days after it opened, insisting I try its wood oven pizzas - great advice - with it steadily becoming my own local haunt.
When I purchased a new television and put my old one up for grabs on Facebook, Sam was around within a half hour to pick it up and take it as a gift to an old folks home at which he used to help out.
He railed against the US's gun laws and atrocities, and was forever supportive of the roles nurses play in society.
That's the man he was, embracing my daughter at her hardware store workplace recently, excitedly telling her it was his first venture out of his house since chemo concluded, and he was loving every second of being out.
We loved every second of knowing him, the most down-to-earth, larger-than-life character I was fortunate enough to interview, watch and enjoy, before being privileged to call him my friend.
Rest in peace Sam. How I wish we could play it again.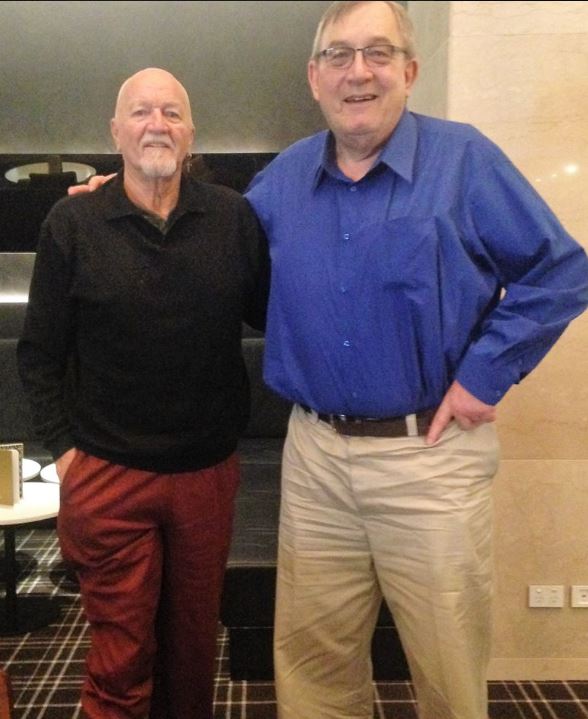 SAM AND KEN: "Ken Cole is perhaps the best basketball coach Australia has ever produced and playing with and for him was a true basketball experience," Sam captioned this picture. "I wish I could go back and do it all over again."