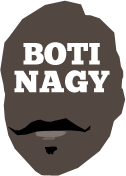 ---
Advertising opportunities available.
Please contact me.
---
Kings "Phil" up: Rankings/Tips #10
Tweet
THERE'S a reason Phil Smyth was anxious to keep his arrangement with Andrew Gaze and the Kings quiet but already speculation is rampant and at odds with those wishes.
Smyth was trying to maintain the lowest possible profile after making the decision to accept Gaze's invitation and come in to Sydney and review the work being done with the battling Kings.
Friends for 30-plus years, the three-time NBL championship coach with the 36ers was happy to provide the "fresh set of eyes" Gaze was seeking but did not want to set off any sort of media frenzy - recognised or social.
It was inevitable the second Smyth set foot into the Kings' training, he would be recognised and any attempts to offer comfort-or-complaint in his assessment of Sydney's systems could get lost amid the immediate speculation.
So here it is in black and white. Smyth was responding to a request from a friend and longtime basketball contemporary to come in and offer some fresh perspective. There's no "succession plan" or any other such nonsense, Adelaide's most successful NBL coach entrenched in his home town. And Gaze steadfast in his commitment to raising the Kings back to where they believe they belong.
After Sydney hosts Cairns on Sunday, Smyth will depart Sin City for the City of Churches and anyone who knows him knows the latter is more his pace.
* * *
STEVIE Weigh's sub for two years at Cairns before being a star starter for Brisbane, Torrey Craig is rocking the NBA G-League, a force for the Sioux Falls Skyforce, averaging 24.8ppg, 7.7rpg, 3.6apg, 1.2spg and 2.0bpg.
He's very much on the Denver Nuggets radar, his every success a further great reflection on the NBL.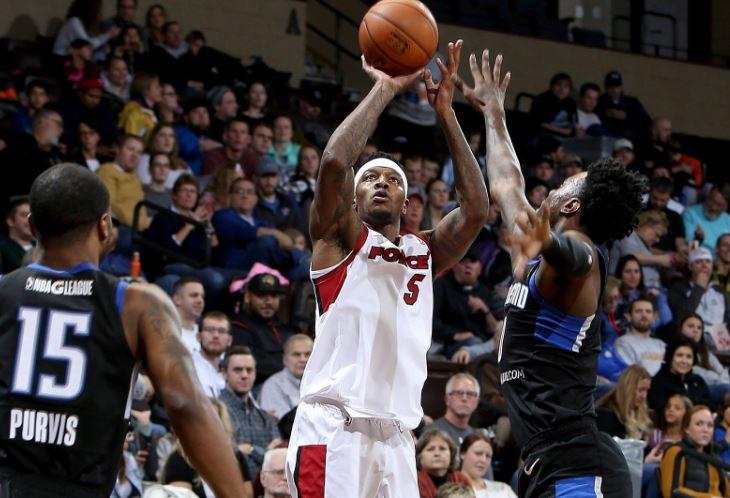 * * *
OOPS DEPARTMENT: Matt Hodgson's free throw last week at Perth which hit nothing but wind. For crying out loud, can you at least close the windows?
Channel 9 News in Adelaide's Tom Rehn talking 36ers, let's us know he'll soon be chatting with "the skipper - Mitch Creek". Poor Brendan Teys...
* * *
NBL TIPS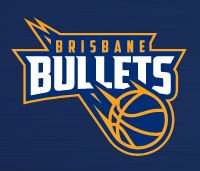 V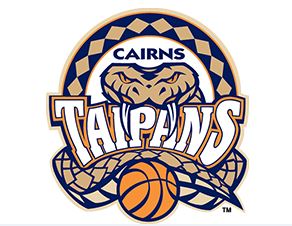 THIS is a rivalry which hasn't taken long to develop real teeth. Maybe the movement of players such as Travis Trice, Mitch Young and Shaun Bruce from Cairns to Brisbane - not to mention Torrey Craig - has something to do with it. Maybe the lights going out in a game last season and the NBL scurrying to find a rule to accommodate that, added to the angst. Who knows? Who cares? Point is these teams are on the verge, making this clash in Cairns huge. Andrej Lemanis coaches his 300th NBL game which adds to the intrigue. The Taipans just appear a little ahead just now.
MUCH was said (without being said) about the officiating when Adelaide held off New Zealand by three points last round so expect this one to be called vastly differently in Auckland. Four Breakers fouling out, 51 fouls called? That won't happen again. Adelaide has had more time to settle into the absence of Mitch Creek, and Nathan Sobey will need another big performance against Edgar Sosa in a "game within the game" stoush that should be fun to watch unfold. DJ Newbill, Kirk Penney and Rob Loe will bring more at home in a match the Breakers should win.
GREG Hire plays his 200th NBL game for the Wildcats as Perth hosts Brisbane, the Wildcats back in their customary position at the head of the table and unlikely to falter at home. Derek Cooke running into some form, Bryce Cotton enjoying himself again ... there are a number of targets for the Bullets to try and curtail. Lucas Walker's emergence as one of the leading contenders for Most Improved will be tested again by Brisbane's power forward Daniel Kickert, arguably the best Aussie four-man in the competition. Perth looks just too deep again at this stage.
MELBOURNE looked the way many have predicted it to look as it turned away Sydney on Monday. But Illawarra is no Sydney and will do a better job of containing United's guns Casey Prather, Chris Goulding, Casper Ware and Josh Boone. David Andersen is another huge plus though for Melbourne which really has to win this game to be taken seriously again. Demitrius Conger was huge against Perth but the Hawks need more players to step up than just Rotnei Clarke. AJ Ogilvy is one, for example, who must get among the points to avoid a Melbourne road win.
CAIRNS and Sydney split two games in the same round recently, wins going with home court. The Taipans have crept back to 7-7 since, while Sydney has been flailing. Bringing in Phil Smyth as a new set of eyes this week, the return of Todd Blanchfield and the imminent return of Kevin Lisch gives the Kings reason to feel good after hitting a new low in Monday's 69-95 rout at Melbourne. Brad Newley is training like his old self and Jerome Randle won't be troubled by 'flu - karma is a bitch, eh? Having already played, Cairns will be vulnerable. This is one the Kings can pinch.
GLIDE-ON: Cam Gliddon glides through the United defence in Cairns' home win.
* * *
NBL RANKINGS This Wk-Prev (Record)
8 (8) KINGS 3-12: It's time to start the resurgence and the odds look good this week.
7 (7) BULLETS 5-8: If Brisbane can get a split this round, it will stay in the race.
6 (6) HAWKS 5-8: Time for a few names to start stepping up instead of leaving it to a few.
5 (4) UNITED 7-6: Still looking for a defining win and Illawarra could be just the one.
4 (5) TAIPANS 7-7: Just doing what Cairns does, hanging around, quietly collating Ws.
3 (3) 36ERS 7-6: Big test now minus Creek. Time for a few more players to step up.
2 (2) BREAKERS 10-4: Unlikely to have four foul-outs but this game at home is big.
1 (1) WILDCATS 10-3: Got the job done last round as expected and should fire Bullets.
* * *
WNBL TIPS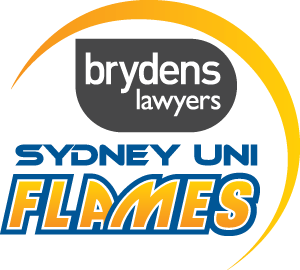 V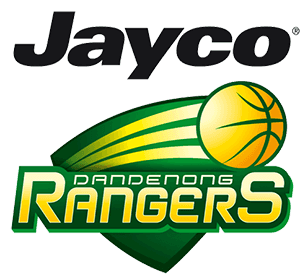 THE Sydney-Dandenong winner also takes the season-series making this particularly big for the Rangers, who are just hanging on in their Final Four drive. Supposedly with the "softest" draw heading toward the post-season, Dandenong has a particularly tough weekend, with Sydney and then Townsville. It almost makes this one a "must win" but then the Flames haven't been setting the world on fire a lot lately either and this needs to be Sydney's bounce-back game. With import Jennifer Hamson dominating the paint lately, Sydney (if at full strength) should steal the W.
BENDIGO pulled off a great 83-80 win over Canberra during the WNBL Cluster Round and will feel confident about hosting the Capitals. This is the "Grind Final" for these two teams as the loser most likely will be consigned to last place. Coming off a thrilling road win over Dandenong, the Caps can feel confident outside of Canberra and are getting back to the type of basketball which set them up for a great start to this season. Nat Hurst has had a consistent year, Jordan Hooper and Mistie Bass are firing and with Abbey Wehrung back in form, the Spirit will need something special.
WITH the season-series up for grabs in Perth, Adelaide faces its first full game minus Natalie Novosel, the Lightning's key defensive foil for Sami Whitcomb. That spells trouble right there as Chris Lucas will need to juggle his defensive strategies to also try and restrict Courtney Williams and Alice Kunek. The Lynx's two South Aussies, Liv Thompson and Alex Ciabattoni, and former Lightning import Kayla Standish, all will be revved, meaning Abby Bishop, Nic Seekamp, Lauren Nicholson and Co will need big games at both ends to prevent Perth's 12th straight win. Unlikely.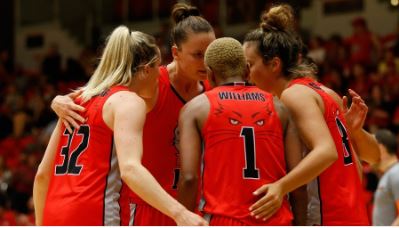 SHALL WE GO FOR 12? Yep. The Lynx are right on track to extend their club record win-streak.
INJURIES have seen the season unravel again for Bendigo and former Spirit guard Belinda Snell is likely to lead a Sydney Flames charge against her previous club. The Flames will just have too many weapons for the Spirit which, without Kelsey Griffin, very much resemble Loch Ness without the monster. Certainly, Bendigo will endeavour to give a good account of itself, and in Betnijah Laney, Gabe Richards, Nadeen Payne and Rachel Banham, have some quality tools. But after being belted by Townsville, hammering out a win over Sydney seems extremely unlikely.
AS if facing Sydney isn't enough, Dandenong next ponies up to Townsville. The good news for the Rangers is it's never easy to know just which Fire will turn up - the raging blaze or the blazing rage? Getting caught up in officiating and team lapses are forever on the cards - see "lost to Adelaide at home", "beat Bendigo away" as recent examples. The problem for Larissa Anderson, is she doesn't always know which Rangers will show up either! If Townsville puts its best foot forward, it will win and possibly comfortably. But big games from Carley Mijovic, Steph Blicavs and Kayla Pedersen should keep it interesting.
WILL 13 prove unlucky for Perth? The league-leaders head in to face Melbourne and likely will be nursing a 12-win streak (assuming the Lynx beat Adelaide). But who will be able to put the skids to Liz Cambage? And if Jenna O'Hea and Maddie Garrick find their range, Perth will have a tough day ahead. Conversely though, the Boomers must slow down Courtney Williams and Sami Whitcomb, the WNBL's most potent backcourt, while former Melbourne forward Alice Kunek will be up to perform in front of family and friends. This should be close, but where the streak finally ends.
CANBERRA caught Adelaide earlier in the season in Canberra and after toppling Dandenong at Stud Road, will be feeling like studs themselves. The MAC Lightning can ill-afford to "pencil this in" and will know better after coming up on the short end of a number of tight finishes. Ruth Hamblin may hold the key to this one, if she can control the paint alongside Abby Bishop, opening up the perimeter for Adelaide's shooters. Colleen Planeta also looms largely for Adelaide which, if it strings together four consistent quarters, can escape the capital with a vital W.
* * *
WNBL RANKINGS This Wk-Prev (Record)
8 (8) CAPITALS 3-13: Played the spoiler role to perfection and now can move up the ladder.
7 (7) SPIRIT 3-12: Another tough weekend but beating Canberra has to be the focus.
6 (6) RANGERS 7-9: Took two welts and face another very trying road tryst. Must split.
5 (4) FLAMES 9-7: Can bounce back up the table with a pair of wins this round.
4 (3) LIGHTNING 9-7: Must secure at least a split and will find it tough without Novosel.
3 (5) BOOMERS 11-6: Pulled themselves back together but stopping Perth is a big task.
2 (2) FIRE 10-6: Still topsy-turvy but can straighten out their season this weekend.
1 (1) LYNX 12-4: Playing with so much confidence, hard to see a loss in the near future.
PS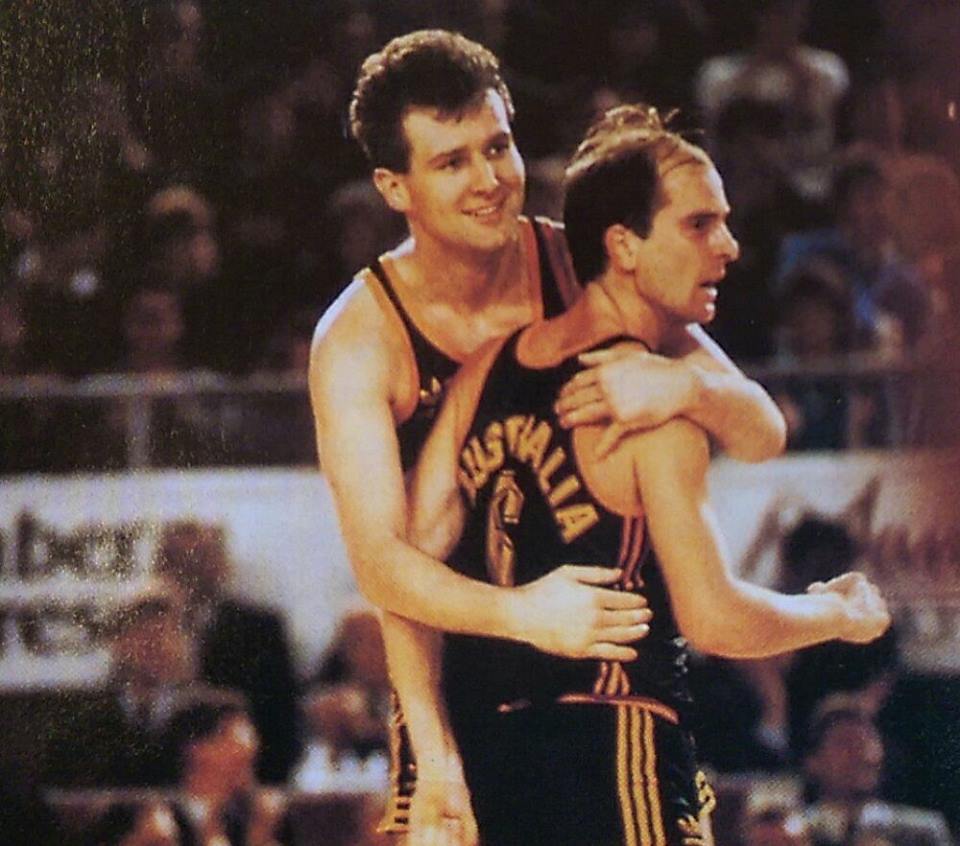 SSH! No-one can know we're friends!