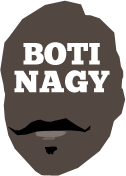 ---
Advertising opportunities available.
Please contact me.
---
Rd2 WNBL23: Fire, Spirit setting the pace
Tweet

EVERYONE following the WNBL had a fair idea going in that Southside would be the benchmark but it has been Townsville and Bendigo off to flawless starts which has the competition buzzing. And while the Boomers were hanging their 2022 championship banner, 0-3 Adelaide also was showing it is in the race, regardless of record.
Melbourne staved off the Lightning and, provided captain Steph Talbot is not too badly hurt, Adelaide again showed it is not very far off the finals pace.
Road losses to Southside, Townsville and Melbourne are nothing to be concerned about. But Talbot's upper left thigh injury may be.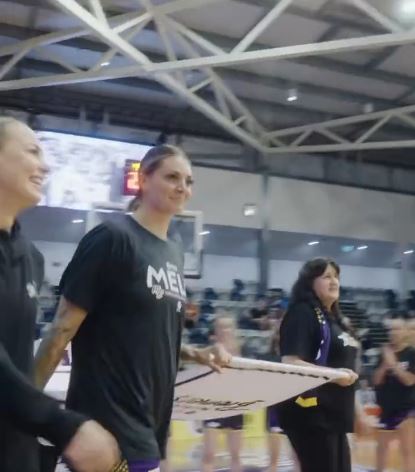 Melbourne gave Southside a hurry-up in the first leg of the Michele Timms Cup, then staved off a tough Lightning to top the unfurling of the Boomers' championship flag with a key home win.
Sydney slipped in Bendigo and Canberra's horror start continued in Perth.
9NOW? More like 9-NO
THE WNBL's television coverage continues to be, at best lamentable, at worst amateurish in the extreme.
The Wednesday game on ESPN is passable although the first cut to the sideline reporter this week started without her mic being turned on.
And I believe many would be seriously surprised if 9NOW claimed it was showing the matches in HD.
Pixelations, action and commentary out of sync, scoreboards taking ages to update so that in one particular match the scores being shown on screen were almost always behind, the game clock continuing to run after whistles are blown and the game is stopped - WTF are we watching here?
One of the supposed "best leagues in the world" or some pi$$ant NBL1 game from eastern Woodla Whoop Whoop?
Stimulating commentary with pearls of wisdom such as "what an opening start" or "they're hitting triples from the 3-point line" and the mega-beaut "the mentor versus the mentee" had me in stitches. If comedy was the goal, consider it a bullseye.
If taking this coverage seriously is the goal, then Week 3 needs a massive overhaul.
It was great to hear Matt McQuade and the insightful Carrie Graf. And while I also enjoyed hearing Nathan Strempel, if you were playing a drinking game on how often he referenced the "Bronze Medal" of the World Cup, you'd now be in hospital having your stomach pumped.
Good concentration though from seasoned caller Lori Chizik. She focused and had Sara Blicavs' name right every time. Hats off!

ROUND 2 - The Field Starts Separating
SOUTHSIDE took the initiative virtually from the outset but Melbourne would pull back the deficit, the Flyers' runs paced by Kayla Thornton and Bec Cole, the Boomers' by Tiff Mitchell and Kristy Wallace. But with the Flyers at 57-51 ahead in the last, Abby Bishop's three from the top of the key, Sara Blicavs' pull-up jumpshot and a corner triple by Nyadiew Pouch broke this open, Southside's depth proving the difference, the Boomers' turnovers and low shooting percentage also relevant.
SOUTHSIDE FLYERS 67 (Thornton 15, Cole 14, Pouch, Blicavs, Jackson 9; Thornton 11 rebs; M.Rocci 5 assts) d MELBOURNE BO0MERS 57 (Mitchell 18, Wallace 15, George, Murray 8; Wallace, George 10 rebs; George 8 assts) at the Hangar, State Basketball Centre. Crowd: 2,050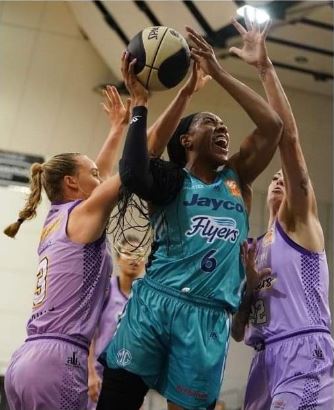 IF you heard Adelaide jumped the Fire in Townsville and led 9-0, that last week's local heroine of 35 points Lauren Nicholson would score a meagre six and be allowed just four shot attempts, you'd probably guess Lightning won. Of course, that was before Tianna Hawkins went off for 33 points at 65 per cent, with 10 rebounds, or Karlie Samuelson jumped in with 20 points at 63 per cent in a 24-14 Fire second quarter. And if you heard Townsville led 77-58 during the last quarter, you might struggle to believe it finished on 84 as Adelaide pulled to 79-80 inside the last half-minute. So welcome to the WNBL.
TOWNSVILLE FIRE 84 (Hawkins 33, Samuelson 20, Reid 12; Hawkins, Ruef 10 rebs; Reid 4 assts) d ADELAIDE LIGHTNING 79 (Talbot, Mansfield 18, Bell, Whittle 10; 3 with 5 rebs; Mansfield 5 assts) at the Fire Station, Townsville Entertainment Centre. Crowd: 1,891
HAVING a bye in the first round, Sydney was raring to go in Bendigo and led at the first break. But that was all she wrote. A 24-11 second quarter changed the complexion completely and in the third, reigning league MVP Anneli Maley had 15 of her game-high 23 points as the Spirit soared. They led by as many as 26 points, coach Kennedy Kereama again drawing multiple contributions.
BENDIGO SPIRIT 77 (Maley 23, McKay 12, 4 with 8; Maley 14 rebs; Wehrung, K.Wilson 6 assts) d SYDNEY FLAMES 57 (Heal 20, Willoughby 11, Froling 10; Mangakahia 6 rebs; Mangakahia 4 assts) at The Goldmine, Bendigo Stadium. Crowd: 461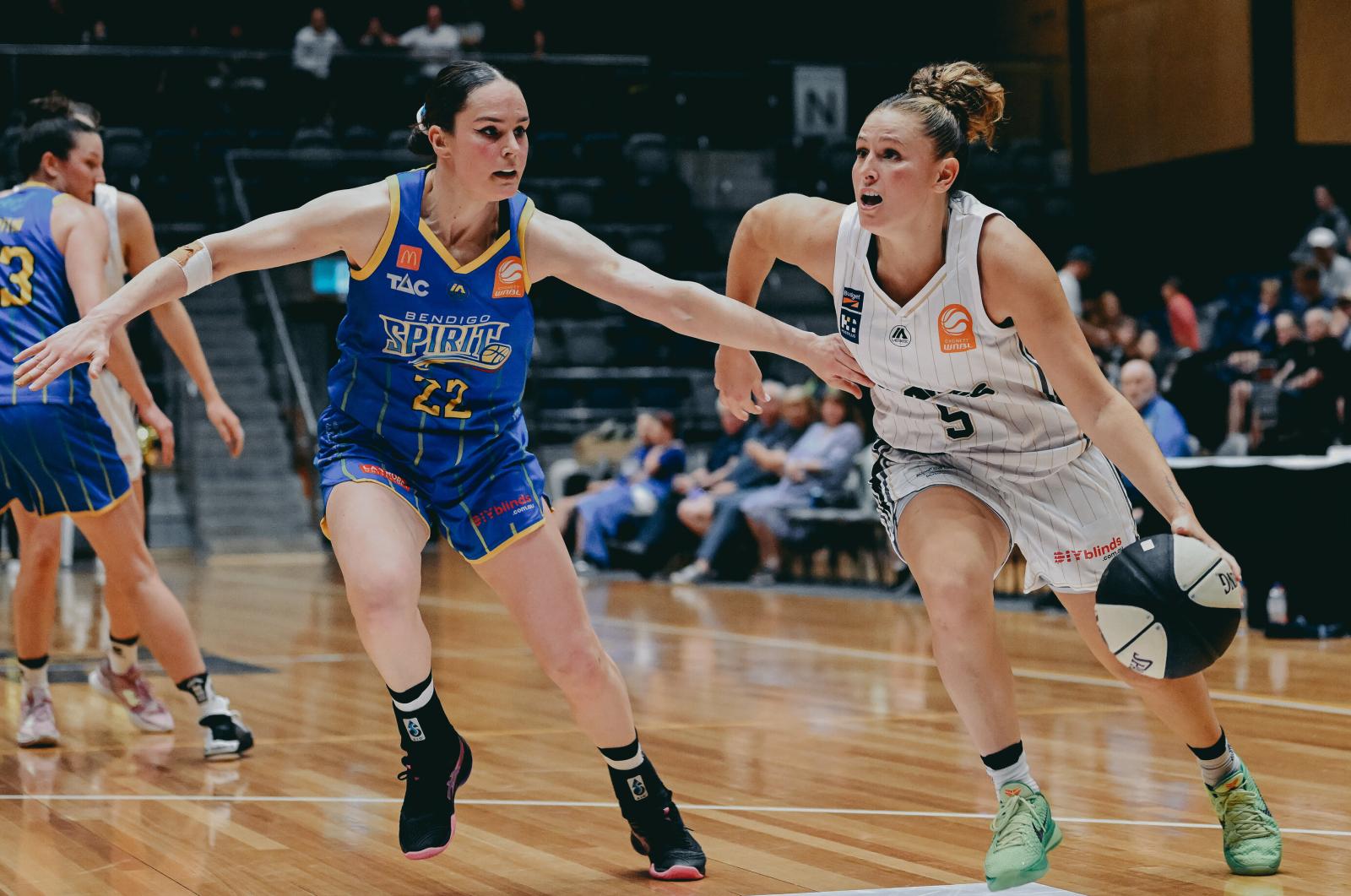 WITHOUT key personnel in Perth, it always was going to be a long night for Canberra and so it proved, the Lynx dominating the first quarter to lead 27-17 and winning each subsequent quarter. Amy Atwell was white-hot for a game and career high 21 points on 10-of-13 shooting while centre Lauren Scherf had a career-best 10 assists, finishing one rebound shy of a double-double. The Lynx lead blew out as far as 38, rookie Canberra coach Kristen Veal facing a tough task to keep her Caps competitive.
PERTH LYNX 97 (Atwell 21, Bibby 20, Whitcomb 16, Sharp 12; Sharp 11 rebs; Scherf 10 assts) d Uof CANBERRA CAPITALS 62 (Cohen 17, Smart, Swain 12; Cohen 9 rebs; 3 with 3 assts) at the Zoo, Bendat Stadium. Crowd: 730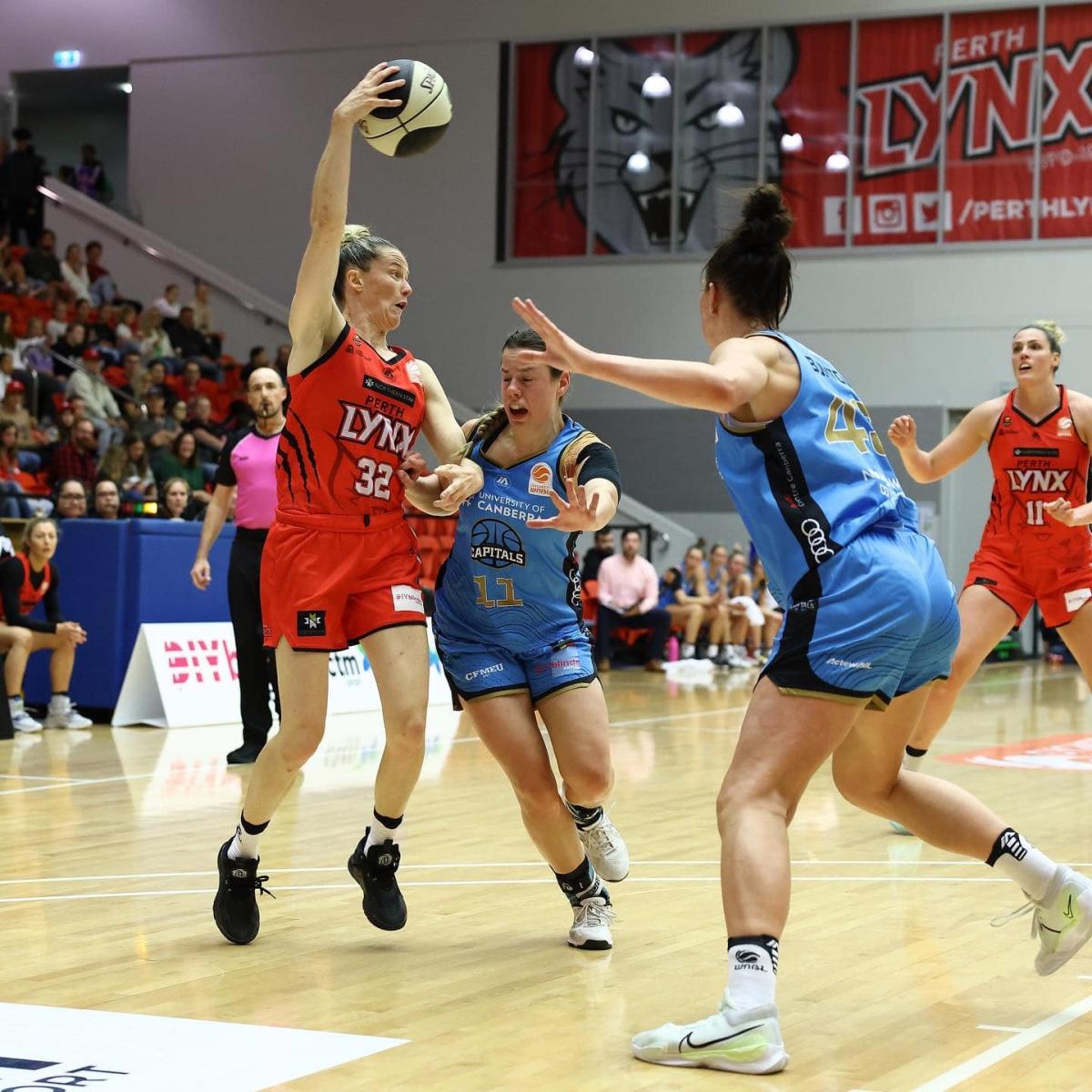 THIS cracker of a contest closed another fine round with Adelaide taking it right up to the championship-banner-posting Boomers in a high-quality game. Melbourne broke it open late when it twice took its lead out to eight (80-72 and 82-74) courtesy of Kristy Wallace and Tiff Mitchell. With Steph Talbot (23 points) sidelined by an upper leg injury, Izzy Borlase (17 points) again stepped up but Cayla George was huge in the end-game, Wallace's 3-pointer for 85-77 clinching it. Mia Murray was sensational through the first half in particular, carrying the Boomers' offensively.
MELBOURNE BOOMERS 85 (Mitchell 23, Murray, Wallace, George 16; George 11 rebs; Mitchell 7 assts) d ADELAIDE LIGHTNING 81 (Talbot 23, Borlase 17, Whittle, Monroe 13; Monroe 11 rebs; Mansfield 7 assts) at The Boom Box, Melbourne Sports Centre. Crowd: 2,856