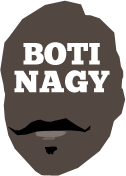 ---
Advertising opportunities available.
Please contact me.
---
Red-faced Army as Wildcats crumble
Tweet
OH wow. Sorry but that performance today by Perth was an embarrassment to our No.1 NBL club, to the NBL itself, if not the nation and to Wildcats fans worldwide.
To be blunt, of the six matches played so far between NBA clubs and NBL teams, the Wildcats' ugly 72-130 capitulation to the Utah Jazz in Salt Lake City today was by far the most humiliating.
It was as if the malaise which reduced Melbourne United import DJ Kennedy to a shadow of himself yesterday against Philadelphia 76ers gripped the entire Wildcats roster today at Vivant Smart Home Arena.
Exceptionally gracious post-game comments by Jazz coach Quin Snyder could not hide the fact that "undermanned Perth" - missing injured starters Damian Martin and Angus Brandt - made an absolute awestruck hash of this ongoing series.
Where the same club in 1995 gave the NBA champion Houston Rockets all they could handle for a half before being blitzed by 44, today they gave up a 15-0 start before Mitch Norton scored a backdoor layup.
Utah's size advantage all over the floor and depth to burn notwithstanding, one of the key staples on which "Wildcats basketball" is built - that is, hardnosed defence - was conspicuous in its overawed absence.
The 'Cats could not even make free throws, going 4-of-11 in a first quarter which saw them trailing 11-44.
By halftime, Perth was staring down a 34-75 deficit, the best aspect of the live telecast the fact nbl.com.au writer Liam Santamaria joined the local commentary team for a portion of that second period.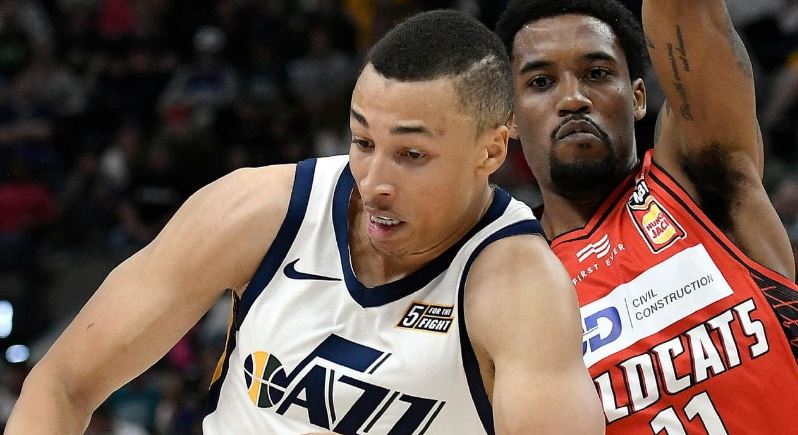 FORM GUARD: Dante Exum had a game high six assists against the Wildcats.
If there was little of enjoyment to watch, at least there was something of value to hear.
The local callers also were gracious in cutting the Wildcats (plenty of) slack for the distance Perth had to travel, different rules, injuries, blah blah blah.
Given Joe Ingles (lower leg soreness) did not suit for the Jazz, it was all pretty much cold comfort.
In six NBLvNBA outings since the first 23 years ago, Aussie teams have struggled to compete over the duration of the 48-minutes, Perth today going the way of Brisbane and Sydney last year in giving up early leads, then chasing the rest of the way.
That's why the rankings of our first six games against NBA teams should look like this, best-to-worst:
1 2017 Melbourne United 85, Oklahoma City Thunder 86 at OKC. A stunning performance.
2 2018 Melbourne United 84, Philadelphia 76ers 104 at Philly. Overwhelmed by talent.
3 1995 Perth Wildcats 72, Houston Rockets 116 in London. Two champs, Perth was in it for a half and went down fighting, James Crawford sensational.
4 2017 Sydney Kings 83, Utah Jazz 108 at Utah. Had to dig their way out of an early hole.
5 2017 Brisbane Bullets 93, Phoenix Suns 114 in Phoenix. Also had to dig out of an early grave.
6 2018 Perth Wildcats 72, Utah Jazz 130 at Utah. Early whopping hole just got deeper.
Here's the good news. Perth now knows what it is up against when it takes an NBA floor.
It has a shot at redemption against the Denver Nuggets on Saturday in Denver.
Maybe not too many pre-game statements about "winning" and just a performance of "Wildcats basketball" might be in order.
UTAH JAZZ 130 (Allen 19, Burks 18, Gobert 14, Crowder 13, Bradley 12; Gobert, Bradley 9 rebs; Exum 6 assts) d PERTH WILDCATS 72 (Cotton 14, Kay 11, White 10; Vague 7 rebs; Kay 3 assts) at Vivant Smart Home Arena, Salt Lake City.