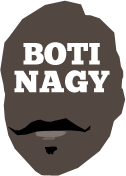 ---
Advertising opportunities available.
Please contact me.
---
Roberts, Randle and the R&R
Tweet
THE Twitter response by Adelaide 36ers import Ronald Roberts to his sacking by the NBL club sent social media into meltdown last night, but someone is looking foolish today.
It's your call as a reader to determine who but I will say I was sitting on the press table next to the 36ers' bench in Singapore when Roberts, who has a history of knee issues, asked to come out of the game against the Slingers at the Merlion Cup, complaining of knee soreness.
That was on September 22. He didn't suit for either the semi or Final of the Cup and has not trained since the 36ers came back to Adelaide.
Scans on his knee suggested he was good to play.
The Sixers released him yesterday, on the eve of their opening NBL game against Melbourne United, having had to adjust to life without his on-court presence for the past two weeks.
"Unfortunately, Ronald is suffering a knee injury that won't allow him to play to his true ability," Adelaide coach Joey Wright said in the media release from the club announcing Roberts' contract termination.
"With such a short, compressed season, we need a player that will make an impact immediately. The 36ers family wish Ronald the best for the future."
The search for the 36ers' new big man import already is underway, though Wright today ruled out Perth Wildcats championship centre Jameel McKay as a possibility, citing financial restrictions.
Ahead of last night's tip-off, Roberts stunned the Internet with his Twitter revelation (below):

Wright's response was pointed: "We don't know why he didn't practice then," he said.
"I mean, he didn't play in the game, he didn't practice and he told us he was injured.
"I don't know, if he's playing those kinds of games he might want to forget about playing basketball.
"But he told us he was injured.
"He didn't play in the games, he didn't practice, shit, I don't know what to tell you."
Conspiracy theorists abound in Adelaide and were quick to point to a Facebook comment from former 36ers import and 2017 league MVP Jerome Randle: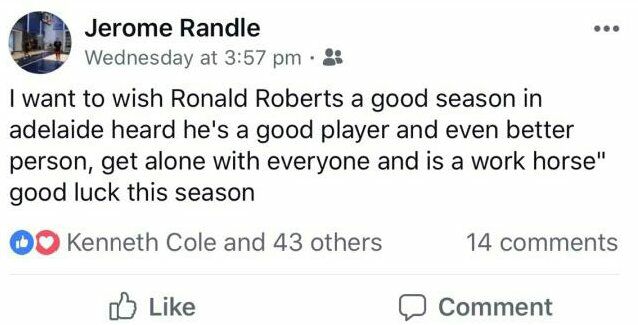 Was Randle, who has signed a contract in Turkey for two years, simply being supportive? Or mischievous? Or disingenuous?
By writing he "get alone (sic) with everyone and is a work horse", was Jerome trying to discredit Joey and/or the organisation? Or was he just wishing a fellow import the best?
Frankly in the end, who cares about his motivation for the remark?
Randle was a terrific player here, is part of 36ers permanent history now as only its second league MVP, and played some memorable basketball for Adelaide, for which he was much beloved.
Sadly he and/or his agent priced him out of Adelaide and the NBL - hence he is in Turkey, not Australia - and so be it.
But it is hard to imagine why any club would bring out an import, then cut him before the season unless something was amiss.
"Scans (on his knee) showed nothing, he told us every day he couldn't practice and wouldn't practice until he was 100 per cent," Wright said of Roberts.
"Not sure what we were expected to do or how long we were supposed to wait."
Wright said not having Roberts train for the past two weeks had allowed his team to adjust to playing without him. However the absence of that extra presence on the boards was felt in the 97-99 loss to Melbourne.
United won the boards 52-42 and enjoyed the luxury of 23 offensive rebounds, suggesting the hunt for a replacement won't wait until NBA teams cut back their rosters later this month.