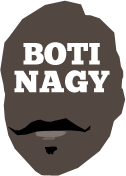 ---
Advertising opportunities available.
Please contact me.
---
Now it's techs and USFs: Just Wrapping
Tweet
WHAT'S up with our NBL and WNBL referees calling techs and unsportsmanlike fouls like they're going out of fashion?
Several matches across both leagues were marred by officials flexing their muscles for no genuinely good reason.
Isn't it enough players, coaches and fans have to endure erratic and inconsistent refereeing on a nightly basis? Now we're going to add techs and USFs as a means of keeping everyone in their place?
Without getting too specific - we could be here all night - one does require a revisit and that's the second tech on Sydney's Tom Garlepp disqualifying him from the game against Cairns.
That was a pitiful call.
It is so abundantly clear even our alleged best refs cannot tell a flop from a flip, flap, flup or phlegm.
But when you're getting opinion calls late in games, you are surely asking for trouble with a capital T.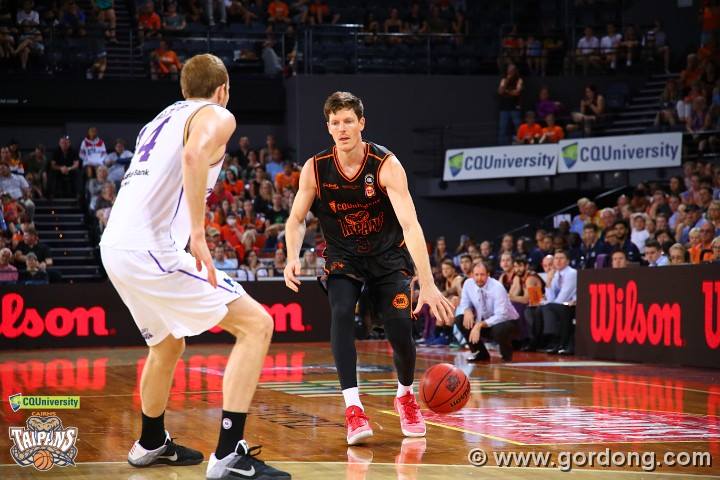 EAGLE-EYE: Aaron Fearne watching attentively for who might flop first...
* * *
SO far we've had "Head up his a$$", and "Get that $#!+ out of here" on FOXSPORTS telecasts of the NBL.
This week we were treated to "He's pi$$ed off" on the commentary.
Cannot help but wonder how the pros such as Lachy Reid, Matt Russell, Dwayne Russell and Co react when they hear their "colour" men going quite so unprofessionally colourful.
* * *
IT went to the wire in Adelaide where a driving basket by Mitch Creek saved the 36ers from defeat at the hands of a desperately unlucky Brisbane.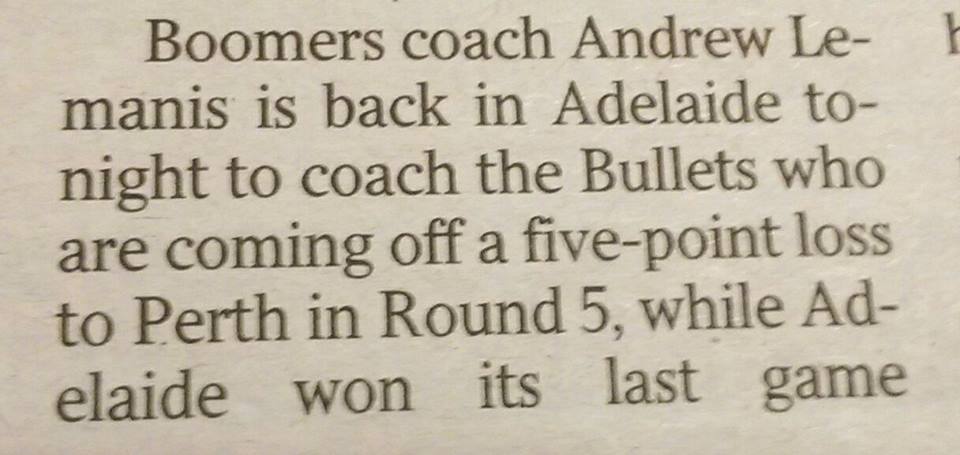 Not surprised there was confusion in the Bullets camp though, wondering whether they should be taking their instructions from Andrej Lemanis or his Aussie alter ego "Andrew" as reported.
The only slightly more embarrassing moment belonged to Reuben Te Rangi pre-game when he managed to knock over a plate of food near a corporate box at the Bullets' end of the floor. (The few Illawarra Hawks fans in the building froze. Not sure why...) Guess that's the way the ball was bouncing for Reuben on the night.
* * *
JESSE Wagstaff definitely stole the spotlight as he swished four 3-pointers in rapid succession for Perth, sandwiching those around some big defensive plays in Auckland to blow out an 89-72 win over NZ.
But over the four quarters, Jean-Pierre Tokoto was the man for the Wildcats, continuing to grow in his status as a leading NBL import with 25 points on 9-of-14 shooting, grabbing five rebounds, dishing nine assists, with two blocks and a steal for good measure.
While Mitch Creek at Adelaide also was huge in helping the 36ers escape Brisbane by a point, Tokoto is this week's winner of the Basketball On The Internet's Player of the Week award.
This round the duo go head-to-head. How good should that be?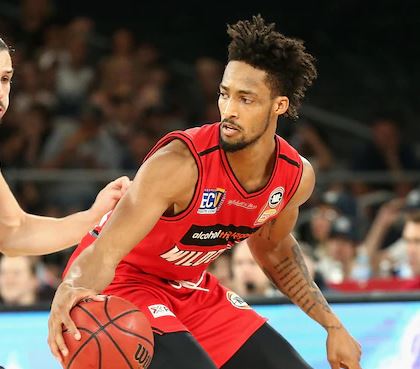 B.O.T.I. NBL Player of the Week
Rd1 Casper Ware
Rd2 Perry Ellis
Rd3 Edgar Sosa
Rd4 Shea Ili
Rd5 Edgar Sosa
Rd6 DJ Newbill
Rd7 Bryce Cotton
Rd8 JP Tokoto
Since Round 3 it's been all New Zealand and Perth dominating the PotW, just as the two clubs have reasserted themselves as the NBL's premier teams.
* * *
LIZ Cambage has been the dominant force in the Basketball On The Internet's Player of the Week award and certainly made a huge case again this week with 38 points at 83 per cent as Melbourne routed Canberra.
She also had 14 rebounds, a couple of assists and a steal, an imposing line and one that normally wouldn't require a second look.
But this week it is Perth's amazing import Courtney Williams who has gone "back-to-back" by claiming the honours after leading the Lynx to two huge wins, extending the club's winning streak to nine.
She led a comeback win over Canberra with 25 points, 10 rebounds, four assists, three steals and a block.
And in Adelaide, she put down the last vestiges of a fightback by the home team as she compiled 22 points, seven rebounds, two assists and two steals.
That gave her a round sweep and averages of 23.5ppg, 8.5rpg, 3.0apg and 2.5apg ... AND our Player of the Week honours.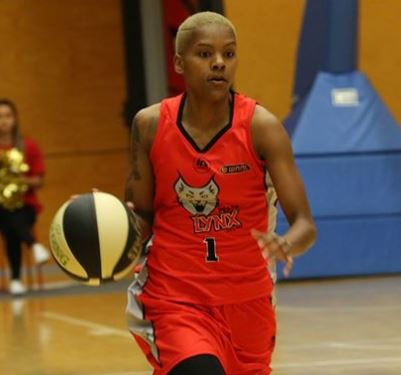 B.O.T.I. WNBL Player of the Week
Rd1 Cayla Francis
Rd2 Abby Bishop
Rd3 Liz Cambage
Rd4 Suzy Batkovic
Rd5 Asia Taylor
Rd6 Liz Cambage
Rd7 Liz Cambage
Rd8 Courtney Williams
Rd9 Courtney Williams
* * *
BIGGEST WINNERS/LOSERS
PERTH absolutely had to beat the Breakers in New Zealand this round or risk dealing with a psychological scar heading into the playoffs. And didn't the Wildcats respond perfectly? Their important road win after a long run of NZ outs easily made Perth the NBL's biggest winner.
CONVERSELY, losing to Perth was one thing, but to then also go down to Brisbane on the back of the Bullets' heart-breaking loss to Adelaide, made New Zealand this round's biggest loser. (That said, off a 9-win streak and with much of its personnel involved in the Tall Blacks' FIBA Asia Zone matches, a letdown of some sort had to be on the cards.)
IT was a tough choice for the WNBL's biggest winner with two clubs enjoying a round sweep and both over a contender and a pretender. But while Perth consolidated its hold on top spot beating Canberra and Adelaide, Dandenong saved its season by taking down Townsville and Bendigo. Keeping their playoff dreams alive makes the Rangers the biggest winners.
GOING down twice, and both times at home, makes defending champion Sydney the biggest loser, dropping to equal-fourth. In going down twice, the Flames also lost their season-series to both Adelaide and Townsville, reinforcing it was definitely a round to forget.
* * *
NBL Rd.8
SYDNEY KINGS 81 (Randle, Cadee 16, Tyler 15; Tyler 7 rebs; 4 with 4 assts) d CAIRNS TAIPANS 72 (Gliddon 20, Loughton 19, Egwu 11; McCarron, Egwu 7 rebs; Smith 5 assts) at The Kingdome, Qudos Bank Arena.
PERTH WILDCATS 89 (Tokoto 25, Wagstaff 19, Walker 12; Walker 11 rebs; Tokoto 9 assts) d NEW ZEALAND BREAKERS 72 (Pledger 15, Newbill, Sosa 10; Ili 7 rebs; Sosa 7 assts) at The Slipstream, North Shore Events Centre.
ADELAIDE 36ERS 84 (Creek 23, Childress 16, Sobey 12; Hodgson 10 rebs; Johnson 4 assts) d BRISBANE BULLETS 83 (Kickert, Trice 18, Buford 15, Gibson 10; Buford 9 rebs; Jervis 4 assts) at The Fortress, Titanium Security Arena.
CAIRNS TAIPANS 80 (Evans, Loughton 15, Gliddon 12; McCarron 8 rebs; Gliddon, Smith 5 assts) d SYDNEY KINGS 71 (Randle 24, Tyler 21; Tyler 9 rebs; Newley 6 assts) at The Orange Grove, Cairns Convention Centre.
BRISBANE BULLETS 81 (Buford 18, Trice 17, Te Rangi 11, Kickert 10; Buford 10 rebs; Gibson 4 assts) d NEW ZEALAND BREAKERS 76 (Newbill 21, Sosa 18, Ili 11; Abercrombie 11 rebs; Ili, Sosa, Newbill 3 assts) at The Morgue, Brisbane Convention Centre.
TOMORROW: ILLAWARRA HAWKS at MELBOURNE UNITED.
* * *
WNBL Rd.9
MAC ADELAIDE LIGHTNING 77 (Seekamp 22, Clydesdale 17, Bishop 16, Planeta 11; Bishop 10 rebs; Novosel 7 assts) d SYDNEY UNI FLAMES 74 (Hamson 25, Taylor 19, Ebzery 17; Hamson 17 rebs; Snell 4 assts) at Study Hall, Bryden's Stadium.
JAYCO DANDENONG RANGERS 78 (Mijovic 18, St Blicavs 14, Palau 13, Lavey 12; Mijovic 16 rebs; Lavey, Palau 5 assts) d TOWNSVILLE FIRE 59 (Batkovic 19, Murray 16; Batkovic 9 rebs; Wilson 5 assts) at The Ranger Station, Dandenong Stadium.
PERTH LYNX 89 (Williams 25, Whitcomb 22, Standish 14; Williams 10 rebs; Farnworth 5 assts) d UNI of CANBERRA CAPITALS 76 (Hooper 20, Wehrung 13; Hooper, Scherf 6 rebs; Hurst 7 assts) at The Zoo, Bendat Stadium.
PERTH LYNX 89 (Williams 22, Whitcomb 19, Standish 17, Kunek 16; Williams 7 rebs; Whitcomb 5 assts) d MAC ADELAIDE LIGHTNING 74 (Seekamp 14, Hamblin 13, Bishop, Clydesdale 12, Nicholson 10; Bishop 11 rebs; Novosel, Bishop 5 assts) at The Lighthouse, Titanium Security Arena.
TOWNSVILLE FIRE 88 (Batkovic 26, Wiese 15, George 14, Garbin 13; Batkovic 10 rebs; Donnelly 6 assts) d SYDNEY UNI FLAMES 85 (Ebzery 21, Wilson 18, Hamson 15, Taylor 11Hamson 9 rebs; Snell 6 assts) at Study Hall, Bryden's Stadium.
JAYCO DANDENONG RANGERS 75 (St Blicavs 19, Mijovic 16, Pedersen 14, Lavey 12; Pedersen 10 rebs; Palau 7 assts) d BENDIGO SPIRIT 67 (Laney 18, Banham 16, Richards 13; Richards 8 rebs; Oliver 5 assts) at The Spirit Level, Bendigo Stadium.
DEAKIN MELBOURNE BOOMERS 92 (Cambage 38, O'Hea, Garrick 13; Cambage 13 rebs; O'Hea 6 assts) d UNI of CANBERRA CAPITALS 72 (Hurst 21, Bass 10; Scherf 5 rebs; Rocci 3 assts) at The Kangaroo Courts, State Basketball Centre.
OH my, just 3 tips right of 7 in the WNBL as Lightning and Dandenong produced "upsets" over Sydney and Townsville respectively, maybe the two most surprising results. Bit better in the NBL with a 3-2 split, my faith in the Breakers twice costing me dearly.