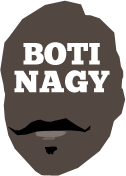 ---
Advertising opportunities available.
Please contact me.
---
Ronald ready to rumble
Tweet
RONALD Roberts will bring more to the Adelaide 36ers' NBL frontcourt than a highlight reel full of dunks – but there will be plenty of those, too, he promised today.
"There's more to me than just dunking," the 203cm big-man said as he prepared for a season holding down a key import spot with the Sixers.
"My type of game fits in with a lot of teams.
"Every team loves a player who plays as hard as he can, has a good motor and rebounds."
In other words, don't let the highlight reels fool you. Roberts, 26, loves to dunk, for sure.
"But I can shoot the three, I have a low post game – there's more to me."
That's OK. Adelaide fans will be filling Titanium Security Arena once again happy to see another Joey Wright team realise its potential, and taking on three new imports who will help it do just that.
Ramone Moore can fill it up, Shannon Shorter will find the players who are smokin' and Roberts will relieve frontcourt pressure on All Star Five power forward Daniel Johnson and Boomers' Asia Cup gold medal centre Matt Hodgson.
Roberts certainly isn't here for a summer holiday.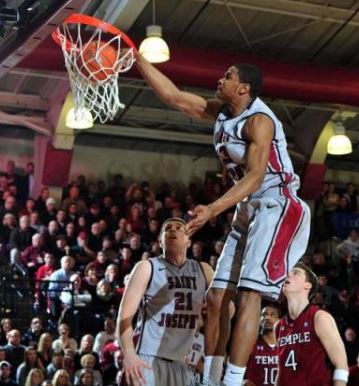 HIGH FLYER: Roberts throws one down against Temple, with Ramone Moore (10) unamused.
"My NBA dream is still alive," he said.
"There will be a lot of season left (in the NBA and Europe) when the (NBL) season ends.
"The season here is pretty short compared to other leagues. It gives me great flexibility.
"Australia is a great country. I told my agent (who also handles Bryce Cotton and Fuquan Edwin) to see if there were any teams in Australia which could use a big player like me."
Roberts completely fit the mould of the versatile 6-8 sized "big" Wright tends to covet.
"That type of size and versatility is great for an NBL import," Wright said when the club decided to move on from 2016-17 big-man import Eric Jacobsen to seek a more seasoned and complimentary frontline addition.
Imports such as Ira Clark and Will Hudson have filled that role for Wright previously at Gold Coast Blaze.
Roberts has spent much of his post-college career at Saint Joseph's in the Atlantic 10 Conference, playing in the NBA's D-League, with a brief stint in Turkey with Tofa where he averaged 11.7 points, 6.2 rebounds and 1.3 assists per game.
He only played in 10 matches though, suffering a knee injury in a game on December 10, last year.
Playing in Australia will provide a vastly different environment.
"Last year I was in a situation where there were terrorist attacks in Turkey," he said.
"Turkey was good and they were good to me. But it was crazy at times."
So far, the only craziness Roberts has had to deal with in Australia is driving on the correct side of the road.
"I drove the first day I landed," he said.
"I'm doing pretty good. I have to concentrate on what I'm doing when I'm behind the wheel - I have to think about it, but it's good.
"I thought I might have a few problems with the accent but actually it's pretty easy (to understand).
"Australia is very, very similar to America.
"They have me staying in the city at the moment and there's a lot of good restaurants, a lot of good Italian places, a lot of good Greek places."
Roberts, in Adelaide with his girlfriend Rachel, said he had spoken with players about the NBL and Australia, most notably with new 36ers running mate Ramone Moore.
GRAND VIEW: Ronald Roberts and girlfriend Rachel at Saturday's Premier League grand final.
Well known already to NBL audiences after his debut last season with Melbourne United, Moore played at Temple University against Roberts' St Joseph's team in 2012.
"I talked to Ramone (about Australia) and he had really good things to say about it," Roberts said.
Roberts had a double-double of 17 points, 10 rebounds when St Joseph's lost 60-78 to Temple, Moore with 21 points and four assists.
When St Joseph's beat the Owls 82-72 in the return bout, Roberts had 18 and seven, Moore 15 and three assists.
The pair have history but while Moore is two years older and has spent much of his career playing internationally, Roberts mostly has played D-League and stayed on the NBA fringe.
Undrafted out of college in 2014, he played four preseason games for Philadelphia 76ers before playing on their D-League affiliate the Delaware 87ers.
Having played Summer League for Philly and also Miami, in 2015 he was signed by Toronto Raptors after averaging almost a double-double on their Summer League outfit.
Acquired by their D-League team Raptors 905 in 2015–16, he averaged 18.1 points, 12.1 rebounds, 1.3 assists and 1.5 blocks and was a 2016 All Star.
He remains squarely on the NBA doorstep and by further rounding his game at Adelaide in the NBL, is likely to get his shot at The Show.
But don't worry that he has cast aside the highlights in favour of more hard-hat and lunch pail work in Oz.
"Oh no, I love dunking," he reassured.
Excellent. Because we love seeing it.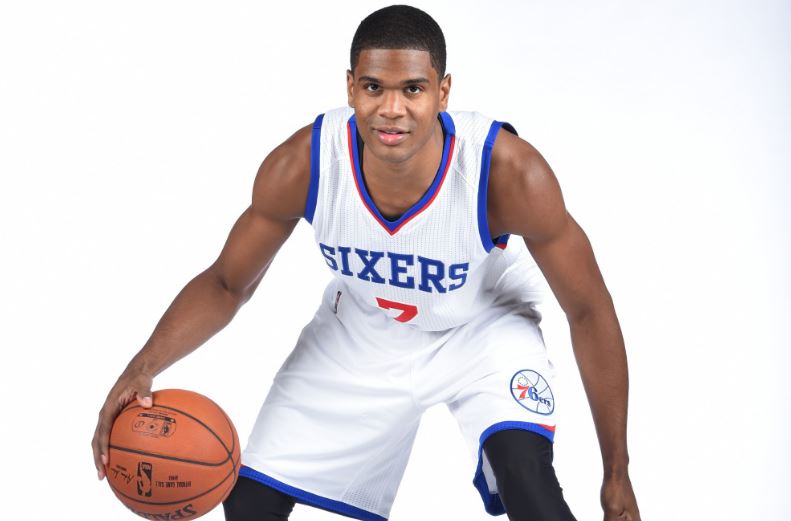 NBA DREAM ALIVE: But Ronald Roberts is with a different Sixers team in 2017-18