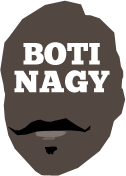 ---
Advertising opportunities available.
Please contact me.
---
Goodbye and adieu to the white Knight
Tweet
HE was the "white knight" who rode into Perth for Rob Beveridge, won three NBL championships as a Red Army favourite but today, Matt Knight announced his retirement from the game he has love and played with such passion.
Ultimately, it was the only decision the 32-year-old father of two could make after suffering another in a long line of concussions that genuinely threatened his future wellbeing.
"Most of you are probably aware that I suffered a hit to the head last week," Knight said to open today's press conference in Perth.
"Obviously with my previous history of head knocks, I decided to announce my retirement today, as of now.
"I sat down with my family and the club and we all came to the conclusion it was the best decision moving forward.
"It's a tough decision. Basketball is something I've done since however long I can remember so it's a tough decision but it's the right decision."
Knight thanked the Wildcats and several individuals for giving him the opportunity, support and for standing by him through his injury-wracked career. Addressing the support and love of his family, he was understandably emotional but his conviction at his decision never waivered.
Perth coach Trevor Gleeson even revealed that before suffering his latest head knock, Knight was playing with a fractured cheekbone and a fracture thumb.
"He's a warrior," Gleeson said.
"We wouldn't have those three championships here right now if Matty wasn't a part of that."
With Knight's wife Sherelle and children Mia and Ollie watching, he made the announcement, admitting in the end it was an easy call to make.
"Obviously everyone knew I was looking to retire after the season but with the injuries and then the head knock it's a pretty easy decision in the end to walk away," Knight said.
"I just knew that I can't do it anymore and I had to start thinking long-term. Obviously I would have loved to have been part of the whole season, but I'm happy with the decision and the club has been fantastic helping me and supporting me with this decision.
"When I got hit last week, it was enough. I just can't do it to my body anymore. I can't play the way I want to play because I'm constantly thinking about another hit."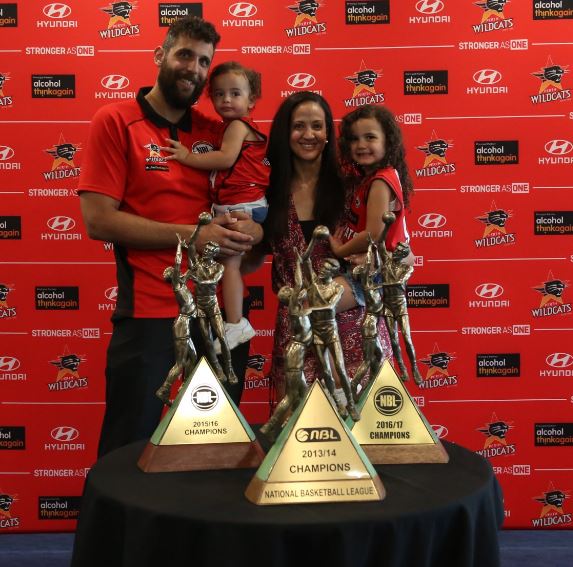 KNIGHT TO REMEMBER: Matt Knight with wife Sherelle, son Ollie and daughter Mia today.
Wildcats captain Damian Martin, who played together with Knight when Australia won the Gold Medal at the 2003 FIBA World Youth Championship, and also at West Sydney Razorbacks and Loyola Marymount University in Los Angeles, summed up his big-man friend succinctly.
"I remember in college they used to have a rule that if you have three concussions you're ruled out for the rest of the season, Matty had two quick ones, suffered a third and then they said we will make it four. We laughed about at the time but it stems back a long time he's been suffering these knocks," Martin recalled.
"Once he steps across the line, he's all in and he'd run through a brick wall to try and win a ball for his teammates.
"An undersized big man at 6 foot 7, he was at the height of some of the taller guys to turn around and get elbowed.
"Going after every rebound, he copped elbows and he took more charges than anyone I played alongside. I've always admired the way he played."
Damo is in the overwhelming majority there.
The Darwin winner of the Ray Borner Medal for the Most Valuable Player at an NBL Preseason tournament, Knight played defence and hit the boards with the fervour and aggression many of his contemporaries reserve for offence alone.
But he had offence too, with one of the game's sweetest elbow jumpers, the right-place, right-time putback and the dunk all part of his arsenal.
Of the active players in the NBL, Knight's 41 career double-doubles is No.1, Adelaide's Daniel Johnson and New Zealand warhorse Mika Vulkona next on 40 and 38 respectively.
"I gave Damo and Greg (Hire) a call last night, two of my closest mates who I've been through a lot with, to let them know. I thought I would be OK but it was tough not to break down in front of the players because they are some my best mates," Knight said.
"They have supported me through many years and I thought I would get down here and be OK, but it is tough. I won't get to go to work with these guys every day but I'll be following them for sure.
"As for Damo, I still catch him wearing my clothes from our college days and I often wonder where a pair of shorts or T-shirt went.


"We have known each other since we were 17 and have been through highs and lows, and he's one of my best mates. Hopefully that continues."
It undoubtedly will.
"For 14 of the last 15 years we have played on the same team. I had to get away from him for a year. He is one of my best mates and I'm thankful I've got to share the journey with him," Knight said.
Gleeson was full of praise for his premier big man, so too Beveridge, the man who first lured him to the west.
"He's just a wonderful young guy,' Bevo said. "Well, he's not so young anymore but he's a beautiful person and everybody loved him.
"He is a warrior, that blue-collar worker who didn't get massive mentions or accolades but was always in there doing the hard work, and not always the stuff that (gets) stats, like diving on loose balls, setting the screens.
"He's the teammate everybody wants."
Naturally, it was the three NBL championships from four grand finals which stood out for Knight.
"The first one especially stands out because you always want to win that first one and we had gone pretty close the couple of years before that," Knight said, the Wildcats' championship drives compromised ironically by injuries to his great mate Martin.
"To finally win one was a pretty big achievement and then obviously the last two to go back-to-back is something that is pretty special. I would have loved to be part of this group hopefully going on to win the three-peat but I'll be cheering for them."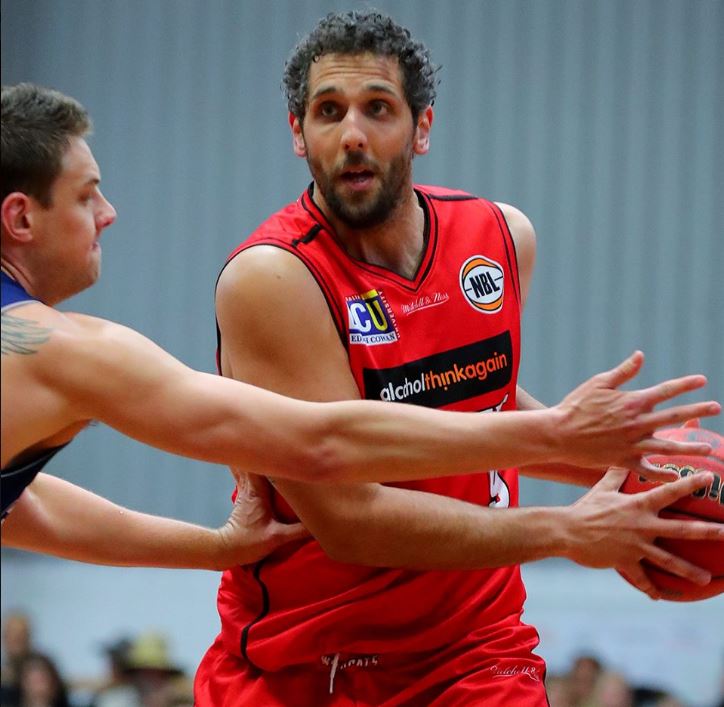 DOUBLE TROUBLE: Matt Knight with Daniel Johnson, next in the double-double challenge.
With Aussies Lucas Walker and Angus Brandt handling the starting 4-5 roles, Perth is unlikely to pursue a replacement for Knight in the immediate future.
And finding a suitable replacement who can play as a local might also be a stretch.
As long as the Wildcats continue winning, it doesn't become a huge issue, especially if Derek Cooke Jr continues to flourish. But if he doesn't, don't be surprised if Perth pulls the trigger early in the New Year.
For Knight, none of this is of any great consequence as his body now can fully recover and heal as he awaits the next chapter in his life. Going on what he has achieved so far, it will be full of success, not just the Wildcats but those across the NBL's national fanbase grateful to have witnessed such a stellar career.