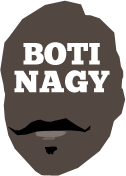 ---
Advertising opportunities available.
Please contact me.
---
Should 36ers have 5 NBL titles?
Tweet
NEW Adelaide 36ers owner Grant Kelley, a former player, basketball junkie and self-confessed "sports tragic" believes the club should claim West's 1982 NBL championship as one of its own.
"I'd never want to take the (championship) banner West Adelaide Bearcats won in 1982," he said.
"But I believe we can add it to the four the 36ers have won because West became part of the club."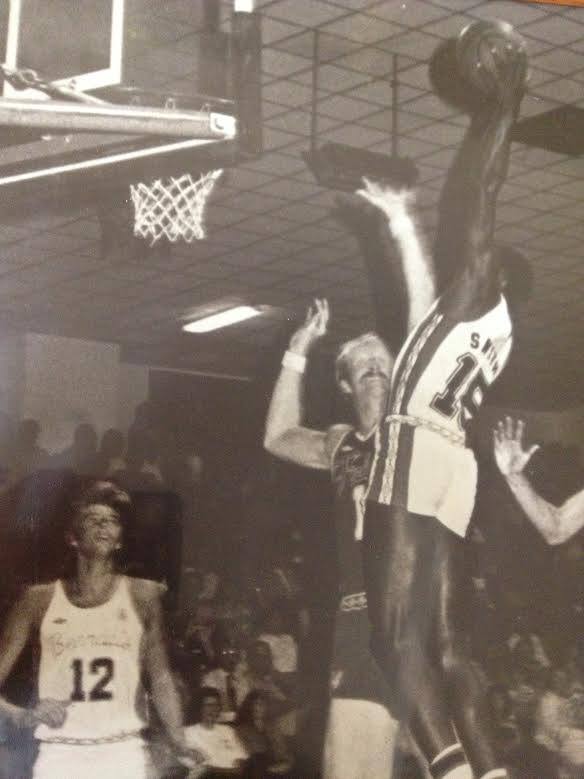 BEARCATS FLASHBACK: Al Green scores for West in 1982. His #15 is retired by the 36ers.
The Bearcats were among the NBL's founding teams in 1979, won the title three years later, were back in the grand final in 1983, then fell on hard times in 1984.
South Australia suited a second NBL club team from 1979-81 but in 1982, no other single domestic club in the state could carry the financial burdens on its own, leading to the birth of the composite Adelaide team.
In 1985, West Adelaide also decided to surrender its solo identity and join the composite team as part of the state's solitary NBL club, the 36ers.
As West merged into the team from 1985 forward, the case can be made it genuinely is part of Adelaide's history and so its 1982 flag should join Sixers' titles in 1986-98-99-2002.
WEST WAS BEST: Ken Richardson scores over Geelong, the duo playing for the 1982 title.
The case against that happening is how can West Bearcats' title be claimed by Adelaide 36ers when they were opponents in 1982-83-84 and their derby rivalry a feature of the annual NBL schedule?
"You could argue the '82 West Bearcats championship is ours," Kelley said, but it likely is the only argument he will be hearing anytime soon.
The Singapore-based Adelaide businessman, CEO of one of the largest property investment management companies in Asia, spends time at home in Adelaide about once a month, or around 15 times a year.
A former player himself – "I had a pretty decent 3-point shot" – he was approached to join the board and swiftly went from majority shareholder to owner.
"It was really helpful for me that I knew the club, knew the sport and loved the club, and more importantly, loved the sport," he said.
"So when the opportunity came up with the Sixers, I thought that was just something … that was a dream."
There's work to be done to maintain the 36ers as an NBL force and Kelley is prepared to entertain a shift from Titanium Security Arena to a proposed $200 million sports precinct redevelopment at Tennis SA's Memorial Drive facility, next to Adelaide Oval.
It would rival the advantages Perth Wildcats now enjoy with Perth Arena's proximity to the CBD and the abundance of free advertising the Red Army affords the club, both when it arrives at the venue and when it disperses again across the city.
"We need to look at the stadium and maybe a bit of investment expenditure, which we'll work on with Adelaide Arena," he said.
"I think we have to have a better outreach program, both community and corporate. Sixers in the old days were everywhere.
"Everyone in the modern sporting world is focused on on-field success. But if you look at it from the other direction, I would argue on a per capita basis, we have the strongest basketball culture in the country.
"The Powerhouse, as I still tend to call it, in the 90s you couldn't get a ticket in there.
"The game's roots in the community are an enormous feeder for us. We have the legacy of the people coming to this country from eastern Europe, bringing a basketball culture and establishing that in South Australia.
"Plus there's church basketball, school basketball - you start from a position that there's a 30 per cent participation level among young people in the sport – we can leverage that."
Establishing a consistent culture is a key for Kelley (pictured).

"This becomes a model organisation for its stability, good governance and we won't win the championship every year but we want to be competitive.
"And we have to integrate home-grown heroes. We want to get guys who've come through the local competition here. Having home-grown ambassadors for the club is a massive plus.
"I'm in for the long haul, 100 per cent.
"It's a lot of work (but) you owe it to the club supporters and members to give it everything you've got. Coming from a business background, you need just enough emotion, not too much because it can cloud your judgment, but you also need the emotion because you have a responsibility.
"First and foremost you have a duty to this club, to the passion of the people and I really believe that. I think if we let that go – and you see all around the world, sporting stars and sporting clubs that become disconnected - you can't do that.
"We have a duty. That's really my view."
Who knows? Maybe West Adelaide would be happy to share a championship banner with a club now boasting a vision and a way forward.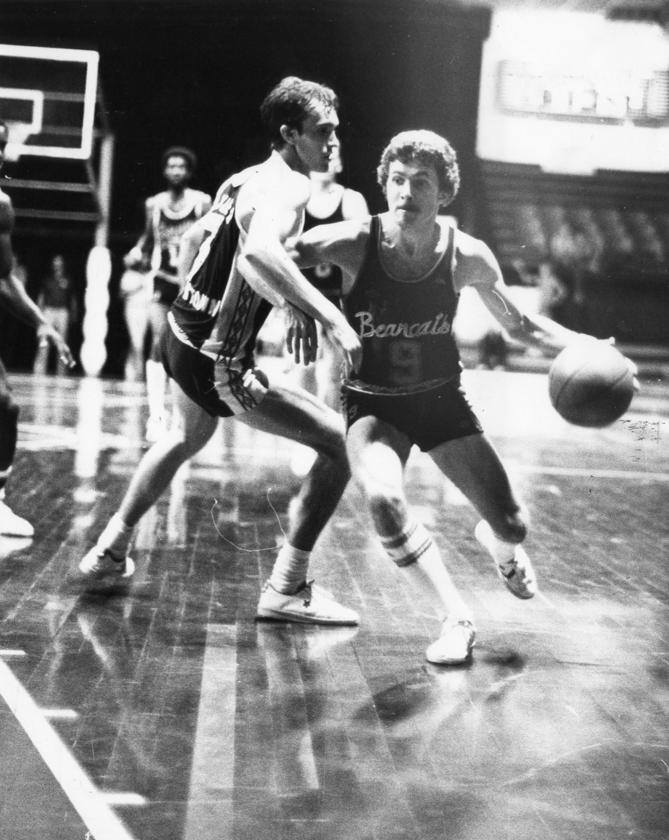 MOVING FORWARD: Ray Wood in West's halcyon days. He also won a title with the 36ers.