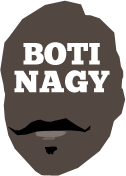 ---
Advertising opportunities available.
Please contact me.
---
Sunday Wrap: Life of Brian, Part 2?
Tweet
HAWKS GM Mat Campbell has confirmed the club remains in pursuit of 2015 league MVP Brian Conklin, who has been playing in France.
Conklin, 28 and 198cm, averaged 18.9 points at 51 per cent and 6.4 rebounds in 2015, his second season with Townsville Crocodiles under coach Shawn Dennis, a former assistant to Illawarra coach Rob Beveridge at Perth and West Sydney.
After a couple of unsavoury incidents involving Wildcats captain Damian Martin and 36ers' swingman Mitch Creek, Conklin copped a three-game ban for the latter and was released prematurely by the Crocs in his third season.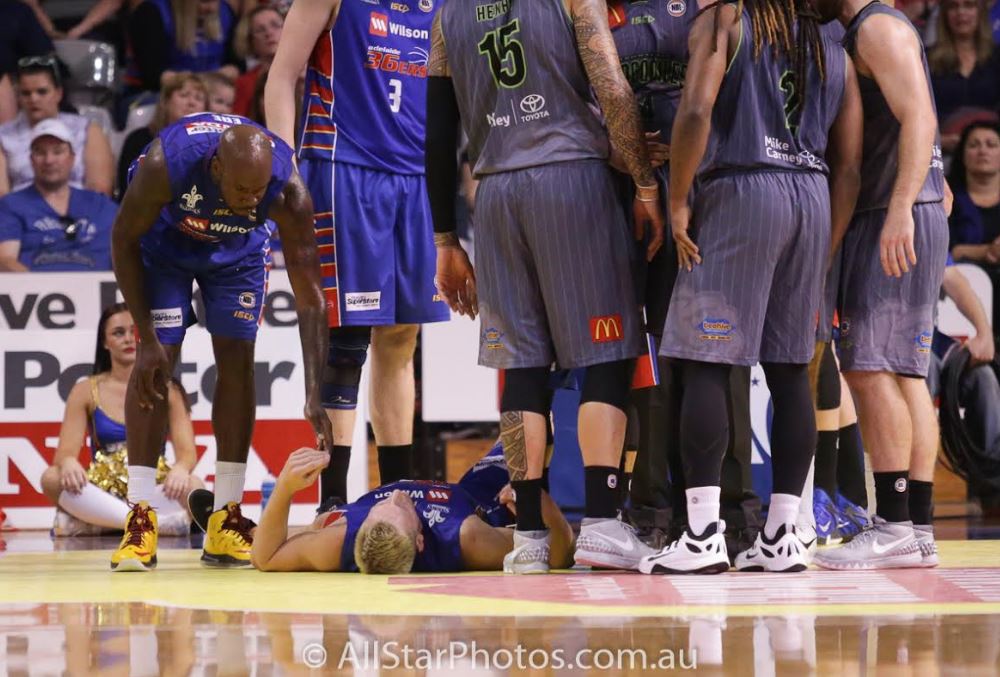 CONKED: Ebi Ere goes to Mitch Creek's aid after his clash with Brian Conklin.
He since has played in Puerto Rico, Dominican Republic and most recently France.
"We still are talking with the agent (for Conklin)," Campbell said in an interview with Illawarra Mercury's Mitch Jennings.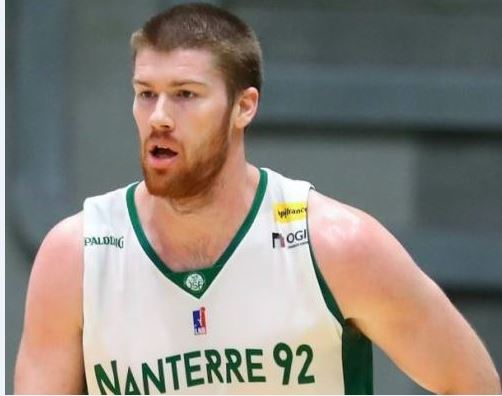 "We saw him as an opportunity to add a little muscle into our group, given we'd lost Nick Kay.
"We needed a four-man who had experience in our league and is a good player.
"We're still in talks with him and we're hoping that's a player we can add to our roster. But that's yet to be determined."
Demetrius Conger will not be returning, his successful season with Illawarra springboarding him into Europe, according to Campbell.
There's a lot to like about the potential of a Conklin (pictured) in a rotation with AJ Ogilvy and David Andersen in Illawarra's frontcourt.
* * *
AFTER Australia's loss to Japan 78-79 in Japan on Friday, triple-Olympian and NBA champion Andrew Bogut told the Daily Telegraph's Matt Logue the Boomers needed a mindset upgrade.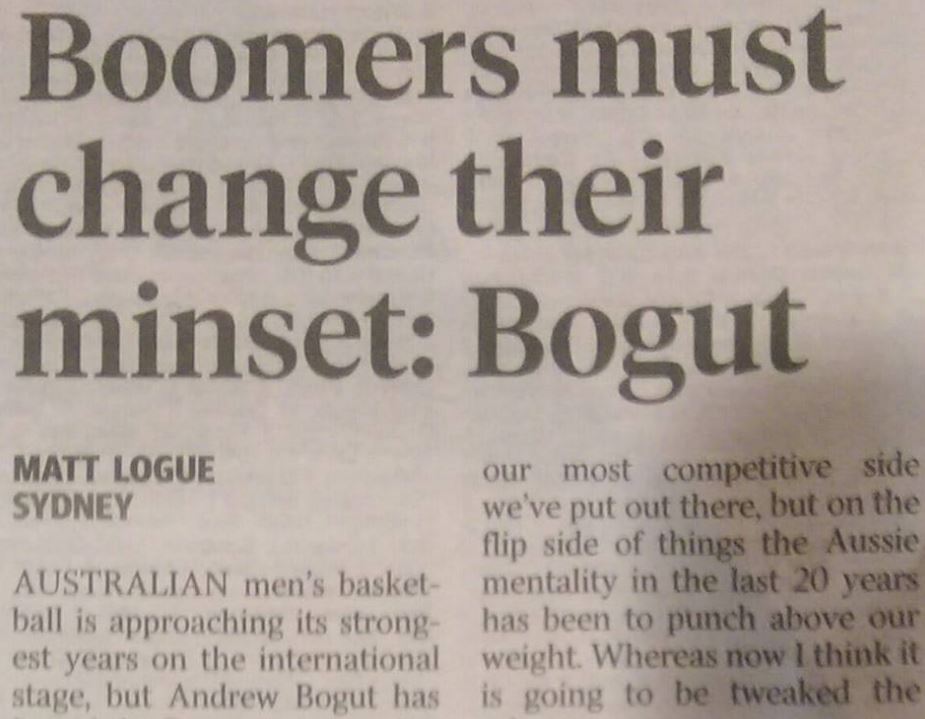 Or "minset", if you prefer, as at least one Sunday newspaper did.
Essentially, it is time for the Boomers to stop thinking like the hunters, looking down instead at national teams chasing their scalp and recognising we are now among the elite and being "hunted".
Let's see how it goes tomorrow night in the Philippines in front of 55,000 crazy local fans in the last of the Phase One FIBA World Cup qualifiers.
For those ready to immediately sink the boot in after the loss to Japan, please bear in mind Mexico beat the US 78-70 the other day in a FIBA qualifier for the Cup next year.
It's only the second time Mexico has beaten the US, the previous occasion being the 2011 Pan Am Games. (No truth to suggestions Donald Trump wants to build a wall around the venue.)
Like the Boomers, the US was undefeated in pool play up to that game and had already won through to the next level. Also like the Boomers, it is unlikely too many members of this US team will be playing in China at the World Cup next year.
Do we knee-jerk much in Australia?
(And no, this is not a crack at soccer so much as an observation, but it is interesting in Australia we hope and pray the Socceroos (Footballeroos?) can get through to the top 16 at a World Cup, while we're ready to sack someone if we're not in basketball medal contention!)
* * *
STAY tuned because my (e)mail is the Brisbane Bullets will have an announcement soon about new ownership and it may even be Queensland-based!
* * *
FREE agency started overnight in the NBA. Watch how many amazing deals are done within the "first 24 hours" because, well, you know, NO-ONE talks to anyone before the curfew, surely.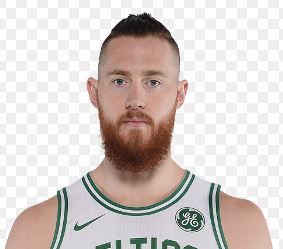 They're just able to do really super-quick deals.
Congratulations to our own Aron Baynes, returning to Boston Celtics for two more years for $11million.
Frankly, I think they got him cheap but it is where he wanted to be. And why not?
* * *
EXPECT the WNBL's 2016 Betty Watson Rookie of the Year Alex Ciabattoni to soon drop out of Perth Lynx's off-season reports of how their players are doing in other leagues.
My (e)mail is "Chibba" will be playing in Europe in 2018-19 – Italy specifically - and even will have time for the occasional gondola ride in her new digs.
* * *
THE Shawn Dennis-Rob Beveridge connection (below) continues, it would appear.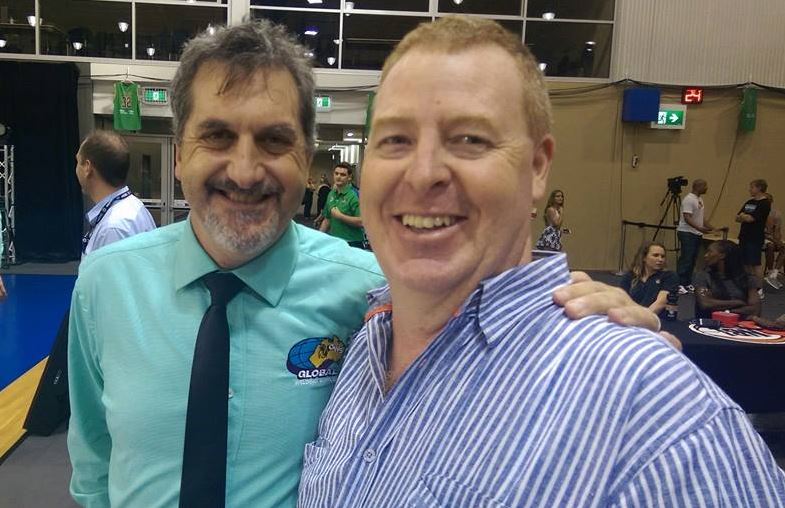 First, a couple of Dennis' former Crocodiles at Townsville in Mitch Norton and Nick Kay joined Bevo in the 'Gong for a couple of years before being lured west as the second coming of Damian Martin and Matt Knight.
Now Jordair Jett, another import Dennis unearthed, has signed for Illawarra.
Jett, 26 and a 185cm guard/swingman, averaged 15.4 points, 3.6 rebounds, 3.3 assists and 1.1 steals per game in 2016 with Townsville, winning the Kevin Sugars Medal as club MVP.
He also was desperately unlucky – or perhaps simply overlooked – for the NBL's Defensive Player of the Year honours, claimed by Kevin Lisch that year when, oddly enough, he was playing for Illawarra.
* * *
FOX 506 at 9.30pm Eastern, 9pm in SA tomorrow, for the final first phase game of the FIBA World Cup qualifiers between the Boomers and Philippines.