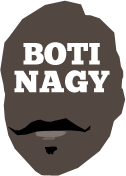 ---
Advertising opportunities available.
Please contact me.
---
SuperCALifragilisticexpialidocious - recognition at last
Tweet
AUSTRALIA Day was a while ago now and it has taken me a long time to find a way to formally acknowledge and congratulate Cal Bruton on receiving a Medal of the Order of Australia (OAM) in that esteemed honours list.
My delay has been far from deliberate or a reflection of indifference. Quite the contrary.
Since "Kelvin Burton" first arrived on our shores in 1979, I have enjoyed his playing, his coaching, our interviews and verbal jousts, his ebullient personality and his lesser-known but sometimes biting candour so very much, that knowing where to even start this article had me flummoxed.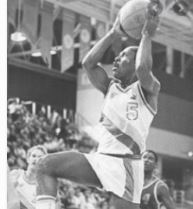 I mean, what more can I say about this dynamo who rocked into Brisbane and led the NBL in scoring in its debut season?
It's hard to forget his personal season-best 51-point return against SA's Glenelg Tigers. He averaged 33.2ppg in that first year. In 40-minute games, no 3-point line.
He blew my socks off then - the season was played in winter at the time, not summer so I wasn't wearing thongs (I don't need to specify "flip flops" anymore because he's an Aussie) or sandals - with his extraordinary range and tenacity.
And nothing changed with that when I next saw him in Warrnambool.
I was coaching my women's team at the annual Warrnambool Seaside Carnival, a tournament I love and cherish to this day, and there was Cal and his revamped Geelong Cats, holding court.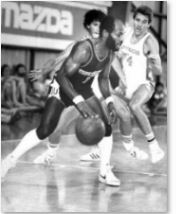 What an exciting and compelling team that was, with Steve Kalocinski and Johnny Revels, and hardcore Aussies such as Craig Herbert, Ian Manson, Bruce Hope.
Cal was playing coach, directing traffic, hitting long-range shots (pre 3-point line) and this likely was the original version of the "Run, Stun and have Fun" philosophy he later installed and instilled at Perth.
What Cal achieved with Geelong has long been underplayed and under-valued, though not by anyone who understands that patient build to be Victorian champs, then SEABL champs, then NBL grand finallists in the club's first season!
Returning to Brisbane, he teamed with coach Brian Kerle and longtime friend Leroy Loggins to claim the 1985 NBL championship but fell short of going back-to-back when beaten by the landmark 1986 Adelaide 36er outfit.
When his journey next took him out west, his impact on the Mildcats was instant.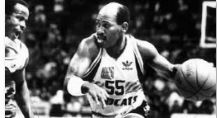 Those overwhelmed Westate Wildcats came into the NBL at the same time as Geelong and while the Cats soared, the Wildcats stayed moored to the league's lower echelons (including a last-placed 3-20 finish) until his arrival in Perth in 1987.
The Defiledcats were 40-83 as a club when he arrived but they never would miss the playoffs again. Not. Once.
Some now, history revisionists or those with an axe to grind, would deny Cal the kudos he deserves for reshaping that flailing franchise into arguably the most successful professional sporting club in Australia.
Granted, he has had little to do with its ongoing success but from the moment he reimagined the team and brought in the right mix of players to match-up with the Adelaide 36ers' "Invincibles" of 1986, West Australians became spoilt by their club's consistent achievements.
Trust this. When those new-look Wildcats, in their stunning white tracksuits walked into Homebush, the site of the 1987 preseason K-Mart Classic, everyone knew the balance of power in the NBL was about to irrevocably change.
This was the most professional-looking outfit the NBL had yet seen and beating the 36ers in the preseason final was a precursor of things to come.
They knocked out Adelaide in the NBL semi finals before falling short to the Bullets for the 1987 championship. But once again in his first year at the helm and as a playing-coach, he had taken a team to the championship series.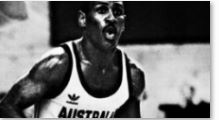 Naturalised, Bruton played for Australia at the 1986 FIBA World Championship, the Black Pearl now officially "one of us."
Trying to save faltering NBL franchises Canberra Cannons and Hobart Tassie Devils, Cal gave the league another gift when his son CJ - a bona fide superstar en route to six championship rings - debuted at Perth.
Cal talks the talk and walks the walk. But maybe sometimes he has talked too much and rubbed a few people the wrong way. Upsetting people? I can empathise.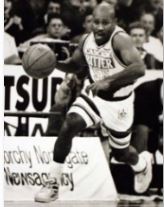 How he manages to continue generating the energy and enthusiasm he does when mainstream basketball often has turned a blind eye to the living resource that he is, never fails to amaze and enthuse me.
This is a guy who somehow cajoled NBA living legend Earvin "Magic" Johnson to play on his Canberra Cannons team in a guest capacity!
Magic!
And yet even today on telecasts and broadcasts, out are trotted a holy host of newbies and wannabes while this human basketball encyclopedia sits at home with the rest of us, contemplating what his legacy may be.
Calvin Thomas Bruton OAM, for his services to basketball as a player and a coach. It will sit nicely with his place in the Australian Basketball Hall of Fame.
If you never saw him play, you truly missed something special. Picture Jerome Randle maybe, but more dynamic, robust and as a winner. What he was able to achieve, often also shouldering his team's coaching responsibilities, will never happen again in the NBL.
That makes him truly a unique pioneer of our league in Australia. Kudos and sincere congratulations.
(I am truly apologetic though to our readers that colour photography sadly did not exist in Cal's era!)