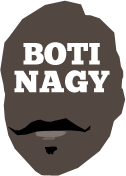 ---
Advertising opportunities available.
Please contact me.
---
That's what homecourt was worth - 0
Tweet
AFTER fourth-placed Melbourne Boomers last night erased WNBL regular season champion Perth 2-0 in their semi final series, there were plenty of State Basketball Centre-based folks sweating on today's Sydney-Townsville result.
But again the Away-Home-Home nature of the WNBL's compromised, cost-cutting, best-of-three semis, play every two days, first match three days after the last regular season round concessions to suit TV, also compromised the integrity of these playoffs.
Townsville's 68-65 road win to sweep the defending champion Sydney Uni Flames means the teams finishing third and fourth, gifted with opening matches at home, now will meet in this year's Grand Final Series. (So what was the value again of a potential third game at home when the series is wrapped in two?)
That's on the nose and instead of reflecting how seriously the women's basketball product should be valued, returns the league to the days of "we'll do whatever to keep TV happy."
Now we get a week's break to the start of the Grand Finals?
The structure of this post-season is an embarrassment to the WNBL, and Basketball Australia should take a good hard look at itself and how it is prepared to promote its product.
No point claiming the league as the second-best in the world, then treat it like a minor sport at the business end.
And now look at this for the turnabout in the GF Series: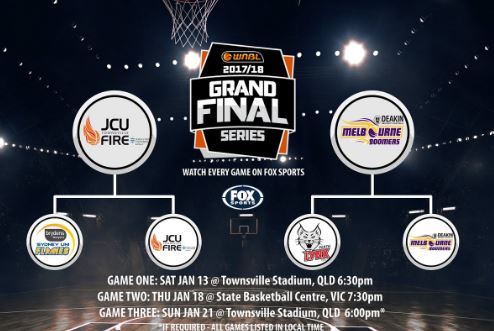 It is Home-Away-Home - exactly as it should be!
So why were the semis so rushed and ill-conceived?
Perth and Sydney have every reason to be truly irate at their draw. It is BA BS at its finest.
* * *
THAT said, after one of the most even seasons in recent times, fact is the two teams which played in the season's opening FOXSPORTS TV game now also will close the season, but no, modesty doesn't forbid me from saying we suspected it here before the initial tip-off.

Yep, Townsville was the B.O.T.I. tip for first and ...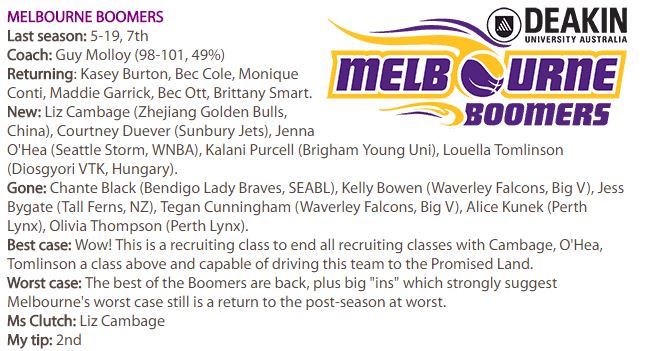 ...Melbourne for second, meaning a Fire-Boomers Best-of-3 Championship series.
Batkovic-Cambage ... don't even have to go any further!
* * *
DESPITE this site's absolute disgust at how the semi finals were run and rushed through - you might already have drawn an inkling of that - Melbourne was super efficient in how it put away Perth last night to sweep its semi.
The Lynx were trying too hard in the first period but when Courtney Williams got rolling in the second, she was something to behold. Kayla Standish hit some big shots too.
But down the stretch, Liz Cambage used her 203cm height to advantage to control the key, Maddie Garrick sticking 4-of-7 threes - the rest of the Boomers went 1-of-14 between them - to set up the win.
Melbourne used the ball well and its 22 assists to Perth's 11 said everything about how the two clubs went about their business.
Perth's one-on-five mentality cost it dearly, Kalani Purcell with six assists and Jenna O'Hea five matching the entire Lynx roster.
* * *
HAVING conceded 107 points to Sydney in the last round of the regular season, Townsville turned up the defensive screws immeasurably to keep the defending champs to an average of 57.0 points in the Fire's semi final sweep.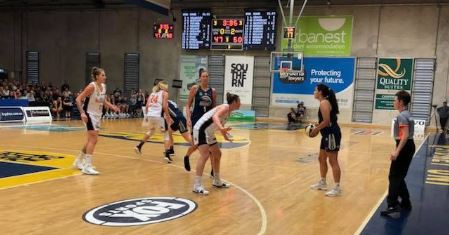 As Townsville booked its place in its fifth Grand Final Series in six years - and its first without Chris Lucas at the helm - its defensive pressure held Sydney to 29 per cent shooting. That's phenomenal.
As it did all season, Sydney relied almost exclusively on its starters while Townsville went into its deep and experienced bench and reaped the reward for it.
Still showing the heart of a champion, Flames import Jennifer Hamson hit a baseline jumper to give Sydney a 65-64 lead with a minute left and when the Fire turned the ball over, Game 3 loomed.
But a Mia Murray steal led to a Sydney Wiese layup and the lead, before a steal by Wiese let Cayla George in for a second layup and the final score.
With 7.2 seconds left, the Flames still had a chance to tie, leaving the question should George have dribbled out the clock instead of making the layup? But it was moot as Murray pressured Belinda Snell into a tough 3-point attempt which never looked like dropping.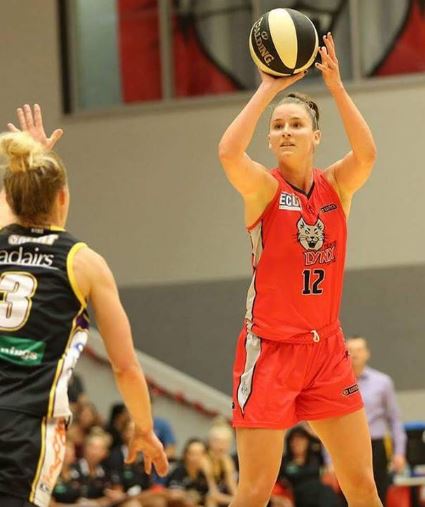 GOODBYE: Kayla Standish fought to the end but it was still goodbye to the Lynx.
SEMI FINAL 1 - PERTH (1) v MELBOURNE (4)
GAME 1: MELBOURNE BOOMERS 92 (Cole 21, Cambage 16, Smart 15, Garrick 14; Cambage 9 rebs; O'Hea 11 assts) d PERTH LYNX 76 (Kunek 22, Whitcomb 19, Williams 14; Farnworth 11; Dowe, Williams 8 rebs; Dowe, Whitcomb 3 assts) at State Basketball Centre, Melbourne. GAME 2: MELBOURNE BOOMERS 78 (Cambage 25, Garrick 18, O'Hea 12, Cole 10; Cambage 15 rebs; Purcell 6 assts) d PERTH LYNX 69 (Williams 20, Standish 17, Whitcomb 15; Williams 12; Kunek, Whitcomb, Williams 3 assts) at Jack Bendat Centre, Perth. Melbourne wins Best-of-3 Series 2-0, advances to Grand Final.
SEMI FINAL 2 - SYDNEY (2) v TOWNSVILLE (3)
GAME 1: TOWNSVILLE FIRE 78 (Batkovic 19, Garbin 15, George 14; Batkovic 16 rebs; Donnelly, Batkovic 3 assts) d SYDNEY FLAMES 49 (Snell 11, Hamson, Graham 8; Hamson 10 rebs; Taylor, Snell 3 assts) at Townsville Stadium. GAME 2: TOWNSVILLE FIRE 68 (Wiese, Batkjovic 14, George 13; Batkovic 10 rebs; Wilson 5 assts) d SYDNEY FLAMES 65 (Taylor 18, Hamson 15; Hamson 15 rebs; Snell 7 assts) at Bryden's Stadium. Townsville wins Best-of-3 Series 2-0, advances to Grand Final.