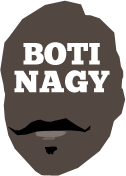 ---
Advertising opportunities available.
Please contact me.
---
The travesty of the Travis T penalty
Tweet
MATT Knight may have made a few mistakes this NBL season but the Perth veteran is a popular guy and "sources" – apparently the accepted term when you want to make something up or can't get a quote - have revealed he has friends willing to help.
Help what?
Well might you ask.
After the NBL's Games Review Panel found him guilty of whacking Cairns import Travis Trice in the head with the ball in Game 2 of the semi series, it bravely referred his two-game ban on to the Independent Tribunal for further review.
And they came up with the boldest of penalties imaginable. A $1,000 fine PLUS Matty had to pen a written apology to Travis T.
Well hell, Matt is busy with the Grand Final right now, but the superlative investigative team here at B.O.T.I. and its impeccable sources, can reveal other people DID rally and offer their assistance with letters on naughty Knighty's behalf.
Here's a few we uncovered:
Dear Trav
Y'all might be thinking, awiight, that what I did wasn't temperate, awiight, but listen, LISTEN, whose ball is it?
Ours?
Awiight?
That's clear now, awiight?
Listen, LISTEN, yeah, um, we're going to … awiight, we're going to run fist, awiight, for you, awiight?
Not fist-to-the-head, awiight, but ball-to-the-head and, awiight, I'm sorry.
Regards
Dean, er "Matt"
Dear Travis of Springield, Ohio and Michigan State University who spent time with the Westchester Knicks before joining Cairns Taipans in the NBL,
I know what I did was unbelievable.
Even as I was doing it I remember thinking: "This is unbelievable. I don't believe it."
So, even though it was amazing, it remains an act of unbelievable unbelievability, if you can believe that.
I just want to say, even though I'm amazed at my amazing unbelievable action, I believe I'm sorry.
All the best
Brad Ro… er, "Matt"
Dear Travis
I know I did it illegally and I should have waved away continuation of the act, but that thought just didn't tumble.
I had the ball, there was your non-preferred head right in front of me, and I had to give it one whack with a user-friendly ball.
And it was a good option.
In hindsight, it was a bad way to open my reporting account but we were in such close proximity and I was running out of real estate.
If I could have that moment back, I swear I'd do a lap of honour because frankly, I'm usually a more reliable conveyance.
I may have overcooked the ball thrust and now all I want to do is go upstairs and defuse the situation.
Let's end this on a good term, bring me your dress pants next time you're in Perth and I'll give it two pieces of the iron.
Cheers
Former league All Star, dual championship-winner and Ray Borner Medallist, "Matt Knight"
Yo T-Man,
I'm sorry.
Yeah.
No kidding.
Peace,
The Mattman
In further breaking news, two of B.O.T.I.'s leading sources – Bearnaise and Hollandaise – believe they may have found Matt's actual draft to Travis.
Dear Travis
Mate, I don't know what possessed me.
It was out of character and the moment I did it, I immediately regretted it.
Truth is mate, I don't think I ever fully recovered from some of the massive hits I took this season and that impaired my judgment.
It started with that juggernaut Jerome Randle sending me A-over-T months ago when he brushed past me at Perth Arena. It took me days to get over that.
Then that other mega-monster Mitch Norton also barrelled through me, sending me almost into yesterday in another game.
These aren't easy collisions to come back from fully healthy. And even if you're OK physically, mentally you're scarred.
I know you'd understand that Trav, mate.
I mean, not to put too fine a point on it but you know it happened to us too, that time I was just minding my own business and you came steamrolling through the key and knocking my fragile self into the fifth row.
It takes time to recover from that mate, that's if you can ever truly be 100 per cent whole again.
I don't think I was even really with it when the incident with you occurred.
That magnificent beast Jason Cadee ran past me just a week or two earlier and the wind sent me stumbling onto Trevor Gleeson while he was in mid signage, demanding a video review.
And then that crazed Casper Ware rolled around me on a curl cut and I swear I didn't even know what gym I was in. He's no friendly ghost, let me tell you.
I remain relieved I avoided sharing the court this season with that little Hercules at the 36ers, Adam Doyle and whoa if Nelson Larkins ever plays.
I'll be upping my insurance premiums for sure.
So look, I am sorry mate but I am pleading the Fifth on this one – I wasn't really in control when that all went down.
You could see with all those jumpshots I was taking to start the game against Illawarra, I wasn't game to go near Mighty Mitch again so please, spare a thought for my plight.
All these championship rings make my hands cumbersome too. So, you know, sorry.
Have a safe trip back to the US.
Salutations, Matt Knight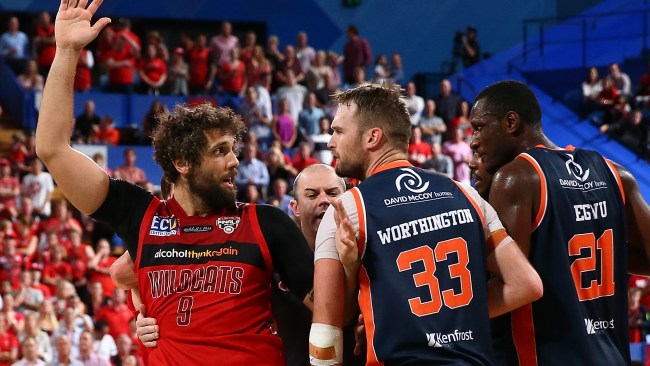 HANDS UP IF YOU WANT TO WRITE A LETTER: Matt Knight volunteers to make amends in one of the NBL Tribunal's most outstanding performances of the 2016-17 season, if not ever.