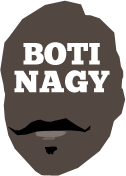 ---
Advertising opportunities available.
Please contact me.
---
Thon making his presence felt
Tweet
THE joy and exuberance of a Boomers camp is something to savour and relish according to head coach Andrej Lemanis, five days out from a showdown with Japan in Japan.
From Japan, it will be on to the Philippines as the 4-0 Australian team endeavours to keep its unbeaten record intact through to the end of this first phase of FIBA World Cup qualifying matches.
Leaving tomorrow for Japan, the Aussies are coming off their four-day camp in Melbourne, the first for Milwaukee Bucks "big" Thon Maker and also the return for his NBA teammate Matthew Dellavedova.
Lemanis could not have been more jubilant with how the duo slotted in and the exceptional mood across the group.
"I'm not blowing smoke up anyone's arse to say this environment – coming into it is so good, so refreshing," he said tonight.
"I love it.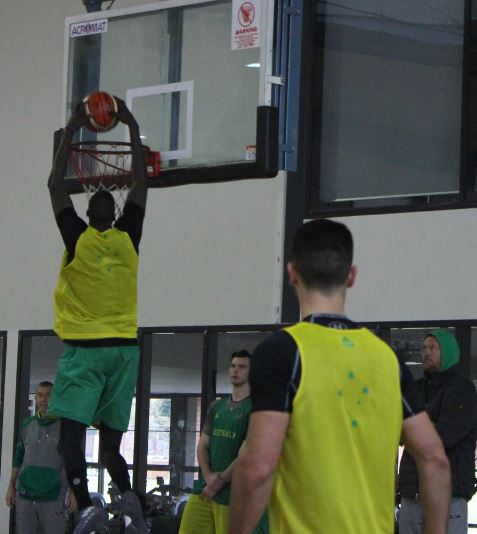 SLAM MAKER: Thon Maker slams, watched by Andrej Lemanis, Angus Brandt, Kevin Lisch and Luc Longley. Pic courtesy BA.
"What is extremely encouraging and makes you really proud is the way it all comes together."
The players – and through the FIBA WC qualifiers and Asia Cup programs, that group in the green 'n' gold is far deeper now – wholeheartedly have embraced the Boomers' renowned culture of inclusion and unity toward a common goal.
"The way the guys have helped Thon integrate has just been excellent and Delly, Delly, Delly always looks good with what he brings – his playing experience, the toughness element and the pride to be playing for Australia," Lemanis said.
"Looking at Thon and the joyous enthusiasm he has for playing for his country just fills you full of pride.
"He's loving this environment, where people are sharing the ball, the ball's not sticking in anyone's hands. If you're open, you get the pass.
"He picks stuff up and his shot-blocking and rebounding is something we haven't had before."
Multiple Olympian and three-time NBA champion as a starter with Chicago Bulls, Luc Longley has been a Boomers' assistant through Lemanis' first four-year cycle and again now.
"Luc reckons that's as good a three days (on court) as he has seen from the team," Lemanis said.
"It's interesting, of course but different from the first three days of our Rio campaign because everyone is trying to make the team and show what they can do.
"Whereas here, the team is already picked so they are just playing hard and working together.
"Everyone feeds into it and feeds from it and recognises how much more fun it is to play this way."
Selflessly. It clearly was evident in the 2017 FIBA Asia Cup and this year's Commonwealth Games Gold campaigns.
During training sessions in Japan, the starting quintet will become more apparent.
"The coaches started having that (first five) discussion today and it's a tough one," Lemanis said.
"This team is absolutely deep.
"All 12 guys can play and all bring relative merits.
"At our first practice on Tuesday in Tokyo, we might start aligning some of the players and see how it goes."
The venue for Friday's match with Japan is sold out and for Monday's clash with the Philippines in their 50,000-seat stadium, the Boomers are expecting one of the rowdiest receptions imaginable.