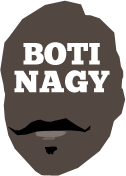 ---
Advertising opportunities available.
Please contact me.
---
TOQ: Japan has the Opals' number
Tweet
TOKYO OLYMPIC QUALIFIERS: Australia's Opals may well be ranked #2 in the world by FIBA, but in Asia they rapidly have become Japan's bunnies.
Virtually from go-to-whoa tonight in Kuala Lumpur, in the only meaningful match in Phase One of the Tokyo Olympic qualifiers, Japan again schooled Australia in ball movement and 3-point shooting, threatening to devastate the Opals, leading 30-16 after one quarter.
Japan eventually clinched it 82-69, having beaten Australia for Gold at the 2017 Asia Cup and again beating the Opals, this time by 12 in the semi finals of this year's Asia Cup. They now have handled three different versions of the Opals three times in succession.
Liz Cambage was driving a last quarter comeback and scored to make it 60-64 with 7:14 left. But when she called for an "and-one" after being fouled for a typical no-call, she copped her second technical foul instead and was exiting the arena.
Whatever faint hope the Opals had of sneaking a win quickly were dashed by her ejection.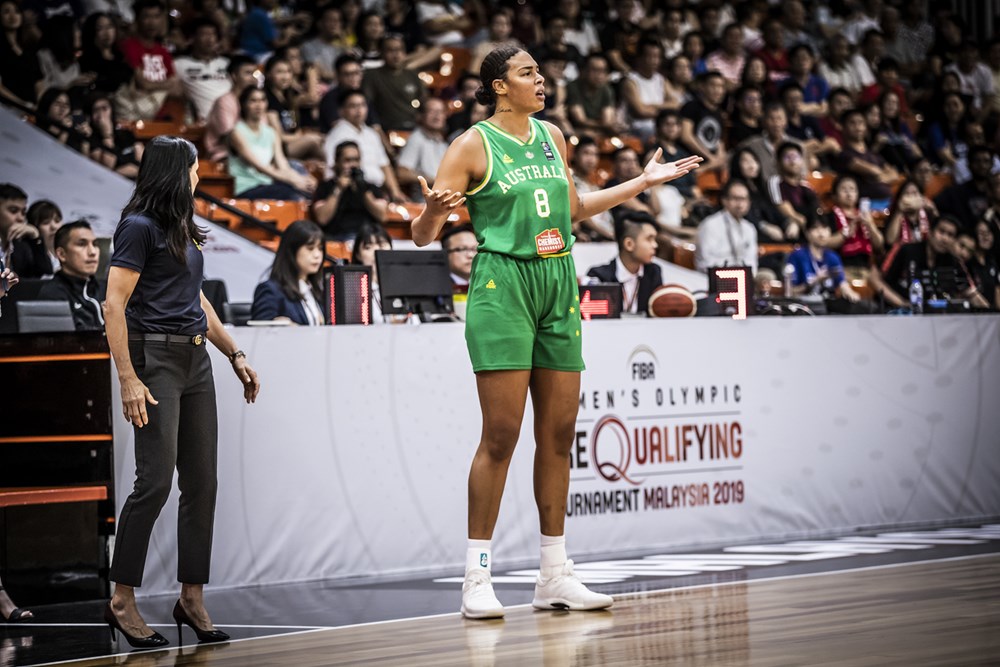 After Australia showed its intentions immediately by attacking through its 203cm centre - Cambage scoring within 15 seconds of tipoff - Japan showed its intentions as well, attacking her with Ramu Tokashiki making it 2-2.
Bec Allen struck a 3-pointer and Kiho Miyashita immediately answered with a three for 5-5.
An Opals turnover gave Miyashita a layup for 7-5 before Japan again brutally exposed Australia's complete inability to defend the 3-point line in a long-range missile bombardment that buried any hopes of an upset.
Threes rained as the score raced to 10-5, 13-5, 16-5 before Sandy Brondello called a timeout, Cayla George and Steph Talbot both not doing nearly enough to discourage their hot-shooting opponents in separate stands. They weren't orphans in that.
Himawari Akaho turned an Opals' turnover into an 18-5 Japanese lead before Cambage scored a layup to end the game's most decisive 16-0 run.
When Tokashiki stuck a three, the lead was 21-7 and the Opals looked devoid of a way to stall the avalanche.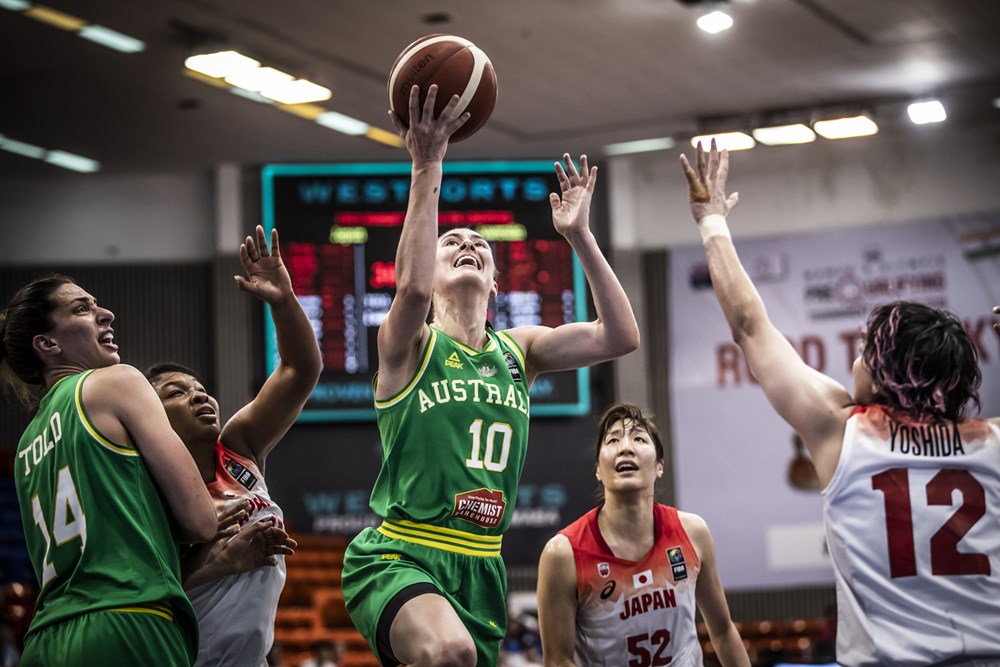 Katie-Rae Ebzery (above) was inspirational when she hit the hardwood, grabbing an offensive rebound, getting to a corner and taking a return pass for a triple. But no sooner had Australia clawed to 11-21, before Yuki Miyazawa unleashed a 3-pointer.
With 3:16 to the first break, Asami Yoshida dropped a three and it was 27-11. Saki Hiyashi's 3-pointer made it 30-13 to Japan, Ebzery nailing her second long bomb to bring the Opals to 16-30.
If the Aussies thought Cambage returning to the lineup in itself was going to make Japan go weak at the knees, they were sorely mistaken, though it was Cambage, Allen, Jenna O'Hea and Ebzery who grafted a mini 7-0 second-quarter start to force an opposition timeout.
Three minutes out from halftime, Australia had the deficit back to 29-33, Japan without a triple in the second quarter. But that changed suddenly and dramatically with their next three scores all from beyond the arc, their halftime lead restored to 47-34.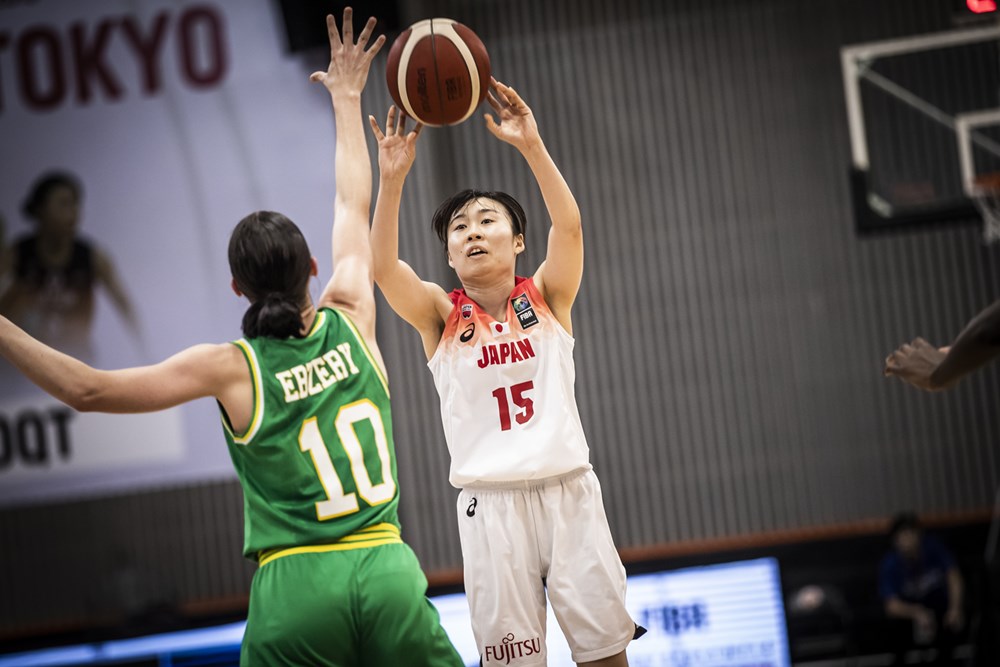 The Opals gave up 11 threes in the first half, 11-of-23 to be precise, and either were not following the scout or simply unable to consistently execute whatever counterplan they had for it.
Again in the third, it was O'Hea, Allen, Cambage and Ebzery who collated a 9-0 start - Ebzery inserted to start for Leilani Mitchell and O'Hea for George - to claw it back to 43-49 and at 5:22, O'Hea bombed a triple for 46-51.
Again though, Japan replied with threes from Motohashi and Miyashita to undo much of the Opals' good work.
Down 53-61, Australia had what should have been the quarter's last play but Allen went early, missed, Japan ran out of the defensive rebound and Yoshida knocked down a three over a backpedalling Tess Madgen for 64-53.
O'Hea (14 points at 50 percent, four rebounds, seven assists, a steal and a block) opened the fourth with a three, Cambage blocking two early shots, O'Hea blocking another and Allen another as the Opals finally started rolling.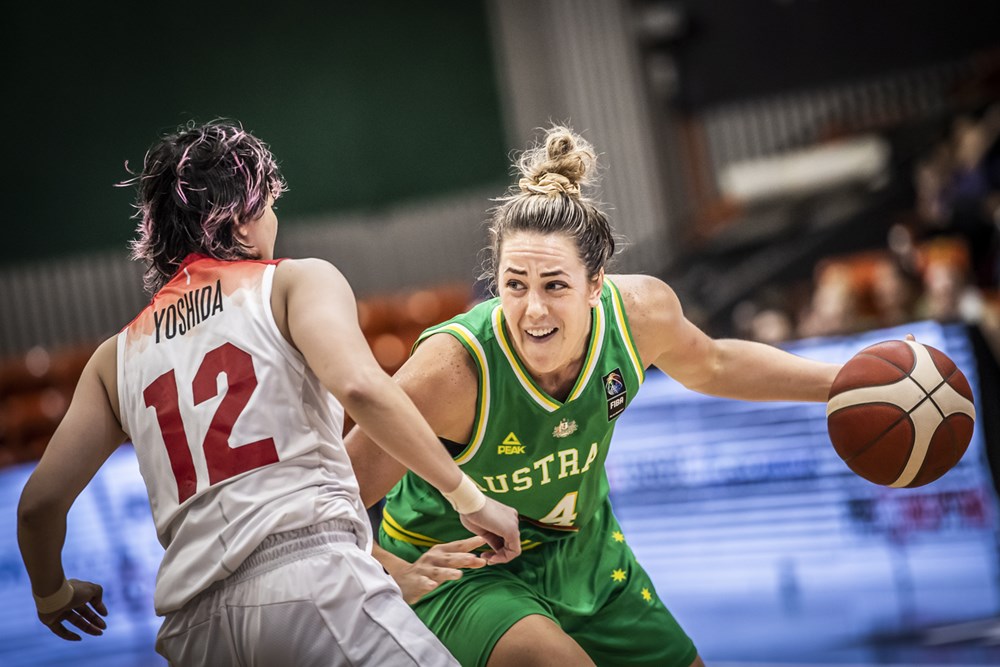 Cambage (17 points on 7-of-11 shooting, six defensive rebounds, two assists, three blocks) made a nifty low-post move for 58-64 and Japan was calling timeout.
Beating the double-team to score for 60-64 in another 7-0 Aussie outburst, Cambage complained about the no-call and that was the end of her night. Her second tech meant her ejection and from there, Japan would not be caught.
Australia already had qualified for the final stage of Olympic Games qualifiers in February but it has serious work to do ahead of Tokyo 2020.
While there always is a focus on beating the world #1 USA - and Spain etcetera - Japan in Tokyo will be playing with fanatical home support.
Suddenly, even Silver is no certainty.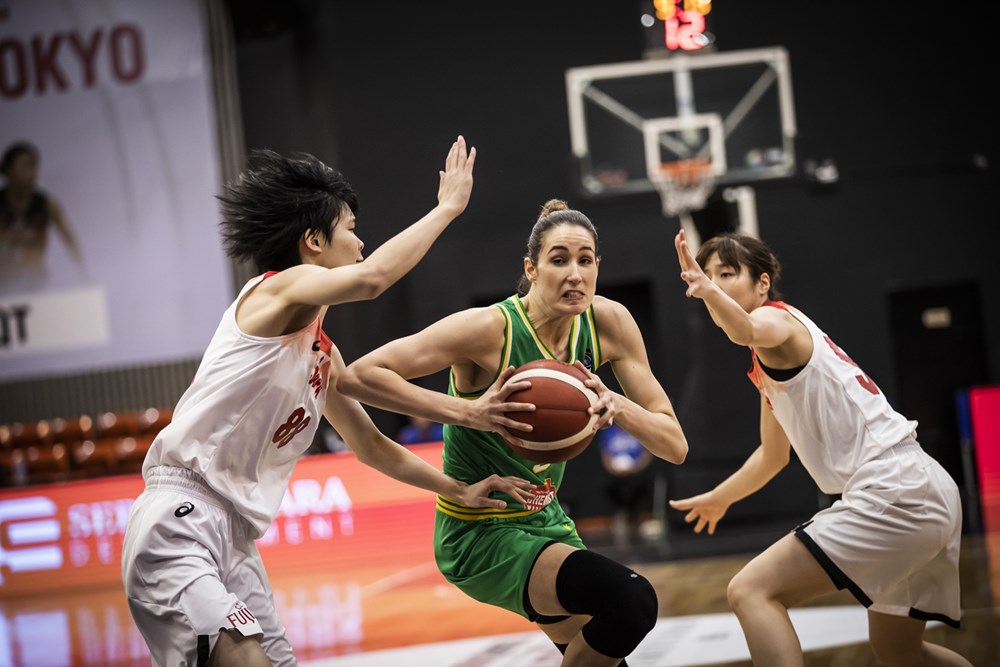 In Auckland, it was heartbreak for New Zealand's Tall Ferns today who needed to beat Korea by 12 points or more to qualify for the next phase.
They got the win, Penina Davidson (below) huge with a 24-point, 15-rebound double and Kalani Purcell with 16 points, 10 boards and six assists.
But New Zealand only won by four, taking it into a threeway tie with China and Korea on 2-1 win-loss records and leaving them third of the trio on points differences.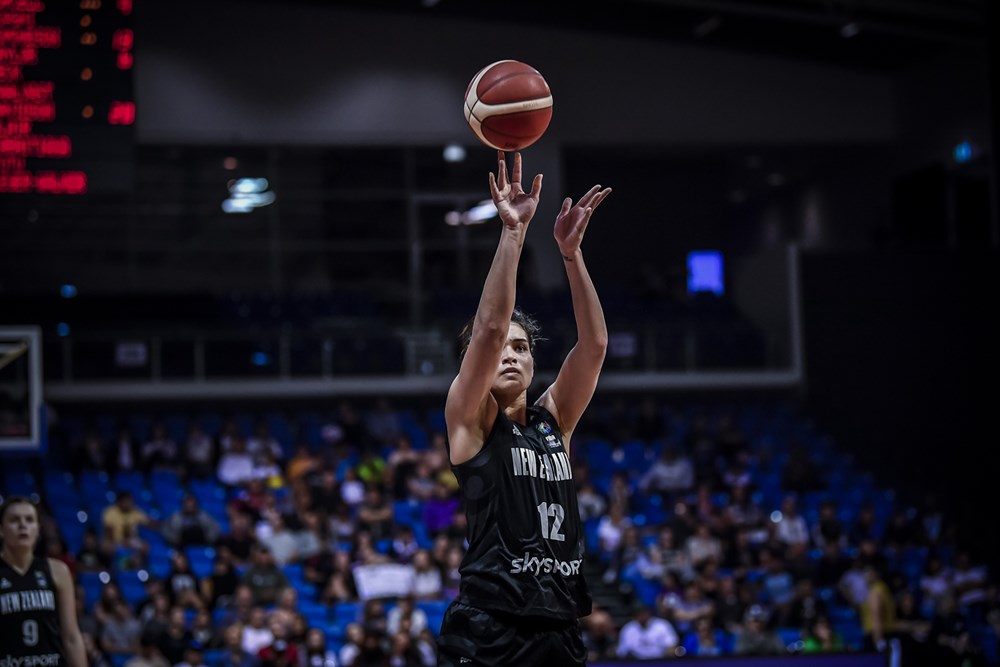 TOKYO OLYMPIC QUALIFIERS, ASIA ZONE, PHASE 1
GROUP A (Auckland): CHINA 127 d PHILIPPINES 49; NEW ZEALAND TALL FERNS 69 (Davidson 24, Purcell 16, Edmondson 15; Davidson 15 rebs; Purcell 6 assts) d KOREA 65. China & Korea advance to February Qualifiers.
GROUP B (Kuala Lumpur): CHINESE TAIPEI 79 d INDIA 56; JAPAN 82 (Motohashi 16, Yoshida, Miyashita 15, Miyazawa 14, Hayashi 11; Miyazawa 12 rebs; Motohashi 7 assts) d AUSTRALIA OPALS 69 (Cambage 17, O'Hea 14, Ebzery 10; Tolo, Cambage, Talbot 6 rebs; O'Hea 7 assts). Japan & Australia advance to February Qualifiers.