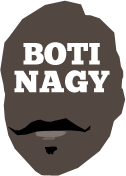 ---
Advertising opportunities available.
Please contact me.
---
Trans-Tasman showdown heads for Cairns
Tweet
OLYMPIC basketball star Danny Morseu will coach the Apunipima Australian Indigenous Women's All Stars as the annual Trans-Tasman series heads to Cairns next month with a three-game women's component for the first time.
The first Torres Strait Islander to become an Olympian, Morseu (pictured) represented the Boomers at the Games in Moscow in 1980 and in Los Angeles in 1984, and also at the 1978 FIBA World Championship.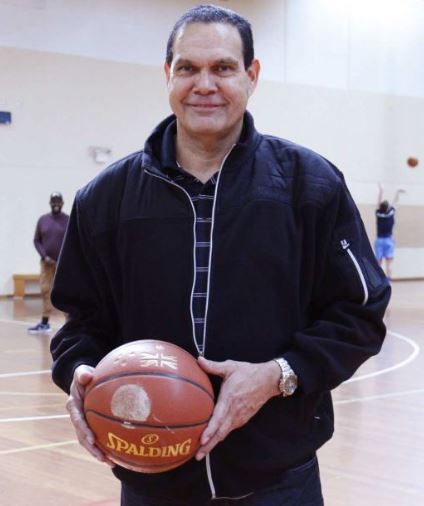 The 3-time NBL champion (St Kilda 1979-80, Brisbane 1987) and Basketball Australia Hall of Famer will coach the women against The New Zealand Maori National Women's Team at Early Settler Stadium in Manundal from December 5-7.
While the women cross swords for the first time, it will be the fourth time the Apunipima Australian Indigenous Men's All Stars and the New Zealand Maori Men's National Team contest the Trans-Tasman challenge, the Aussies winning the past two series after dropping the first.
Cairns Basketball, supported by the Cairns Regional Council Event Grants Program, will stage the event which is both a cultural showcase and three games of hotly-contested basketball.
The three game nights at Cairns Basketball has general manager Mike Scott excited the association is playing host to this growing major international hoops event.
"Cairns Basketball is thrilled to be hosting this series and we are looking forward to seeing many of our local Aboriginal and Torres Strait Islander men's and women's players in action for the All Stars," he said.
"It also gives our junior indigenous players another avenue to aspire and with the high-level talent on display, it's a great attraction for the public to come and watch."
Apunipima Australian Indigenous Men's All Stars head coach, Cairns native Joel Khalu, said he was delighted to see the series staged in his home town.
"It's fantastic for the city's sporting community and we are grateful to the Cairns Regional Council, Cairns Basketball and Apunipima Cape York Health Council for their amazing support," he said.
"The rivalry between the sides has grown intensely over the past three years and the biggest
winning margin for either team has never been more than 10 points, so games are always close and entertaining.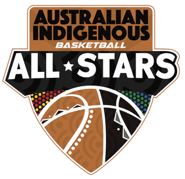 "The style of play of both lineups is very dynamic and when you have local hoops standouts like Kerry Williams, Deba George and Curt Ahwang joining forces with the other premier indigenous basketball players from around the country, it's going to be a great spectacle.
"When you also take into consideration that the New Zealand Maori National team has players who have represented their country at both the Olympics and FIBA World Championships, it's certainly something basketball fans won't want to miss."
Cairns Mayor Bob Manning said Cairns was an ideal location to host the burgeoning event.
"Cairns and Far North Queensland have produced many great players, many of whom have gone on to represent Australia or play in international leagues," Manning said.
"In particular, our indigenous communities embrace the sport of basketball, our local NBL team (the Taipans) work closely with the communities to help promote healthy lifestyles choices.
"Each time top-level sport comes to Far North Queensland, a new legion of fans is engaged and our local kids are inspired to strive for greatness. I am sure that this Trans-Tasman basketball clash will have the same outcome."
Tickets start at $10 and will be available from the Cairns Basketball office from Monday, November 20.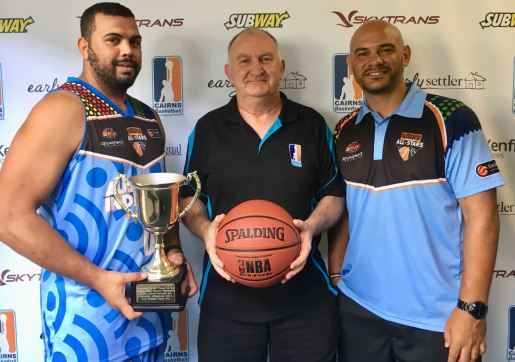 Apunipima Australian Indigenous Basketball All Star Kerry Williams (left) with Cairns Basketball GM Mike Scott (centre) and All Stars head coach Joel Khalu announce Cairns as series host.