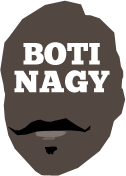 ---
Advertising opportunities available.
Please contact me.
---
Truly, 4-0 didn't mean a thing
Tweet
YOU'RE (sadly) going to keep hearing it and reading about it but truthfully, Melbourne's 4-0 regular season sweep of the 36ers means absolutely nothing to this already enthralling best-of-five NBL grand Final. Josh Childress' injury does.
As established here a while back, on no occasion was either championship protagonist at its best leading into the Final, due to injuries, illness, import absences, replacement import and disciplinary issues, and even a coach meltdown.
The teams played twice in the opening two rounds (October 5 and 14), Kyle Adnam led the scorers with a career-high 23 in that second game and the clubs locked horns for the last time on December 22!
In other words, they had not seen each other at all in 2018 until last Friday, a point at which both had discovered and cemented their playing identities, philosophies and roles - none of which were yet fully fleshed out or established during their 2017 trysts.
In reality, going into Game 1, there was absolutely nothing form-related on which to base a pre-game assessment of which team had the upper hand.
And in the absence of any genuine in-depth analysis, then "Hey, Melbourne swept Adelaide 4-0 during the season" is an easy and convenient substitute for taking an informed punt on what could go down.
In all honesty, only fans of the two rivals could confidently predict the outcomes of Game 1 and/or Game 2 and that's always easy when you're emotionally committed to one or other.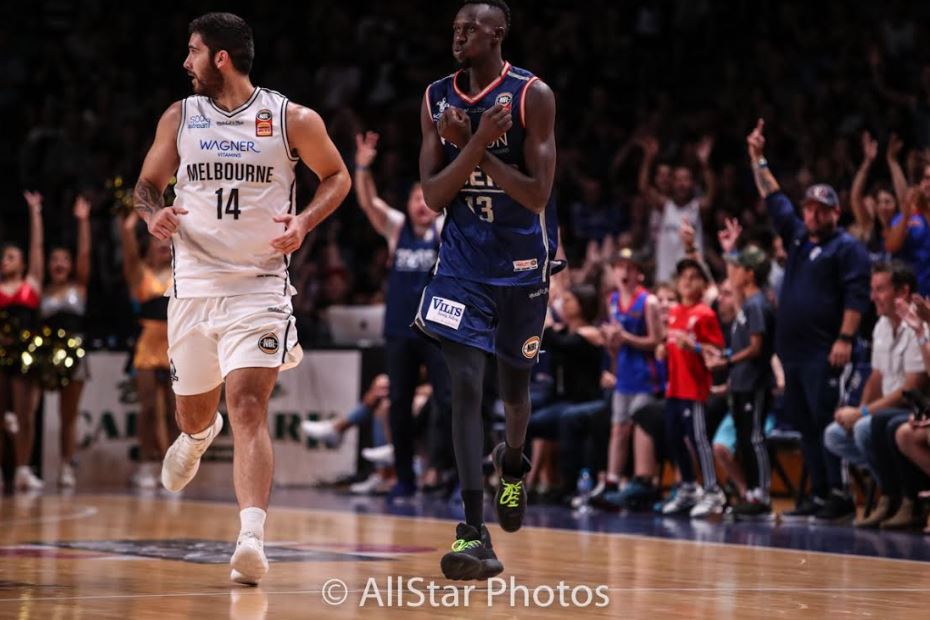 T'CHALLA: Majok Deng with the "Wakanda Forever" symbol from the "Black Panther" movie.
Trust this. Prior to Childress injuring his shoulder late in Game 2 on a drop-step move, there was nothing - zero - pointing to which team may or may not have the upper hand.
Sixers coach Joey Wright was ropable his team didn't address its effort level or of coming to play sufficiently hard in Game 1, contributing to its own 107-96 demise.
United coach Dean Vickerman was similarly disappointed with some of his key contributors after Adelaide unsurprisingly levelled the series 1-1 with Sunday's 110-95 Game 2 reply.
"I thought we let the first game slip," Wright said. "I thought we dropped our guard and didn't attack when we needed to attack.
"We had an opportunity in that first game and we let it go."
Does that sound like someone who spent a lot of time analysing tapes of the 0-4 regular season return against Melbourne? Or someone who has been studying their form of late?
"I think the first game the guys were a bit flustered, a bit nervous and when they were out there, it sort of blocked their ability to do what we talked about before the game," Adelaide's Boomers centre Matt Hodgson said.
"So I think we sort of got that out the way. Guys had a chance to reflect on it and we all agreed as a team the principles we want to hold by the whole game – guys were able to do that for the full 40 minutes (in Game 2), which was awesome."
Vickerman was disappointed his troops rallied after the 36ers burst out to a lead of 27 (at 74-47 and again at 78-51) but could not string together the requisit amount of scores-and-stops to complete the job.
"They talked about how they were going to come with extra effort," he said of Adelaide. "I think, early in the game, first five minutes fine, I thought we dealt with it.
"The second five minutes of that first quarter, they really got second opportunities.
"I thought we defended the first action pretty well but I think it was seven or eight O boards in that first quarter. That really put the margin in the game at that point and that became a big factor in the whole game, that rebound count and the possession.
"I thought we battled hard. That second half, we're down 16, got down heavy – 27 or something – and we just kept playing. We kept chipping away and we just needed three or four more things to happen in a row to get that thing from 14 down to six or seven and then it was a basketball game.
"But we could never get those three or four things done in a row."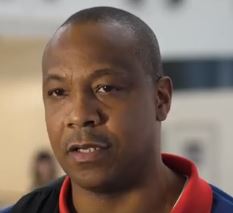 Again, do those sound like the words of a coach putting any store in what happened between these clubs in 2017?
"Josh (Boone) being out helped," Wright said of Adelaide's 53-36 boards domination in Game 2.
"I thought Hodgy (Matt Hodgson) came in and got some deflections and rebounds and we rebounded the ball fairly well. But Josh wasn't out there and that definitely helps."
Adelaide's other strategy, missing in Game 1, was to limit Casper Ware's potentially profound influence.
"We want him to give it (the ball) up," Wright said. "He's too good to keep the ball in his hands and shoot so we want to make sure we try to get him to give it up.
"I thought last game we let him rhythm dribble too much and just get into his shot and do whatever he wanted. He's too good for that. You've got to try and make him give it up."
What did also work well in Game 2 was Daniel Johnson finding his offensive rhythm in the third quarter, emulating Melbourne's Chris Goulding in Game 1 by breaking open the game.
DJ rattled off nine straight points with a three-point play and consecutive 3-pointers.
"I think it was great, and also the way he got them because he stretched the court by knocking down those couple of threes. All of a sudden Boone needs to come out on the court a little bit further and defend and we're able to attack off the dribble there," Wright said.
"They actually have to make some rotations to try and get a little more mobile 'big' in as well so yeah, not only the fact he (Johnson) scored, but just the way he scored."
In contrast, Vickerman was not thrilled with how his main men went about it in Game 2.
"We need Casper, we need Tai Wesley, we need Josh Boone to be the players that we know and tonight they didn't give the contributions they normally give us," he said.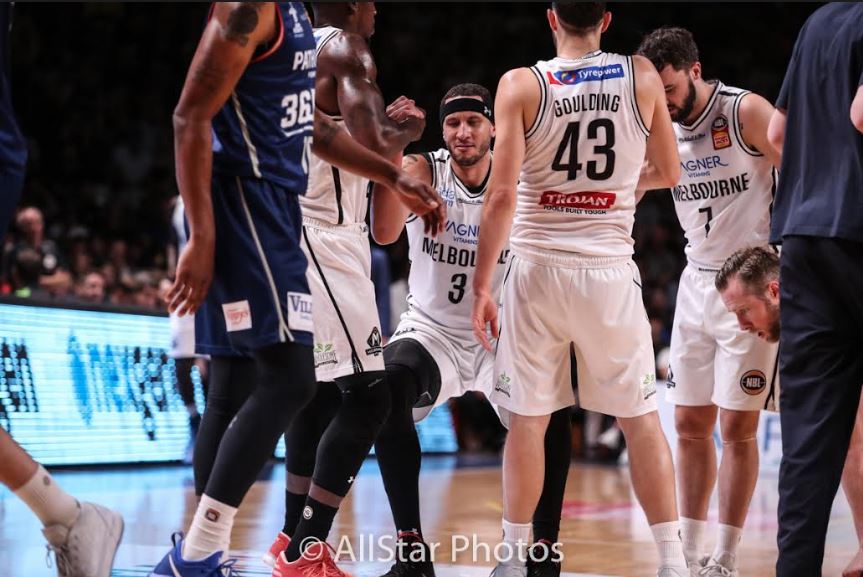 BOONE DOWN: Josh Boone is helped to his feet by teammates during Game 2
He also revealed he didn't sit Boone due to an early injury.
"No, it was more - down, heavy margin, we go a bit smaller, try and put more shooters on the floor," Vickerman said.
"It was more about that than it was about his injury. He pulled up OK from that injury and certainly I could have played him more minutes but we chose a different way to try and come back."
The question now is who will Adelaide start in Game 3?
Wright has the option of bringing in Ramone Moore for Childress and having him guard Casey Prather. That would leave Johnson on Boone and Mitch Creek on Wesley which equals minimal disruption.
The other option would be to reinstate Hodgson as a starter, have him on Boone and move Johnson to Wesley. That also would send the athletic Creek to Prather.
In both scenarios, Shannon Shorter and Nathan Sobey stay with Goulding and Ware. One thing is for certain. Melbourne sweeping the regular season 4-0 then going up 5-0 after Game 1 has absolutely no bearing on this championship.
Childress watching in street clothes, however, truly does.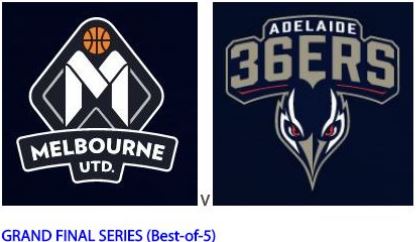 MELBOURNE UNITED (1) v ADELAIDE 36ERS (2)
GAME 1: Melbourne United 107 (Goulding 26, Ware 20, Boone 17, Prather 13, Wesley 11; Boone 7 rebs; Hooley, Wesley 5 assts) d Adelaide 36ers 96 (Johnson 18, Shorter 16, Creek 14, Childress 12, Hodgson, Moore 10; Creek 9 rebs; Moore, Creek 4 assts) at Hisense Arena. United leads 1-0.
GAME 2: Adelaide 36ers 110 (Deng 18, Moore, Creek 17, Johnson 15, Sobey 14, Childress 13, Shorter 10; Creek 9 rebs; Sobey 5 assts) d Melbourne United 95 (Prather 20, Goulding 19, Barlow 13, Wesley 12; Prather 7 rebs; Wesley 3 assts) at Titanium Security Arena. Series tied 1-1.
GAME 3: 7.30pm, Friday, March 23 at Hisense Arena, Melbourne.
GAME 4: 2.30pm, Sunday, March 25, Titanium Security Arena, Adelaide.
GAME 5 (If Required): Saturday, March 31, Hisense Arena, Tip-Off time TBA
Game 2 match report here.
Game 1 match report here.
Childress ruled out, here.