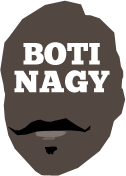 ---
Advertising opportunities available.
Please contact me.
---
WC: Oh brother! Boomers done in double O/T
Tweet
IT WAS Pau Gasol who cost Australia a Bronze Medal at the Rio Olympics and tonight his brother Marc buried the Boomers in an epic and heart-breaking 95-88 double-overtime semi-final of the FIBA World Cup in Beijing.
Gasol went off for 33 points after a four-point first-half - all free throws - and shouldered Spain into Sunday's Gold Medal match by scoring them at 58 percent, with three massive 3-pointers, plus six rebounds, four assists and two blocks.
Spanish playmaker Ricky Rubio finished with 19 points after scoring nine in the opening period, and added 12 assists, seven defensive rebounds and four steals to break Australia's heart after the Boomers led by as many as 11 and controlled the game across regulation.
Australia absolutely was valiant in defeat but never before has its pathway to Gold been so clear and attainable, and sadly this was a golden opportunity wasted, literally.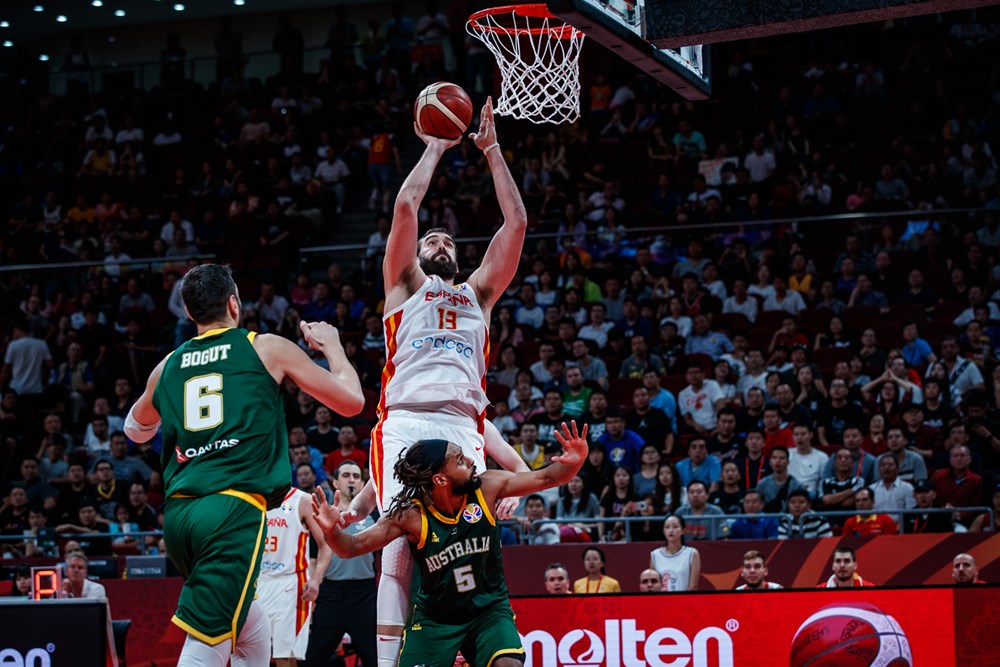 TOO BIG: The switch strategy didn't pay against Marc Gasol, whether he popped or rolled.
A whopping 22 turnovers - a stat which haunted the Boomers across their incoming six-win streak - and the disappearance of key players when the furnace was roaring at its hottest, cost Australia dearly.
Patty Mills was sensational again, as he has been throughout the tournament, still scoring a match-high 34 points despite heavy off-the-ball treatment. But the little man with the giant heart was expected to do too much as Australia's other offensive options dried up or lost self-confidence.
And that was less about Spain's defence and more about the glare of the spotlight blinding some key Boomers.
Nick Kay though wasn't one of them, coming off the bench to play 31 minutes and score 16 points at 50 percent, with 11 rebounds, every one of his seven offensive boards hugely significant.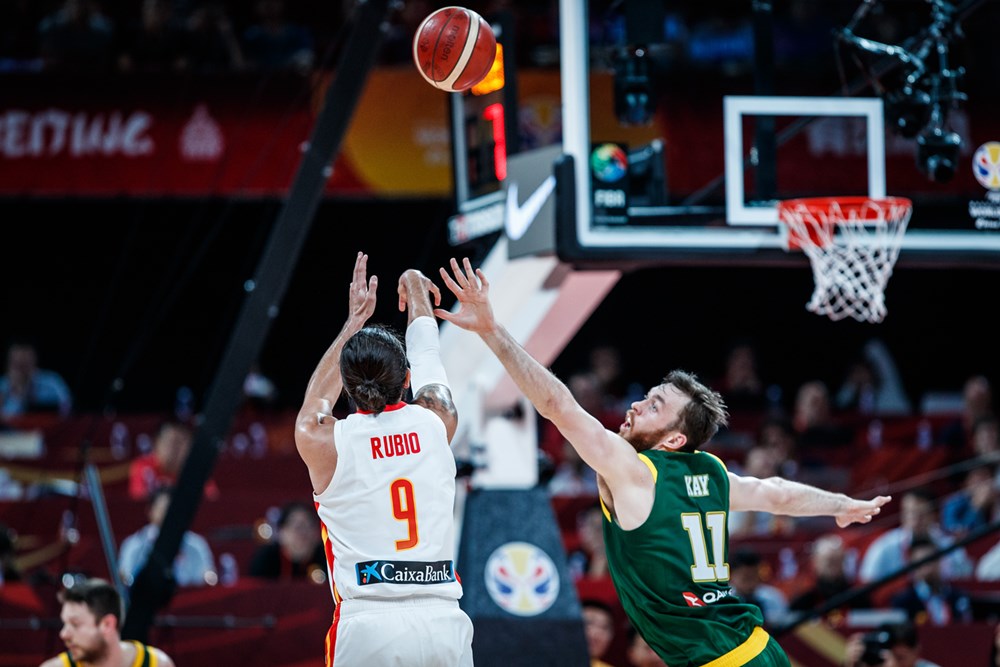 BOTH ENDS: Nick Kay worked his butt off at both ends for Australia, as did they all.
Andrew Bogut's 12 points came on a tidy 6-of-8 shooting, with nine rebounds in 24 minutes, his presence on the court a calming influence.
But after that trio, Australia's scoring pretty much was non-existent, Chris Goulding playing just 14 minutes and cold by the time the second overtime period rolled around and unable to make the impact he otherwise may have.
Joe Ingles played 43:56 of this spine-tingling 50-minute extravaganza, gathering 10 defensive boards and seven assists. But he shot just 1-of-9 from the floor in his four points, and his three turnovers stung, especially 20 seconds into the first O/T when he drove for an open layup, tried to pass it instead and turned it over.
Matthew Dellavedova's six points came on 2-of-9 shooting, and while his nine assists were quality, many of his six turnovers were calamitous. Mills had seven turnovers but subjected to double and triple-teams - and a couple of non-calls when he clearly was fouled - half of his were forgivable.
Jock Landale also struggled and Aron Baynes' six points was off two 3-pointers and his second one was with two minutes left in the second overtime.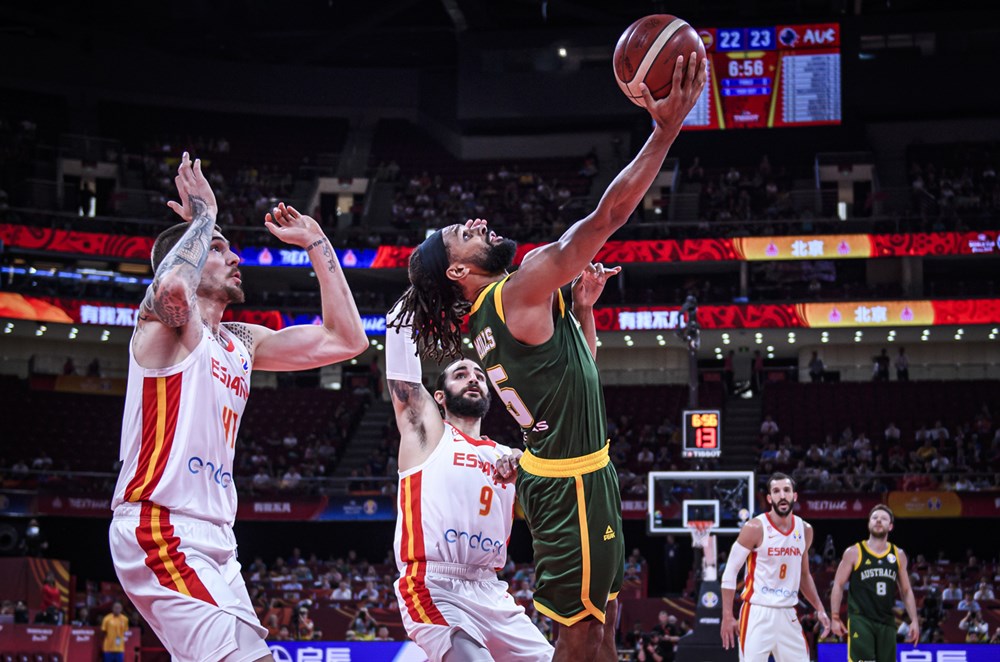 In late-game scenes reminiscent of the Rio officiating, Bogut and Gasol tussled for a rebound off Sergio Llull's missed triple, with the Aussie big called for a foul.
With 8.7 seconds left in regulation and the Boomers having led since 45 seconds into the second quarter, Gasol went to the stripe and coolly converted both free throws to put Spain 71-70 ahead.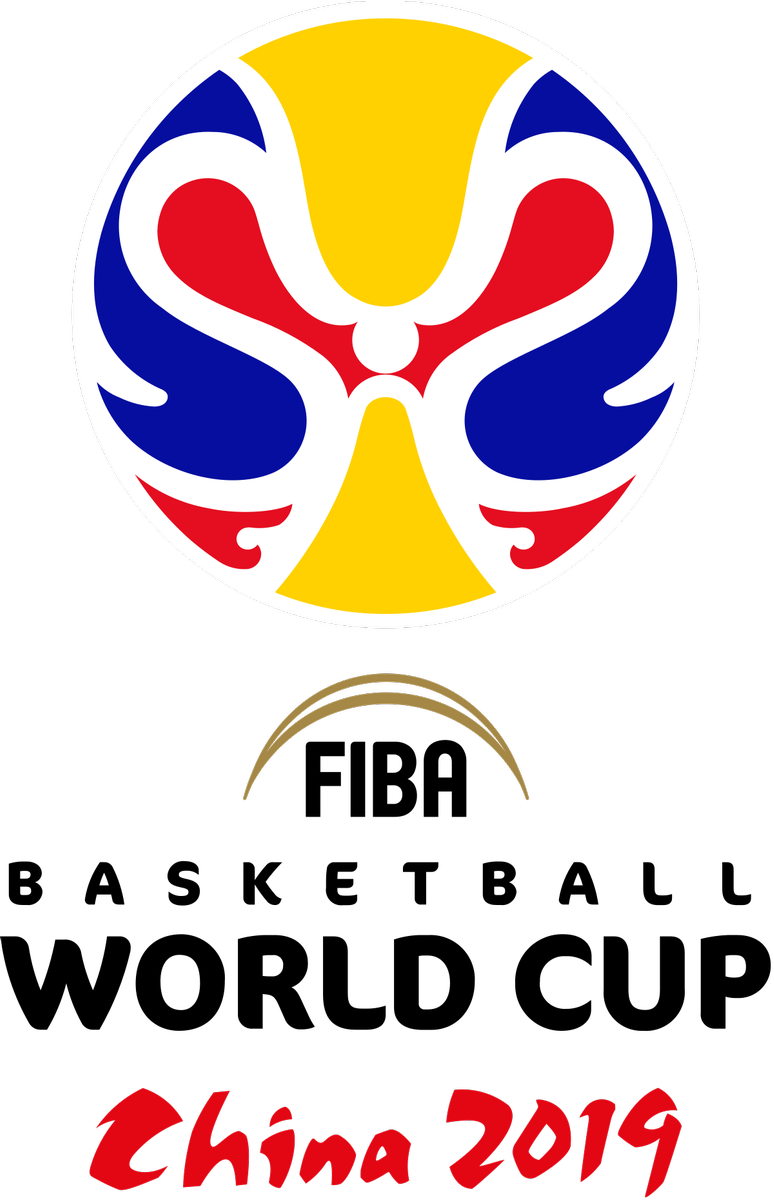 But on the Boomers' last play, Mills drove into traffic and forced the officials to call a foul on Spain, putting him to the line with 4.7 seconds remaining.
His first tied it at 71-71 but his second caught iron and the game was going into a five-minute overtime extension.
Gasol inside, then Gasol outside quickly rushed Spain to a 76-71 lead before Mills stroked a 3-pointer. Dellavedova flew out of court to miraculously save an offensive rebound, flicking it back to Kay for a basket and it was 76-76.
At 14.2 seconds on the clock, Mills converted two super pressure free throws - Ingles also hit 2-of-2, tying the game at 78-78 - and Australia was ahead 80-78.
But with Europe-centric FIBA, anyone who did not expect a foul to be called on the Boomers on Spain's last play either is new to the international game, or naive.
With 4.6 seconds to go, Gasol again strolled to the free throw line to tie it up 80-80. With no timeouts left, Dellavedova took a running shot which never really looked like dropping and it was off to Overtime #2.
Bogut started it with a tip in but 82-80 was the Boomers' last hurrah. The game was so incredibly intense, Andrej Lemanis was subbing freely early in the contest to maintain extraordinary pressure on the Spaniards.
But by the second O/T, the rotation shrunk and it was clear there was little left in the tank when Kay flubbed a layup, Llull nailed the first of two back-breaking triples and Gasol scored in between them for an 8-0 run which broke it wide open.
But where there was devastation in Rio, there cannot be in Beijing, with an unprecedented Bronze Medal still within reach on Sunday.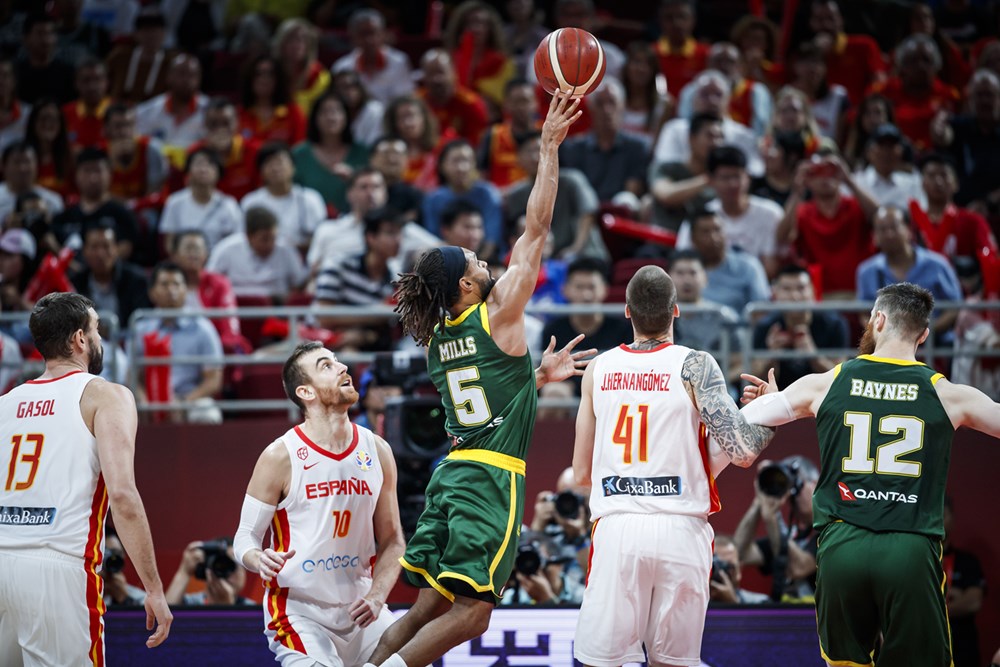 Australia must review how it pulled 11 points clear (50-39) during the third quarter but then couldn't deliver the killer blow against a Spanish team which clearly was floundering and on the ropes.
Juancho Hernangomez had caused Australia early headaches with two threes after a dunk, and alongside Rubio, kept the Boomers' defence hustling and working relentlessly from the opening tip.
His second 3-pointer gave Spain an 11-6 lead but triples to Goulding and Dellavedova saw Australia in front for the first time halfway through the first period.
A second threeball from Dellavedova made it 19-17 but, leading 21-19 after a Bogut floater, the Boomers turned over their last possession which led to Llull sticking a long triple.
Kay put Australia back into the lead in the second at 23-22 before Mills rolled in a reverse, then flipped in a runner for a 27-22 edge, a 6-0 run and timeout Spain.
The Boomers' lead grew to six when Landale nailed a 3-pointer for 30-24, then 32-24 after Mitch Creek's second effort at the basket paid handsomely.
Australia held the Spaniards scoreless for almost two minutes but could not draw further ahead, Spain resorting to a zone defence.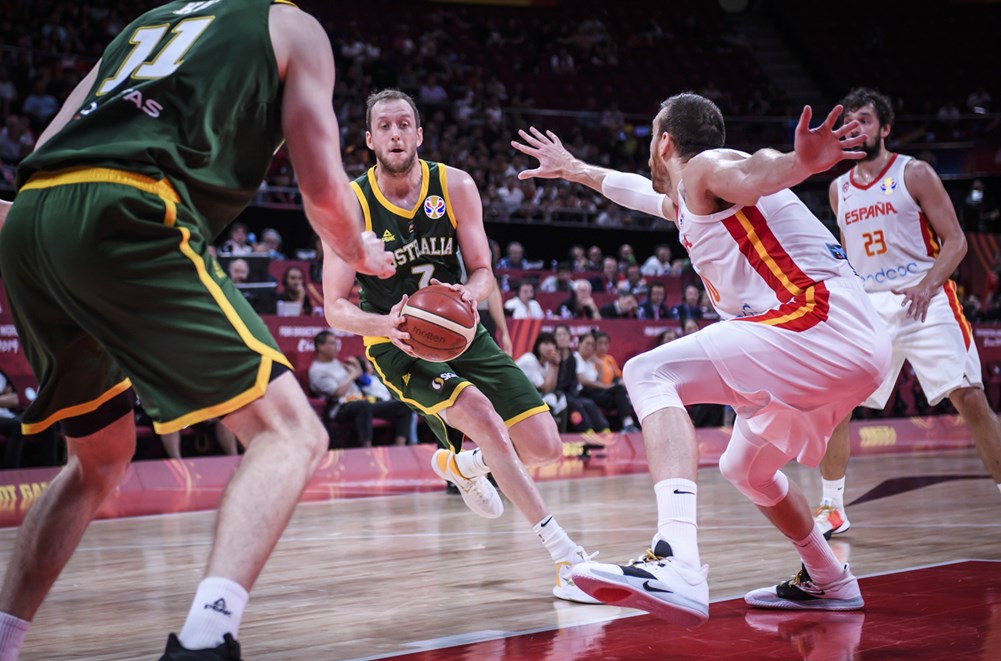 Rudy Fernandez, European basketball's undisputed master of the flop, drew a foul on Dellavedova using his time-honoured tactic, then scored off a rebound from a shot he missed to bring Spain back to 30-34.
Mills then spliced a triple for 37-30 but a Kay missed three kept the margin from double digits - he had an available Mills on the wing when he shot it - and at the half Spain was back to 32-37 down.
The Boomers still pulled back to eight clear in the last quarter when Kay scored after a Bogut dunk and it was 61-53. Mills' 3-of-3 free throws at 2:54 kept the lead at 70-65 and when Gasol turned it over, the gutsy group in the green-and-gold had a win within range.
Unfortunately, the Boomers turned over the very next possession, Rubio cut it back to three, then Gasol to one and the rest of this contest featured a number of supremely fatigued combatants trying to make the least mistakes.
On that front, Spain definitely had the edge.
SPAIN 95 (Gasol 33, Rubio 19, Llull 17; Rubio 7 rebs; Rubio 12 assts) d AUSTRALIA BOOMERS 88 (Mills 34, Kay 16, Bogut 12; Kay 11 rebs; Dellavedova 9 assts) in Double Overtime (71-71, 80-80) in Beijing.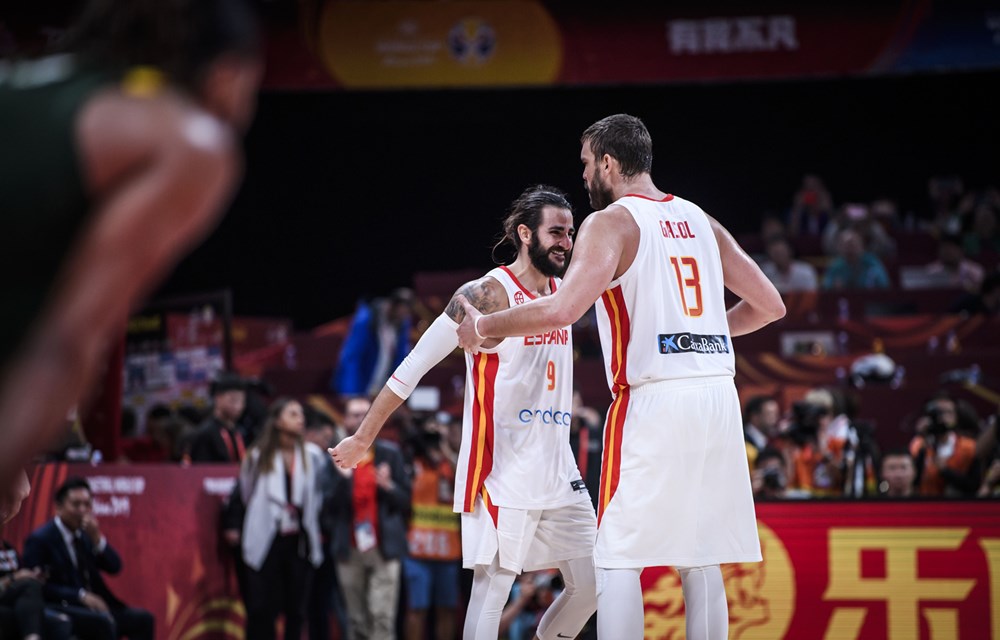 SPANISH FLY ON: Ricky Rubio and Marc Gasol celebrate. All pics courtesy of fiba.com