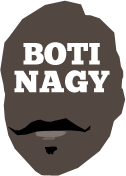 ---
Advertising opportunities available.
Please contact me.
---
WC: Short cut on the long road
Tweet
LAST night's opening 108-92 win by Australia over Canada has the Boomers on the threshold of advancing to the second round of the FIBA World Cup in China, contingent on tomorrow night's results.
Arch international rival Lithuania flat-out flummoxed Senegal 101-47 and now needs only to also beat Canada tomorrow to be 2-0 in Group H of the 32-team, 8-group tournament.
It also means the Boomers now only need to similarly ice Senegal to go to 2-0, completely removing Canada from the equation.
It is an amazing reality that two results in the next 24 hours or so could propel Australia - albeit with a match against the Lithuanians to come on Thursday to complete intragroup play - a major step closer to securing its historic first medal at a World Cup or Olympics.
Canada will be no pushover for the Lithos tomorrow, having produced a stunning 37-point third quarter yesterday against the Boomers to erase a 17-point deficit and even push six points clear.
They box-and-oned and even face-guarded Patty Mills (below), identifying him as Australia's hottest gunslinger, only to be shot down by The Maryborough Kid, Matthew Dellavedova.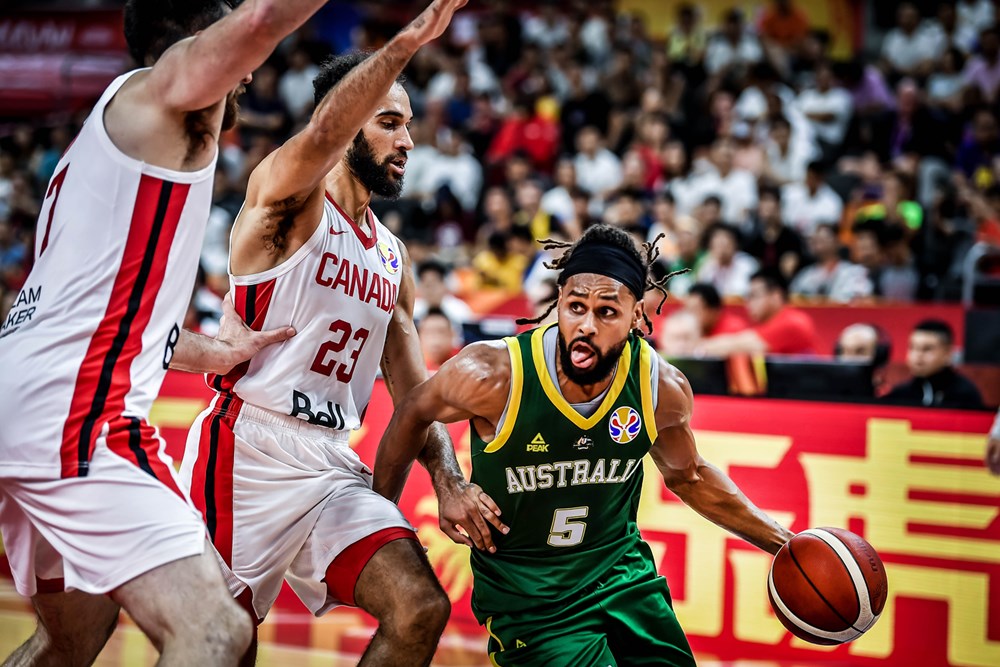 It was a fair call to go after Mills after his 30-point demolition of the USA at Marvel Stadium in a warmup game eight days earlier, but the Boomers' exciting spiritual leader still supplied 15 points, with 9-of-9 free throw makes and six assists.
Australia's six Rio Olympians - Mills, Joe Ingles, Dellavedova, Andrew Bogut, Chris Goulding and Aron Baynes - led from the front by all scoring in double figures (Jock Landale and Nick Kay not far behind with eight apiece) in what loomed as an extremely dangerous opening night "grand final" for the Boomers.
Bogut, who copped relentless booing and derision from the Chinese fans in Dongguan for his tweet about Chinese swimmer Sun Yang, convicted of doping in 2014, handled it all with customary aplomb.

And he will have an early "last laugh" tomorrow if the Aussies take care of business against Senegal and Lithuania eliminates Canada.
The Boomers' "Road to China" and the FIBA World Cup has meant no less than 34 players have been exposed to international basketball representing Australia in this one campaign.

Changing its qualifying process for the World Cup and moving the actual tournament from 2018 to 2019 meant FIBA, the International Basketball Federation, was breaking from its traditional regionalised qualification and giving every competing nation the chance to have its representative team playing regular and significant home fixtures.

Australia previously qualified for World Cup or Olympic play via the Oceania Championship, essentially a two or three-game series against trans-Tasman foe New Zealand.

By switching its qualification process to a home/away formula throughout its zones – Australia and New Zealand's Oceania region drafted into the Asian Zone – it meant a new two-year-long qualifying system.

A substantial change, more countries were capable of qualifying for the expanded 32-team tournament and all competitors could stir their own national fervour with representative teams now playing key qualifying fixtures in front of their own audiences.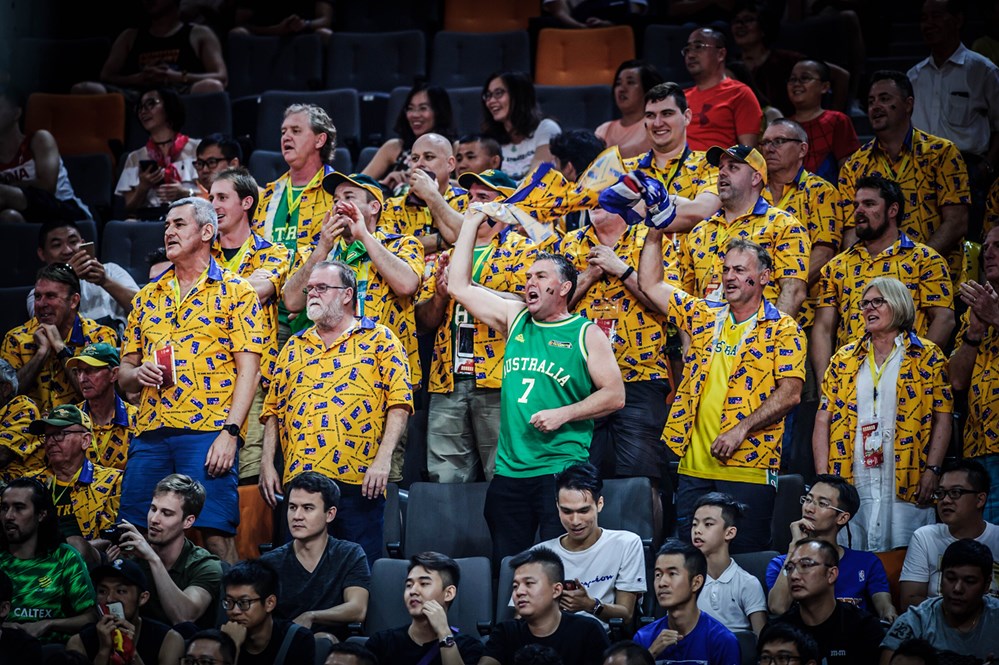 Phase One of intragroup qualifying tipped off for the Aussies on November 24, 2017, on the road to Chinese Taipei where they accounted for the hosts 104-66 before backing up against Japan in Adelaide on November 27. With Daniel Kickert and Mitch Creek prominent and Nick Kay grabbing 10 rebounds, the Boomers took their record to 2-0 with an 82-58 victory.

In their second Phase One qualifying window, Melbourne's Margaret Court Arena could have been centre court in Manila as Filipino expats roared for the Philippines, although to little avail. Australia saw Cam Gliddon catch fire from the perimeter in the third quarter for consecutive 3-pointers to break clear and secure the 84-68 win.

Gliddon led with 16 points, Mitch Creek with 11 rebounds and Mitch McCarron 10. Three days later on February 25, Mitch Creek was a perfect 9-of-9 from the floor for 18 points, with nine rebounds as Australia took its record to 4-0 with an 88-68 home erasure of Chinese Taipei.

Ahead of matches on the road to Japan and Philippines in July to close Phase One, the Boomers regained two NBA teammates competing for Milwaukee Bucks at the time, dual-Olympian Matthew Dellavedova and debutante Thon Maker.

"It's always exciting to have the guys in together," Boomers coach Andrej Lemanis said as he gathered his squad ahead of the road trip. "There's a refreshing, nice feeling in the stomach whenever we get together again.

"But you talk to Thon and you see the genuine joy and excitement in his face to be representing Australia and honestly, that's one of the cool experiences of the job."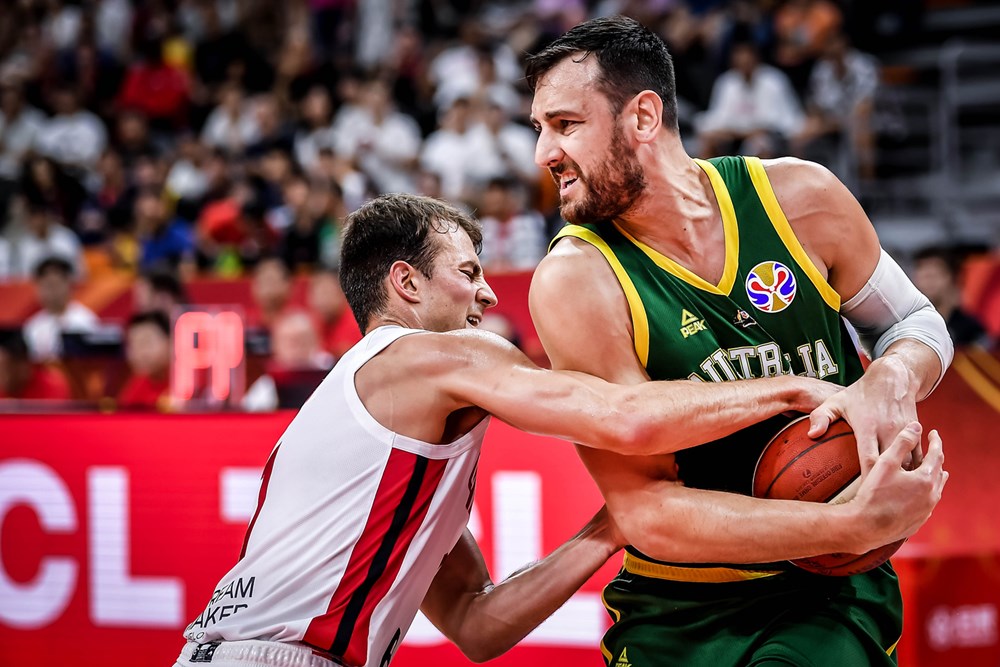 Not so cool was losing a thriller 78-79 to Japan on June 29, blotting the Boomers record before sending them on to Manila, where upto 50,000 basketball fanatics were expected to create a hostile environment for the Boomers on July 2.

"I believe it's the biggest basketball stadium in Asia," Lemanis said of the venue. "I'm sure it will be loud but as the away team, you can feed on that energy as much as the home team. You can feed on the buzz and the electricity in the air."

Sadly, the match was anything but how an international should be played, volatile from the outset, with the hosts looking to rough the Aussies off their game. The further the match went and the Boomers pulled away, the closer the powder-keg of tensions and seething emotions came to exploding until, finally, it happened with four minutes left in the third quarter.

Some of the most sickening, disgraceful scenes ever perpetrated on a basketball court turned Australia's 89-53 rout into irrelevancy and brought a reaction from FIBA which resulted in 13 player and coach suspensions and additional financial penalties.

The "melee in Manila" made global headlines for all the wrong reasons as the Philippines' entire bench cleared in a ferocious assault mainly aimed at the game's leading scorer Chris Goulding, first retaliator Daniel Kickert and exciting guard Nathan Sobey.

When the dust settled on this horrific night of infamy, Australia had completed its group phase with a 5-1 win-loss mark it then carried into Phase Two for home/away fixtures against Iran, Qatar and Kazakhstan.

Iran also came through its own Phase One with a 5-1 record and was Australia's Gold Medal opponent at the Asia Cup a year earlier, suggesting continuation of a burgeoning rivalry.

Beating Qatar 95-43 in Doha on September 13 on the back of a withering 27-0 start to the second half, the Boomers backed up in Bendigo with a 94-41 mauling of Kazakhstan. Then on November 30, back in Margaret Court Arena, the Boomers had their best win of the lead-up, trouncing Iran 76-47. Belting Qatar 110-59 at the same venue three nights later meant Australia was on a 9-1 win-loss record, its ticket to China and the FIBA World Cup well-and-truly stamped.

Certainly, there still were road games in Kazakhstan and Iran to go but the Boomers could not be displaced from qualifying, regardless of remaining results. Nonetheless, it was Mitch Creek back to lead a younger line-up into Kazakhstan, with Isaac Humphries and Jock Landale staking their claims for permanent green-and-gold consideration in the 81-60 win.

Beaten 85-74 in Tehran, Australia finished with a 10-2 win-loss record to win its group, Japan and Iran also qualifying along with, remarkably, the Philippines.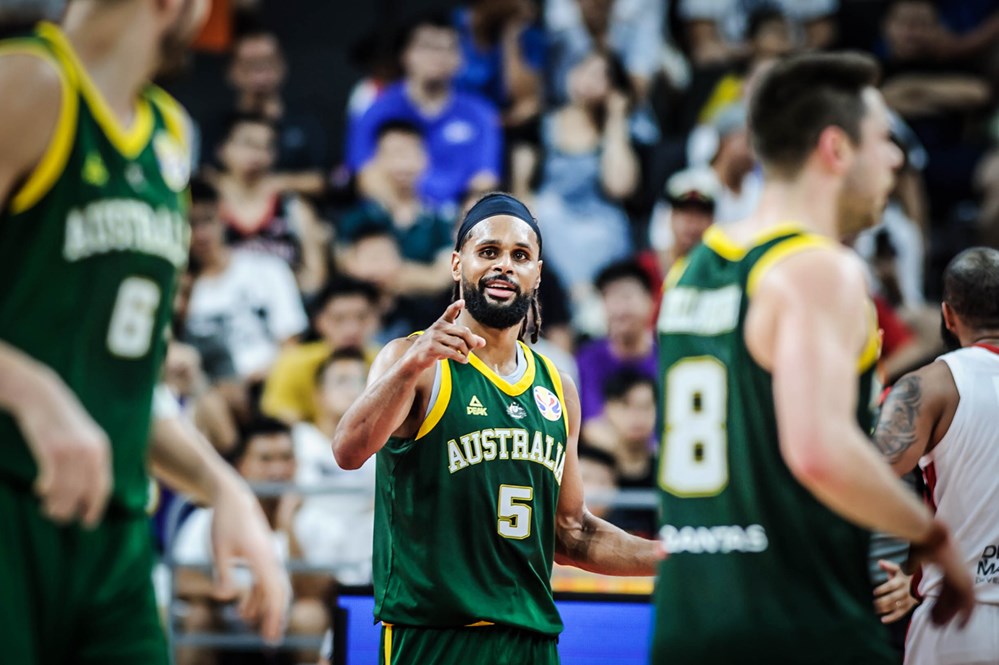 To be so dominant in Asia, yet without arguably its "A team" and still qualify for the World Cup so emphatically, speaks volumes for how basketball is travelling currently in Australia. It also says so much about the players wearing the nation's colours and the culture driven by Coach Lemanis.

"No doubt, we have the opportunity to put a great team on the floor and that's exciting. Working with the best players in the country is such an honour and privilege – I feel extremely blessed to again have this opportunity," Lemanis said.

"However, the depth of talent in Australian basketball means that some tough decisions are made and some very good players (now) miss out. It is especially true on this occasion, given the heavy-lifting done by so many NBL-based players during the World Cup qualification system.

"Having developed a bond with each and every player that has been part of the team over the past two years, it is with a heavy heart that every player who represented Australia in the qualification process will not be given the opportunity (to make the World Cup team). (But) opportunities often open up unexpectedly and this is where the luxury of depth and the wonderful attitude each and every player has to the Boomers, holds us in good stead."

The players who stormed the Boomers into the World Cup via the 12-game qualifying campaign were Jason Cadee (10 qualifiers), Nick Kay (10), Mitch McCarron (10) and Nathan Sobey (10), Cam Gliddon (8), Matt Hodgson (8), Angus Brandt (7), Mitch Creek (6), Daniel Kickert (6), Kevin Lisch (6), Mitch Norton (6), Chris Goulding (5), Todd Blanchfield (4), Daniel Johnson (4), Anthony Drmic (3), Jesse Wagstaff (3), Lucas Walker (3), David Barlow (2), Tim Coenraad (2), Matthew Dellavedova (2), Harry Froling (2), Daniel Grida (2), Isaac Humphries (2), Nathan Jawai (2), Thon Maker (2), Damian Martin (2), Mangok Mathiang (2), Jack McVeigh (2), Craig Moller (2), Emmett Naar (2), Brad Newley (2), Jarrad Weeks (2), Tom Wilson (2), Jock Landale (1). (Players in the team in China in BOLD).
The next giant step of this journey could easily play out tomorrow in Dongguan.