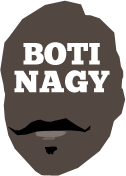 ---
Advertising opportunities available.
Please contact me.
---
WC: Tokyo here we come, and other stuff
Tweet
LAST night's sensational 87-82 win over Lithuania to close Group H play with a historic first-ever 3-0 record, progressing on into the FIBA World Cup's second round, also has automatically qualified Australia for the 2020 Tokyo Olympic Games.
When Greece broke New Zealand's heart 103-97 to put the Tall Blacks into the 17-32 positional playoffs, the Boomers became the higher placed finisher from the Oceania region, meaning they join host nation Japan as the second team confirmed to compete in the 12-team Olympics.
Australia was at its best, beating the champion Baltic outfit after leading by double digits and - as it did against Canada in an earlier Group H intragroup match - weathered a mighty comeback. Despite losing the lead, the Boomers again reached inside and found the belief, resolve and confidence to bounce back and succeed.
The Tall Blacks fell agonisingly short in their own "Group of Death", losing 94-102 to Brazil, beating Montenegro 93-83 before last night's devastating six-point reversal to Giannis Antetokounmpo and his Greek national team.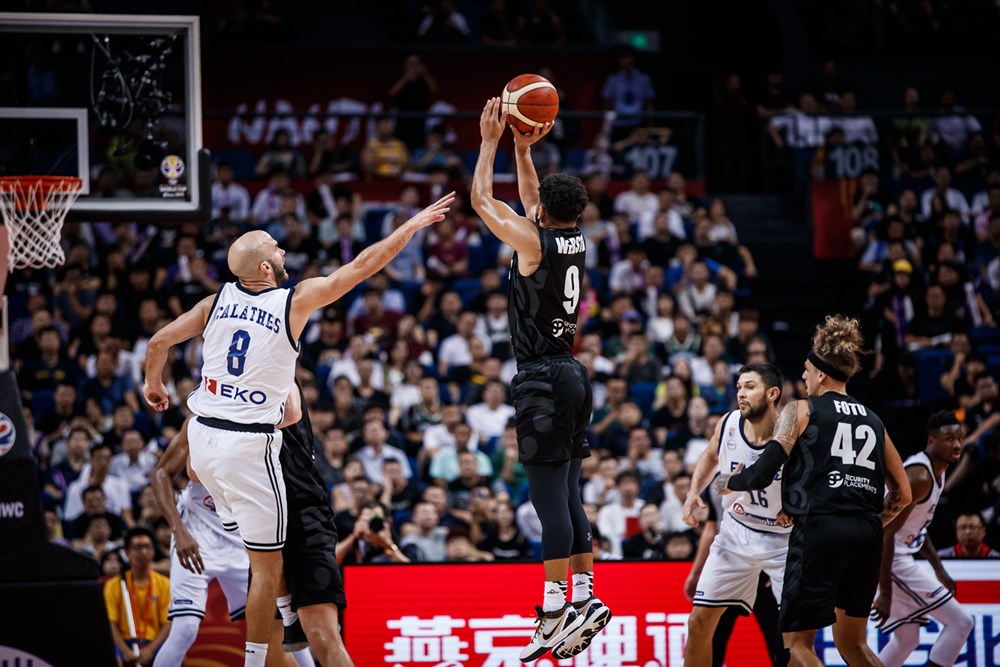 Corey Webster (above) has continued to leave no doubt he is a world class athlete and player, leading the World Cup scoring averages with 25 points per game, including 31 at 61 percent in the loss to Greece, with 7-of-12 triples.
His 25ppg is at 51 percent for the tournament and he has connected on 18-of-32 threes (56%), with 5.0 rebounds and 5.7 assists. The guy has been amazing. Even Webster's Dictionary cannot find sufficient superlatives to describe his tournament.
Fellow Tall Blacks guard Shea Ili is fourth in assists with 7.0 per game, that category led by our own Joe Ingles (below) with a successful 8.7 dishes per outing.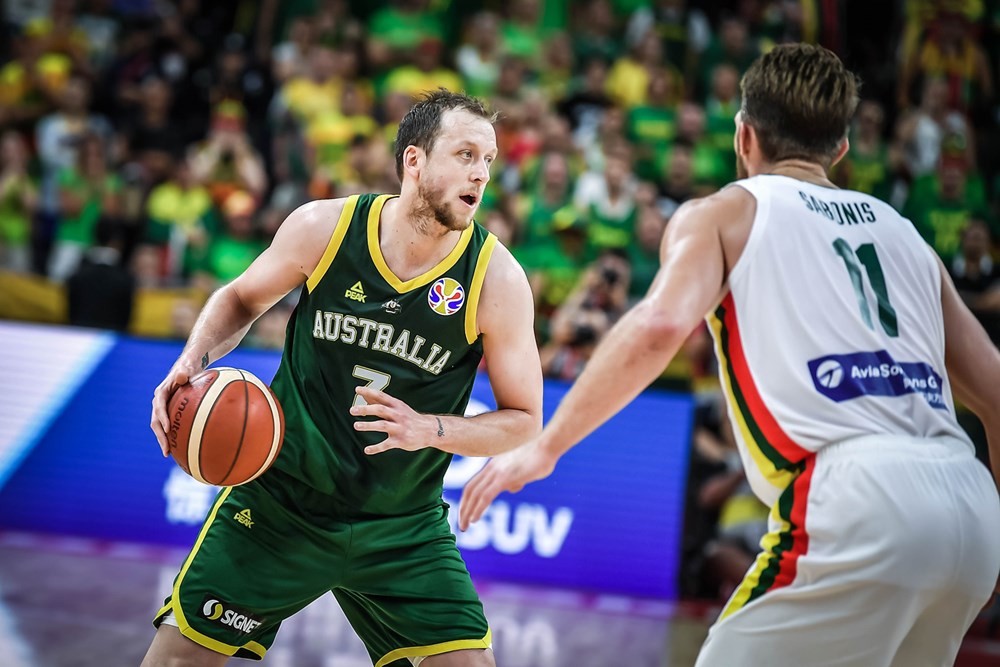 * * *
WHAT a performance Boomers centre Aron Baynes produced last night against Lithuania, with 21 points at 53 percent, including 3-of-5 3-pointers, and a game-high 13 rebounds in arguably his best-ever international game.
What fires him up against the Lithuanians? Well, I'm guessing he was fired up regardless but his first pro stint post-college was with Lietuvos Rytas in Lithuania, well before his NBA championship-winning days.
Baynes was still pretty raw then, as Lithuanian journo Rokas Grajauskas told me, and he was playing for Lithuanian shooting superstar and one-time Townsville Suns' NBL import Rimas Kurtinaitis.
"Aron Baynes started his professional career here in Vilnius, when the team formerly known as Lietuvos Rytas was coached by Rimas Kurtinaitis," Grajauskas said.
"Aron was all about strength and athleticism back then, but he genuinely lacked the technical skills to play at the highest level.
"Rimas said: 'If a Russian man can teach a bear to ride a bicycle, we can teach Aron Baynes to play basketball.'
"Yes, this is an actual quote from December of 2009, the beginning of the season when Baynes started his professional career."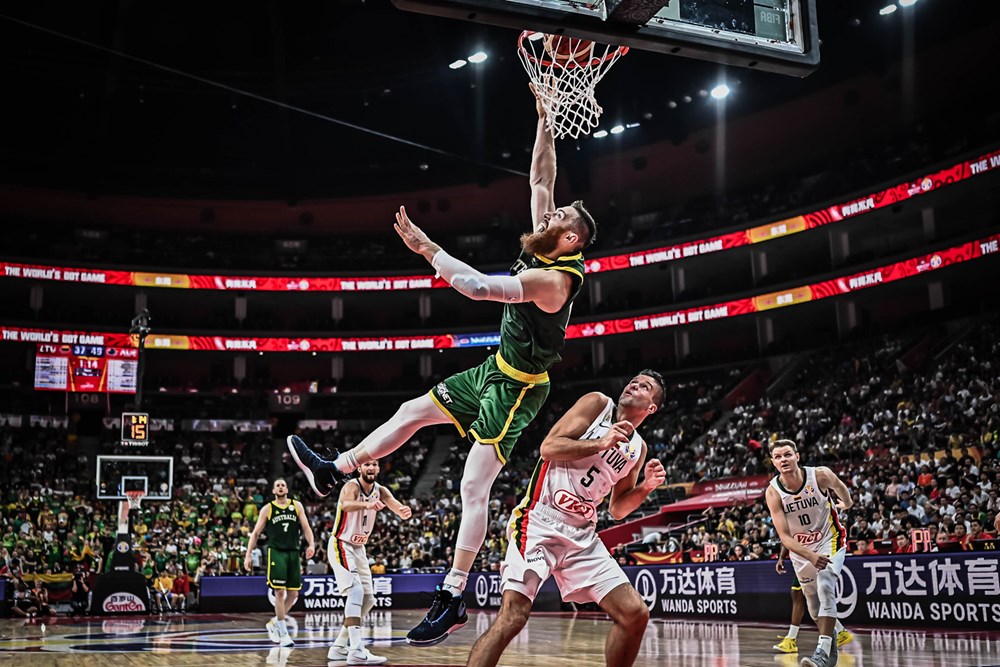 Last night Kurtinaitis, like that other great of the game Arvydas Sabonis, could only shake their heads in despair at the carnage Baynes' super all-round game wrought (above).
* * *
MUST admit I felt sorry for Chinese basketball great Yao Ming, now chairman of the Chinese Basketball Association and one of the sport's biggest drivers in China, when the hosts were eliminated from second round play.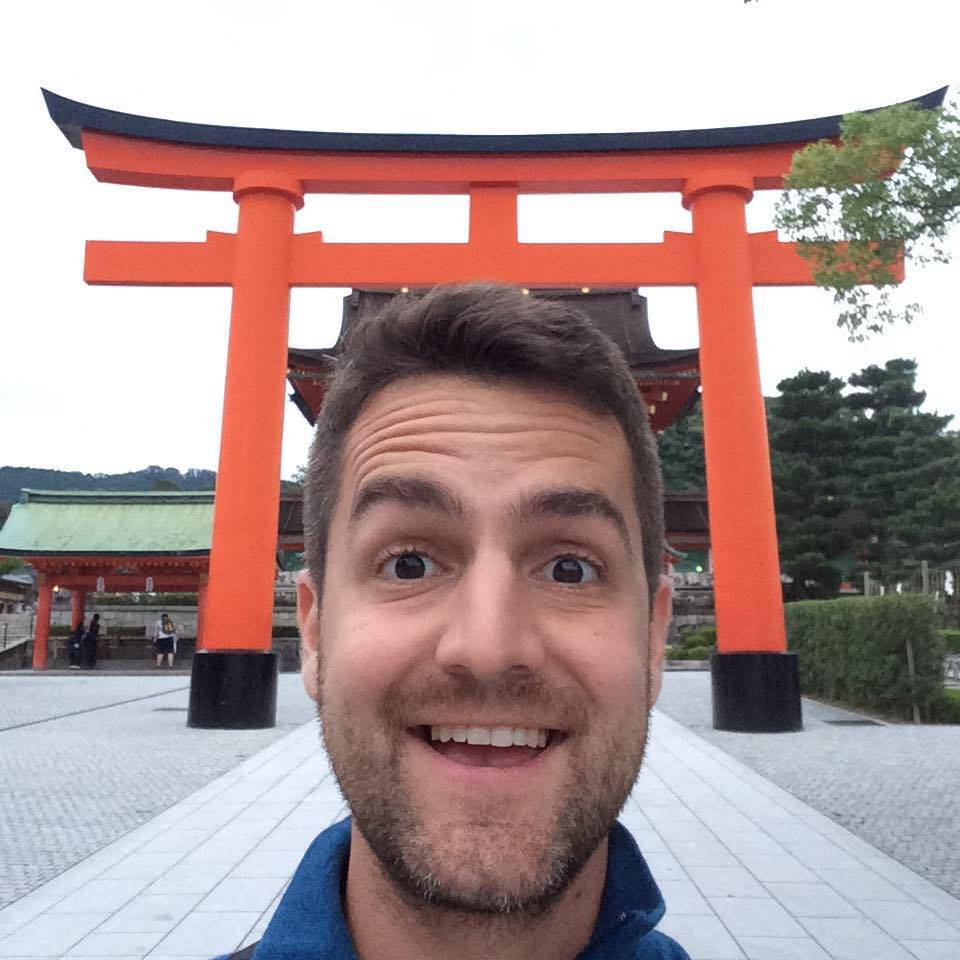 This World Cup was to be China's big step forward on the international stage and its preparation has included joint national squads playing all over the world and even a regular annual series against our NBL All Stars.
Now if Australia's Group H with Lithuania, Canada and Senegal was the so-called "Group of Death" - although pretty sure Brazil, Greece, New Zealand and Montenegro's Group F can lay equal claim to that over-used, out-dated and out-moded media cliche - China's Group A was the "Group of A Red Carpet Ride for the Hosts".
Poland? Venezuela? Cote d'Ivoire? Seriously? Could FIBA have made this group any easier?
But China cracked instead, losing to Poland 76-79, beating Ivory Coast 70-55, before succumbing 59-72 to Venezuela, who last qualified for an international tournament before Ivan Aristeguieta (above) was born.
So China is out of the second phase of the tournament, which should teach FIBA a lesson regarding trying to, shall we say, lead results in a certain direction. Hey! We can't have that.
* * *
AMAZING isn't it? Turkey blew its chance to cause a major World Cup upset over the USA, not once, not twice, not thrice but FOUR times - fouling when ahead at the end of regulation, missing two sets of free throws in the final seconds, then fouling again, only to see Khris Middleton stroke two freebies to ice the game 93-92.
Clearly, the Turks were shattered by their missed opportunity, their 76-91 loss to a Czech Republic they heavily were favoured to beat, a reflection of their abject dismay.
* * *
SO host Japan and Oceania's highest finisher Australia are through to the Olympics, as you already know.
The top African and Asian sides by the end of the World Cup also will seal places at the 2020 Games, with the two top-ranked national teams from the Americas and Europe also qualifying directly for next year's tournament.
The remaining four spots at the Olympics will be filled by the four winners of next year's FIBA Olympic Qualifying Tournaments, featuring six teams each.
Teams qualify for the Olympic Qualifying Tournaments via the World Cup. Additionally, two teams from each region - Africa, Americas, Asia and Europe - will be awarded places in the Olympic Qualifying Tournament according to FIBA world rankings.
* * *
GOOD to see that Mitch Creek's skill set, which wasn't good enough to see him selected in Australia's original 12-man team for China, has evolved so rapidly during the tournament.

He has played invaluable defensive minutes and his 4-of-4 free throws against Lithuania - including 2-of-2 with 17.8 seconds remaining - were clutch.
At least two players originally selected ahead of him meantime have been riding the pine so those "fans" who were critical of Creek, or of Chris Goulding or Nick Kay - who also have lived up to, if not exceeded their billing - probably need to now jump on board.
* * *
THE World Cup's second round of matches in Nanjing, Wuhan, Shenzhen and Foshan, start tonight.
All teams carry over their first round records and in their new groups, compete for Quarter-Final berths. This was another reason why beating Lithuania was so vital for Australia.

Argentina and Poland head Group I after sweeping their respective initial groups. Russia and Venezuela will have to leapfrog at least one of their previously unbeaten rivals to make it out of the standings.

You want a certified "Group of Death" ? Check out Group J in Wuhan. Pre-tournament fancies Serbia and Spain have the drop on Italy and Puerto Rico and most likely should be the two to advance here.

There should be a fair amount of drama here too, although USA will be happy to see Turkey out of the running. Brazil looms largely, as does Greece, but Czech Republic looks the most vulnerable. Only two advance, and USA should be one of those.
In Nanjing, Australia and France should be confident of making it through to the Quarter-Finals now, although their own showdown should be fun, with Boomers swingman Joe Ingles sure to have an ongoing commentary with his Utah Jazz NBA teammate and French centre Rudy Gobert.
The Boomers' draw in Group L is:
V Dominican Republic, tomorrow (Saturday) 5:50pm AEST
V France, Monday 9.50pm AEST
Both games are LIVE on FOXSportsAUS (Channel 507) and streamed on kayosports.
* * *
ELSEWHERE, the 16 teams eliminated from the second round continue their campaigns in the Classification Round 17-32, qualification for the Olympics and the Olympic Qualifying Tournaments still on the line.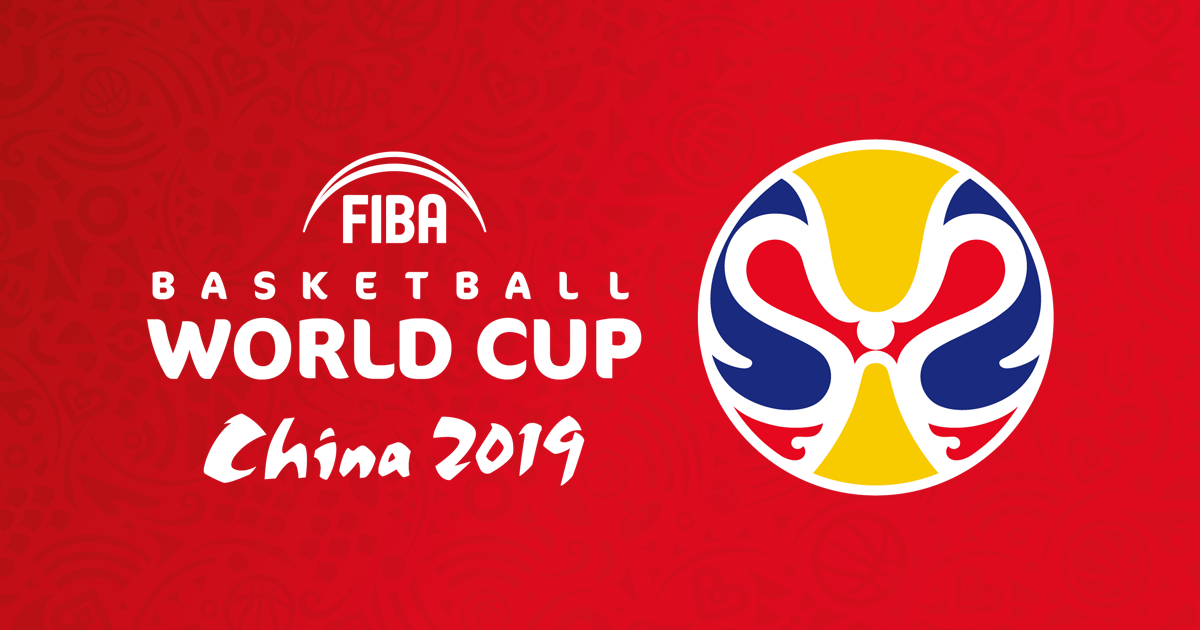 All action pictures courtesy of fiba.com