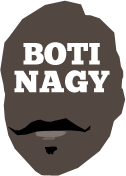 ---
Advertising opportunities available.
Please contact me.
---
When Mario was an inspiration
Tweet
BEFORE there was John Cena, and Seth Rollins and Brock Lesnar, before there was Triple H and Shawn Michaels and Stone Cold, there was Spiros, and Brute Bernard and Killer Karl Cox.
Just after lunchtime on Sundays on Channel 9, my dad would tune in every week for his fix of World Championship Wrestling, his one weekly "must-see" surrender to the wonders of the black-and-white TV.
It's a fact we tend to romanticise parts of our of past as the years wind on and the memories fade but it's also a fact my father spoke five languages fluently and taught himself Italian because his vocation as a "doctor of pharmacy" meant he knew Latin and he was clever enough to adapt it.
As you can maybe tell, he was a fairly interesting character with a fierce intellect. I think he was the smartest person I've ever known.
But come Sunday afternoon, all that evaporated as he sat glued to the box, shifting regularly in his sofa chair and moaning his aggravated frustrations at Mario Milano, the original "Italian Stallion", whenever he threatened to throw a punch at a villainous opponent begging for his mercy.
"Hit him!" dad would implore before, as we knew, the villain of the day would take advantage of Mario's "good natured" hesitation, and punch him instead. "Ohhhh," dad would groan. "When will he learn?"
When will who learn, I used to wonder? It started off as mild amusement to me as a kid because even then you could tell professional wrestling ... well, it wasn't completely kosher.
But the theatre and nonsense of it all steadily drew me in until Sunday arvos watching the wrestling with dad was something of a bonding exercise.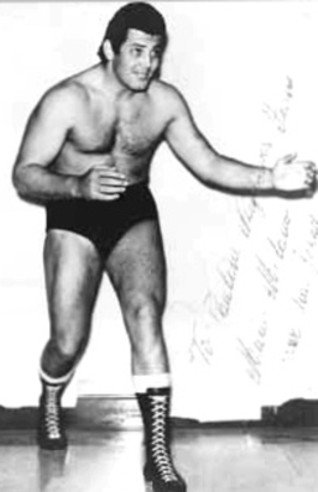 IT was all a lot simpler then, too. There was no entrance music or pyrotechnics for Milano (left) or Spiros Arion - the "Golden Greek" - Mark Lewin with his sleeper hold, the treacherous Skull Murphy and his hairy offsider Brute Bernard, strutting around like some demented chook.
You had to love it. Or hate it. There didn't seem to be much middle ground.
My oldest brother was working in hospitality and every fortnight on a Tuesday, the wrestling circus would roll into town. They all stayed together at the hotel where my brother worked and would eat and room together. But they stayed away from prying eyes to maintain the illusion it was all "real". He told me otherwise, how hated opponents would be laughing and dining together. And I knew it had to be true. It was all a show, after all.
A few years ago, I had a good laugh at a WWE storyline which had the late, great Eddie Guerrero having to fight Rey Mysterio for custody of Eddie's son who, apparently, Rey had raised. (Come on now. Who takes this stuff seriously? It is as much comedy as it is soap opera.) A briefcase with the official custodian papers dangled above the ring as they battled because, as we all understand, THIS is how custody issues are settled in the United States!
Even while I was enjoying and chuckling through that storyline, I recalled how the notorious heel of the 70s era, Killer Karl Cox, on one of his frequent trips to Australia, suddenly turned babyface - or good guy. He explained in a "painful" interview, that he had held his mother's hand on her hospital deathbed and she had implored him to relent from his wicked, wicked ways.
It obviously made perfect sense for him to join the "good guys" from then on, using his past villainous ways for good, instead of evil. They sure kept the stories simple.
When Mario Milano turned heel, it was evident fairly quickly. The moustache he unexpectedly grew was a clear giveaway something was amiss with the usually affable Italian.
His first match with his long-time friend and fellow babyface, Red Bastien, revealed suspicions were well-founded and there was a problem. When two babyfaces fought in those days, it always was referred to as a "scientific match". Essentially what that meant was the two wrestlers would have a clean break if ever they were entangled on the ropes and neither would throw a cheap shot.
Even seasoned referee "Wallaby" Bob McMasters was startled when Milano threw a punch at Red during a ropes tangle, which naturally caught Bastien by "complete surprise" and opened the door for Milano to win. He then left without shaking hands, another requirement of a scientific match.
Clearly, the clues were mounting. Hmm. Moustache (pictured). Less approachable. Dirty behaviour in a scientific match against a friend. Something was not right with the master of the abdominal stretch.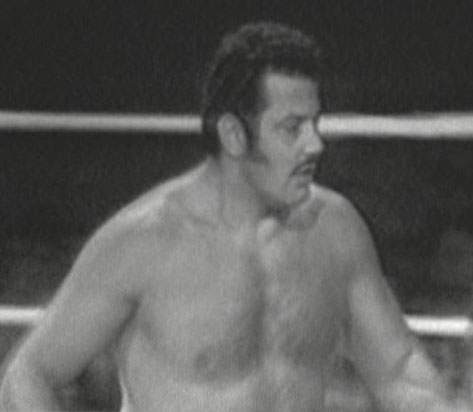 Our worst fears were realised when Milano, in a tag match with fellow Italian Antonio Pugliese, was ordered not to tag in while his partner was being pulverised by their two opponents.
Notorious villainous wrestling manager, Playboy Gary Hart, was at ringside barking orders to Milano who mindlessly obeyed! (Yes, it was always "Playboy" Gary Hart because his status as a manager of some dubious intent had to be regularly reinforced to us.)
So Mario had a heel turn until it became clear HE HAD BEEN HYPNOTISED by Hart!
Of course!
That dastardly Playboy Gary Hart had taken advantage of Milano's good nature and now had him under his devious control!
I don't quite recall how Mario "broke the spell" of Hart's mind control but when he did and turned on the Playboy and his villainous cohorts, all hell broke loose and it was glorious.
And, of course, hilarious. But that's all wrestling was - good versus evil in a soap opera setting with make-believe violence where only the risks taken and the potential serious injuries were truly real.
World Championship Wrestling wound up in Australia sometime in the late 70s and while I could never quite talk dad into going down to Thebarton Town Hall on a Tuesday to catch the "action" - it was a guilty Sunday afternoon pleasure for him and he wouldn't indulge it beyond that - I became a huge fan.
At high school, four of my closest friends also were into it so we ventured down to Thebby a couple of times to catch the big events. We went one night when there was an eight-man cage match, chicken-fencing wrapped around the ring so none of the four good guys or the four heels could get out.
Nothing could get in, no-one could get out. Of course, five minutes into the "match" and somehow a card table mysteriously appeared in the ring for the villains to drive the good guys' heads into, a la a battering ram.
We wondered if the blood was real - "Nah, it's all sauce packs," Kym, the most knowledgable of our friends on such matters used to say - and we would emulate all the moves in the gym the next day.
They were easy then. Atomic drops, claw holds, sleeper holds, abdominal stretches. It was all about selling the "blows" and no-one was jumping off the top of the cages then like a Mick Foley or Shane O'Mac later would.
One night we had prime seats at the edge of the stage at Thebarton, the ring erected in the middle of the stall seating.
Mario Milano versus Cyclone Negro in a brass knuckles match had second billing behind the main event, Killer Karl Cox and Brute Bernard chained together at the wrist and going at it until one dropped.
The fact it wasn't truly "real" further was revealed to us again because the changerooms were off to the side of the stage. Standing together in the curtains, watching the undercard matches were Milano and Negro - these two opponents who despised each other, laughing and enjoying the early matches.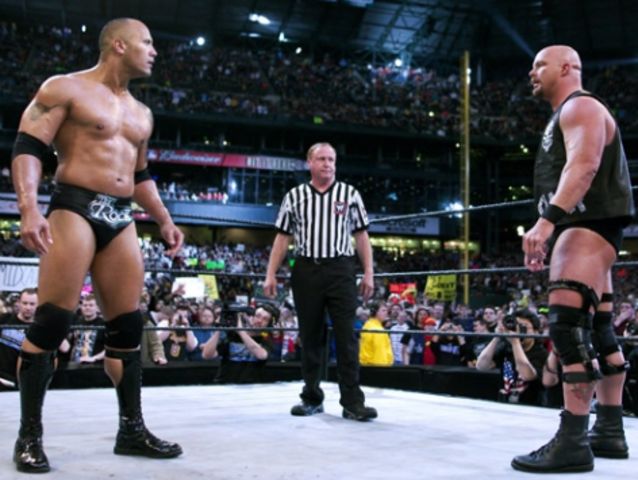 TIMES CHANGE: The Rock and Stone Cold Steve Austin prepare to get it on.
It didn't detract at all. It just added to our insider knowledge. Throughout the first half of the show though, any time one of the heels produced a "foreign object" from their trunks, some loon in the stands would start blowing a whistle to alert the referee.
We could see the fan jumping up and down trying to draw the ref's attention to the skull duggery going on. That was particularly funny to us, but even moreso when the intermission lights came on and we found it was my best friend's father. Sigh.
When the main event finally happened, Cox and Bernard fought for a good while, then continued to battle on outside the ring, out through the venue's side doors into the carpark, then back in through another side door and up the stairs towards, ulp, the stage. The match obviously only could end when they were out of sight and that meant crossing the stage to get to the changerooms.
Two big bruising men "bashing" each other with a chain they were trying to choke each other with had patrons leaping from the stage - us included. Fake or not, we were getting out of their way.
A minute later, they were probably cacking themselves with laughter in the changerooms, but that wasn't for our eyes.
Mario Milano died last week at the age of 81. He'd settled and lived his life in Australia, the man christened Mario Bulfone in Trieste, Italy, arriving in 1967 for a three-month stint.
Like a lot of American basketballers who came for a season and stayed for a lifetime, he fell in love with the country. When he retired from the ring, though wrestlers rarely really do, he drove a taxi but still donned the red trunks from time to time to support small wrestling promotions.
I hope somewhere in the afterlife, he catches up with my dad and breaks the news to him that it was mostly scripted. Dad needs to know he wasn't really supposed to hit that guy.