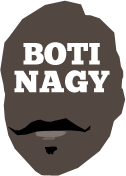 ---
Advertising opportunities available.
Please contact me.
---
Wildcats, 36ers spotlight: NBL Rd.13 Wrap
Tweet
IF Cairns yesterday completed its well-constructed NBL victory over reigning champion Melbourne, some of the glaring spotlight on Perth may have dimmed.
But instead, United showed all the heart of a champion, all the pluck of a competitor and all the fight of a team of true believers confident they can go back-to-back, coming from 18 down and producing a late 21-0 surge into overtime to plant the Orange.
Perth had no such luck. Home and with everything in their favour, the Wildcats could not contain Melo Trimble who enjoyed a 21-point first half as Cairns went ahead by as many as 14 and played with an assurity suggesting it was in the four and Perth was in the bomb shelter.
Apart from its starters, Perth had little input of value from its bench. And even its starters struggled, Bryce Cotton's 20 points coming on 7-of-26 shooting as he became the team's offensive focal point.
To drag the deficit back to a two-point loss says something about the character of Trevor Gleeson's team and the 13,436 members of the Red Army willing their team back. But Perth will need help to have any say in the title race this season.
Trimble went on to score 32 points, including 6-of-7 threes, Nate Jawai a towering presence with 14 points, eight rebounds, five assists, a steal and a block.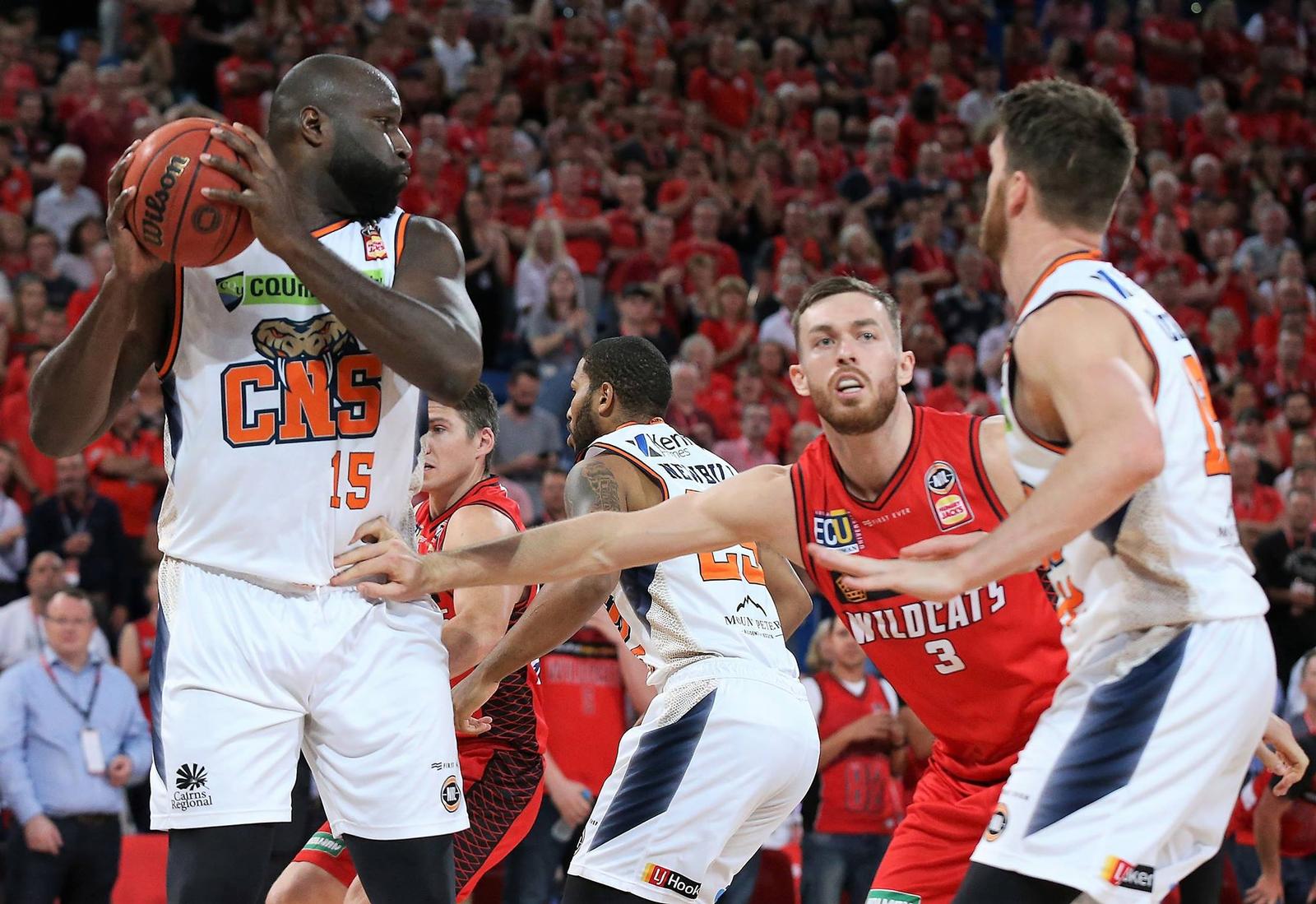 But this was Cairns playing some terrific team ball and stringing defensive stops together too.
THE way Cairns started Round 13 was not how it finished it though, giving reigning champion Melbourne something of a severe hiding for much of the contest.
Inside the final five minutes, a Trimble 3-pointer kept the Taipans' lead at 79-66 before it all began to unravel.
It started with Rob Loe fouling Casper Ware as the United playmaker stuck a triple. Ware did not get a bonus free throw but Melbourne received a bonus possession, Loe's foul deemed to have been after the shot.
Say what?
Cairns coach Mike Kelly, protesting the point, was hit with a technical foul and the momentum was decidedly shifting.
Ware, Josh Boone and finally David Barlow with his patented threeball from the top of the key, tied the ballgame, Trimble's shot for the win falling short.
And from there, it was Ware, his 27 points including 7-of-11 threes, with six rebounds and six assists. That's how you do it.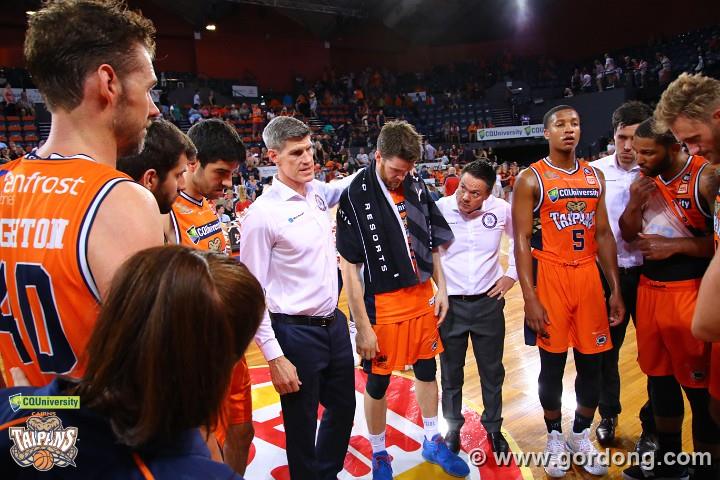 SHATTERED: Another one that got away for the Taipans. But they have turned the corner.
IT was an up-and-down round for Sydney, Adelaide and Illawarra. The 36ers went into Wollongong and plucked the Hawks, then lost at home to Brisbane.
The Hawks went into Sydney and pulled off another stunning win over their intrastate rivals.
And that was after Sydney stepped up to the challenge and turned away New Zealand, despite Shawn Long doing his utmost to overshadow Kings' centre Andrew Bogut.
Long had a 20-point, 10-rebound double-double, Bogut nine points, nine rebounds, five assists, three blocks and, most importantly, the W.
David Wear had a second great shooting game for the season with an NBL career-best 19 points on 7-of-10 shooting, Kevin Lisch had his stroke going and Brian Bowen provided plenty of highlights.
But it was a different story against the Hawks, Brian Conklin challenging Bogut and rookie Emmett Naar producing his career-best performance.
Naar delivered 18 points on 7-of-8 shooting, with four rebounds, two assists and a steal but showed the type of energy and persistence necessary to topple the league leaders.
His teammates followed suit as the lead blew out to as many as 21 points in front of a mostly dumbfounded Kings crowd.
Jerome Randle had 22 points and Bogut a double-double with 10 points, 11 boards, four assists and two blocks.
Adelaide and Perth now are in the spotlight, their face-off on Thursday in Adelaide looming as pivotal in shaping a Final Four looking increasingly fluid and vulnerable.
Except for United fans!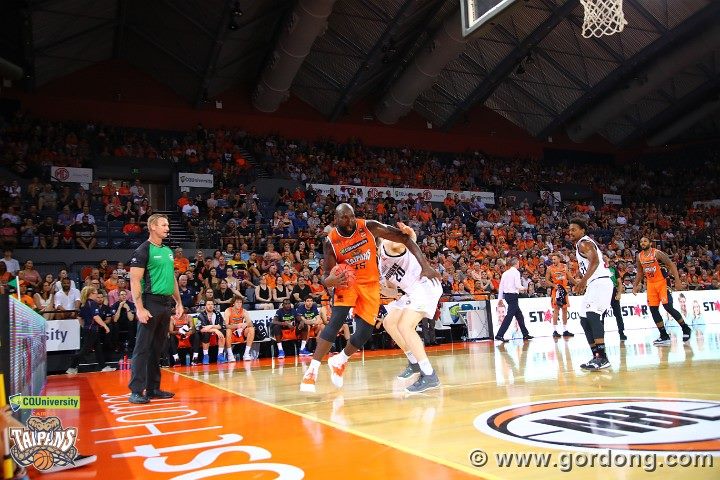 NBL Round 13
ADELAIDE 36ERS 102 (Sobey 23, Moore 22, Conger 19, Johnson 15; Conger 6 rebs; Moore 7 assts) d ILLAWARRA HAWKS 96 (Conklin 22, Blanchfield 19, Coenraad 12, Ogilvy 10; Ogilvy 6 rebs; Blanchfield, Jackson 5 assts) at WIN Entertainment Centre.
SYDNEY KINGS 100 (Lisch 20, Wear 19, Randle 18, Bowen 12; Wear, Bogut 9 rebs; Newley, Bogut, Lisch 5 assts) d NEW ZEALAND BREAKERS 92 (Long 20, Wesley 16, Weeks 15, Ili 11, Moore 10; Long 10 rebs; Wesley 5 assts) at The Kingdome, Qudos Bank Arena.
CAIRNS TAIPANS 81 (Trimble 32, Jawai 14, Newbill 13, Hall 11; Walker, Jawai 8 rebs; Jawai 5 assts) d PERTH WILDCATS 79 (Cotton 20, Kay 18, White 17; Brandt 9 rebs; Martin 5 assts) at The Jungle, RAC Arena.
BRISBANE BULLETS 102 (Gliddon 22, Bairstow 20, Patterson 16, Hodgson 13, Te Rangi 10; Hodgson 12 rebs; Patterson 8 assts) d ADELAIDE 36ERS 90 (Conger 25, Johnson 18, Froling 14; Johnson 9 rebs; Moore, Sobey 5 assts) at The Fortress, Titanium Security Arena.
ILLAWARRA HAWKS 96 (Naar 18, Conklin 17, Jett 16, Jackson 13; Andersen 8 rebs; Blanchfield 4 assts) d SYDNEY KINGS 84 (Randle 22, Lisch 17, Newley 11, Bogut 10; Bogut 11 rebs; Bogut 4 assts) at The Kingdome, Qudos Bank Arena.
MELBOURNE UNITED 99 (Ware 27, Barlow 24, Boone 15, Goulding 11; Boone 15 rebs; Ware 6 assts) d CAIRNS TAIPANS 89 (Trimble 42, Jawai 18, Newbill 10; Loughton 8 rebs; Trimble 2 assts) in overtime at The Orange Grove, Cairns Convention Centre.