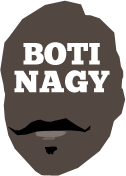 ---
Advertising opportunities available.
Please contact me.
---
WNBL: Boomers, Caps chase second and its advantages
Tweet
WNBL Round 15 has determined Southside Flyers will host Adelaide Lightning in one best-of-three semi final series and Melbourne Boomers will face Canberra Capitals in the other, but homecourt advantage there is still up for grabs.
At the conclusion of the penultimate round of the regular season, both teams are on identical 14-6 win-loss records with the Capitals' last game at home to Adelaide, and the Boomers at home to Perth.
Obviously if one wins and the other loses, the winner will jump to second and enjoy the prospect of two games at home in their best-of-three semi.
But if they both should win, concluding the regular season on 15-6, Canberra will claim homecourt by virtue of its 2-1 season-series success over Melbourne.
Yeah, how big was that overtime win in Canberra last round?
Melbourne beat Canberra 107-72 in Geelong in Round 3 but Canberra won their Round 5 return bout in Melbourne 79-76, then made it 2-1 with its 76-75 overtime win in Round 14.
In the unlikely event both should lose this week, then they still would finish with identical records and Canberra still has the upper hand.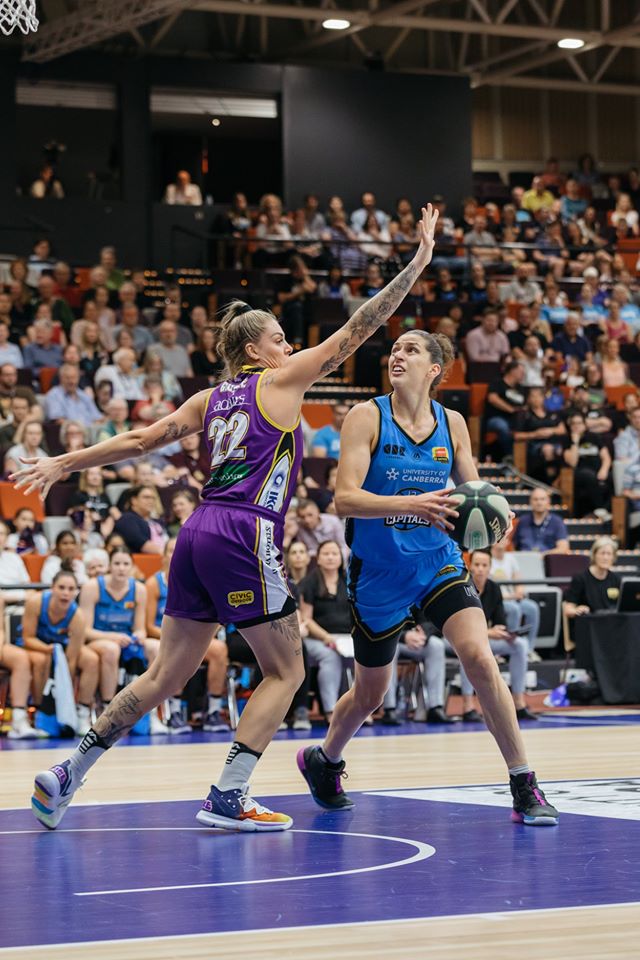 Southside beating Adelaide guaranteed the Flyers of first place and the regular season championship. But please, enough with the "Golly, Gee, Wow! Look how well the NEW club has done in its very first season" nonsense.
If it WAS a new club, then sure, kudos. But Southside Flyers is the rebadged and saved Dandenong Rangers - hell, they even still play at Dandenong Stadium - so can the league and its many cheerleaders just stop pretending this is a whole new club started from stratch?
This IS NOT anything like South East Melbourne Phoenix's start in the NBL but, if anything, way more like Melbourne Tigers' change to Melbourne United, so please, enough with this "new club" piffle.
In the meantime, full credit to the Flyers for their win over Adelaide in a statement recovery from their home humbling by Canberra a week earlier.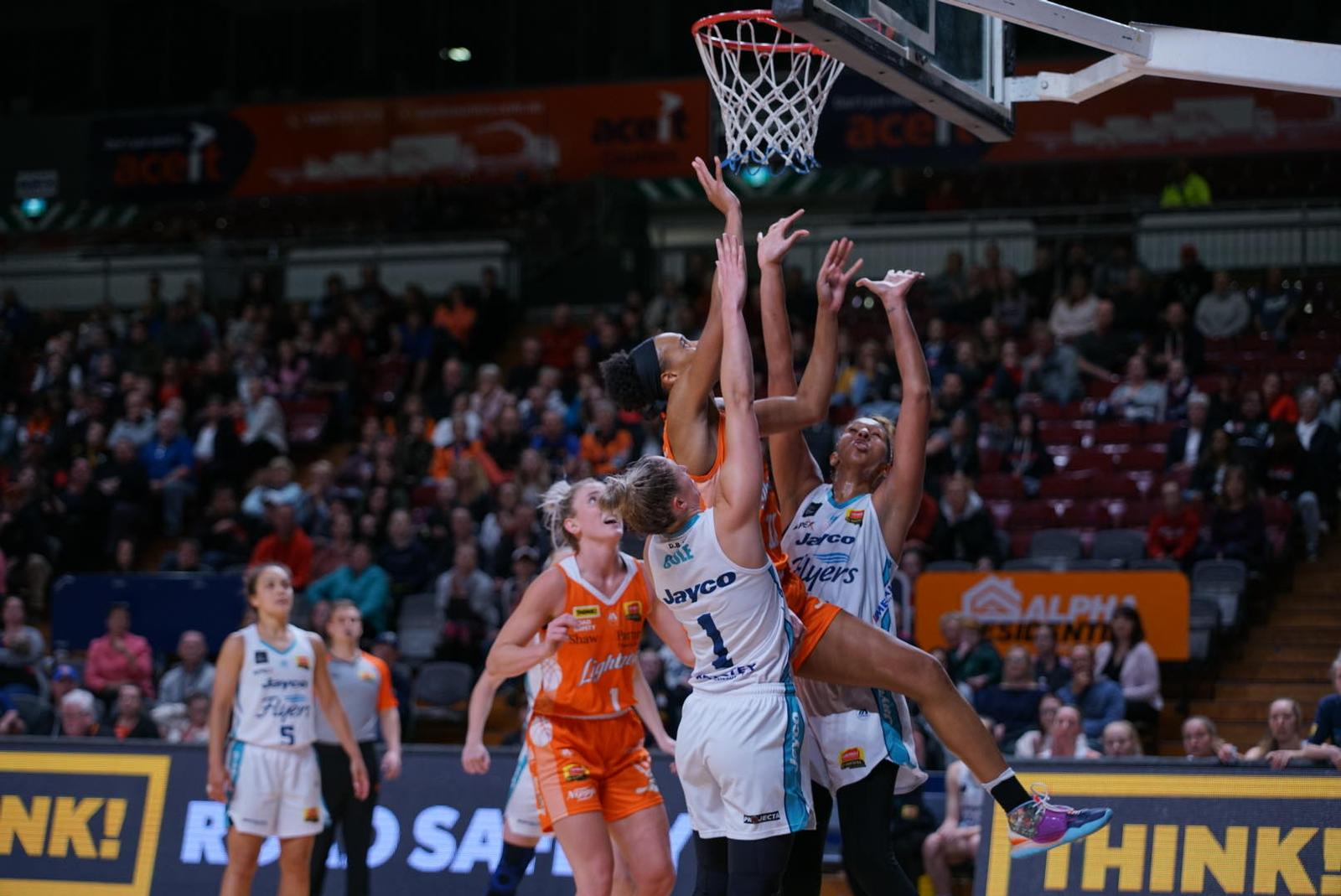 ROUND 14 concluded today in Canberra where the Capitals saw off a pesky Sydney Uni outfit 82-66, fans watching delighted as Kelsey Griffin's second game back was a steady improvement on her first, with the league MVP scoring 20 points at 50 per cent, with seven rebounds, two assists, two steals and a block in 25:49 off the bench.
The Flames showed their customary pluck and Brittany Smart again emphasised how badly she was missed while out with injury by leading Sydney with 21 points.
Jessica Kuster had 17 at 67 per cent, with six rebounds, eight assists, five steals and a block as Sydney hung in 34-40 down at halftime.
Canberra steadily pulled away though to lead by as many as 18, Kia Nurse's 25-point haul including 4-of-7 threes and Maddison Rocci maintaining her recent scoring streak with a further 15 at 63 per cent.
THE earlier games in Round 14 were summarised here.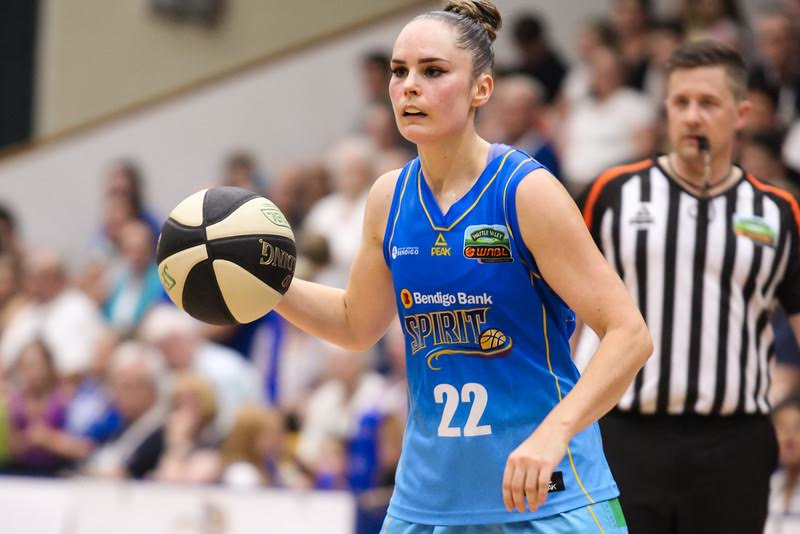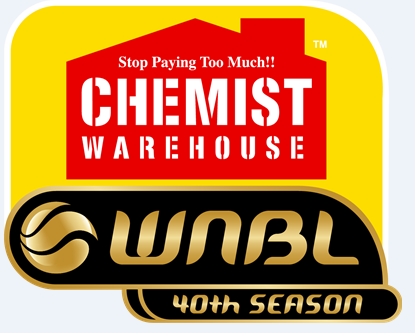 WNBL ROUND 15 RESULTS
*UNI of CANBERRA CAPITALS 89 (Tolo 22, Nurse 20, Rocci 17, Epoupa 12; Griffin, Tolo 9 rebs; Epoupa 8 assts) d PERTH LYNX 75 (Whittle 18, Ebzery 16, Atkins 13, Mansfield 10; Allen 10 rebs; Mansfield, Ebzery 4 assts) at Study Hall, National Convention Centre
PERTH LYNX 89 (Ebzery 28, Whittle 18, Atkins 16, Payne 13; Atkins 10 rebs; Mansfield 9 assts) d BENDIGO SPIRIT 66 (Heal 17, Richards 16, Wehrung 14, Lavey 12; Heal 8 rebs; Lavey 5 assts) at The Spirit Level, Bendigo Stadium
DEAKIN MELBOURNE BOOMERS 79 (Magbegor 21, George 19, Cunningham 15; Garrick 7 rebs; Farnworth 5 assts) d JCU TOWNSVILLE FIRE 68 (Carleton 16, Garbin 13, Cocks 12, Madgen 10; Boag, Garbin 7 rebs; Vanloo 8 assts) at The Fire Station, Townsville Stadium
SOUTHSIDE FLYERS 81 (Cole 28, Mitchell 21, Russell 15, Blicavs 13; Blicavs 9 rebs; Cole 5 assts) d ADELAIDE LIGHTNING 69 (Turner 20, Talbot, Seekamp 16; Talbot 10 rebs; Talbot 6 assts) at The Hangar, Dandenong Stadium
UNI of CANBERRA CAPITALS 82 (Nurse 25, Griffin 20, Rocci 15, Tolo 11; Tolo, Griffin 7 rebs; Epoupa 8 assts) d SYDNEY UNI FLAMES 66 (Smart 21, Kuster 17; Scherf 8 rebs; Kuster 8 assts) at Study Hall, National Convention Centre
(*Postponed match from Round 12)