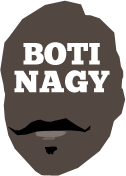 ---
Advertising opportunities available.
Please contact me.
---
WNBL: Down to business ... soon
Tweet
THE Opals jetted out to France unnecessarily early, adding Bendigo guard Tessa Lavey to the lineup following the severe ankle injury suffered on Thursday by Lightning captain Nicole Seekamp.
Ahead of Australia's three-game Tokyo Olympic Games qualifying series in Bourges, France, the Opals now have lost captain Jenna O'Hea (wrist) and backup PG Seekamp, the former replaced by Southside Flyers teammate Sara Blicavs.
But to advance, they only have to finish "top three" in the four-team group so it isn't a case of the customary "Group of Death" BS.
They open in France against the host team on Friday with the full schedule:
February 7 v France, 4am (AEDT) Palais des Sports du Prado Bourges, France
February 9 v Puerto Rico, 6:30am (AEDT), Palais des Sports du Prado Bourges, France
February 10 v Brazil, 12am (AEDT) Palais des Sports du Prado Bourges, France
* * *
THE close of the regular season did not yield too many shock results, with the possible exception of Bendigo whacking Townsville in Townsville.
But the Fire released star import Bridget Carleton early to Canadian duties and once she was out, the Spirits rose to the occasion.
Carley Ernst led the way, closing her season with 26 points, 10 rebounds and seven assists in the 89-69 win, Tessa Lavey buoyed by her return to the national team with a 21-point, seven-assist performance.
Bendigo won every quarter despite promoted Fire starter Christina Boag producing a career-game with 22 points, 15 rebounds, three assists, two steals and two blocks.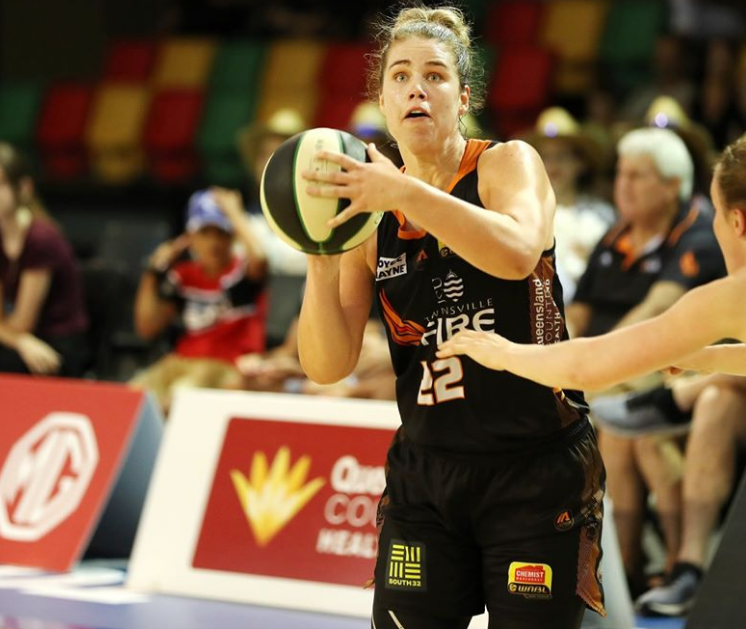 IN Canberra, the Capitals had to win to secure the semi final homecourt advantage and got more than they bargained for from an Adelaide team gearing for the playoffs.
Lauren Nicholson found her 3-point range, knocking down 4-of-6 in her 16-point haul for Adelaide and Steph Talbot went off for 15 points, 12 rebounds and nine assists. Unfortunately her points came on 5-of-14 shooting with 0-of-6 threes and her five turnovers was the game high.
Kia Nurse had 12 of her 28 points in the final period, including the basket which gave Canberra a 73-69 buffer into the last half-minute.
Marianna Tolo was a tower in the middle, Maddison Rocci continued her great recent form and Canberra even rushed Keely Froling - broken nose, fractured cheekbone, no consequences for the perpetrator Sophie Cunningham - back in, desperately needing to win. And they got it.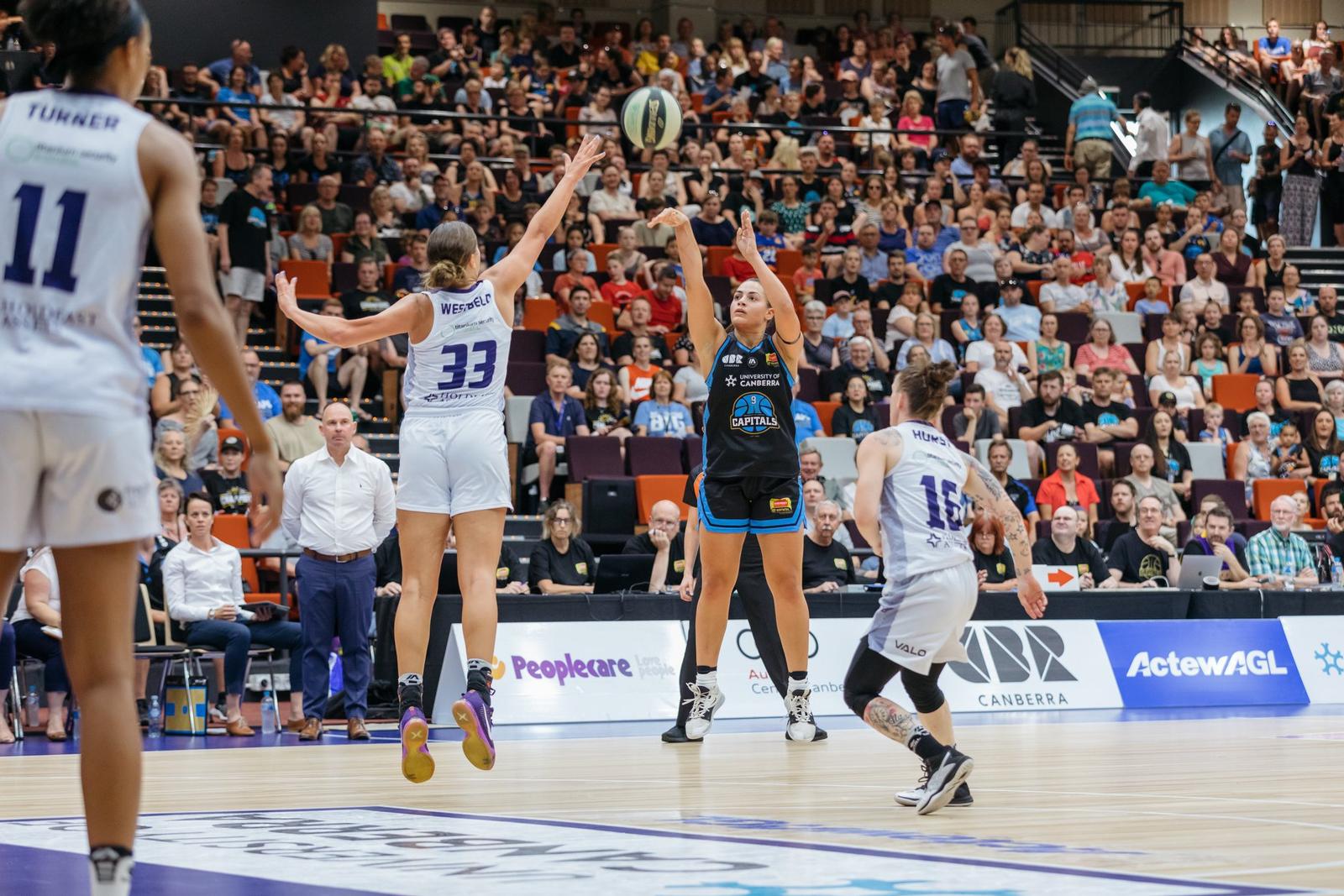 LIMPING in to Melbourne after a one-point loss in Adelaide and without Alison Schwagmeyer-Belger, Perth was easy pickings for a Melbourne Boomers team needing victory to prize second spot away from Canberra.
Cayla George monstered the Lynx, with 24 points, 12 rebounds, nine assists and Lindsay Allen made a gentle return from injury.
The Boomers' 32-14 first quarter ensured there would be no hiccups here and their 54-31 halftime lead left Perth with a mountain to climb and only heels and wedges to do it in.
Kalani Purcell's 17 points was off a tidy 7-of-9 shooting, plus six rebounds, three assists and two steals in a nice night's work.
Lynx import Ariel Atkins, who produced the goods in Adelaide, continued on her way with 24 points at 64 per cent, eight rebounds, two assists and three steals in a very lost cause.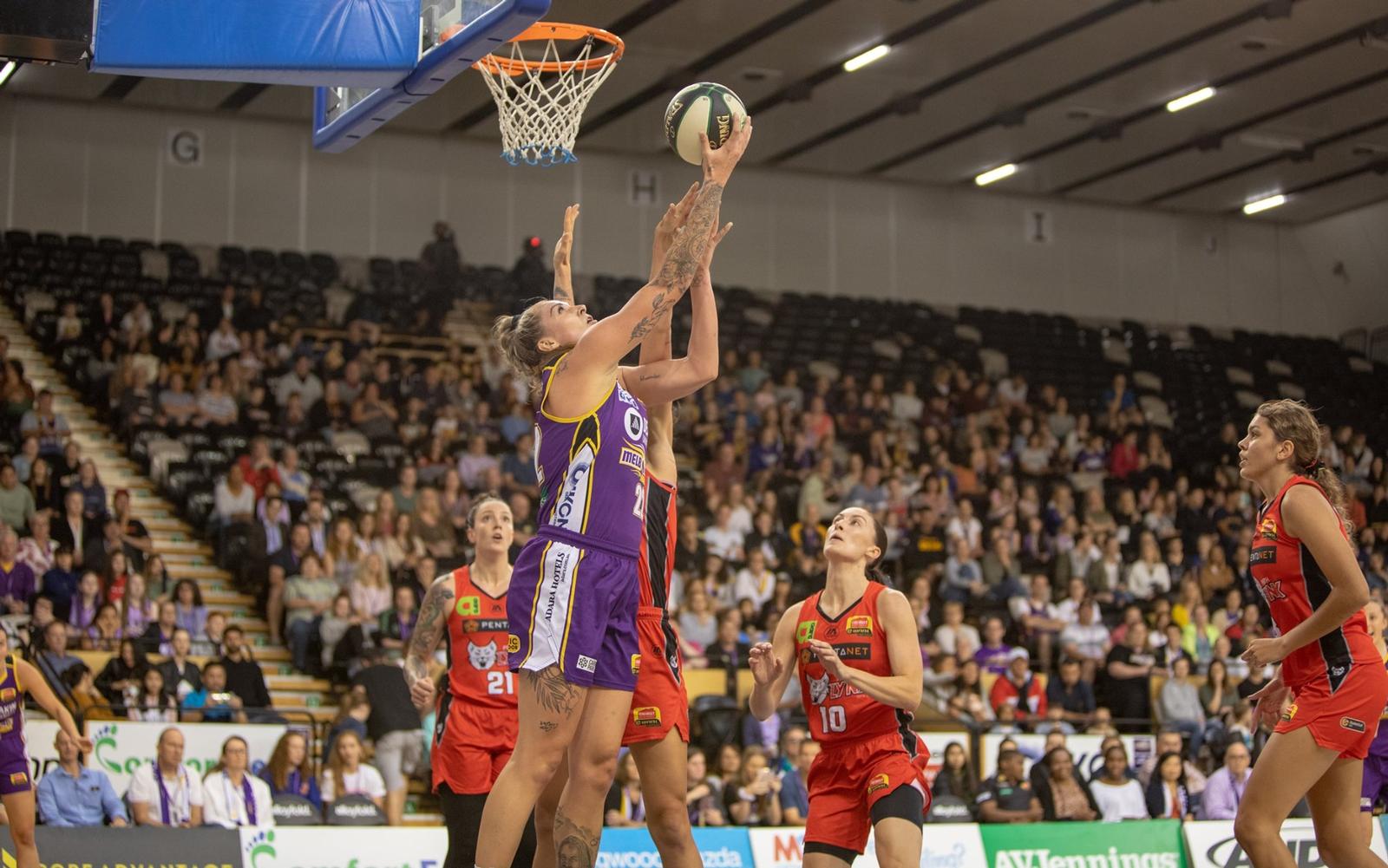 HAVING already claimed the regular season championship in their first season as Southside Flyers, the home team blitzed incoming Sydney Uni at Dandenong.
Flyers coach Cheryl Chambers had the luxury of not running her starters for more than a half, during which time Sara Blicavs still compiled 18 points on a perfect 8-of-8 shooting, with eight rebounds, six assists and two steals in 19:52.
Flames import Jess Kuster put up a great effort, scoring 21 points on 9-of-13, plus six rebounds, two assists and three steals.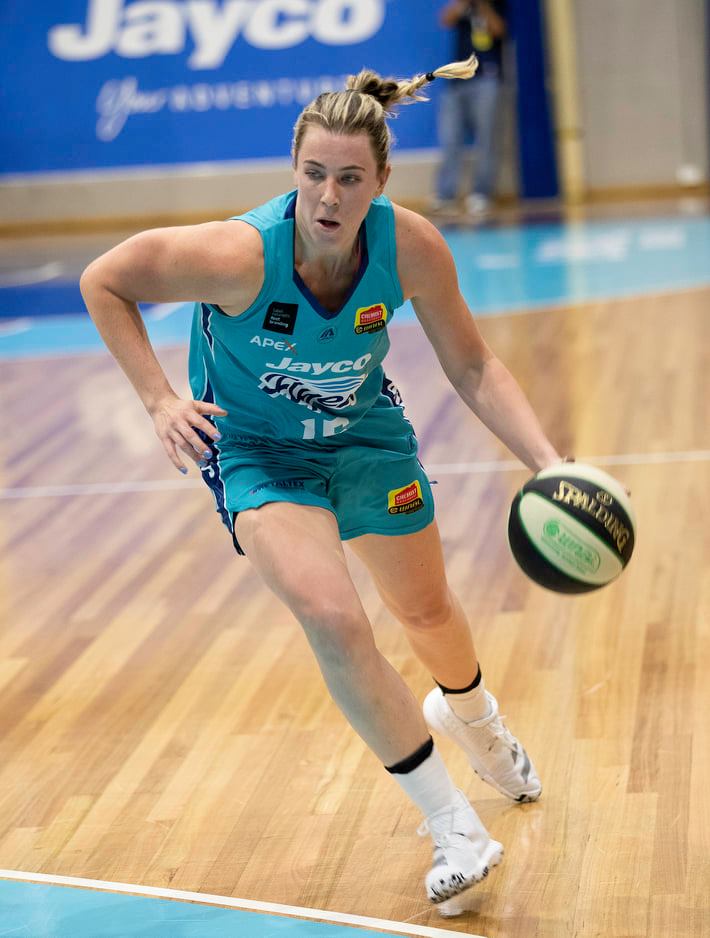 SO it is now down to the business of winning the championship, soon. The semi draws are:
SEMI-FINAL SERIES 1 (1v4):
Game 1
Southside Flyers v Adelaide Lightning
Tuesday, February 18 at 7.30pm AEDT
Dandenong Stadium
Watch LIVE on FOX Sports Australia
Game 2
Adelaide Lightning v Southside Flyers
Saturday, February 22 at 7.00pm ACDT
Titanium Security Arena
LIVE on FOX Sports Australia
Game 3 (if necessary)
Southside Flyers v Adelaide Lightning
Date and venue TBA
LIVE on FOX Sports Australia

SEMI-FINAL SERIES 2 (2v3):
Game 1
UC Capitals v Melbourne Boomers
Sunday, February 16 at 5pm AEDT
AIS Arena
LIVE on FOX Sports Australia
Game 2
Melbourne Boomers v UC Capitals
Sunday, February 23 at 6pm AEDT
State Basketball Centre
LIVE on FOX Sports Australia
Game 3 (if necessary)
UC Capitals v Melbourne Boomers
Date and venue TBA
LIVE on FOX Sports Australia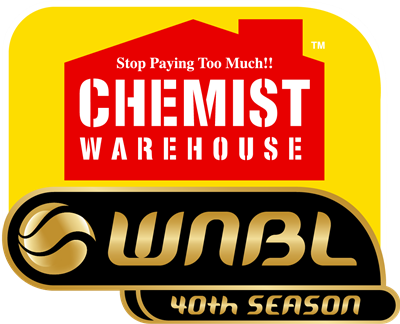 WNBL ROUND 16 RESULTS
SYDNEY UNI FLAMES 78 (Smart 22, Graham, Kuster 16, Scherf 12, Wilson 10; Wilson 9 rebs; Wilson 8 assts) d BENDIGO SPIRIT 68 (Heal 17, Wehrung 15, Lavey 14, Richards 10; Richards 6 rebs; Lavey 6 assts) at The Law Courts, Bryden's Stadium.
ADELAIDE LIGHTNING 75 (Seekamp 17, Turner 16, Talbot 13; Turner 24 rebs; Seekamp 8 assts) d PERTH LYNX 74 (Ebzery, Atkins 16, Mansfield 12, Payne, Whittle 11; Allen 15 rebs; Mansfield, Atkins 3 assts) at The Lighthouse, Titanium Security Arena.
UNI of CANBERRA CAPITALS 73 (Nurse 28, Rocci 16, Tolo 13; Griffin 10 rebs; Griffin 7 assts) d ADELAIDE LIGHTNING 71 (Nicholson 16, Talbot 15, Westbeld 10; Turner, Talbot 12 rebs; Talbot 9 assts) at Study Hall, National Convention Centre.
BENDIGO SPIRIT 89 (Ernst 26, Lavey 21, Heal 14, Richards 11; Ernst 10 rebs; Ernst, Lavey 7 assts) d JCU TOWNSVILLE FIRE 69 (Boag 22, Garbin 14, Cocks 11; Boag 15 rebs; Vanloo 7 assts) at The Fire Station, Townsville Stadium.
DEAKIN MELBOURNE BOOMERS 104 (George 24, Purcell, Garrick 17, Magbegor 15, Beck 11, Cunningham 10; Magbegor, George 12 rebs; George 9 assts) d PERTH LYNX 75 (Atkins 24, Whittle 17, Ebzery 15; Whittle, Atkins 8 rebs; Mansfield 3 assts) at The Boomerang, State Basketball Centre.
SOUTHSIDE FLYERS 78 (Blicavs 18, Russell 17, Maley 11, Cole 10; Blicavs 8 rebs; Blicavs 6 assts) d SYDNEY UNI FLAMES 61 (Kuster 21; Kuster 6 rebs; Scherf 3 assts) at The Hangar, Dandenong Stadium.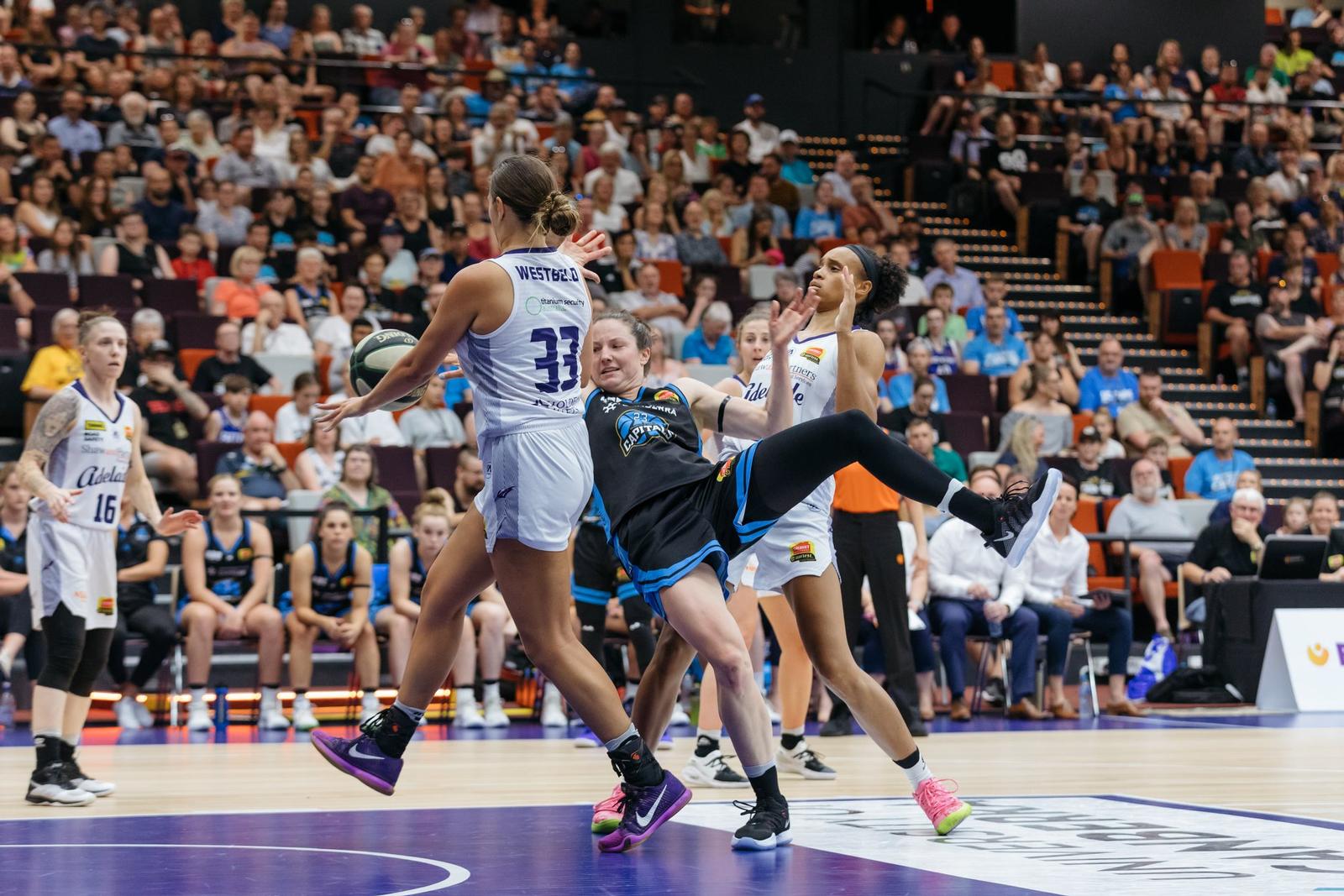 OOPS! Looks like there was a strong wind at Canberra as Kelsey Griffin goes flying.