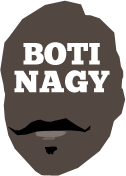 ---
Advertising opportunities available.
Please contact me.
---
WNBL, it's a wrap, NBL brilliant
Tweet
THE WNBL regular season is done and dastardly, the NBL being served notice Melbourne, Illawarra and Adelaide all are back in business as 2017 finished on a high.
Perth Lynx's 14-win streak came to an end at the unlikely hands of the Uni of Canberra Capitals, who finished the WNBL season very strongly. The regular season champs now start their best-of-three semi final series against Melbourne Boomers on the road Wednesday.
Beaten by Sydney, Townsville smacked Perth to close its regular season but goes into its finals campaign without homecourt, hosting the Flames on Thursday. Games 2 and 3 (if required) both are in the lair of the defending champion.
Adelaide Lightning closed its injury-ruined season with a solid home win over Bendigo, their four "wind-assisted" narrow losses this season coming back to haunt them.
Dandenong minus Sara Blicavs lost any sense of being "dandy" and were more just "nongs", proving they could top the previous round's miserable 2-point final period against Bendigo by going scoreless in the last quarter against Melbourne!
That's right - 0 points in the fourth. It felt as if the Rangers checked out at halftime. If not a month ago.
Canberra left its supporters with much to enjoy, ending its season on a winning streak and closing the door on Perth's unbeaten run.
Bendigo ended its year with a record for the world's longest tunnel ball...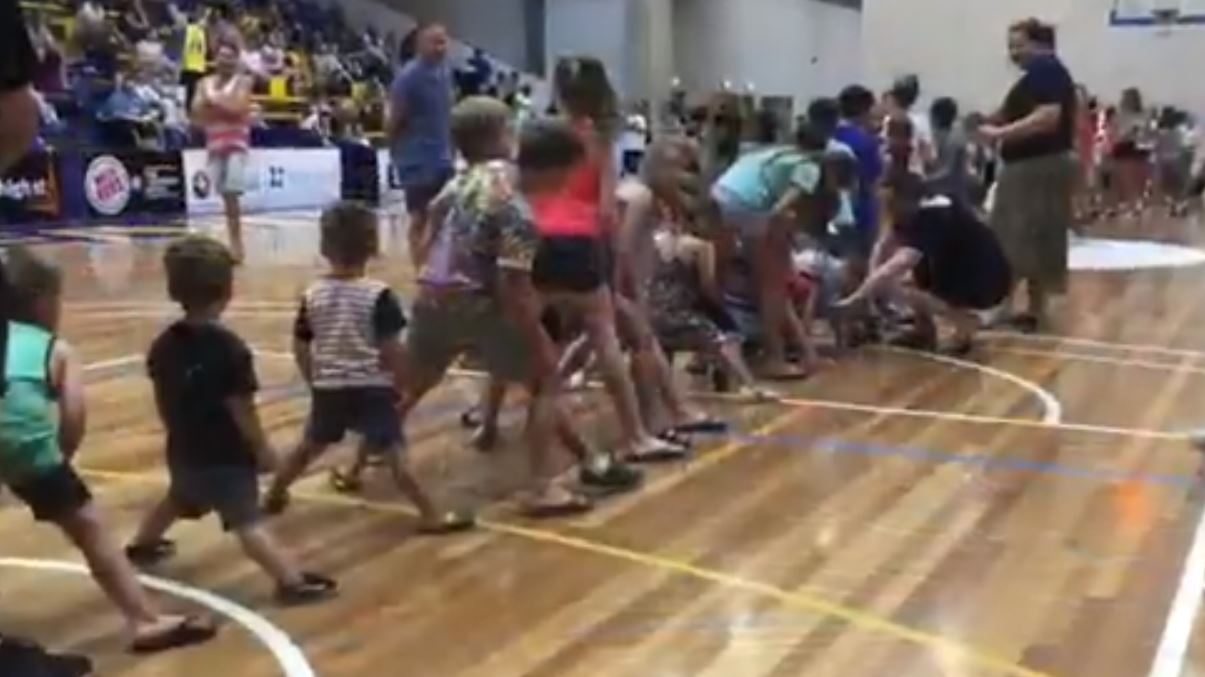 * * *
FIRST with its comeback win over Brisbane in the Boxing Day "open roof" match, then with a comprehensive second half beating of Sydney in Sydney, Melbourne has emerged again as a genuine title contender.
Illawarra featured in one of the best contests of the year, rewarding Oscar Forman in his 500th game with a superb 106-102 win over Cairns at The Sandpit.
Then it backed up by smacking the Bullets, returning the Hawks to the playoff conversation.
Adelaide's season was on the brink after the previous round's horrific home showing against Cairns but the return from injury of Mitch Creek and Shannon Shorter rediscovering some form provided a much-needed boost as the 36ers again rolled New Zealand Breakers.
Mika Vukona became the "king" of Adelaide when he missed two free throws, the Burgermeister providing some 7,000-fans with a free Hungry Jack's cheeseburger.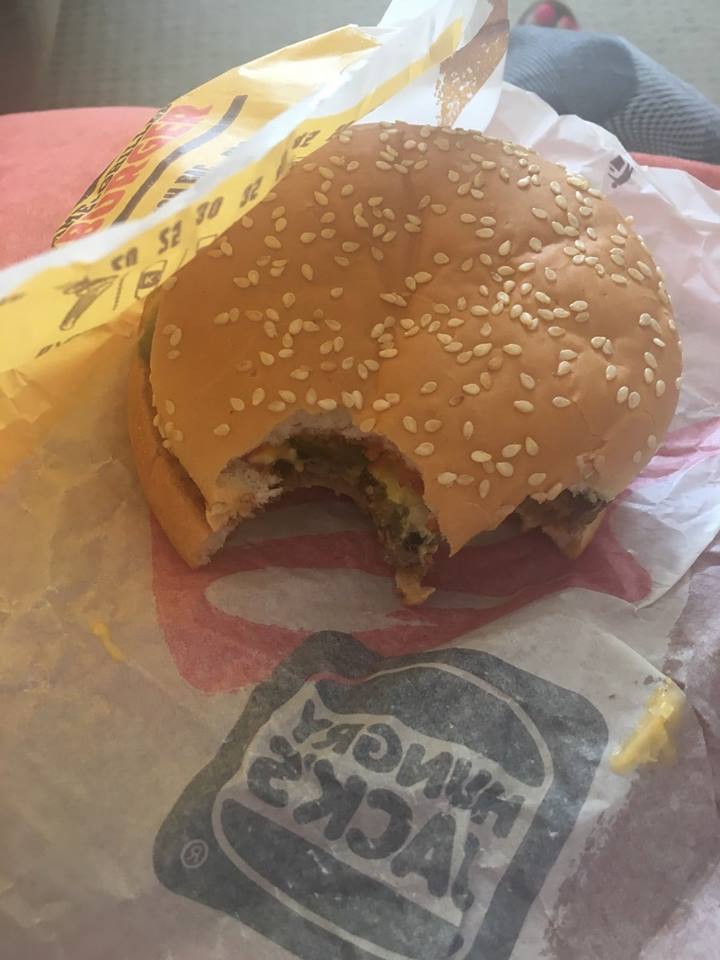 (They still left a little miffed, not hearing "Hit the Road Jack" - an NBL staple - when Kirk Penney fouled out.)
It was a big win for the Sixers, who still were down Ramone Moore and referee Vaughan Mayberry's favourite fall guy, Anthony Drmic.
The best news, of course, was that with the Kings losing again, finally all talk of finals for Sydney has ceased.
Why it ever even restarted is a mystery to most who follow the league.
It seemed Sydney only had to come within sniffing distance of a win to kick-start excited pontifications "the Kings only need to win XX of their last XX" to make it.
How about they just get a few wins and close this season with some sort of hope?
* * *
TALK all season has had the NBL's "Most Improved Player" award down as a battle between the recently-missing Breakers spark plug Shea Ili, and the returning-to-form Wildcats "big" Lucas Walker.
Let me add a third note of discord by offering up Alex Loughton for consideration.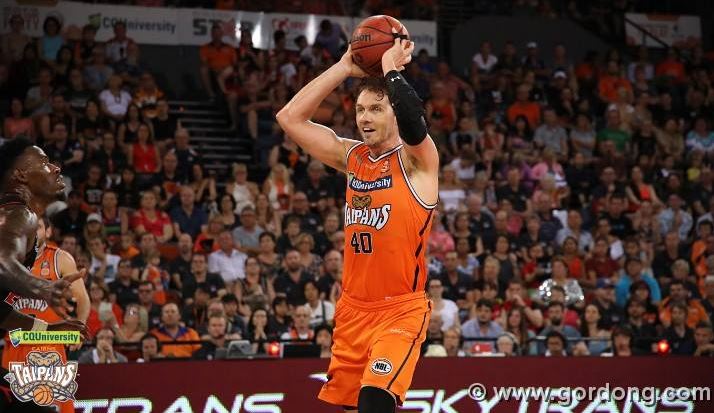 With Mark Worthington heading into retirement after the 2016-17 season, the veteran Loughton has elevated his game at a time in his career when most also would be contemplating the "R" word.
Just keep an eye on Alex. It's easy to overlook Taipans players, not in one of the league's richer markets. But Loughton has been doing it all for Cairns this season. And all season.
* * *
NICE work on the NBL website on "Game Highlights".
The Fox commentary is busying telling viewers: "Carrick Felix, gives us maybe the highlight of the game" as the Melbourne-Sydney highlights end ... WITHOUT showing that clip!
Quality work.
* * *
BIGGEST WINNERS/LOSERS
MELBOURNE has pipped Illawarra as the round's biggest winner, its winning streak moving it into equal-second place now with the NZ Breakers. Honourable mention to Illawarra Hawks also, the Wollongong lads now within striking distance and a win from the Final Four.
THE biggest losers reside in Queensland this round I'm afraid. Take your pick of Brisbane Bullets, blowing a 14-point lead to lose in Melbourne, then topped by Illawarra. Or Cairns Taipans losing a thriller 102-106 to the Hawks before going home to lose tonight to the Wildcats. Either way, both club's playoff aspirations have been dealt a major blow.
DEFENDING WNBL champion Sydney Uni closed the regular season as the round's biggest winner, beating Townsville to secure homecourt advantage against the Fire in the semi finals. That was huge. (Honourable mention to Canberra for ending Perth's winning streak.)
SURPRISINGLY, regular season champ Perth was the round's biggest loser, shocked by the Caps in Canberra, then phoning it in against the Fire in Townsville. Yeah, we get why they did that, but winning form is always good form, especially on the eve of the playoffs.
* * *
NBL Rd.12
MELBOURNE UNITED 69 (Andersen 15, Wesley 14, Goulding 12; Boone 11 rebs; Wesley 3 assts) d BRISBANE BULLETS 68 (Gibson 19, Jervis 17, Trice 12, Te Rangi 11; Buford 10 rebs; Kickert 4 assts) at The UN, Hisense Arena.
ILLAWARRA HAWKS 106 (Conger 24, Clarke 16, Kay 14, Ellis, White 13, Forman 11; Clarke 9 rebs; Clarke, Conger 5 assts) d CAIRNS TAIPANS 102 (Loughton 22, Smith 21, Gliddon 20, McCarron 15; Gliddon 7 rebs; McCarron 6 assts) at The Sandpit, WIN Entertainment Centre, Wollongong.
ADELAIDE 36ERS 88 (Shorter 23, Childress 17, Sobey 15, Deng 13, Creek 10; Shorter 8 rebs; Shorter, Sobey 6 assts) d NEW ZEALAND BREAKERS 85 (Sosa 24, Abercrombie 14; Vukona 10 rebs; Sosa 5 assts) at The Fortress, Titanium Security Arena, Adelaide.
MELBOURNE UNITED 103 (Ware 26, Boone, Goulding 18, Wesley 12; Wesley 8 rebs; Goulding, Ware 5 assts) d SYDNEY KINGS 79 (Randle 26, Ellis 13, Blanchfield 10; Ellis 8 rebs; Randle 5 assts) at The Kingdome, Qudos Bank Arena, Sydney.
ILLAWARRA HAWKS 104 (Conger 24, Clarke 21, Kay 16, Coenraad 10; Johnson 9 rebs; Conger 8 assts) d BRISBANE BULLETS 82 (Trice 32, Kickert 16, Holt 12; Kickert 8 rebs; Gibson 7 assts) at The Sandpit, WIN Entertainment Centre, Wollongong.
PERTH WILDCATS 83 (Cotton 23, Walker 14, Tokoto 12, Steindl 11; Walker 9 rebs; Martin 5 assts) d CAIRNS TAIPANS 68 (Loughton 23, Gliddon 14, McCarron 13; McCarron 11 rebs; Smith, Weeks 4 assts) at The Orange Grove, Cairns Convention Centre.
* * *
WNBL Rd.13
MAC ADELAIDE LIGHTNING 87 (Hamblin 23, Seekamp 22, Clydesdale 17, Bishop 15; Hamblin, Bishop 9 rebs; Seekamp 6 assts) d BENDIGO SPIRIT 74 (Laney 20, Payne 16; R9ichards 10 rebs; Payne 4 assts) at The Lighthouse, Titanium Security Arena, Adelaide.
SYDNEY UNI FLAMES 107 (Hamson 24, Snell 19, Taylor 18, Ebzery 13, Wilson 10; Taylor 11 rebs; Snell 10 assts) d JCU TOWNSVILLE FIRE 81 (Garbin 20, Wiese 13, George 12; Garbin 11 rebs; Donnelly, Cocks 4 assts) at Study Hall, Brydens Stadium Sydney.
UNI of CANBERRA CAPITALS 74 (Hooper 22, Magbegor, Bass 13; Magbegor 8 rebs; Hurst 8 assts) d PERTH LYNX 69 (Whitcomb 20, Williams 19, Standish 13, Kunek 11; Williams 9 rebs; Whitcomb 6 assts) at The Alphabet Soup, National Convention Centre, Canberra.
DEAKIN MELBOURNE BOOMERS 80 (Cambage 20, Smart 18, Tomlinson, Conti 10; Cambage, Purcell 10 rebs; Garrick 4 assts) d JAYCO DANDENONG RANGERS 45 (Mijovic 18; Mijovic 9 rebs; St Blicavs 5 assts) at the Kangaroo Courts, State Basketball Centre, Melbourne.
JCU TOWNSVILLE FIRE 83 (Batkovic 31, George 13, Cocks 10; Batkovic 13 rebs; Wilson 6 assts) d PERTH LYNX 51 (Williams 11; Thompson 7 rebs; Williams 3 assts) at The Fire Station, Townsville Stadium. SYDNEY UNI FLAMES 75 (Taylor 15, Wilson 14, Ebzery 13, Hamson 10; Hamson 10 rebs; Ebzery 6 assts) d BENDIGO SPIRIT 63 (Banham 17, Laney 16; Laney 10 rebs; Laney 4 assts) at The Spirit Level, Bendigo Stadium.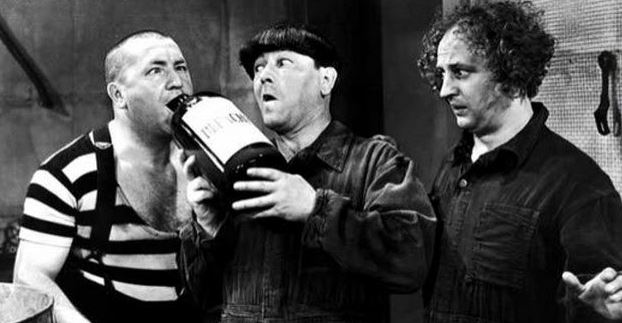 HAPPY NEW YEAR! Party til you drop - then let's get into 2018!