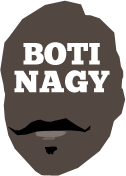 ---
Advertising opportunities available.
Please contact me.
---
WNBL Rd.3 Wrap: Wide open now too
Tweet
FANTASTIC. The WNBL took a turn for the better with a wicked array of results throwing post-season predictions into disarray, the defending champs Townsville also feeling the spectre of defeat. Twice.
The Fire suffered a scare in the first of their two road games when megastar Suzy Batkovic hobbled off in the first half against Dandenong.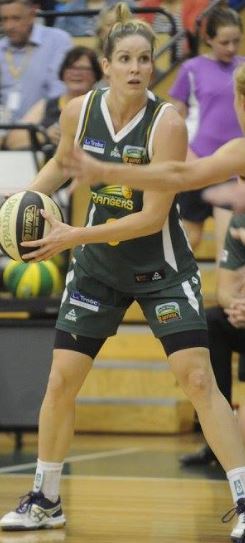 But the Batgirl returned, twisted ankle and all to still post a double-double with 18 points and 10 boards.
It was to little avail though as Steph Cumming (pictured) continued her sizzling form with 21 points at 67 per cent with six assists to lead the Rangers against her former club, posting a thoroughly convincing 27-point rout.
Life didn't get any easier for the Fire in Sydney where the Flames proved too hot, Jennifer Hamson's late block on Batkovic's shot for the win helping preserve a 69-68 upset.
Micaela Cocks had brought Townsville to 68-69 and when Batkovic blocked Leilani Mitchell, there were 14 seconds left and the Fire with timeout and a shot to win.
Cocks' potential winner didn't drop and when Belinda Snell had the rebound, Sydney had completed the round it started at 0-2, on 2-2.
The joy started in Bendigo where the Flames steadily overcame the home team's withering 32-point opening period to escape unscathed 74-69.
Sydney won every subsequent period, Asia Taylor and Leilani Mitchell putting in the first of consecutive solid games that have them in Player of the Week contention.
The round opened in Adelaide where Laura Hodges' celebration of her 200th WNBL game became an unbevievable turnover bonanza as the young Lightning ditched away the ball nines time in the first period and 25 times overall to put them in a game-long chase. Their defence for the most part was very good but when it came to rewarding effort, Adelaide tended to throw the ball away instead.
The win gave Melbourne the impetus to finish strongly at home after Bendigo again threatened to blow the match apart early. The Spirit handsomely won the first two quarters to lead 39-25 at halftime but could not withstand the Boomers' 46-28 second half.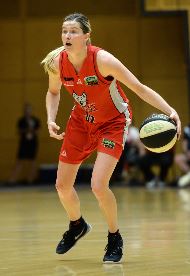 It was a further good all-round team effort by Melbourne, Brittany Smart, Maddie Garrick, Bec Cole and Alice Kunek enjoying solid weekends.
At home for the first time, Perth withstood Canberra and a brilliant 22-point, 13-rebound Marianna Tolo solo, the Lynx winning by six.
Sami Whitcomb (pictured) was special again for Perth with 23 points, eight rebounds, four assists and two steals.
JUST in case you are wondering, Sami has claimed the B.O.T.I. Player of the Week award and can collect her 50-cent bag of mint leave sweets (they're "candies" Sami) and a frozen Tresca from our new footwear store "In step with the Soul".
Rd.3 Results
MELBOURNE BOOMERS 66 (Kunek 17, Cole 12, Garrick, Bowen 10; Thompson, Kunek 6 rebs; Cole 5 assts) d MAC ADELAIDE LIGHTNING 61 (Hodges 14, McKay 12, Logic 11; Hodges 10 rebs; Logic 8 assts) at Titanium Security Arena Arena.
SYDNEY UNI FLAMES 74 (Wilson, Taylor 15, Mitchell 13, Hamson 11; Boag 7 rebs; Mitchell 5 assts) d BENDIGO SPIRIT 69 (Raincock-Ekunwe 17, Harrington 15, Griffin 10; Griffin 8 rebs; Griffin 5 assts) at Bendigo Stadium.
DANDENONG RANGERS 92 (Cumming 21, Blicavs 15, Kennedy 13, Clydesdale 12; Scherf, Blicavs 8 rebs; Clydesdale, Cumming 6 assts) d TOWNSVILLE FIRE 65 (Batkovic 18, Murray 17, Standish 10; Batkovic 10 rebs; Standish 5 assts) at Dandenong Basketball Stadium.
SYDNEY UNI FLAMES 69 (Mitchell 20, Taylor 19; Taylor 13 rebs; Snell 7 assts) d TOWNSVILLE FIRE 68 (Murray 16, Batkovic 12, Cocks 11, Garbin 10; Batkovic 10 rebs; Wilson 7 assts) at Brydens Stadium.
PERTH LYNX 65 (Whitcomb 23, Mijovic 13, Phillips 11; Hamblin 9 rebs; Whitcomb 4 assts) d CANBERRA CAPITALS 59 (Tolo 22, Ruef 15, Mansfield 14; Tolo 13 rebs; Mansfield 7 assts) at Bendat Basketball Centre.
MELBOURNE BOOMERS 71 (Smart 17, Garrick 14, Cole 13, Kunek 10; Smart 9 rebs; Smart, Cole 4 assts) d BENDIGO SPIRIT 67 (Raincock-Ekunwe 21, Griffin 13, Harrington 12; Griffin 11 rebs; Griffin 5 assts) at State Basketball Centre.