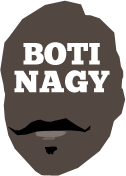 ---
Advertising opportunities available.
Please contact me.
---
WNBL: Round 5 reversals
Tweet
THE WNBL's top four have opened up a two-game break over the four teams pursuing post-season activity after anything but a definitive Round 5 of nationwide action.
Sydney took a huge step forward by beating Townsville, then ended the Lynx's four-game losing skid by falling in Perth for the second time this season.
Canberra looked every centimetre a defending champion as it headed to Victoria to lop the heads of unbeaten Southside and just-beaten Melbourne.
Losing last round in Bendigo, Adelaide schooled the Spirit in their rematch, with the upshot that the four is now Southside 6-1, Canberra 5-2, Melbourne and Adelaide 4-2.
Outside looking in are Perth 2-4, Sydney and Bendigo 2-5, with Townsville 1-5.
Phew. Might be worth taking a little FIBA break...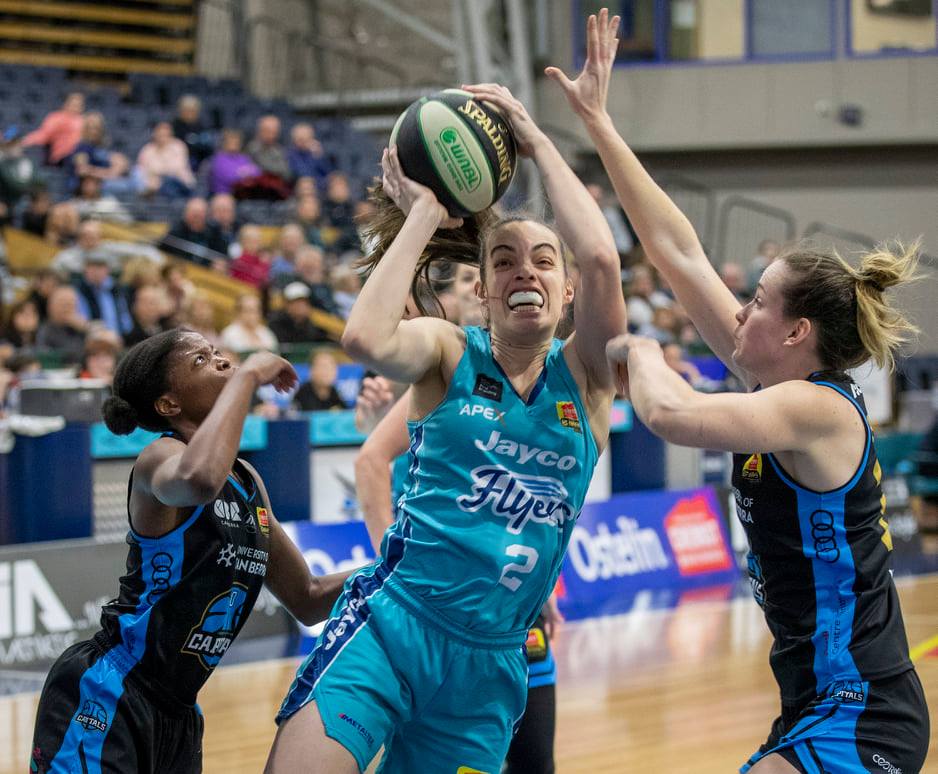 * * *
BEATING Canberra in Sydney was definitely a feather in the Flames' cap and losing on the road did not deter them when they returned home this round.
Sydney seized its first quarter against visiting Townsville 28-21 but could not buy a bucket in the second, outscored 21-9 as the Fire took a 42-37 lead into the main break.
With Alex Wilson connecting on four 3-pointers and Alice Kunek (22 points) also receiving offensive support from Jessica Kuster and Tahlia Tupaea, the Flames wrested control of the contest with a 28-18 final period.
Sydney shot at 50 percent while Townsville's accuracy slipped to 40, Darcee Garbin (below defending Kunek) leading the Fire with 19 points and seven boards.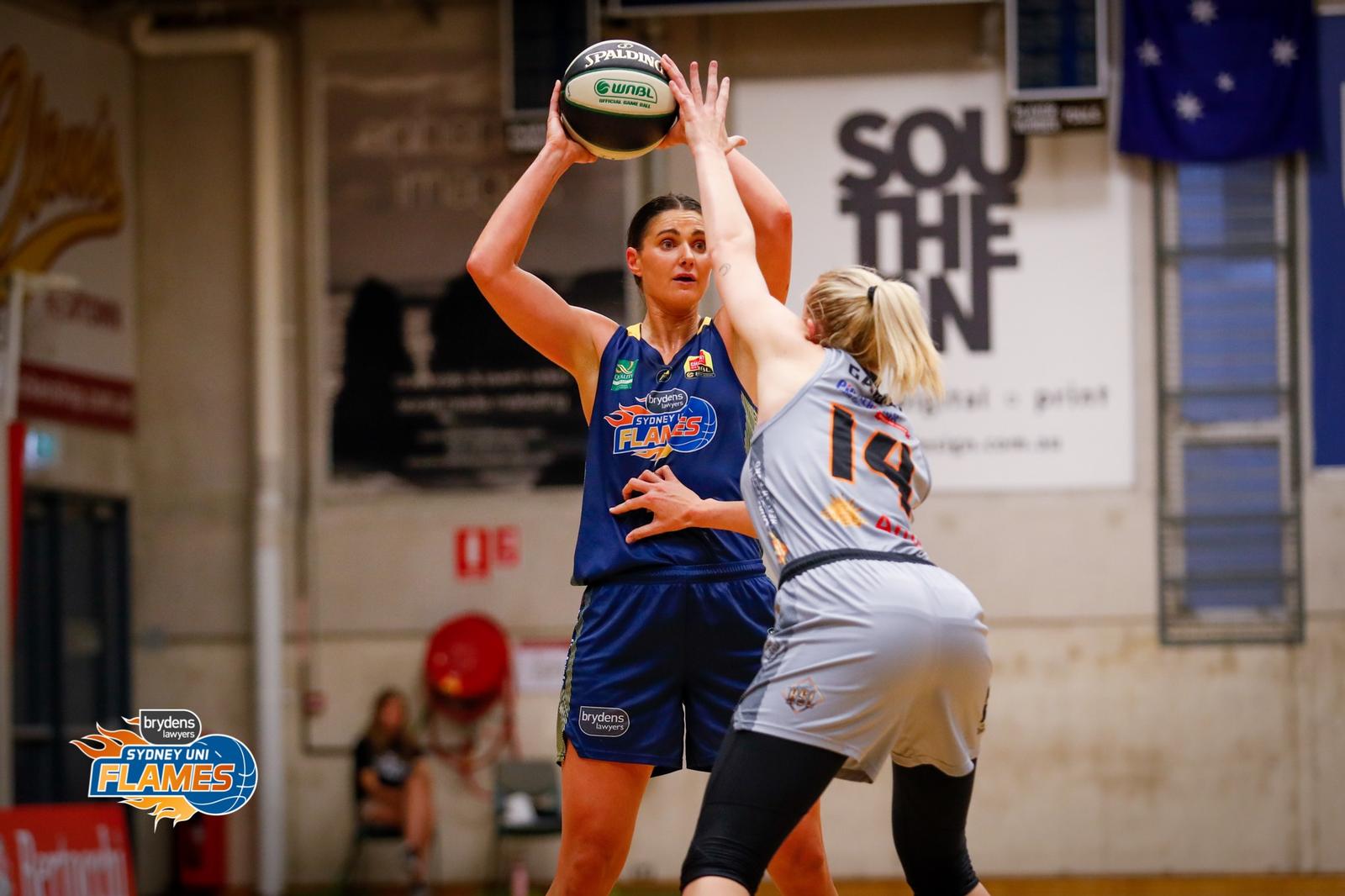 * * *
EXPECTED to make a statement last round against Sydney after a dreadful 0-2 road trip in the previous round, defending champion Canberra did just that, but the Caps did not stop there.
Against the unbeaten Flyers, they burst out on an 11-0 start at Dandenong to lead 27-19 at the first break. And then they got going!
Mercedes Russell pulled Southside to 21-27 but that was all there was to cheer about, Marianna Tolo (16 points at 67 percent, 7 rebounds) igniting an 8-0 response and by halftime, Canberra had won the quarter 29-14 to be 56-33 clear. Game over.
Kelsey Griffin enjoyed another double-double with 14 points and 13 rebounds, Kia Nurse led the scoring with 21, Keely Froling came off the bench for a 20-point, 10-rebound double and Olivia Epoupa added 15 points and seven assists to the cause.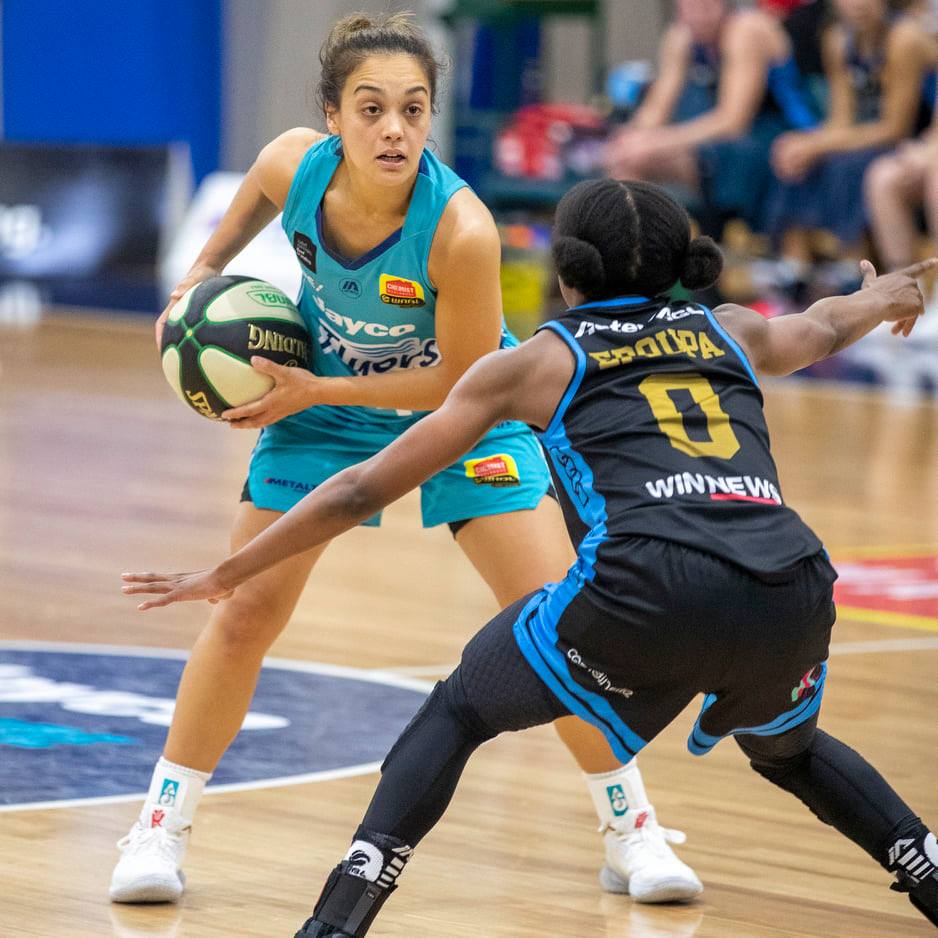 Worried about how their championship-winning PG Leilani Mitchell (above) might impact in her first match against the Caps, their concern was warranted as she dropped a season-high 23 points on 8-of-13 shooting.
Ultimately though, Canberra reinforced its previous road aberration was just that with its 19-point end to Southside's winning streak.
* * *
ADELAIDE had a point to make, finally at home again in Adelaide - the Lightning have been on the road since their season opener - and absolutely obliterated last week's road conqueror Bendigo.
The full match account is here as Lightning drew great performances from their entire roster, including Chelsea Brook with her best effort since Round 1 and Jennie Rintala (below) in her best WNBL game, Laura Hodges and Crystal Langhorne still sidelined and out of action.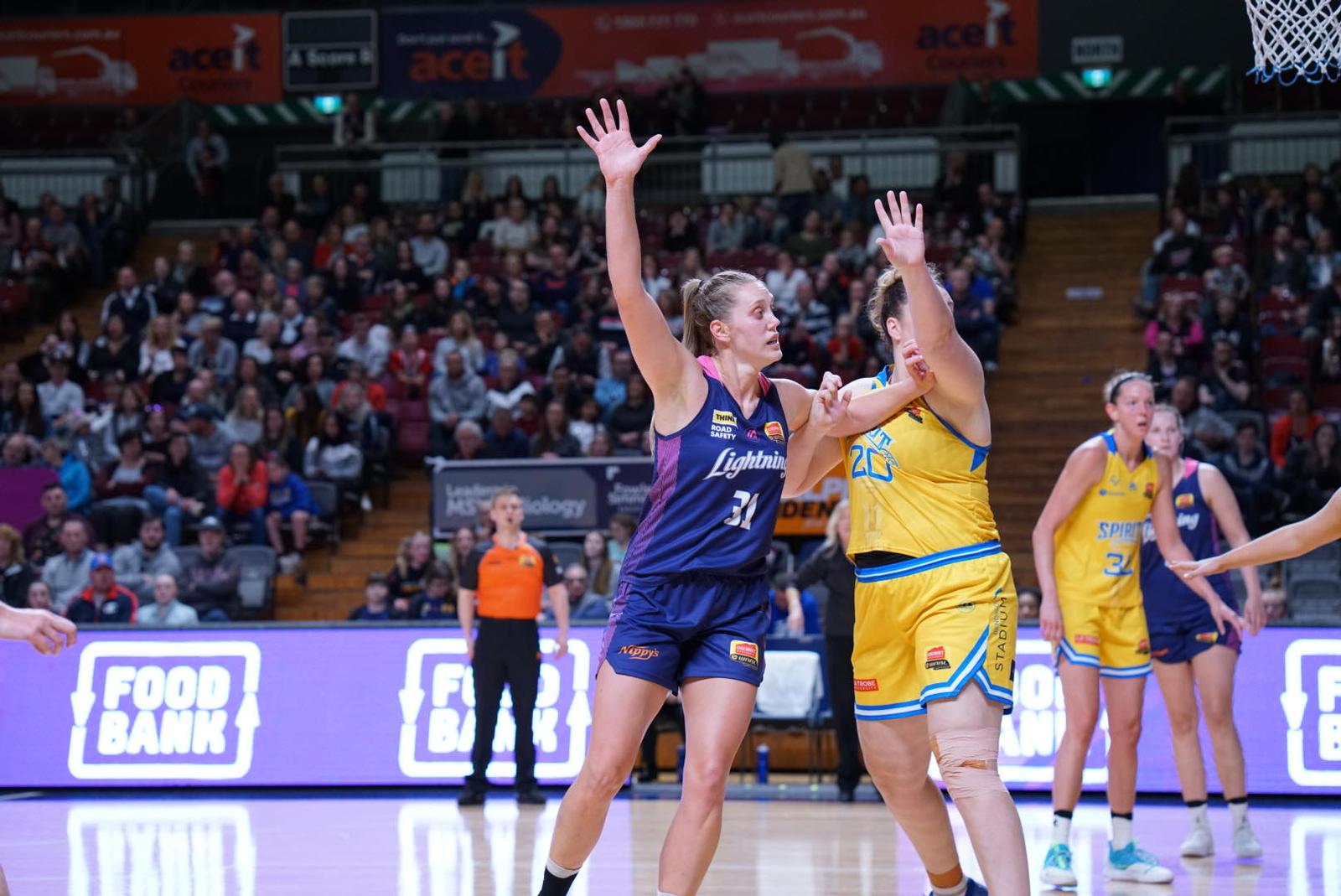 * * *
KIA Nurse sealed Canberra's "weekend of redemption" when her two free throws at the death guaranteed a second road win for the round in Melbourne, beating the Boomers 79-76.
It was a major statement by the Capitals who lost to the same opponent on the road a fortnight ago by a whopping 35 points.
This time Canberra shot out of the gates to lead 21-11 after one quarter before Melbourne hit back with a surprising 26-15 second period.
Cayla George and Lindsay Allen initiated Melbourne's recovery, a pair of Maddie Garrick triples huge as well. Allen's three drew Melbourne within a point, Kalani Purcell's bucket pushing it in front.
In foul trouble in the third, George was on the bench, but with Sophie Cunningham producing her best game (18 points on 7-of-12 shooting) and Ezi Magbegor's 12 points coming on 6-of-7 shots, the Boomers led going into the final stanza.
Marianna Tolo's 18 points came on 8-of-11 shooting - these centres need to be getting more touches - Kelsey Griffin with 18 points, nine boards and five steals, Nurse with a game-high 22 points and Olivia Epoupa guiding the Caps with eight assists and four steals.
The win leap-frogged the Caps over Melbourne into second and meant back-to-back losses for the previously unbeaten Boomers.
* * *
NOT wanting to go into overtime for the fourth time this season, the Lynx in Perth made short work of incoming Sydney, their 31-15 opening period sending the Flames into a night-long game of catch-up.
Perth opened the season beating Sydney in Perth and after four straight losses since - three in overtime - this was a game in which to take no prisoners.
Former Sydney superstar Katie-Rae Ebzery was in her season-best form, delivering 28 points on 10-of-16 shooting, plus five assists and two steals to lead the Lynx to their comfortable win.
Colleen Planeta fought a lone hand for the Flames with her 23 points at 60 percent and eight rebounds both team highs.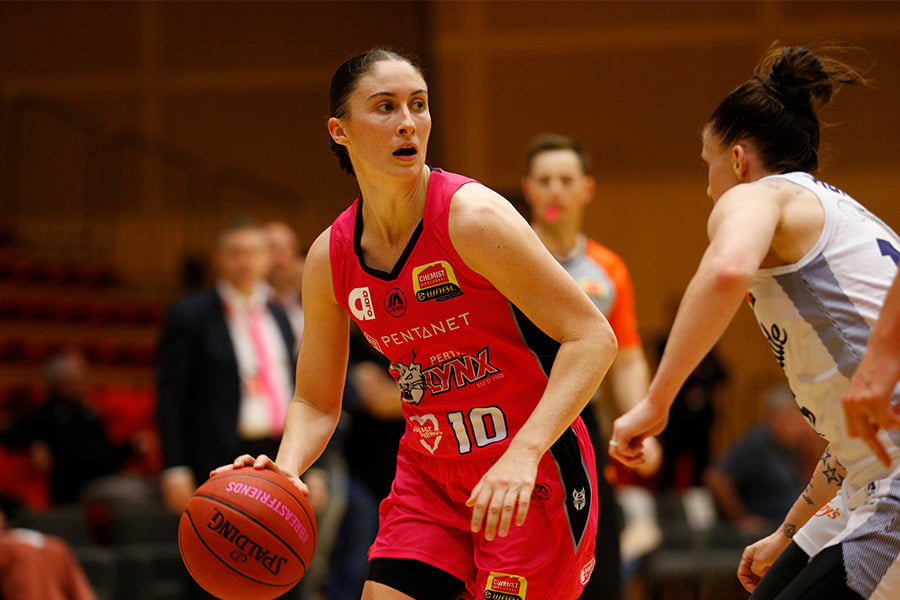 * * *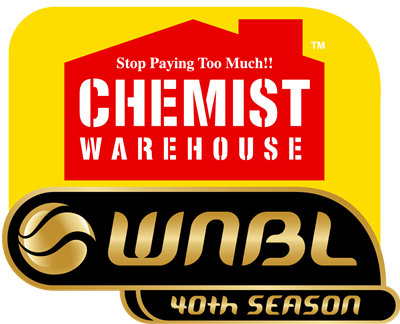 WNBL ROUND 5 RESULTS
UNI of CANBERRA CAPITALS 91 (Nurse 21, Froling 20, Tolo 16, Epoupa 15, Griffin 14; Griffin 13 rebs; Epoupa 7 assts) d SOUTHSIDE FLYERS 72 (Mitchell 23, Russell 15, Cole 12, Blicavs 11; Blicavs 6 rebs; O'Hea, Mitchell 3 assts) at The Hangar, Dandenong Stadium.
SYDNEY UNI FLAMES 82 (Kunek 22, Kuster 17, Wilson 16, Tupaea 12, Planeta 11; Tupaea 8 rebs; Kunek 4 assts) d JCU TOWNSVILLE FIRE 73 (Garbin 19, Bishop 14, Carleton 13, Madgen 12; Garbin 7 rebs; Bishop 7 assts) at The Law Courts, Bryden's Stadium.
ADELAIDE LIGHTNING 105 (Talbot, Turner 20, Nicholson, Brook 16, Seekamp 10; Turner 8 rebs; Seekamp 9 assts) d BENDIGO SPIRIT 77 (Ernst 17, Heal 16, Wilson 15; Tobin, Ernst 6 rebs; Heal, Lavey 3 assts) at The Lighthouse, Titanium Security Arena.
UNI of CANBERRA CAPITALS 79 (Nurse 22, Tolo, Griffin 18; Griffin 9 rebs; Epoupa 8 assts) d DEAKIN MELBOURNE BOOMERS 76 (Allen, Cunningham 18, Magbegor 12, George, Garrick 10; Purcell 9 rebs; Allen 6 assts) at The Boomerang, State Basketball Centre.
PERTH LYNX 93 (Ebzery 28, Mansfield 13, Whittle, Payne, Schwagmeyer-Belger 10; Allen, Schwagmeyer-Belger 9 rebs; Mansfield 7 assts) d SYDNEY UNI FLAMES 74 (Planeta 23, Kunek 14; Planeta 8 rebs; Wilson 4 assts) at The Enclosure, Bendat Stadium.