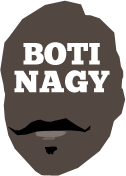 ---
Advertising opportunities available.
Please contact me.
---
WNBL19, Rd4 Wrap: Nobody does it better
Tweet
NOBODY does it better. It may be the theme from a James Bond movie but it's also the theme when it comes to WNBL home game presentation and the Melbourne Boomers.
Their annual Melbourne Cup Eve game is growing with every passing year and the 2018 version was again a season highlight, despite the home team going down 60-58 to Bendigo Spirit.
Almost 3,000 fans (2,787) rolled into the State Basketball Centre to witness another thriller as the Spirit fought on, even after popular coach Simon Pritchard had to leave the game, suffering from an irregular heartbeat that led to his hospitalisation.
Opals Steph Talbot and Cayla George led Melbourne's onslaught before Barbara Turner's 3-pointer trimmed Bendigo's 43-49 deficit to a long bomb with a quarter to go.
It was anybody's game to the siren, with Bendigo ahead by two, Melbourne squandering a last shot at redemption with a turnover.
Nonetheless, fans left delighted by the thrilling nature of the match and a game-night presentation second-to-none in the WNBL.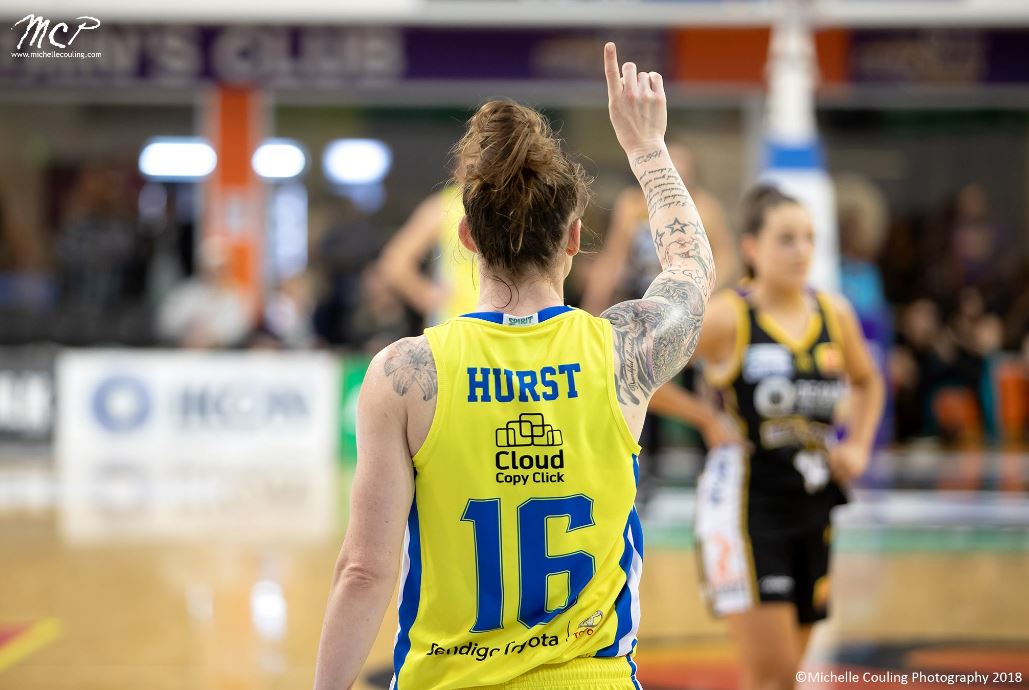 NO.1: Bendigo's Nat Hurst has it right as her Spirit again beat Melbourne at home.
* * *
KATIE-Rae Ebzery made her first trip with Perth to her former home at Sydney Uni Flames a successful one with a game-high 22 points – her best return since joining the Lynx - in a 78-62 road win.
Sydney's fifth straight loss was orchestrated by a 20-9 final quarter as Asia Taylor, a championship-winner with the Flames, also enjoyed her first visit back with a 13-point, 11-rebound double-double, plus five assists to boot.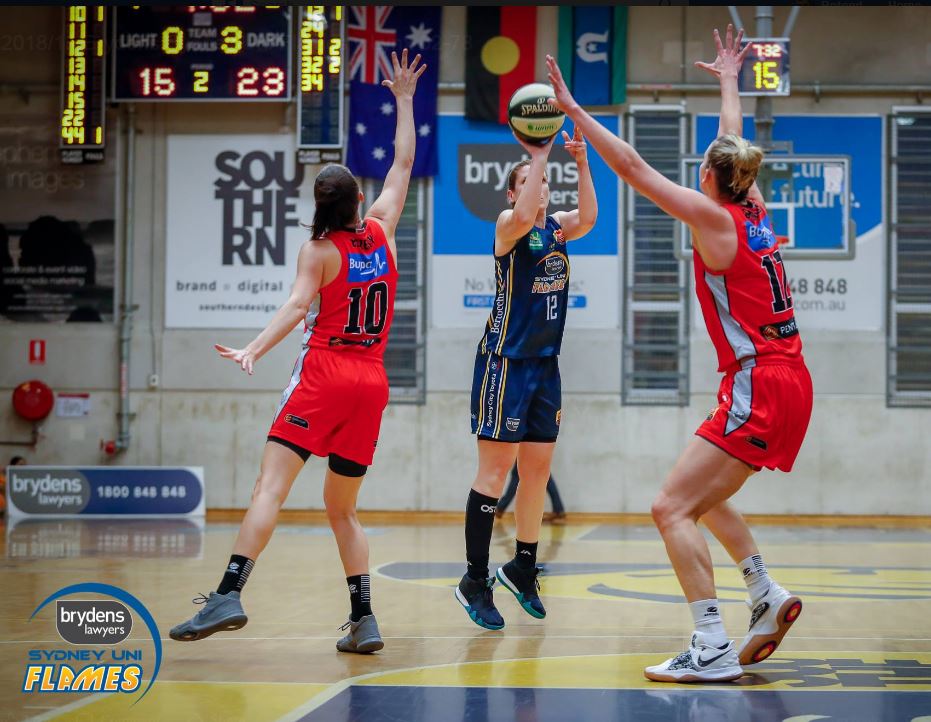 BELLE WITH THE BALL: Belinda Snell in action against Perth. Pic courtesy Geoff Tripp.
* * *
AT Dandenong, the TV match of the week was better than Melbourne's 101-75 winning scoreline indicated, Monique Conti breaking the century for the Boomers with last-second free throws.
Melbourne's ball movement to close the first half with a Jenna O'Hea 3-pointer punching the interval lead out to 58-45, was the basketball equivalent of the Mona Lisa.
Conti's unbelievable pass for Maddie Garrick's cutting basket to close the third also kept a lid on Ranger fightback plans, Garrick also hitting some gems in the final quarter.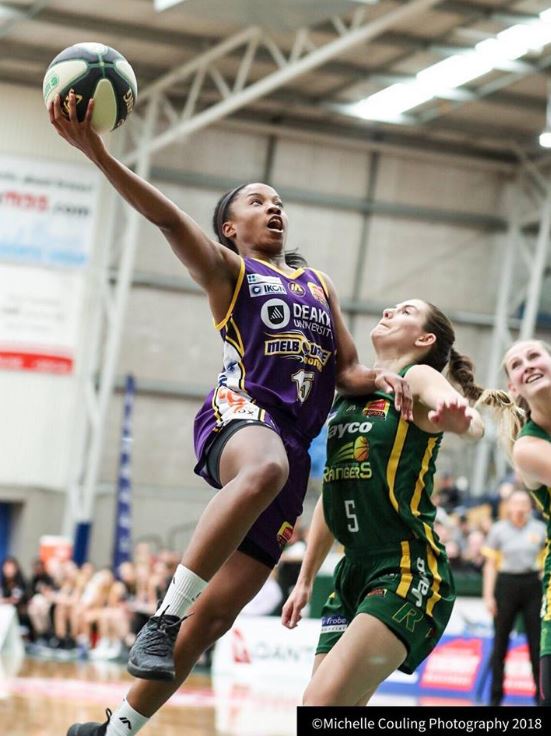 ALLEN KEY: Lindsay Allen in flight against Dandenong. Pic courtesy of Michelle Couling.
* * *
WHACKED by 28 in Adelaide on Sunday, Bendigo affected a 46-point turnaround in less than a week, Natalie Hurst's 250th WNBL game a celebration for her, but not so much for Lightning coach Chris Lucas in his 250th outing.
The Spirit's 17-10 first quarter put it into the driver's seat and it was speeding away, 45-30 at halftime. Adelaide trimmed it to a 10-point deficit with a period to play but never could make the open baskets needed to make this a contest.
Bendigo's 13-5 final quarter was as much about Adelaide's inability to make shots as any extraordinary defence.
* * *
IN Townsville, Perth hit the defending champion Fire with a massive 30-12 first period and led by as many as 21 before the home team started the long road back into making this a game.
But they got there, the crowd in full voice as Micaela Cocks, fouled at the death with Townsville down 63-66, coolly converted all three free throws to send the match into overtime.
Katie-Rae Ebzery had the first four points of the extension and when Brittany McPhee stuck a three and Asia Taylor went to work, Perth was heading home with another win.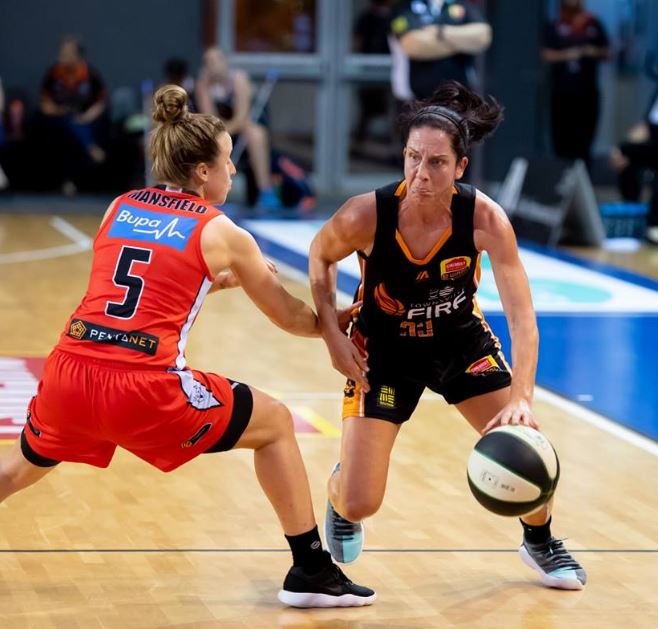 FIRE STARTER: Micaela Cocks works over Lauren Mansfield. Pic courtesy Townsville Fire.
* * *
STARING down a first set return of 0-6, Sydney started powerfully against arch-rival Canberra in Canberra, ahead 26-21 after one and still doing it without concussed playmaker Tahlia Tupaea.
But the Capitals seized back the momentum and control of the game with a 23-10 second period which underpinned the eventual win.
Kelsey Griffin enjoyed a 15-point, 13-rebound double-double while her Opals teammate in last year's FIBA Asia Cup Silver Medal-winning team, Belinda Snell, produced a vintage 16-point, 10-assists double for the flickering Flames.
* * *
WNBL Round 4 Results
PERTH LYNX 78 (Ebzery 22, Schwagmeyer, Taylor 13, Farnworth 10; Taylor 11 rebs; Taylor 5 assts) d SYDNEY UNI FLAMES 62 (Wilson 16, Snell 14, Bunton 11, Smart 10; Smart 9 rebs; Smart, Snell 3 assts) at The Courthouse, Bryden's Stadium.
DEAKIN MELBOURNE BOOMERS 101 (Talbot 27, Garrick, Allen 18, O'Hea 15; O'Hea, Garrick 7 rebs; Allen, Talbot 5 assts) d JAYCO DANDENONG RANGERS 75 (Cole 19, Jarry 18, Laney, Mijovic 10; Pedersen 7 rebs; Laney 8 assts) at The Ranger Station, Dandenong Stadium.
BENDIGO SPIRIT 70 (Hurst 14, Tobin 13, Turner 11, Wehrung 10; Tobin 12 rebs; Tobin 5 assts) d MAC ADELAIDE LIGHTNING 52 (Coffey 13, Planeta, Blicavs, Nicholson 8; Planeta 7 rebs; Seekamp 6 assts) at The Goldfields, Bendigo Stadium.
PERTH LYNX 79 (McPhee 20, Taylor 18, Ebzery, Schwagmeyer 10; McPhee 10 rebs; Taylor 3 assts) d TOWNSVILLE FIRE 71 (Batkovic 23, Garbin, Cocks 10; Batkovic 12 rebs; Madgen 6 assts) at The Firehouse, Townsville Stadium.
UNI of CANBERRA CAPITALS 84 (Wilson 17, Nurse 16, Griffin 15, Scherf 12, Mitchell 10; Griffin 13 rebs; Rocci, Scherf 4 assts) d SYDNEY UNI FLAMES 79 (Smart, Snell 16, Bunton, Panousis 13; Bunton 11 rebs; Snell 10 assts) at The Alphabet Soup, National Convention Centre. BENDIGO SPIRIT 60 (Hurst 25, Payne 12, Turner 9; Payne 9 rebs; Tobin, Turner 2 assts) d DEAKIN MELBOURNE BOOMERS 58 (Talbot 21, George 14, Boothe 7; George 10 rebs; Talbot 4 assts) at Thye Boomerang, State Basketball Centre.