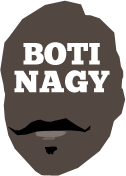 ---
Advertising opportunities available.
Please contact me.
---
WNBL19, Wrap #1: Rangers, Spirit surprise
Tweet
BEING a firm believer there can be no such thing as "upsets" in an opening round, must say Dandenong today beating Townsville and Bendigo last night knocking off Melbourne might actually qualify.
To find out why we are anti-Round 1-upset status, come back tomorrow for our regular new "Food For Thought" column but in the meantime, let's be brutal.
Dandenong didn't exactly end 2017-18 setting the world on fire. It hardly scored in the last quarter of its penultimate regular season game, then actually went scoreless in the last quarter of its last match.
The Blicavs sisters-in-law have been big for the Rangers for the past few seasons but Sara is rehabbing an ACL and other knee complications, while Stephanie took her free agency status and landed in Adelaide.
It's not stuff to fill you with confidence going into the lair of the defending champs, especially with the WNBL's most successful player Suzy Batkovic announcing Season 2018-19 would be her last and Townsville ripe to go back-to-back.
The Batgirl had 13 points in the first quarter as this one started on script. But the Rangers' 23-13 third period ensured Tess Lavey's 150th WNBL game was going to the wire, Betnijah Laney and Rachel Jarry stepping up for Dandenong to complete the first round in WNBL history where every road team won.
It started in Sydney where Kia Nurse was exceptional for Canberra in its road win, despite Alex Bunton's 27-point debut as a Flame.
It continued in Perth where Adelaide, which struggled to get any TV exposure last season, was always in control, showing Nia Coffey and Colleen Planeta are going to be handfuls in 2018-19.
Bendigo coach Simon Pritchard thought Christmas had come early when his Spirit opened the second quarter against title favourite Melbourne with a 19-1 run.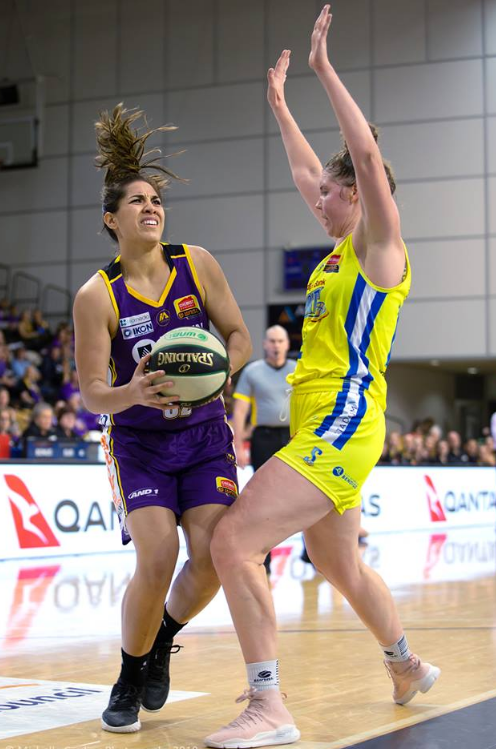 OH THE PAIN: Bendigo's Nadeen Payne pulls up Kalani Purcell. Pic courtesy Michelle Couling.
Given this was a title favourite beaten at home by a club not expected to be anywhere near as prominent, maybe reluctantly throw this under the "upset" heading. Until we see how the rest of the season pans out.
Marena Whittle enjoyed a wonderful 21-point Bendigo debut, Melbourne surging but unable to match a team with its game in order, courtesy of a great preseason.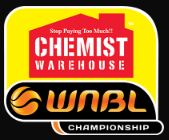 WNBL Round 1 Results
CANBERRA CAPITALS 97 (Nurse 26, Scherf 22, McLaren 14, Rocci 11; Wilson 8 rebs; Wilson 11 assts) d SYDNEY UNI FLAMES 78 (Bunton 27, Smart 16, Tupaea 12, Wilson 10; Bunton 7 rebs; Snell 5 assts) at The Courthouse, Brydens Stadium.
MAC ADELAIDE LIGHTNING 78 (Coffey 19, Planeta 16, Nicholson 15, Seekamp 10; Coffey 15 rebs; Seekamp 4 assts) d PERTH LYNX 66 (Taylor 16, Schwagmeyer 15, Steindl 14, McPhee 11; Taylor 6 rebs; Taylor, Schwagmeyer 3 assts) at The Rinks, Jack Bendat Stadium, Perth.
BENDIGO SPIRIT 82 (Whittle 21, Payne 16, Tobin 15, Hurst 12; Tobin 9 rebs; 4 with 3 assts) d MELBOURNE BOOMERS 72 (Talbot 20, Allen 18, O'Hea 14, George 10; George 11 rebs; Allen 5 assts) at The Boomerang, State Basketball Centre, Melbourne.
DANDENONG RANGERS 73 (Cole 18, Laney 16, Lavey 13, Jarry 11; Laney 12 rebs; Lavey, Laney 5 assts) d TOWNSVILLE FIRE 68 (Batkovic 20, Samuels 16; Batkovic 16 rebs; 5 with 2 assts) at The Firehouse, Townsville Stadium.