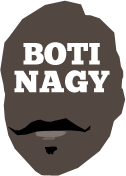 ---
Advertising opportunities available.
Please contact me.
---
WNBL19, Wrap #3: Flames blow cold
Tweet
WHAT in heaven's name was Sydney Uni thinking, going to Sarah Graham for a potential match-tying three when down 76-79 to defending WNBL champion Townsville in Townsville yesterday?
Look, no offence intended toward Graham, a renowned streaky outside shooter who is a 3-point demon on her day/night.
But on a day she is going to finish with three points on 1-of-6 shooting, 1-of-5 from outside the arc, in 18:26 of action and with only two rebounds, a steal and a foul to show for her afternoon's work, why is she being called upon for a miracle shot?
That shot missing to preserve the Fire's win was no huge surprise. What WAS a huge surprise is that Sydney chose NOT to go to Brittany Smart whose 24 points included 5-of-7 threes, or Alex Wilson whose 21 points housed 5-of-11 threes.
Sometimes you can suspect coaches try to be a little too clever for their own good.
So what if Townsville knows Smart or Wilson are the best options? Run one as a decoy, get the other open.
I've seen Wilson score match-winning - let alone match-saving shots - since she was 11 years old.
She could have stunk up a whole game, admittedly also a rare occurrence, but if her team needed a game-winner, all that had to be done was give her the ball and clear out.
And after a 21-point first half, Smart had to feel some measure of fate might rest in her hands.
Oh well, not to be. The Flames went to Graham, who jacked it up and it never looked like dropping.
It was a shame too because depleted Sydney, down concussed playmaker Tahlia Tupaea and venerable veteran Belinda Snell (calf), played much of this game out of its skull and deserved an upset win.
Instead, the megastar who is Suzy Batkovic stood tall for 30 points at 58 percent, and 12 rebounds to steer the Fire out of the flames.
COCK SURE: Mikaela Cocks with the nifty reverse for Townsville against Sydney.
* * *
EARLIER in the round, Melbourne overcame an 18 to 40 free throw disparity - truly WNBL, the officiating in Canberra has to be scrutinised a little more scrupulously - to in a week turn a seven-point home loss into a six-point win over the Capitals.
An 18-10 defensive squeeze by the Boomers in the second quarter, backed by a 29-22 third, held Melbourne in good stead when Canberra made its late charge behind Kia Nurse's 29-point haul.
Another big game from Ezi Magbegor, and Steph Talbot finding her shot were big for Melbourne.
* * *
FOR the past few years, Bendigo has suffered from getting-ahead-of-itself-itis and the affliction continued out west where it quickly was brought back to earth with a thud as Perth burst from the blocks with a 25-10 opening period.
A 36-24 second quarter had the Lynx ahead 61-34 at halftime and this looked over and done. But The Spirit, showing true spirit, rallied with a sizzling 24-9 third quarter before holding Perth to just 7 last quarter points.
Louella Tomlinson pulled the deficit to 68-73 with 4:56 left but Bendigo could draw no closer as Asia Taylor steered Perth to safety.
* * *
PERTH whacked Dandenong 51-37 on the boards and with a 21-6 third quarter, turned a contest into a road rout.
The Rangers again were without Rachel Jarry and while Betnijah Laney again shone with 16 points, nine rebounds and five assists, the Lynx were rolling.
Lauren Mansfield's return means Katie-Rae Ebzery can slot between the one-and-two, making Perth legit contenders again.
* * *
NIA Coffey compiled an amazing 21-point, 20-rebound tour de force as Kayla Alexander also made her WNBL debut and Adelaide ransacked Bendigo 91-63.
There was nothing in this through the first half as Nadeen Payne's 13 points included 3-of-4 threes to keep the Spirit in touch. But she only scored two more points as Lightning's defence hustled furiously, while five players had double-figure points, Colleen Planeta next with a 9-point, 9-rebound double.
New Bendigo import Barbara Turner was more disruptive than helpful, Lauren Nicholson with another great all-around game for Adelaide, and Alexander showing enough to suggest better times ahead.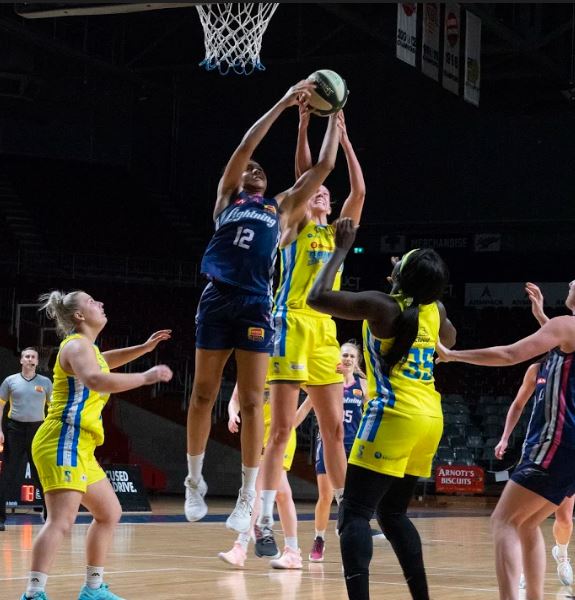 HIGH FLYER: Nia Coffey soars for another rebound. Pic courtesy Mandy Hedderwick.
* * *
WNBL Round 3 Results
DEAKIN MELBOURNE BOOMERS 84 (Talbot, Allen 17, Magbegor 15, Garrick, George 12; Magbegor 9 rebs; Allen 5 assts) d UNI of CANBERRA CAPITALS 78 (Nurse 29, Griffin 19, Froling 10; Griffin 1 rebs; Wilson 8 assts) at Tertiary Towers, National Convention Centre.
PERTH LYNX 77 (Taylor 26, Schwagmeyer 16, Steindl 11, Ebzery 10; Taylor 9 rebs; Ebzery 5 assts) d BENDIGO SPIRIT 72 (Tomlinson 16, Hurst 14, Tessari 11, Payne 10; Whittle 9 rebs; Hurst 7 assts) at The Enclosure, Bendat Basketball Centre.
TOWNSVILLE FIRE 79 (Batkovic 30, Garbin, Cocks, Donnelly 9; Batkovic 12 rebs; Madgen 5 assts) d SYDNEY UNI FLAMES 76 (Smart 24, Wilson 21; Greaves, Smart 7 rebs; Wilson 8 assts) at The Fire Station, Townsville Stadium.
PERTH LYNX 90 (Taylor 23, McPhee 21, Schwagmeyer 17, Farnworth 10; Taylor, Steindl 8 rebs; Ebzery 4 assts) d DANDENONG RANGERS 65 (Laney 16, Cole 12, Pedersen 11, Todhunter 10; Laney 9 rebs; Laney 5 assts) at The Ranger Station, Dandenong Stadium.
MAC ADELAIDE LIGHTNING 91 (Coffey 21, Nicholson 14, Blicavs, Seekamp 11, Alexander 10; Coffey 20 rebs; Seekamp 6 assts) d BENDIGO SPIRIT 63 (Tomlinson 16, Payne 15; Tobin 8 rebs; Wehrung 5 assts)) at The Lighthouse, Titanium Security Arena.