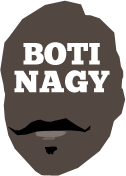 ---
Advertising opportunities available.
Please contact me.
---
WNBL19 Wrap #5: Sydney going down in Flames
Tweet
SYDNEY Uni Flames' chances of returning to the WNBL playoffs in 2018-19 virtually ended in Round 5 as the club - gallant in defeat - again was nonetheless defeated, slumping to a 0-8 record.
Last season, a 12-9 win-loss mark was sufficient to secure fourth spot at the end of the regular season, and with that, an invitation to the semi finals.
But to even reach that mark, the Flames must win 12 of their remaining 13 games, a challenging order at the best of times and one which looms as near enough impossible at 0-8.
In Round 6, Sydney hosts Bendigo - to which it lost by a basket today - before it has the league-leading Lynx in town.
The margin for error is minimal, despite Sydney playing some great basketball in losing efforts.
Round 5 was chock full of outstanding performances, making this week's Player of the Week arguably the toughest of the season so far. But in the meantime, here's howe Round 5 unfolded...
* * *
CAYLA George was in awesome form as Melbourne kept Sydney without a win, while pushing the Flames' losing streak out to seven.
George's game and season-high 27 points came at 56 percent and included 4-of-5 threes. The Opals "big" also grabbed eight rebounds, with three assists, three steals and three blocks in one of her finest all-around performances.
Amanda Johnson had her best game for the Flames with a 12-point, 10-rebound double-double, Sydney paced by Alex Bunton's 20 points.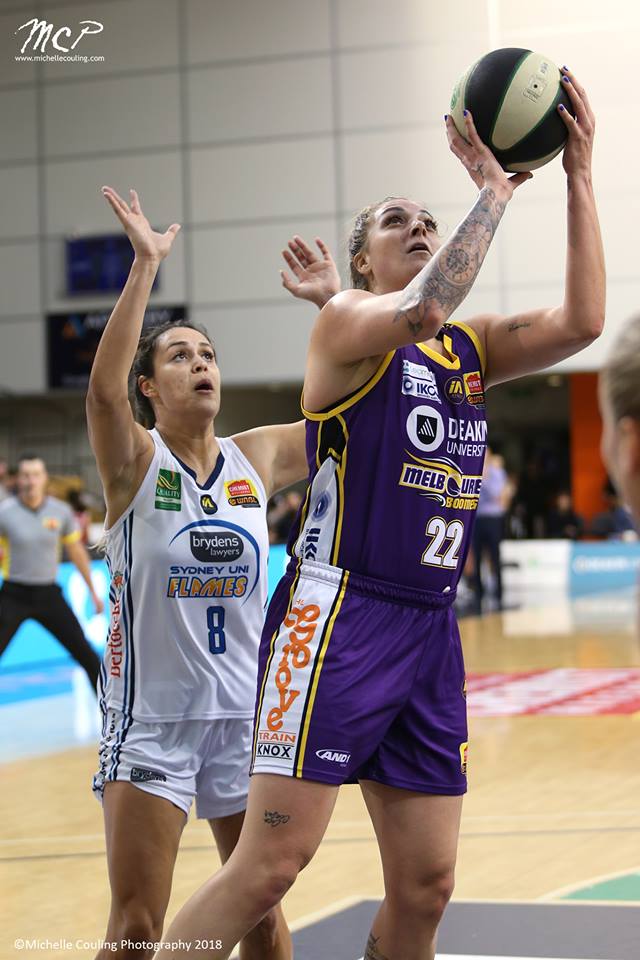 EASTERN PRIDE: Cayla George scores ahead of Alex Wilson, both Eastern Mavericks juniors.
* * *
CANBERRA's Kelsey Griffin produced what normally would be a match-winning 30-point, 18-rebound double for Canberra in Perth in the battle of the league's top teams but the Capitals left the west empty-handed.
Brittany McPhee's 17-point second half underpinned a thrilling 71-65 home win for the Lynx, aided by 19 turnovers from the visitors.
Perth opened with a 21-11 first quarter surge and led by as many as 12. But Canberra tightened its defence in the second to hold the high-scoring home team to nine points, to just trail 28-30 at the main break.
There was little in it the rest of the way before Perth took its winning streak to six games for sole possession of league leadership.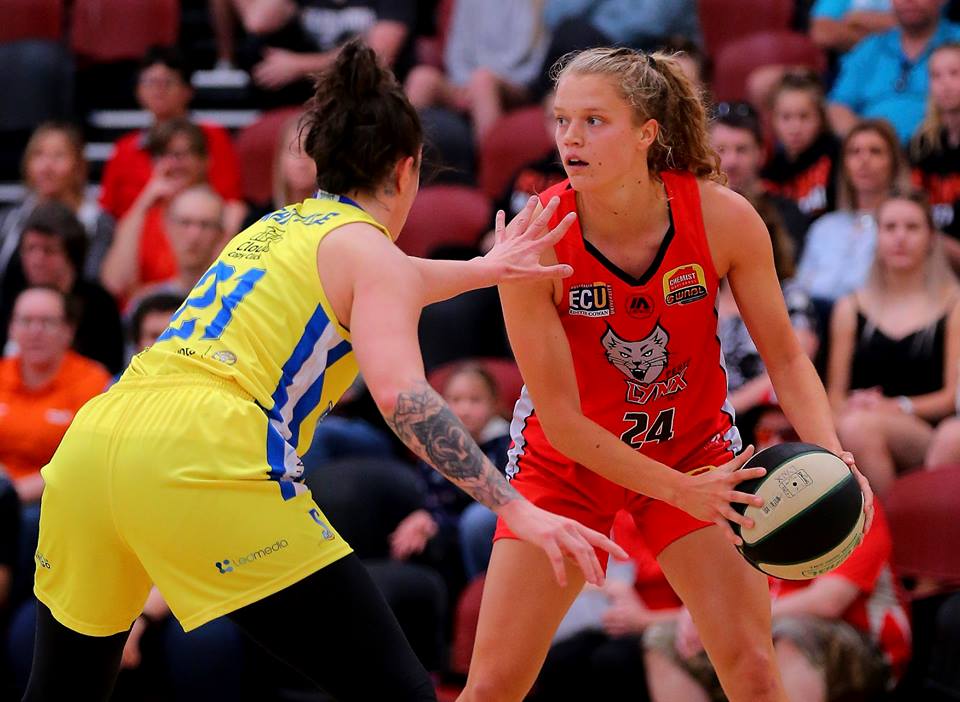 McFEVER: Brittany McPhee's shooting was hot again for Perth after halftime.
* * *
LAUREN Nicholson not only shut down star Dandenong import Betnijah Laney, but responded at the offensive end by swishing a perfect 6-of-6 threes in her 20-point tally as Adelaide convincingly won 99-74.
Bec Cole carried the Rangers' offence but Adelaide's boards mastery (42-30) and tenacious defence meant this one was over by halftime with Lightning ahead 56-37 and already having scored more points than in last round's 52-70 loss in Bendigo.
Adelaide's shooting woes were no-where to be seen as they shot at 58 percent, with 9-of-19 triples. Ahead by 30, Lightning cleared its bench, the only reason it didn't break the ton.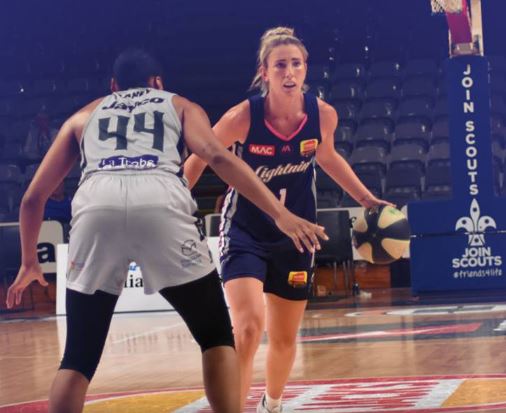 BIG DAY OUT: Lauren Nicholson was perfect from the three and shut down Betnijah Laney.
* * *
NADEEN Payne had the game-winner as Bendigo sent Sydney's season into a serious spiral with a 66-64 win at Bendigo.
The Flames looked likely to break their drought, leading by 10 but it was all tied up with a period to play before the Spirit pulled 64-61 clear in the last.
Sarah Graham erased the deficit with a big 3-pointer in the last half-minute before Payne produced the game-winner. Sydney took timeout for a final play but it turned into a turnover and the Flames' eighth straight loss to start the season.
* * *
SHOWING her WNBA bona fides, Lindsay Allen steered Melbourne to a stunning 78-70 win over the defending champs in Townsville, the Boomers' first win there in four years.
Allen had a match-high 29 points at 71 percent, with 4-of-6 threes. Maddie Garrick added a further four 3-pointers as Melbourne broke clear in the final quarter.
In a quality performance, Allen (below) also dished six assists and had three steals and three rebounds.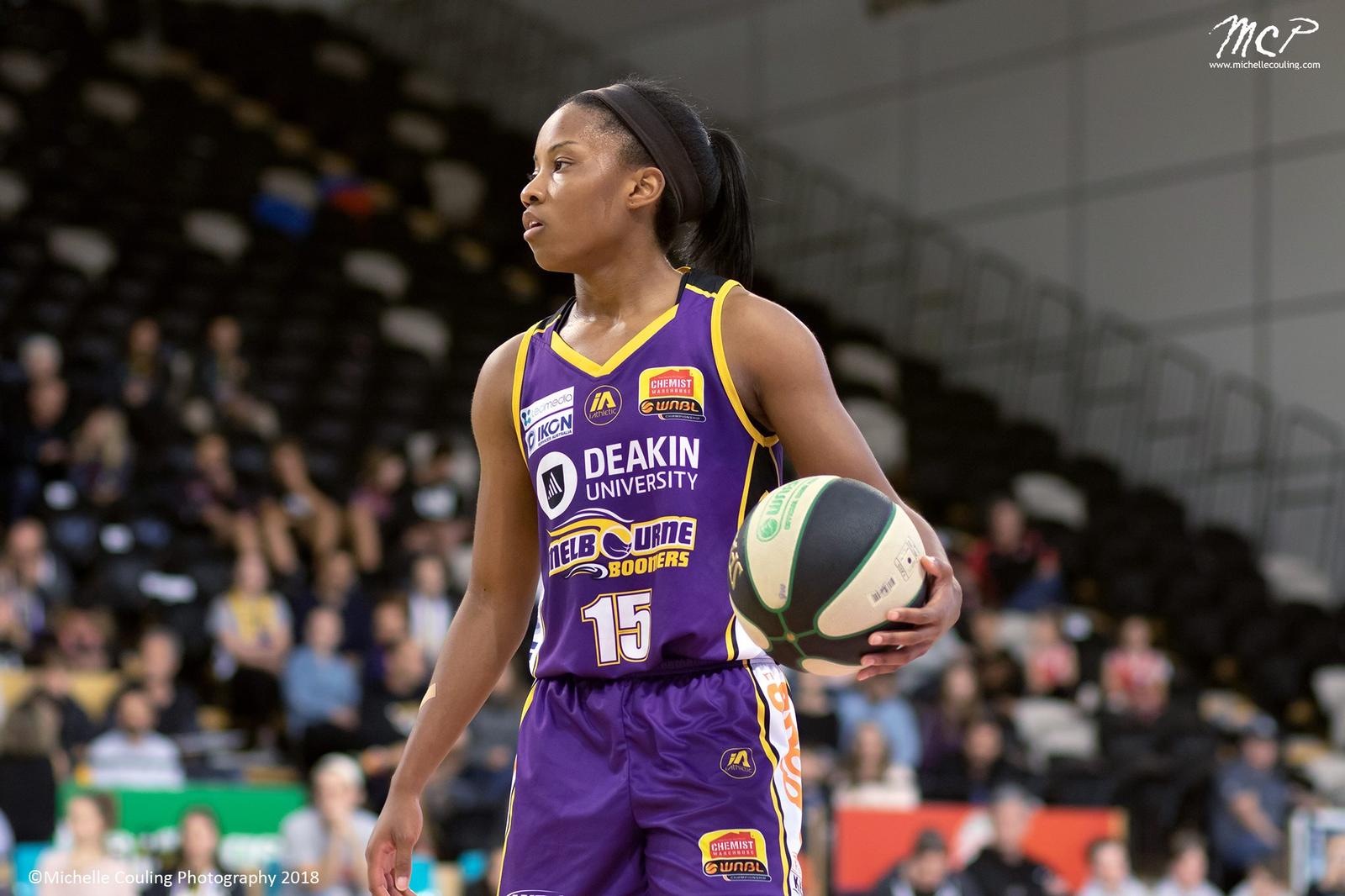 * * *
WNBL Round 5 Results
DEAKIN MELBOURNE BOOMERS 96 (George 27, Talbot 20, Allen 16, O'Hea 14; George 8 rebs; Allen 5 assts) d SYDNEY UNI FLAMES 79 (Bunton 20, Smart 15, Wilson 14, Johnson 12; Johnson 10 rebs; Snell 7 assts) at The Boomerang, State Basketball Centre.
PERTH LYNX 71 (McPhee 19, Schwagmeyer 15, Taylor 11, Ebzery 10; Ebzery 8 rebs; Allen 4 assts) d UNI of CANBERRA CAPITALS 65 (Griffin 30, Nurse 22; Griffin 18 rebs; Wilson 4 assts) at The Enclosure, Bendat Basketball Centre.
MAC ADELAIDE LIGHTNING 99 (Coffey 21, Nicholson 20, Seekamp 17, Alexander 14, Blicavs 11, Planeta 10; Alexander 8 rebs; Seekamp 7 assts) d JAYCO DANDENONG RANGERS 74 (Cole 27, Rowe 10; Laney 5 rebs; Laney 6 assts) at The Lighthouse, Titanium Security Arena.
BENDIGO SPIRIT 66 (Payne 14, Hurst 12, Wehrung, Tobin 11; Tomlinson, Tobin, Turner 7 rebs; Tobin 4 assts) d SYDNEY UNI FLAMES 64 (Smart 17, Wilson 16, Snell 13; Bunton 7 rebs; Smart, Wilson 4 assts) at The Goldmine, Bendigo Stadium.
DEAKIN MELBOURNE BOOMERS 78 (Allen 29, Garrick 17, Boothe 15; O'Hea 8 rebs; Allen 6 assts) d JCU TOWNSVILLE FIRE 70 (Garbin 13, Aokuso 12, Cocks, Samuels 10; Cocks 7 rebs; Batkovic 4 assts) at The Fire Station, Townsville Stadium.