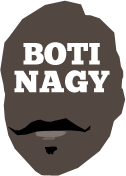 ---
Advertising opportunities available.
Please contact me.
---
The Bryce is Right: Weekly Wrap
Tweet
BRYCE the heartbreaker did it again today, erasing a terrific near match-winning jumpshot by Brisbane's Travis Trice with his own jumpshot on the bell, sealing an 81-80 NBL road win for Perth.
It was a morale-shattering loss for the Bullets who led by as many as 21 points and by 15 (47-32) at halftime. And that was despite the absence of star power forward Daniel Kickert, ruled out pre-game with a left calf injury.
Perrin Buford blocked a shot by Cotton and Trice hit a huge shot over Derek Cooke Jr to restore Brisbane's lead with 4.0 seconds left. But Trevor Gleeson fashioned a play in his timeout and Cotton executed it, in the process most likely also formally executing any Final Four dreams Brisbane still entertained.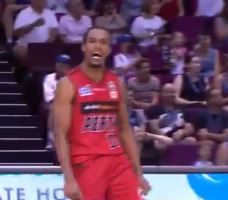 "It's frustrating obviously, I mean, we're on a six-game losing streak and two of them (have) been by one point, one in overtime, one by three points," Bullets coach Andrej Lemanis said.
"The other one we had opportunity as well. So, it's frustrating for us, I'm sure it's frustrating for the fans. It's the same story, week-in, week-out. At some stage we have to make the learning adjustment.
"What's the definition of learning is change in behaviour based on experience. If there's no change in behaviour, there's no learning?
"The last play is the last play, Bryce makes a hell of a shot and good luck to him. But how does it get to that point?"
Lemanis said Wildcats players, led by Damian Martin, willed their way back into the game and on to victory.
"Good players make plays. I think we had six turnovers in the last quarter," Lemanis said.
And thereby hangs a tale, and a season.
* * *
WHAT a round of NBL basketball that was, too.
First Adelaide staves off Cairns in a quality 100-90 performance, then Melbourne shows it now is for real, stopping the Wildcats in Perth by two points.
Then the 36ers get out of jail in Sydney by three in another nail-biter that goes to the wire.
In Wollongong, Illawarra announces that yes, it too still is in the Final Four hunt - how big is Friday's Adelaide-Illawarra game in Adelaide, then Sunday's rematch in Wollongong? - by finishing all over New Zealand.
Nick Kay posted a season-high 20 points at 63 per cent, plus nine boards and that series (Hawks-Breakers) also will influence the shape of our finalists, with three clashes still to come.
In good news for New Zealand, Rakeem Christmas debuted with 14 points and 8 rebounds in just 15:34 of action.
And today, of course, Round 14 concluded with the tit-for-tat jumpshots before Perth shut the door on Brisbane by one point. How'd your tips go?
* * *
SWITCHING to the WNBL Grand Final (for Game 1 details, go here), and regular NBL caller Cam Tragardh joined the commentary team for the opening Townsville-Melbourne showdown.
In best Corey Williams impersonation, Cam assured us the Boomers would win by six.
100 per cent.
No more needs to be said, beyond the fact it was thrilling for anchor-man Ben Waterworth to repeatedly inform us how fascinating he was finding various events in the contest and how "inspirational" this player, then that player, then so-and-so, were being.
Actually, it was fascinating how often Ben was either fascinated or inspired.
* * *
SOMETIMES even when an organisation such as The Guardian is trying to promote our cause, it still can't help but get it wrong.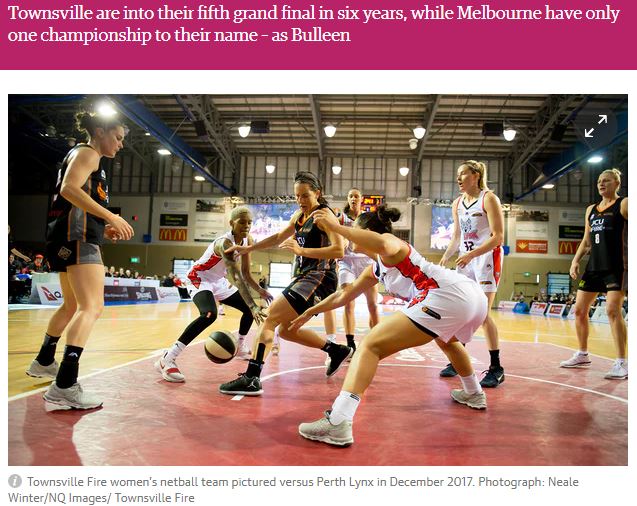 Yes that's right. Read the picture caption and, yep, it says "netball" ... sigh.
* * *
GLAD the boss could make it at all for Basketball Australia's premier event...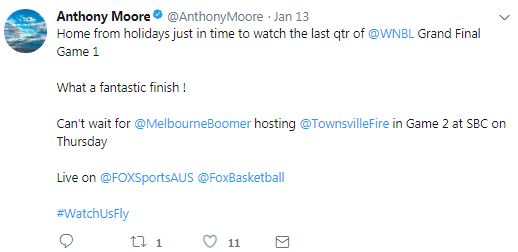 Good work chief.
* * *
ONE way to deflect attention from another year of poor recruiting and hanging your coach out to dry is to mention that OTHER Andrew...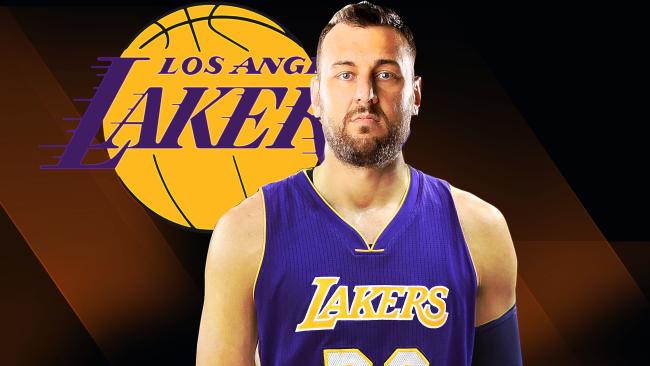 With the shite hitting the fan with the Sydney Kings - coach Andrew Gaze truly lost it during yesterday's home demise at the hands of the 36ers - earlier in the week, Kings managing director Jeff Van Groningen and Australia's first NBA No.1 draft pick, Andrew Bogut (right), found their way into the same newspaper article.
You recall a few years ago Bogey "contemplated" joining the Kings during the NBA lockout but insuring him ended up being prohibitive?
So in another week of crisis for the Kings and with Bogut released by the Los Angeles Lakers, why not long-distance associate him with concluding his playing career in Sydney?
That should get folks talking!
"If Andrew indicated that the NBL was something that he'd like to look at, we would love to talk to him," Van Groningen said in the article.
Kind of a telling "if" and "we'd love to talk", suggesting more smoke than fire?
* * *
PERTH may have created a 40-minute game club record comeback from a 15-point halftime deficit today in Brisbane but it was its second game of the round and the other match didn't go so well.
In fact Tai Wesley was a stud for Melbourne in its 82-80 win, with 21 points at 61 per cent, 10 rebounds, five assists and a block. It marked the first time a visiting player had recorded 20 points, 10 rebounds and 5 assists in a game at Perth Arena.
(Then-Wildcats players Tom Jervis in 2016 and Casey Prather in 2017 achieved the statistical achievement in The Jungle.)
The only other United player with a 20-10-5 return was Mark Worthington against NZ Breakers at Hisense Arena in 2014. (Thanks to @NBLfacts)
Wesley's 21 points were his season high, his 10 boards his career high, comfortably making him this round's Basketball On The Internet, Player of the Week.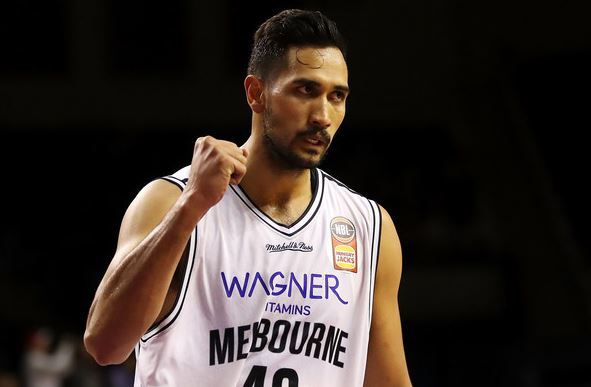 B.O.T.I. NBL Player of the Week
Rd1 Casper Ware
Rd2 Perry Ellis
Rd3 Edgar Sosa
Rd4 Shea Ili
Rd5 Edgar Sosa
Rd6 DJ Newbill
Rd7 Bryce Cotton
Rd8 JP Tokoto
Rd9 Bryce Cotton
Rd10 Ramone Moore
Rd11 Cameron Gliddon
Rd12 Demitrius Conger
Rd13 Daniel Johnson
Rd14 Tai Wesley
* * *
I KNOW, I know. Who cares about scoreboard integrity on TV telecasts?
So I'm not going to endlessly bore you by recounting how often the scores are wrong on the TV graphics. Just check this one from Adelaide-Cairns.
There's 24.9 seconds left on the game-clock and 10 on the shot-clock, according to the timing devices in the picture. And the TV says?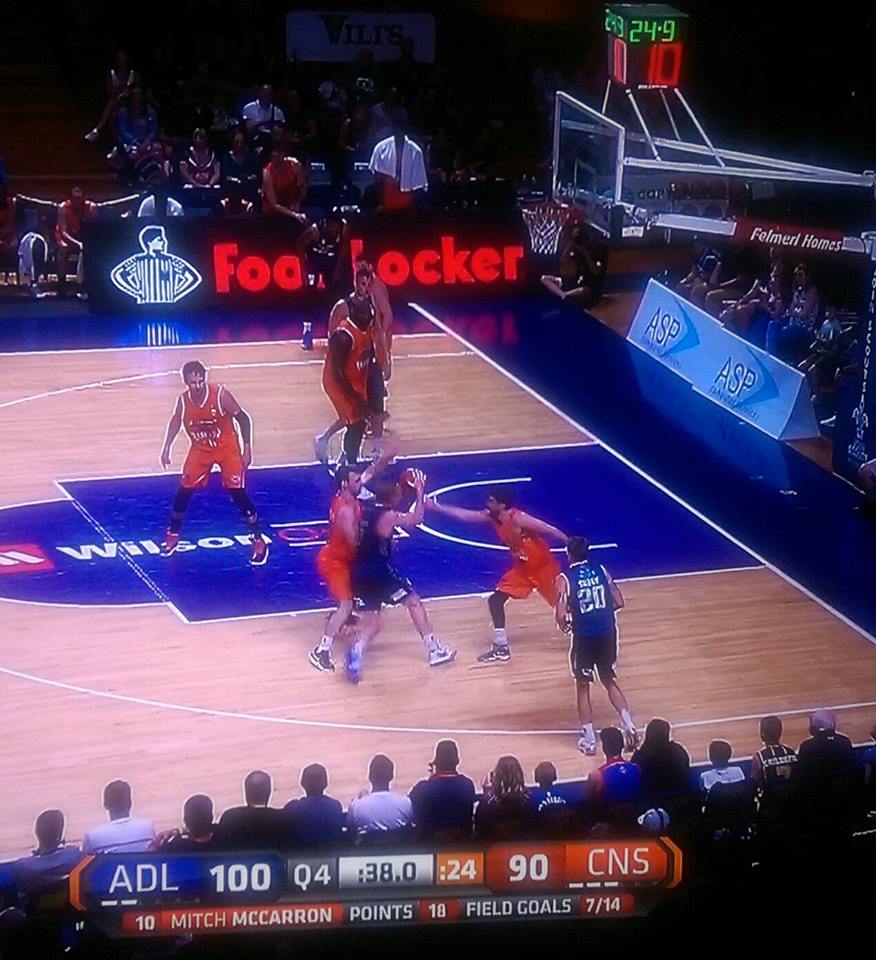 * * *
BIGGEST WINNERS/LOSERS
WINNING in Perth always is an achievement and it is why Melbourne, now entrenched in first place, pips Adelaide (which went 2-0 for the round but against teams outside the four) to be the NBL round's biggest winner.
BRISBANE was the round's biggest loser, unable to hang onto a 21-point lead at home against Perth and stumbling to its 14th loss (sixth in succession) and out of playoff contention.
* * *
NBL RD.14
ADELAIDE 36ERS 100 (Shorter 21, Moore 19, Teys, Johnson 14, Deng 10; Johnson 8 rebs; Moore, Teys, Childress, Johnson 4 assts) d CAIRNS TAIPANS 90 (Loughton 19, McCarron 18, Smith 12, Gliddon 11; Jawai, Loughton, McCarron 4 rebs; McCarron 6 assts) at The Fortress, Titanium Security Arena.
MELBOURNE UNITED 82 (Wesley 21, Ware 18, Boone 12, Felix 11; Wesley 10 rebs; Wesley 5 assts) d PERTH WILDCATS 80 (Tokoto 25, Cotton 15, Brandt 14; Cooke 8 rebs; Martin 5 assts) at The Jungle, Perth Arena.
ADELAIDE 36ERS 104 (Creek 30, Johnson 22, Shorter 20; Childress, Johnson 6 rebs; Shorter 5 assts) d SYDNEY KINGS 101 (Randle 22, Newley 21, Ellis 13, Humphries, Blanchfield 12; Newley 7 rebs; Randle 11 assts) at The Kingdome, Qudos Bank Arena.
ILLAWARRA HAWKS 90 (Kay 20, Conger 17, Clarke 12, Ellis 10; Conger, Kay 9 rebs; Clarke 6 assts) d NEW ZEALAND BREAKERS 79 (Sosa 20, Christmas 14, Newbill; 12, Abercrombie 10; Newbill 10 rebs; Newbill 4 assts) at The Sandpit, WIN Entertainment Centre, Wollongong.
PERTH WILDCATS 81 (Tokoto 16, Cotton 13; Cooke 8 rebs; Tokoto 4 assts) d BRISBANE BULLETS 80 (Trice 18, Te Rangi 12, Holt, Buford 11, Petrie 10; Buford 11 rebs; Trice 5 assts) at The Armoury, Brisbane Convention and Exhibition Centre.
* * *
WNBL GRAND FINAL, BEST -OF-3
GAME 1: TOWNSVILLE FIRE 69 (Batkovic 16, Wiese 14, George 13; Batkovic 15 rebs; Donnelly, Mincy, Wilson 4 assts) d MELBOURNE BOOMERS 64 (Cambage 26, O'Hea 9; Cambage 13 rebs; Purcell, O'Hea 4 assts) at The Fire Station, Townsville Stadium. Townsville leads 1-0
Now it's time for Guy Molloy and his Boomers staff to make the adjustments...