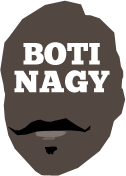 ---
Advertising opportunities available.
Please contact me.
---
WTF: So much going on right now!
Tweet
WHERE'S THE FIRE? Basketball is white hot right now with the NBL Grand Final shaping as a classic series, the Boomers to host USA at Etihad Stadium and FOXSPORTS giving Brad Newley a headset!
It's all happening!
The multiple Olympian and only member of the 2006 Australian Commonwealth Games men's basketball team back to defend the Gold this year, joined the Fox commentary team in Perth for Game 2 of the semi finals between the 36ers and Wildcats.
His contributions were minimal though as he did not have a headset so whenever the commentary crew threw to him for a comment or observation, the next sound was crickets.
"What do you think, Brad Newley?" was the regular cue for five seconds of silence. (Or you could look at it that five seconds of Newley silence meant a respite from the local ramblings so he was doing us a service and already an improvement!)
Looking as sharp as for his wedding day, Newls was much better utilised for Game 2 of the Grand Final, even though when they threw to him courtside for an update on Josh Childress' injury, he declared the NBA swingman had hurt his right shoulder.
Oh well. There was a one-out-of-two chance he'd get that one right!
* * *
GOBSMACKING news for Aussie basketball fans with revelations the Australian Boomers will host the USA on August 22 and 24 at Melbourne's Etihad Stadium next year, ahead of the FIBA World Cup in China.
The biggest basketball event since the Boomers played the Sydney Olympics-bound USA in Melbourne in 2000, Australia's team now has the potential to include our own big NBA names such as Ben Simmons, Joe Ingles, Patty Mills, Aron Baynes, Matthew Dellavedova, Andrew Bogut, Thon Maker, Dante Exum, Mangok Mathiang, along with players such as Jonah Bolden, Ryan Broekhoff and Brock Motum competing for spots against our NBL candidates.
"This announcement is a landmark moment for Basketball Australia and all fans of our great game,'' BA chief executive Anthony Moore said. "I believe this event will be long remembered in Australian sporting history.''
The roof will be closed at Etihad Stadium and the configuration expected to look like this: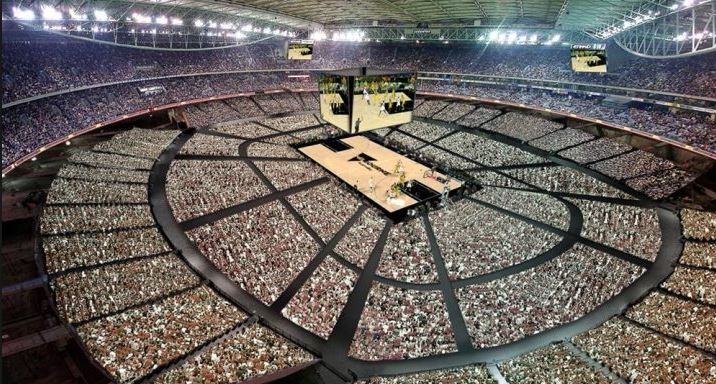 As exciting as this is - and it is huge - be wary though of who various reports name "will be coming" for the USA, such as LeBron James, who will be a couple of months shy of his 35th birthday when the event occurs.
This will be an NBA-based super USA team, without question. But in March, 2018, it is impossible to know its makeup with any degree of certainty.
Just the fact it has been confirmed is the truly great news.
* * *
MELBOURNE United CEO Vince Crivelli was dazzled by the sold-out crowd at Adelaide's Titanium Security Arena yesterday and its decibel levels for Game 2 in the best-of-five Grand Final against the 36ers.
United pulled 8,699 to Game 1 last Friday at Hisense Arena, a super crowd considering Victorian junior basketball would have robbed it of a big section of its core audience.
The 36ers enjoyed a crowd of 7,963 which is slightly over venue capacity. And they were loud.
As one notable journo said: "I love Adelaide Arena, it's got the best sound in the country due to the lower roof and bunkered down stadium. I reckon it was louder but Hisense has been utterly deafening at times this season."
The challenge definitely has been thrown down by 36ers fans.
* * *
PRE-GAME presentation yesterday whipped the crowd into a frenzy and there was little more spine-tingling than the crowd's even louder roar when vision of the 36ers' Hall of Fame coach Ken Cole hit the scorecube.
And in-game, just have to revisit how much value Hungry Jack's has gathered from its sponsorship of the NBL this season.
To have the bulk of almost 8,000 people chanting the sponsor's name in the hope of a free cheeseburger on an opposition player's aborted two free throws is equal parts loud and funny.
* * *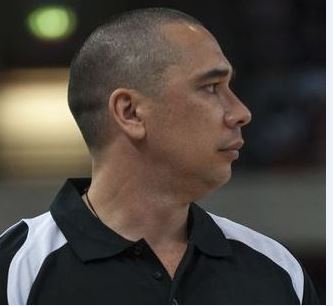 SURPRISED to see Paul Henare step away from the head coaching role of the New Zealand Breakers despite being offered a contract extension.
Henare is one of the brightest new faces in the high-level coaching arena so he won't be out of it long. But as an inaugural player, championship-winner, assistant coach and coach, he is the person inexorably linked to the Breakers since Day One.
It's going to seem odd to not have him in and around that team.
Given that Cairns Taipans and longtime coach Aaron Fearne also have parted company, is it too much of a longshot to suggest Henare coaching the Orangemen and Fearney trying out that accent on the Breakers would be good moves for the NBL?
* * *
FOXSPORTS NBL caller John Casey came up with my favourite fact - albeit not a very serious one - in relation to the Melbourne-Adelaide Grand Final Series, when he reminded everyone that South Australia's Labor Government changed at Saturday's State election.
Labor had been in power for 16 years after a Liberal run before that. So the last time a Government changed in SA was in 2002 ... also the last time the 36ers won the championship!
(Cue Twilight Zone theme music here.)
Could it mean something?
Frankly I'm guessing it's as important as a few superstitions. A friend of mine always wears a certain T-shirt to games because when he does, the 36ers win. Another wears her green "lucky" dress, and another associate wore the same socks and sandshoes each time because he was convinced it was "the key" to Adelaide winning 10 straight games last season. That got on the nose fast.
But there's nothing quite like fan passion. And fun facts.
* * *
DON'T say we didn't tell you!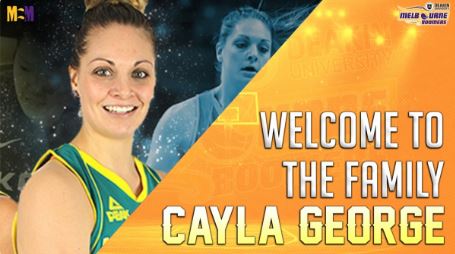 WNBL-championship winner and Opals Olympian Cayla George was revealed a couple of days ago as one of Melbourne Boomers big signings for 2018-19.
The club has followed that up by retaining Opals Asia Cup off-guard Maddie Garrick, suggesting the loss of dual-Olympian Liz Cambage may not be as pronounced as first feared. Of course, if you visited Basketball On The Internet 10 days ago, you already would have known about these revelations, and MORE! Remember this?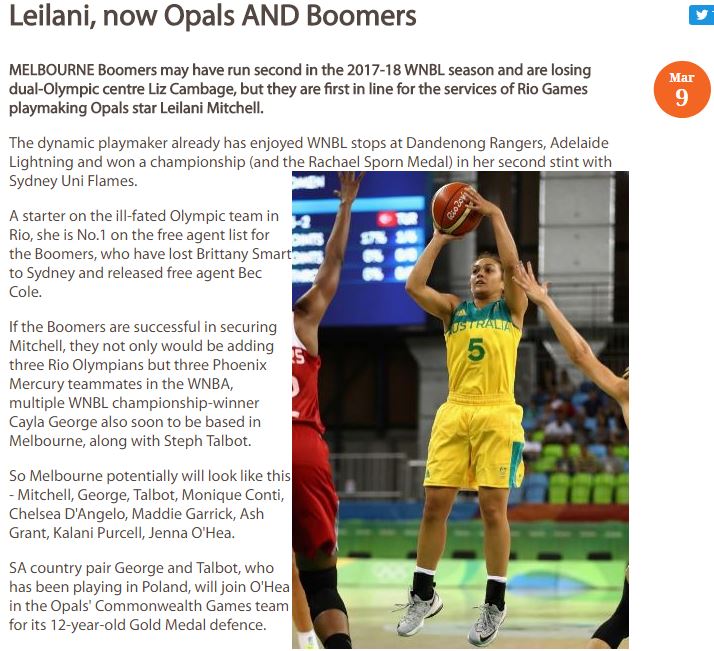 Stay tuned for further announcements from the Boomers, one of the WNBL's genuine go-getter clubs. (But you might already know the announcements!)
And look, just like that! Yes, the Boomers have just announced Steph Talbot is now also bound for the purple next season.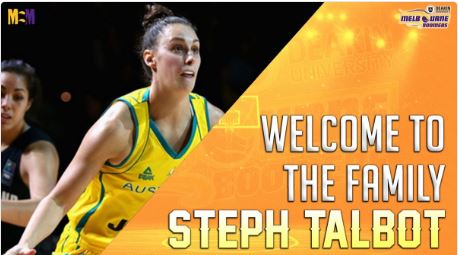 Must say it truly warms the heart.
* * *
IT looks as if once Perth Wildcats are out of any NBL championship race, professionalism goes out of the window on West Australian TV.
On Saturday, Channel 7's TV sportcaster in WA said: "Melbourne can wrap up the championship on Sunday."
Yes. If it was still BEST-OF-3 ... but it isn't. Remember last year when the Wildcats won? Even then it was best-of-five!
(Maybe the fact Perth won it 3-0 still confuses them out in the wild west. "Do they play three games? Or is it five? Cause, you know, Perth still played three last year... So is it 3-0 in a best-of-three? Is that what they mean by a sweep? ... Seems silly to play the third game then..." Etc)
* * *
WHILE Channel 7 may not be up to par, the Wildcats certainly are.
KO'd from their threepeat dream by arch enemy Adelaide, the club still looked after its members, with a personalised letter from captain Damian Martin thanking them for their magnificent support.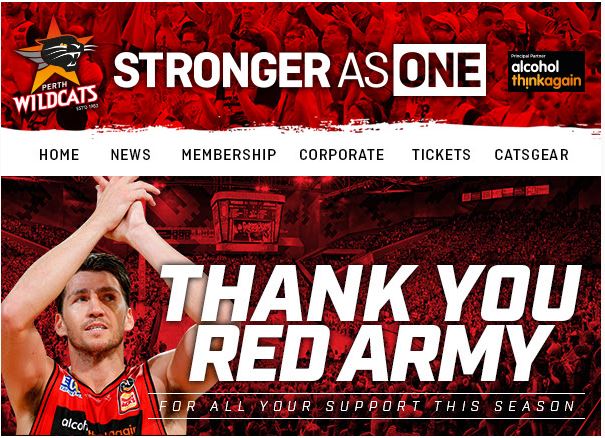 "I truly believe that your passion and loyalty is the reason we have been successful over such a long period of time," Martin wrote, in part.

"For this, I want to thank you on behalf of my teammates, the coaching staff, everyone in the Wildcats office and of course, Jack and Eleanor Bendat."
No reason to wonder why the Wildcats consistently draw 13,000-plus fans to their home games and regularly produce record attendance numbers.
* * *
LASTLY on the Wildcats, I will say this. If Nick Marvin had still been CEO last season, Perth would have sacked under-performing import Derek Cooke Jr by mid-season and replaced him with a much better centre of the Jameel McKay starter quality.
And he also would have had a contingency plan in place in case Matty Knight, as many expected but hoped would not happen, had to bow out early in the threepeat campaign due to ongoing issues with concussion.
In other words, it wouldn't be a Melbourne-Adelaide Grand Final Series right now.
In the meantime, here's something of what Nick has been upto: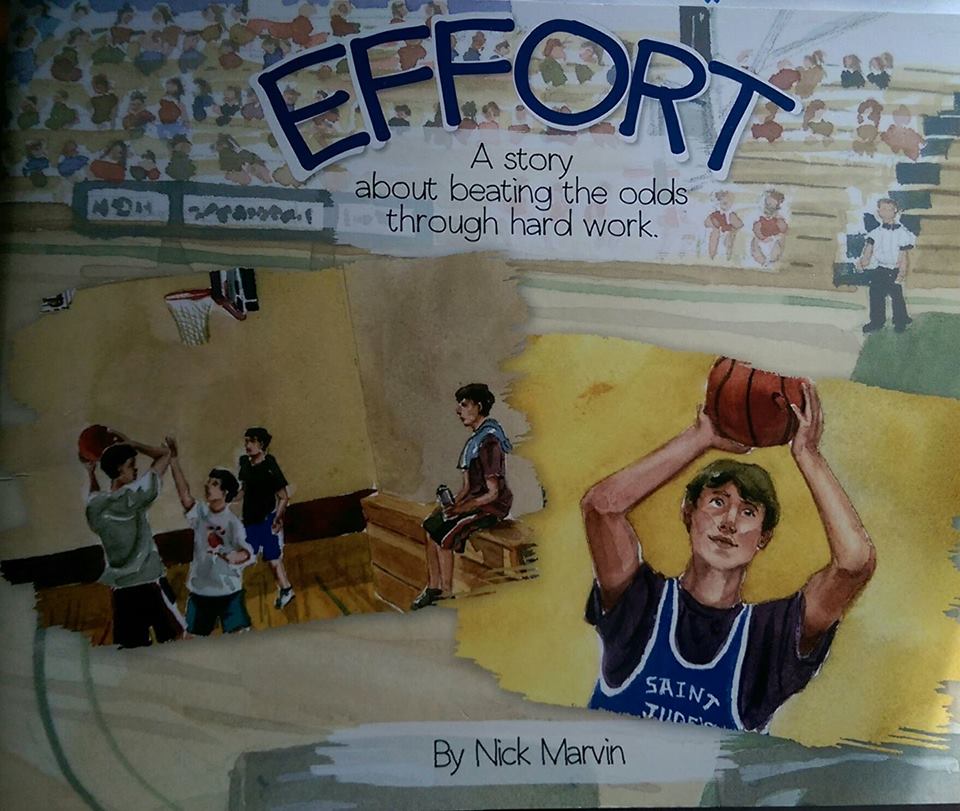 * * *
NBL Grand Final, Game 2 match report here. Game 1 match report here.