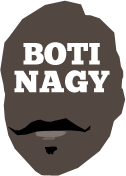 ---
Advertising opportunities available.
Please contact me.
---
In: NBL — Thursday, 7 Mar, 2019
HAS there been a more eagerly anticipated NBL Grand Final Series than this season's best-of-five Hungry Jack's championship between Perth Wildcats and Melbourne United which tips off tomorrow?
In: NBL — Monday, 4 Mar, 2019
THE NBL has released most of its schedule for the best-of-five 2018-19 Grand Final Series between Perth Wildcats and Melbourne United, including detailed times when you can watch it on free-to-air TV, all games live on FOX SPORT.
In: NBL — Sunday, 3 Mar, 2019
HOW big does Perth's homecourt advantage in its best-of-five NBL Grand Final Series against Melbourne loom now, considering their regular season clashes were 2-2 and all went with home court?
In: NBL — Saturday, 2 Mar, 2019
THE road to the NBL championship has been running through Perth for some three decades now and today's completion of their 2-0 semi final sweep of Brisbane means that number now jumps to 33.
In: NBL — Friday, 1 Mar, 2019
WELL, that sure was a lot easier than we expected, home teams Perth and Melbourne whipping Brisbane and Sydney respectively by a combined 52 points in Game 1s of their NBL semi final series.
In: NBL — Thursday, 28 Feb, 2019
HAVE the NBL playoffs lost some momentum due to last weekend's FIBA World Cup qualifying interruption? Honestly? Probably, yes. But right now, who cares? Let's roll!
In: NBL, Boomers & Opals — Friday, 22 Feb, 2019
ISAAC Humphries this morning changed what looked as if it might be a long night for the Boomers in Astana into a guaranteed first place Group finish with an 81-60 victory over Kazakhstan.
In: NBL, Boomers & Opals, NBA — Wednesday, 20 Feb, 2019
ADELAIDE's 2018 club MVP Mitch Creek, for almost a decade the "face of the 36ers" NBL club, inadvertently has become the "face of the Boomers" for this final window of FIBA World Cup qualifications.
In: NBL — Tuesday, 19 Feb, 2019
WE always knew the last round of the NBL's regular season was going to be key but who expected Cairns to top United or Melbourne-Perth to go to overtime?
In: NBL — Friday, 15 Feb, 2019
BRISBANE Bullets tomorrow can determine their own NBL finals fate after Perth tonight all but clinched the regular season championship with a come-from-behind 93-85 win over hapless Adelaide.