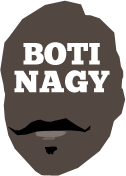 ---
Advertising opportunities available.
Please contact me.
---
In: NBL, WNBL — Thursday, 4 Jan, 2018
MELBOURNE Boomers last night took a 1-0 lead in the WNBL's best-of-3 semi final against Perth as the NBL heads into Round 13, sure to be unlucky for some.
In: WNBL — Wednesday, 3 Jan, 2018
INJURIES may well have cruelled the WNBL aspirations of MAC Adelaide Lightning, Jayco Dandenong Rangers, Uni of Canberra Cannons and Bendigo Spirit, but Phase Two of the season tips off tonight.
In: WNBL — Tuesday, 2 Jan, 2018
IT'S likely no coincidence the clubs preparing for the WNBL playoffs are the ones which, for the most part, know how to stage a women's basketball event.
In: NBL, WNBL — Monday, 1 Jan, 2018
ILLAWARRA Hawks' NBL import Demitrius Conger and Sydney Uni Flames' defending WNBL championship centre Jennifer Hamson have claimed this round's Player of the Week awards.
In: NBL, WNBL — Sunday, 31 Dec, 2017
THE WNBL regular season is done and dastardly, the NBL being served notice Melbourne, Illawarra and Adelaide are back in business. 2017 certainly finished on a high.
In: NBL, WNBL — Tuesday, 26 Dec, 2017
FINGERS are crossed Melbourne United will be able to open the roof at Hisense Arena tonight for its Boxing Day clash with Brisbane Bullets.
In: NBL, WNBL — Sunday, 24 Dec, 2017
A GUTSY but ultimately ill-fated overtime road loss by Adelaide has settled the WNBL Final Four, while officiating controversies made a mockery of an otherwise thrilling NBL round.
In: WNBL — Saturday, 23 Dec, 2017
SALLY Phillips, easily the best thing to happen to WNBL administration in the past 20 years, resigned from her role this week at Basketball Australia as the league's "head".
In: NBL, WNBL — Thursday, 21 Dec, 2017
CASEY Prather's elbow injury is the latest to strike down an NBL contender, only the New Zealand Breakers currently immune to losing a key man for an extended period.
In: WNBL — Wednesday, 20 Dec, 2017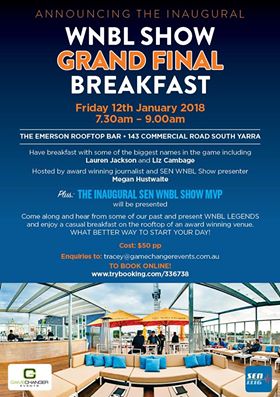 IT'S been a looong time between major events - such as a lunch or breakfast - leading in to a WNBL Grand Final but it will be happening in Melbourne on January 12 from 7.30-9am.
The last one I can recall was a lunch ahead of the 2008 WNBL Grand Final so this is one to get behind, sponsored as it is by Melbourne radio station SEN and heading for the Emerson Rooftop Bar on Commercial Rd at South Yarra.
The biggest name in women's basketball and Australia's greatest player, Lauren Jackson will be along, as will Liz Cambage, the first (and only) woman to have dunked at an Olympic Games.